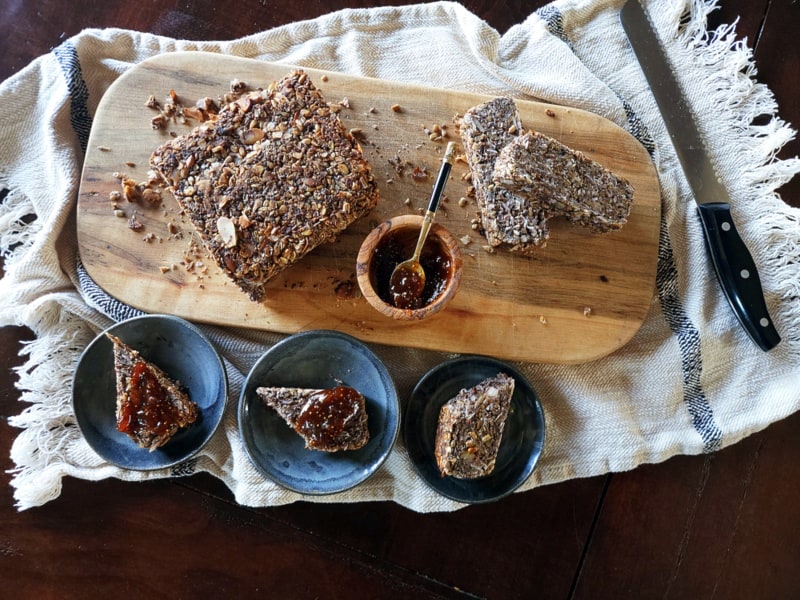 Super easy! This nut seed bread is packed with healthiness. Earthy & dense, it's perfect for a dollop of yogurt, butter, jam, or jelly!
Easy to Make Bread Recipe with Healthy Nuts and Seeds
I've never made a bread with primarily nuts and seeds. But, when I saw the recipe from My New Roots, I was enchanted to say the least!
Nut and Seed Bread
What captured my attention immediately was the simplicity of the recipe. And, of course, it was called 'life-change loaf of bread', so I had to make it and try it!
And, psyllium is like other foods that are known to be good sources of it's full of ingredients that are known to be sources of soluble fiber like:
Barley
Oats
Nuts
Seeds like flax seeds
Legumes (such as beans, lentils, and peas)
Vegetables
Fruits like apples, oranges, and grapefruit
Bread with Nuts and Seeds
As Sarah of My New Roots says in her thoughts about the recipe, "…it's brainless…" I'm all about easy and brainless when it comes to making healthy foods!
You'll see that the baking of this bread is two steps. You bake in the pan for 20 minutes. Then you remove it from the pan, return it to the oven (out of the pan) and bake another 30 to 40 minutes
I placed my loaf on a doubled piece of parchment paper just as a safety measure. But, the original instructions say to place the loaf on the oven rack and continue baking.
Seed and Nut Bread Recipe
Now this is not your typical bread. It's flourless. You've got a dense earthy loaf that's perfect for slicing, toasting, topping with whatever makes you happy. Nutter butters. Cream cheese, Creme fraiche. Fresh fruits. The options are endless. And, simply warming and drizzling with a little warm honey goes a long way!
Nut and Seed Loaf
I followed the recipe primarily to a tee. Well, with the exception of a couple of things.
I did add coconut flakes, unsweetened, because I absolutely love the flavor and texture. Next time I make, I do think I'll add some small diced dates or dried cranberries.
Another thing I did was use a metal loaf pan. The directions called for a flexible pan. I didn't have one. So, it was the traditional pan. Yes, I greased it well. And, next time I'll put a piece of parchment paper in it. Let the paper overlap the sides in order to make for an easier release of the bread from the pan.
Seeded Bread Gluten Free
Like you, I was scratching my head wondering how this could be made into a bread without flour. The answer is in the ingredients. Psyllium powder. Now you can get psyllium in seed form or ground powder. My option was the latter.
Psyllium is a soluble fiber. If you're familiar with Metamucil well, it's got psyllium in it.
The psyllium plant is native to Asia, grows in India, and is also found in the Southwest U.S.
Gluten-Free Nut Bread Recipe
By using the nuts and seeds and then the psyllium, you can bet there are magnificent health benefits in a slice of this bread!
Besides great for the bowels, psyllium is a supplement that can help other things, like aiding digestion, helping cholesterol levels, dealing with constipation and diarrhea and even weight loss.
Nut Bread Recipe No Flour
A delicious healthy nut seed bread without flour doesn't seem doable. But My New Roots Sarah has done it. As a trained holistic nutritionist, it doesn't surprise me. I've really learned quite a lot from this recipe and the ingredients.
Isn't that what food, cooking and trying new recipes is all about? Pushing you beyond your normal and expected realm of knowledge into exciting new ways to eat healthier!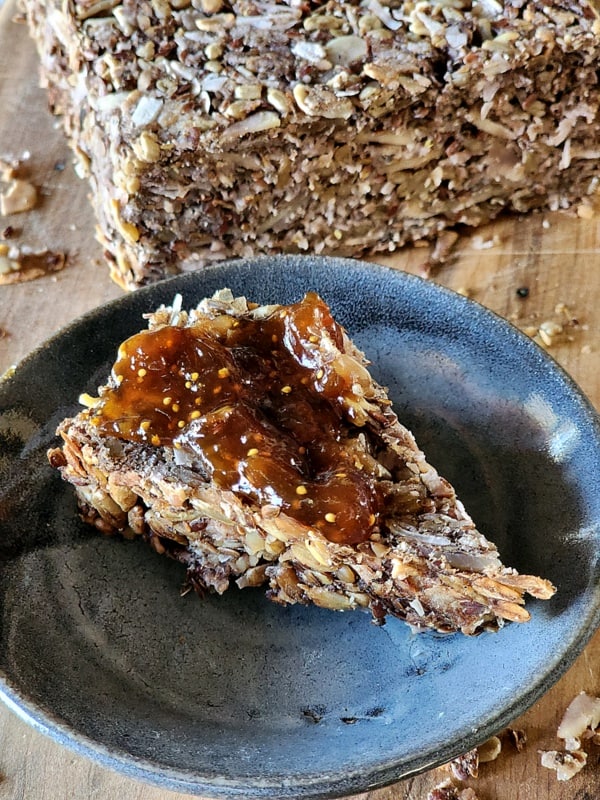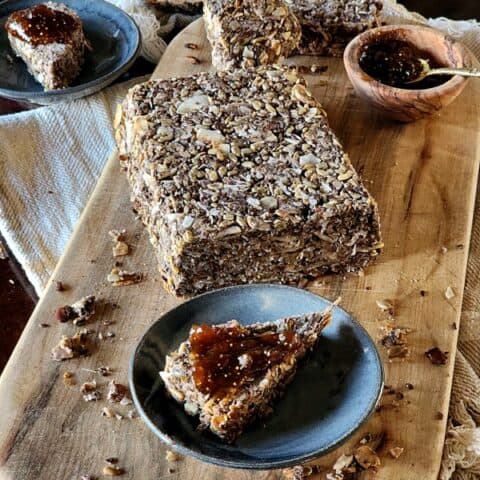 Easy Nut and Seed Bread
Ingredients
1 Tbl. maple syrup
3 Tbsp. melted coconut oil
1 ½ cups water
1 cup sunflower seeds
½ cup flax seeds
½ cup sliced almonds, roughly crushed
1 ½ cups whole rolled oats
2 Tbl. chia seeds
1 cup dried coconut unsweetened, shaved and crushed
3 Tbl. psyllium husk powder
1 tsp. fine sea salt
Instructions
Preheat oven to 350. Grease your bread pan then line with parchment paper allowing the sides to overlap (long side of the pan) about 3-4"
In a 2-cup measure cup, put the syrup, coconut oil and water. Blend and set aside.
In a large mixing bowl, blend all the remaining ingredients, sunflower seeds, flax seeds, almonds, oats, chia seeds and coconut.
Add the water mixture and blend well.
Pour into the bread pan. Pat down. Cover with a clean dish cloth and let the bread sit for at least 2 hours (I left mine for 4 hours.)
Bake in a preheated 350 oven for 20 minutes. Remove the oven then use a butter knife and/or stiff rubber spatula to help release the sides of the bread.
Lift out of the pan using the parchment paper as the 'handles'. Place upside down on a doubled piece of parchment paper. Return to the oven putting the bread on the rack and bake another 30 to 40 minutes.
Let it cool completely before slicing.
Store in air tight container or freeze.