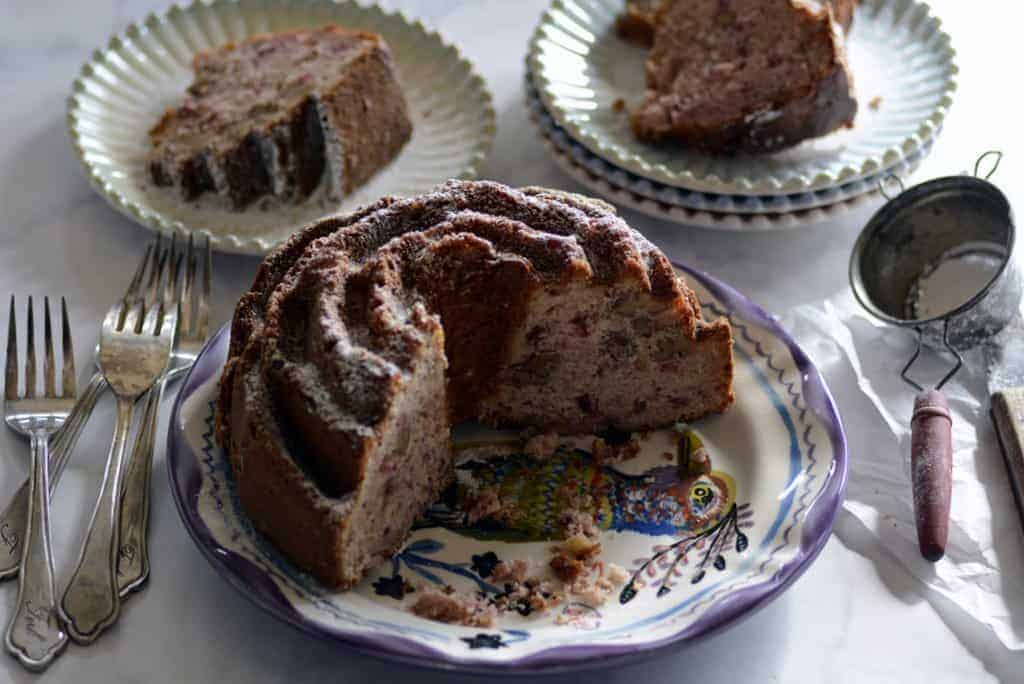 Got a can of cranberry sauce, then you'll wanna make this cranberry sauce nut cake! It's absolutely divine and simple! Plus did I say pretty!
Cranberry Recipes
Plenty of cranberry recipes out there for cranberry sauces and salads, but how about a cranberry sauce nut cake. Made in a bundt pan, it's totally gorgeous! And, delicious!
The Best Cranberry Sauce Recipes
OK, to make your own cranberry sauce, it's really simple. Just put about two to three cups of fresh cranberries in a pot, add about 1 1/2 cups of orange juice or pineapple orange juice and one-fourth teaspoon of sea salt. Bring it to a boil for about 10 to 15 minutes. Those berries will start popping open and become even more beautiful.
Cranberry Cakes
Then you need to sweetened them because cranberries, as we know, are might tart and bitter otherwise. And, while we'll have a cranberry cake (using a mix), I add either sugar and/or maybe some orange marmalade to sweeten. Of course, this is to taste, but I'd start with at least a third of a cup of sugar. Sounds like a lot, but keep tasting it until you get it to your desired sweetness level.
Just Cranberries
I like to err on the side of less sweet since I know I'm going to be using some of the leftover in a cranberry nut cake the next day. Cook them another 20 minutes on medium until the sauce starts to reduce and thicken. You could certainly make this recipe. Make a little more. And, it would be aahhhhhmazing in this cake!
If I have more cranberry sauce, I'll dollop it on slices served. It's another unexpected treasure and pleasure. Of course, there's always ice cream, whipped cream. butterscotch sauce. Whatever you like!
Cake with Cranberry Sauce
I believe that most people probably have leftover cranberry sauce from the Thanksgiving day feast. Why not do a cake with cranberry sauce.
Now some folks buy their cranberry sauce in a can. That's ok. Convenient. But, if you do, I think the chunky whole cranberry kind is much better. Yes, I've bought it and find it tasty.
Well, before I discovered years ago how easy it is to make yourself from fresh whole cranberries. It doesn't long, is not labor intensive, and I'd suggest you make more than you know you'll eat because you'll want to make this cranberry sauce nut cake the next day!
Cranberry Bundt Cake
When you bite into this moist nutty cranberry bundt cake, you'll get a distinct, albeit not overwhelming, subtle cranberry tartness flavor. It's really palatable because the sweetness of the cake mix itself is enough to balance out the contrast. This cranberry sauce nut cake is almost like a pound cake and will keep for several day when covered tightly.
Cranberries in Recipes
Yes, I have some great recipes with cranberries!
Fresh Cranberry Mandarin Nut Salad
Oatmeal Cranberry Nut Breakfast Cake
Cranberry Mandarin Pineapple Salad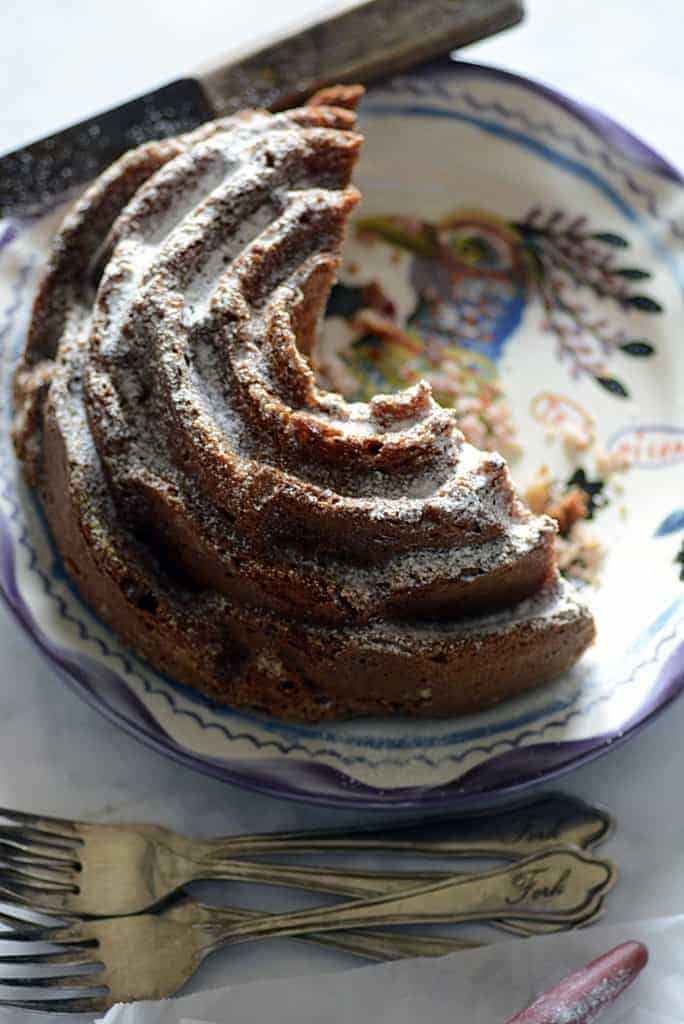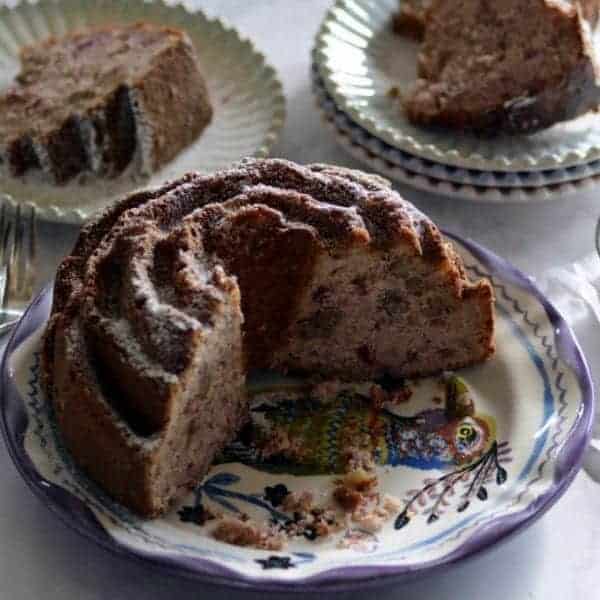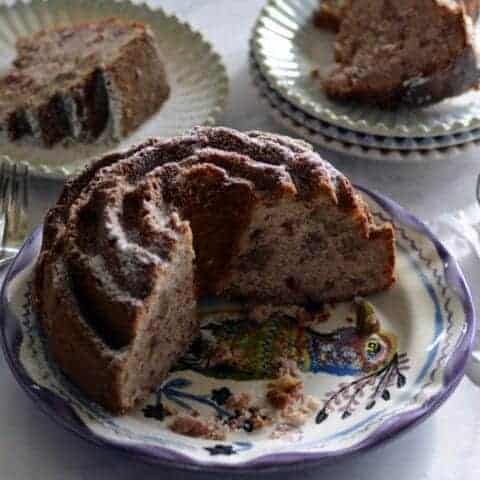 cranberry sauce nut cake
Got a can of cranberry sauce, then you'll wanna make this cranberry sauce nut cake! It's absolutely divine and simple! Plus did I say pretty!
Ingredients
Preheat oven to 350
1 cake mix, white, I used Duncan Hines French Vanilla
3 eggs
1/3 cup oil
1 ½ cups cranberry sauce, can be homemade or canned, chunky style only
1 ½ cups walnuts, chopped
3 Tbl. powdered sugar
Instructions
In a large mixing bowl, combine the cake mix, eggs oil, and cranberry sauce. Blend well with a mixer, starting on low then increasing to medium, for about 90 seconds to 2 minutes. Cranberry 'lumps' will still be there. That's perfectly fine.

Fold the walnuts into the batter.

Grease and flour (dusting off excess) a bundt pan. Pour in the batter. Cook in a preheated 350 oven for about 45 to 50 minutes.

Remove to a cooling rack until completely cooled. Remove from pan. Dust with some of the powdered sugar reserving some for slices served.
Notes
Cover tightly with plastic wrap or in a cake server to keep the cake moist.

Makes sure you grease the bundt pan really well, especially if it's like the one I used with the 'rose' design. A lot of cracks and crevices where batter can stick and this can make release a nightmare if not well greased.