The Ultimate Bloody Bones Martini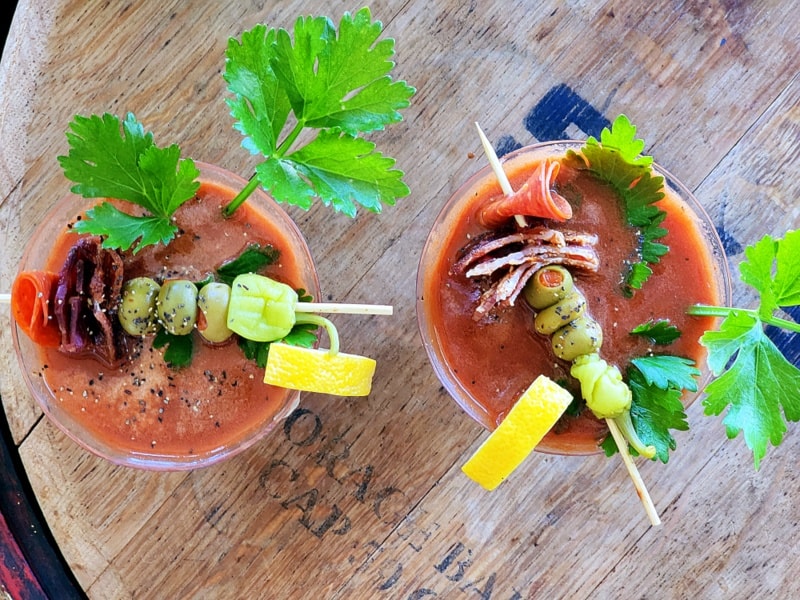 The Ultimate Bloody Bones Martini let's you have your healthy bone broth and cocktail, too! Oh, yes, it can be a mocktail if you like!
Hey, this is a partnership post with Kettle & Fire Bone Broth. Yes, I'm compensated and, gosh knows, I love working with brands that have products that I use. And, this one I use on a regular basis.
View this post on Instagram
In my humble opinion, and many others' (just Google), this bone broth is one of the top best on the market. What I love about working with them is that I have full ability to use my creativity to help you make bone broth part of your life! For a full disclosure, click here.
And, speaking of bone broth, yes, you can certainly make your own, but I use it so often, plus I sip on it, that I can't keep up with making it. If you'd like to check out more of my recipes using bone broth, click here. Yes, I have some crazy yummy ones!
Bloody Mary Martini Recipe
Y'all know that I'm a huge bone broth fan. Yes, bone broth, especially that from Kettle & Fire, is so healthy for you for so many reasons. Without repeating myself, just jump over to my post asking the question, 'Is bone broth really good for you?'
How to Make a Bloody Mary
So, this cocktail can also be a mocktail. Just leave out the alcohol. And, another thing, I used vodka, but if you prefer gin nor tequila, have at it.
Making a Bloody Mary is super easy. And, making a 'bloody bones' martini even better!
The Best Bloody Mary Mix
This recipe has all the best ingredients in it, some which you'd probably never imagine.
I mean red curry paste. Beef bone broth!
Martini with Pepperoncini
Now making the garnish skewer is totally up to your creativity. I love to add several things. I mean you mays well make it a mini 'meal' to go along with your martini.
Dirty Bloody Martini
If you want to make this bloody bones martini even a little dirty, then feel free to put a splash of olive juice in the mixture as well.
Bloody Mary Method
Here's the low down on the Bloody Mary according to PBS. Who doesn't love a little history on something this iconic.
"Harry's Bar in Paris is celebrating the 100th birthday of the bloody mary, the vodka-tomato juice cocktail believed to have been invented at the iconic watering hole in 1921.
According to the history of Harry's, bartender Fernand Petiot invented the cocktail, and the recipe was first published in a book called "Harry's ABC of Cocktails" in 1921. The bar serves an estimated 12,000 bloody marys a year.
"It's a classic drink," bartender Dante Agnelli said while demonstrating the mixology behind the drink, ingredient by ingredient: salt and pepper, Tabasco sauce, Worcestershire sauce, lemon juice, vodka and tomato juice."
Bloody Mary Recipe
So, my 'Bloody Bones Martini' is kind of like the first-cousin of the Bloody Mary!
Both have similar hallmarks. And, if you want to make this cocktail or mocktail in a tall cocktail glass the 'bloody Mary' way, you can certainly do that. For me, I love the stemless martini glasses and the shaking a tad bit to create the frothing on that pour into the glass!
Ingredients for Bloody Mary
Now gather your ingredients. Be sure to check out the Kettle and Fire bone broth. And, use my discount code at checkout, ALLYSKITCHEN, for your 20% off delivered right to your home.
Yes, it makes a huge difference in the overall flavor of this martini. However, the crazy thing about it is that you really don't even know that there's bone broth in it. You have the tomatoeeee goodliness of this iconic drink with those healthy 'bones'! Hey, I call that a big bonus!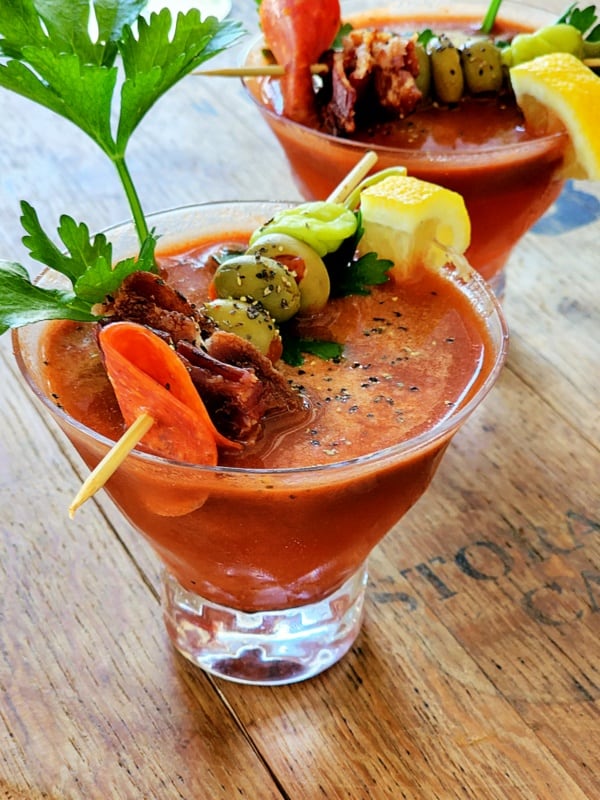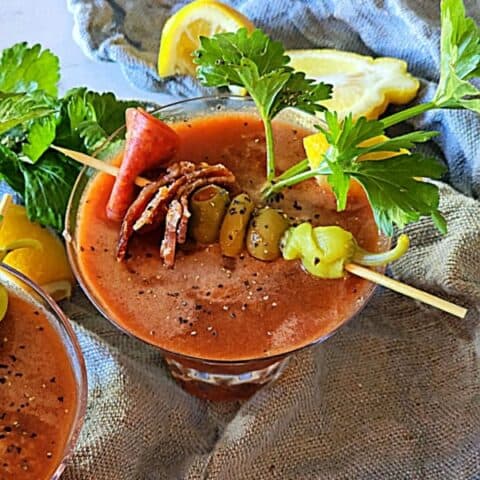 The Ultimate Bloody Bones Martini
Yield:
Makes: 2 to 3 cocktails
Ingredients
6 oz. cup spicy tomato juice, V8
6 oz. cup Kettle & Fire beef bone broth
4 oz. vodka
2 Tbl. Worcestershire
1 Tbl. Red curry paste
Sea Salt & Pepper to taste
1 lemon, divided
Ice cubes
GARNISH: Fresh Lemon and Nibbles Skewer (olives, pepperoncini, bacon, pepperoni, celery, cheese cubes, salami and more!)
Instructions
In a large measuring cup, whisk together the tomato juice, bone broth, vodka, Worcestershire, red curry paste, salt, pepper and half of the lemon, juice only. Make sure to whisk in the curry paste into the liquid very well.
Pour into a martini shaker. Add about ice. Shake a bunch. Pour into your most fun martini glasses. Coat rim with fresh lemon juice.
Garnish with one-fourth of the remaining lemon and a nibbles skewer! Use the rest of the lemon wedge as a garnish if desired.