Easy Healthy Fruit Caprese Salad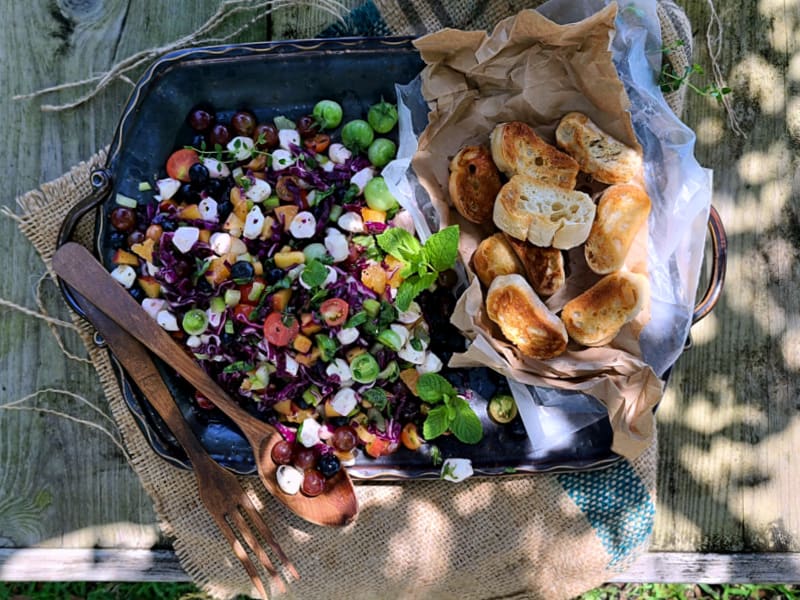 Easy Healthy Fruit Caprese Salad is a new twist on caprese! Full of exploding and unique flavors, this is a meal on its own! Guaranteed yum!
What is Caprese Salad
Italian caprese is an American favorite salad. According to Delallo, "Simply put, it's a simple Italian salad. Caprese is super easy to prepare and made up of only a few fresh ingredients: a generous ball of fresh mozzarella, red ripe tomatoes for slicing, a handful of basil leaves and extra virgin olive oil for drizzling.
Everyone loves this colorful combination and it's easy to see why in its artful balance of flavors: creamy, milky mozzarella takes on the tomato's acidity and the sweetly herbaceous basil, where the extra virgin olive oil adds a mild fruitiness that brings it all together. It's like they were made for each other!"
Summer Caprese Salad
Where did salad caprese start. How was it 'invented'? The story goes that it originated in post-World War I Italy. Given that Italy's national flag is red, white and green, a patriotic mason wanted to represent Italy in a bowl. And, what better to do it than salad caprese.
A menu at the Hotel Quisiana. And, yes, there is a Hotel Quisiana on the island of Capri. And, grand it is as one of the grandest in the world and hosting celebrities, like Tom Cruise, Sting and dignitaries, former American President Gerald Ford, over the years. I can only imagine the salad caprese on this menu!
Berry Caprese Salad
In the Spring and Summer, when vegetables and fruits are more abundant, we're always looking for new salad recipes.
And, this salad caprese is a twist on an Italian favorite that's absolutely simple an easy to do. There's an array of spin offs with salad recipes, so be bold and daring. Think of other ways to construct your salads. Here are a few of my favorites.
Caprese Salad with a Twist
simple grilled chicken caprese
Summer Fruit Caprese Salad
Summer fruits, berries, apples, grapes and more, make for an explosive caprese salad. And, that's what this salad is!
It's vibrant hues and different flavors and textures combined with the traditional ingredients of caprese salad simple can't be overlooked as spectacular! Trust me, it WILL make a statement on our table!
Caprese Salad Recipe
I actually thought these were genius questions that help you get to the heart of the puzzle gut matter. And, I applied those questions to this recipe of Caprese Salad Styles & Designs when I was creating it and in my puzzle gut mode.
Yes, this 'peach Caprese' is what I ended up with, and I must say, it is spectacular and satisfied my cravings plus filled my belly.
Is Caprese Salad Good for You
Well, I think caprese salad is good for you. It's full of healthy ingredients, plus it's low in carbs and gluten free. Throw in some nuts for protein if you like, walnuts, almonds, peanuts!
And, there nothing more beautiful than serving it on a gorgeous platter with toasted baguette slices!
Easy Caprese Salad
Caprese salad designs are something I love to do! If you want to find unique ways to plate and showcase your caprese salads, then here are some of my ideas!
Caprese Salad Styles & Designs
Caprese Salad Healthy
I'm a caprese salad lover! And, I make a lot of them!
Here are some others you might love to check out!
The Easy Killer Caprese Breakfast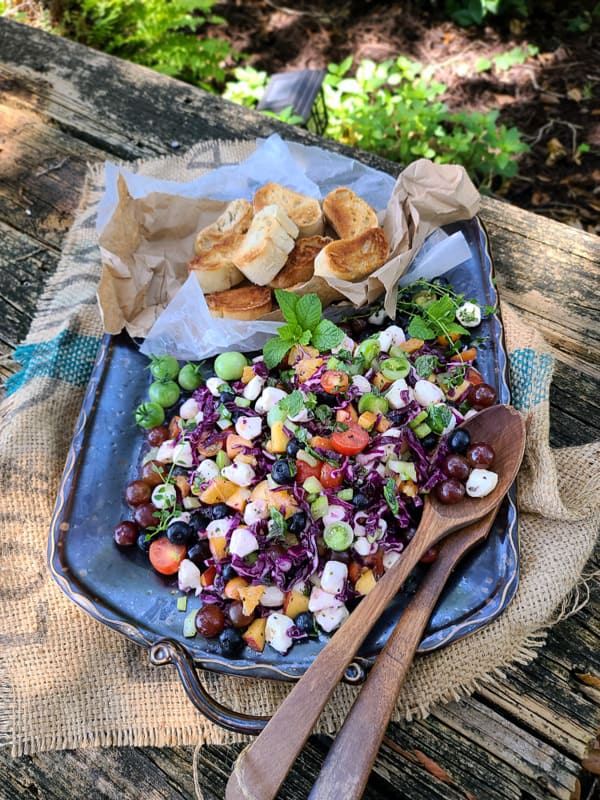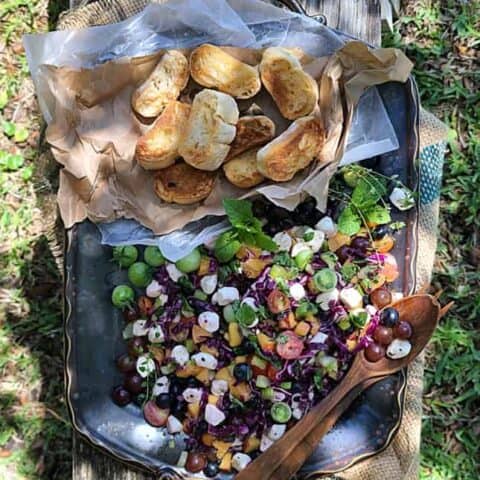 Easy Healthy Fruit Caprese Salad
Ingredients
1 cup fresh blueberries
1 cup cherry heirloom tomatoes, sliced in halves
1 cup celery, thin slice
1 orange, seedless, peeled, fleshed cut into bite size pieces
1 peach, washed, slightly firm, cut into bite size pieces
1 ½ cups purple cabbage, thinly shredded
8 oz. mozzarella balls
1 Tbl. fresh thyme leaves
1 Tbl. fresh mint leaves, chopped
½ cup fresh basil leaves, roughly chopped
4 Tbl. extra virgin olive oil
1 lime, small, juice
1 lemon, small, juice
½ tsp. sea salt
½ tsp. coarse ground pepper
Instructions
In a large mixing bowl, combine the blueberries, tomatoes, celery, orange, peach, cabbage, moxzzarella
Thyme, mint, and basil. Blend ingredients.

Drizzle on the olive oil, lime/lemon juice, salt and pepper. Toss a few times. Serve immediately or refrigerate. Best serve at slightly room temperature so the mozzarella is soft.