The Easy Killer Caprese Breakfast Sandwich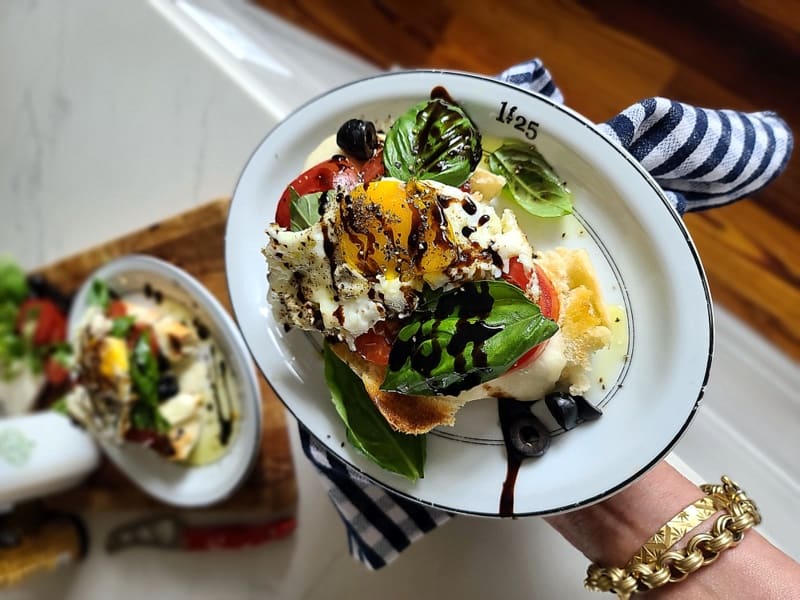 Your first bite of this will assure you that this is, indeed, the easy killer caprese breakfast sandwich! Fresh. Healthy. Easy. We like it!
What is a Caprese Sandwich
Oh, answering what's a caprese sandwich is just so simple.
Think about caprese salad, tomatoes, mozzarella, fresh basil, extra virgin olive oil, salt and pepper. Then always some great Italian bread or French baguette.
Well, that's what this sandwich is, but it's even more!
Tomato and Egg Sandwich
Growing up in Southern Appalachia, one of our summertime treats was a fried egg sandwich on white bread with a big slice of fresh tomato from the garden. This sandwich has hints of my childhood, but it's even better.
Breakfast Ideas with Fresh Mozzarella
Fresh mozzarella is the perfect cheese for breakfast frittatas, scrambles, casseroles and more. My Mediterranean Eggs and Mozzarella is a perfect breakfast, or lunch or dinner for that matter, in one cast iron skillet. It's simply delicious! There are some extra goodies in there that, hopefully, you'll love, like olives!
Caprese Breakfast Sandwich
This caprese breakfast sandwich is open-faced and a beast to eat. That means you'll need a knife and fork to handle it.
I'm using a French baguette toasted with the oozy mozzarella, and that's perfect alone. But, wait til we pile on the next toppings making this a caprese explosion.
I love to put modern touches and twists on iconic dishes like the caprese salad. You've got to try my Farm Fresh Corn Caprese Salad. It's a new spin on caprese that just elevates it deliciously.
Modern Caprese Sandwich
Now this modern caprese sandwich is quite impressive when served. Think of it as something you might want to serve at a luncheon or small garden party. It's got style, panache and enchanting flavors.
Italian Caprese
Italian caprese is an American favorite salad. According to Delallo, "Simply put, it's a simple Italian salad. Caprese is super easy to prepare and made up of only a few fresh ingredients: a generous ball of fresh mozzarella, red ripe tomatoes for slicing, a handful of basil leaves and extra virgin olive oil for drizzling.
Everyone loves this colorful combination and it's easy to see why in its artful balance of flavors: creamy, milky mozzarella takes on the tomato's acidity and the sweetly herbaceous basil, where the extra virgin olive oil adds a mild fruitiness that brings it all together. It's like they were made for each other!"
Caprese Sandwich Ingredients
So, for this recipe all you do is take those iconic caprese ingredients, juicy sweet tomatoes, fresh mozzarella and fragrant fresh sweet basil and morph it into a sandwich with crispy crusty bread, melted mozzarella and a sunnyside egg. It's truly very similar to my 'Ultimate Caprese Salad'!
Caprese Salad Sandwich
The key to this caprese salad sandwich is having really great bread. I really recommend that you find a nice Italian or French baguette. Make sure it's freshly baked. Some of these breads you can take and bake at home. That's great.
Make the sandwich about 8 inches in length. Slice that bread down the center, then lay on layers of soft fresh mozzrella and gently toast it under the broiler. Let the cheese just barely melt. Don't overdo it.
Tomato Caprese Sandwich
You'll build the tomato caprese sandwich just like your caprese salad. You'll want to use whole sweet basil leaves. They'll stay on the sandwich much better than if you chop up and sprinkle on the basil. And, try to find the freshest of tomatoes. Homegrown are best. Or hit the farmer's market and splurge on heirloom tomatoes.
And, if you want to add a meat protein to your sandwich, then you must check out my Chicken Caprese Sandwich!
Eggs Caprese
I like to fry my eggs slow and low. The bottom of the whites gets kind of brown and crispy as they're frying. The yolks tend to cook somewhat but not completely. When you cut into the yolks, you still get a little tender ooze of the creamy yolk. Of course, if you want your egg well-done, then that's no problem either. While the eggs are cooking, I build the remainder of the sandwich because the egg is the crowning jewel of this killer caprese egg sandwich.
Egg Mozzarella
Who doesn't love eggs and cheese? Well, mozzarella can be overlooked for omelets and egg casseroles. But, it's one of the creaminess tastiest cheeses to use.
The kind of mozzarella does make a difference, too.
Food Republic gives us 12 different types of mozzarella. I can devour them all, but my favorite for this recipe is Mozzarella di bufala.
It's made with Italian buffalo milk instead of cow's milk. With about twice the fat content, this type of mozzarella is a powerhouse of flavor. Yes, a little more pricey, but definitely worth it when you want to make one killer caprese sandwich.
Caprese Salad and Eggs
There's no doubt that caprese salad and eggs can be a meal of extraordinary deliciousness. Simple, healthy, fresh and easy to prepare, it requires few, if any, real cooking skills. And, the results you can get are off the charts. What brings it all together for this sandwich is the last drizzle of balsamic glaze. A little tang and sweet to pull together everything piled high!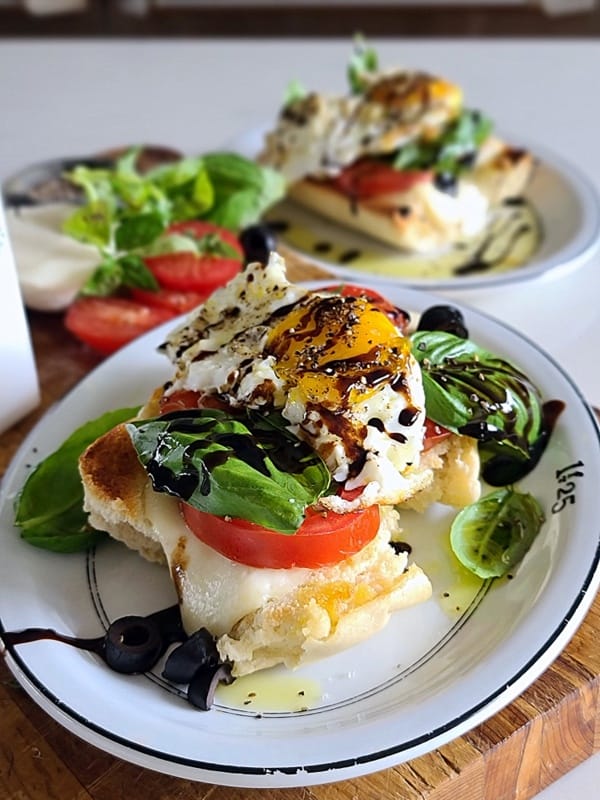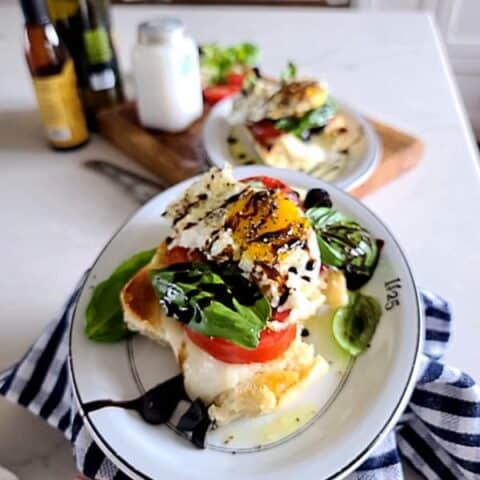 The Easy Killer Caprese Breakfast Sandwich
Ingredients
2 eggs
2 6-8" slices of baguette bread, sliced lengthwise in halves, butterfly them open in the middle
8 slices soft fresh mozzarella cheese
1/2 cup black olives, sliced
4 Roma tomatoes, sliced
1 cup fresh basil leaves, loosely packed
Salt/Pepper to taste
Extra Virgin Olive Oil, for drizzle
Balsamic Glaze, for drizzle
Instructions
Heat a small frying pan. Coat with cooking spray or oil. Fry eggs on medium low to desired finish. Salt and pepper to taste.
Meanwhile, slice the baguette in halves. Lay 3-4 slices of mozzarella on each sandwich. Put the bread on a pan or serving plates (oven safe). Place about 10-12 inches from the broiler. Melt the mozzarella somewhat.
Sprinkle on the black olives. Add the tomatoes, salt and pepper, and basil leaves. Drizzle some olive oil on top.
Add one egg to each sandwich. Drizzle with some balsamic glaze. Serve immediately.