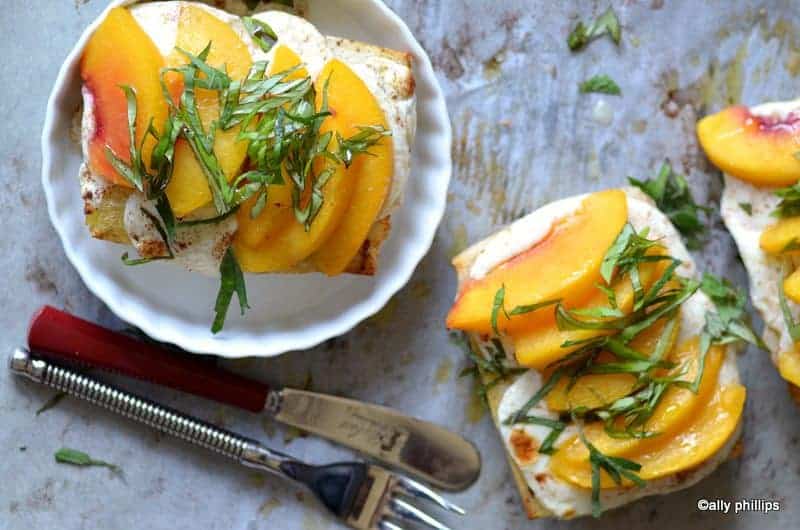 Peach Caprese Salad Recipe is a delicious Recipe. Summer peach recipes can be so beautiful and this one is a lovely appetizer, first course or light lunch.
Peach Appetizers
I know you've had 'puzzle gut'. Yes, that's the situation you're in when you want something to eat, but you don't know what you want to eat. Recently I was talking to my Chef friend, Steve about kitchen remodeling and gutting.
Is there something more sweet or summery than biting into a smooth, juicy fruit while standing over the kitchen sink, juices running down your chin, arms, and fingers? Is there anything more difficult to miss than the indescribable satisfaction of the sweet nectar on your tongue? A brown bag of freshly picked peaches costs around $8 at the downtown market, and the seller advises patience when you hand over your cash.
Peach Mozzarella Salad
How this topic came up, I can't remember. But, I do recall, he said that his young daughter came up with four questions to ask when you're in the 'puzzle gut' mode for simple grilled chicken Caprese.
Wait two to three days!" says the narrator. To save time, put them in the trunk of your car!
However, as soon as I saw the stand by the side of the road, memories of previous years' peaches danced in my mind, and I was already fantasizing about fresh fruit for breakfast or lunch.
When I reached into the bag for a peach to gently squeeze after one short day of ripening on the counter, it gave at my fingertips. I pictured baby Rocco's reaction to the ripe peaches the moment I knew they were ready.
Peach Caprese Salad
I actually thought these were genius questions that help you get to the heart of the puzzle gut matter. And, I applied those questions to this recipe of Caprese Salad Styles & Designs when I was creating it and in my puzzle gut mode. Yes, this 'peach Caprese' is what I ended up with, and I must say, it is spectacular and satisfied my cravings plus filled my belly.
Peach Caprese Appetizer
Since I totally love the traditional farm-fresh corn Caprese salad, I knew I'd absolutely love swapping out the tomatoes for Dole Sunshine's sweet always perfect natural nothing there but the Mother Nature peach slices. It's a real creative change from tomatoes, brings on a slightly sweet touch, but still gives me the feeling of Caprese on a grilled piece of artisan bread.
Caprese Salad with Peaches
Some may consider this a crostini, and that works, too. It's just so refreshing and tasty that you could serve this for dessert too. You might want to swap out the grilled bread for a slice of grilled pound ultimate Caprese salad!
Peach Caprese Salad Recipe
Remember, next time you have a puzzle gut. Ask yourself those four questions. You'll not be spinning in pandemonium, eating more than you should, and still not be happy. You'll hone in on what you really want and beat that puzzle gut dilemma!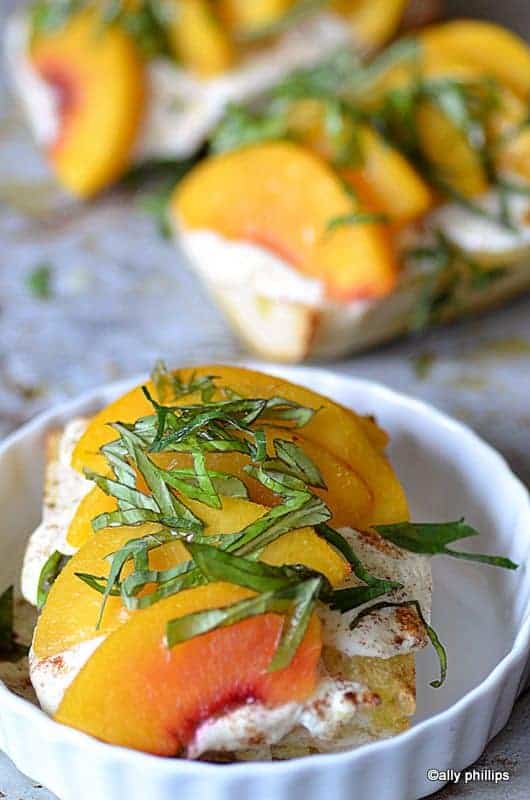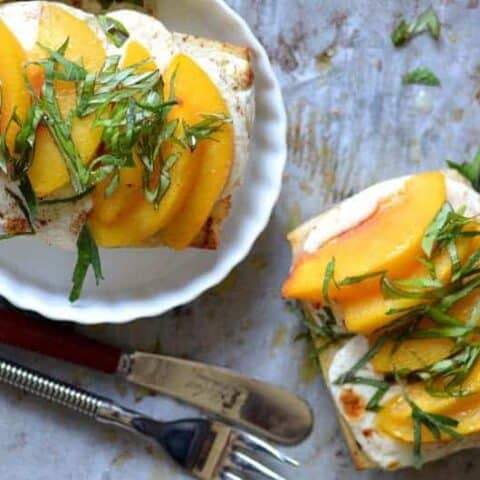 Peach Caprese
Peach Caprese Salad Recipe is a delicious Recipe. Summer peach recipes can be so beautiful and this one is a lovely appetizer, first course or light lunch.
Ingredients
Preheat oven to 425
3 slices 3-4" lengths to bake French bread (usually found in a store's deli)4 oz. mozzarella (sliced into thin slices)
½ tsp. cinnamon
¼ tsp. sea salt
15 Dole Sunshine frozen peaches (slightly thawed (choose the prettiest slices from the bag, then return remainder to freezer)
3 tsp. extra virgin olive
2 tsp. honey
2 Tbl. Fresh sweet basil (sliced)
1 Tbl. Fresh mint (chopped)½ lemon (juice)
Instructions
Put the bread slices on a cookie sheet. Add equal amounts of mozzarella to each. Sprinkle with cinnamon (I put the cinnamon in the palm of my hand then hold my hands up about 8-10" above the pieces and gently rub my palms and 'dust' the cheese.)

Sprinkle on the salt.Place 5 frozen peach slices each on the mozzarella. Gently push into the cheese to secure.Bake for 6-7 minutes in a preheated 425 oven.

Remove and drizzle equal amounts of olive oil and honey on each slice.Add the basil and mint then give each a squirt of fresh lemon juice!