Caprese Salad Styles & Designs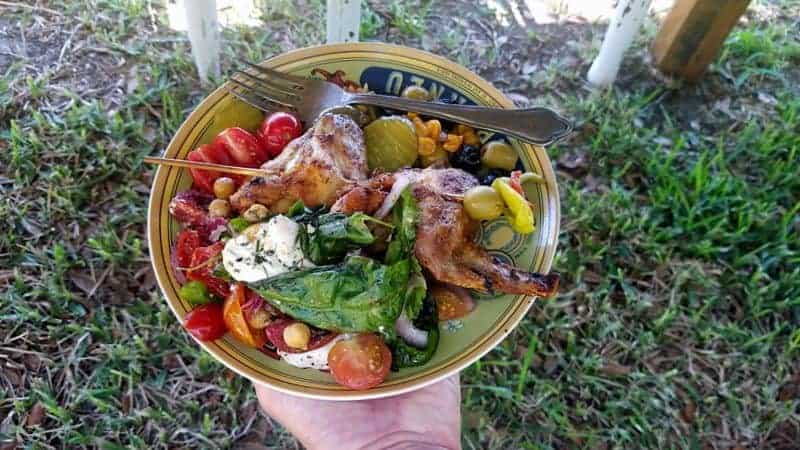 Learn to make classic Caprese salad styles & designs —made with mozzarella, tomatoes, and basil—plus a few delicious variations.
Caprese Salad Styles & Designs
Platters. Bowls. Plates. Saucers. Skewers. Cups. Tarts. Tartlets. Galettes. Family style. Individual style. So many ways to enjoy! I'm talking about the wildly popular and super delicious Caprese salad! Honestly, I've not met one person in my travels or anyone who's broken bread at my table who doesn't love this ubiquitously refreshing and tasty Italian 'Insalata Caprese'.
Easy Caprese Salad
One thing's for sure caprese salad is easy! Translated simply, 'Insalata Caprese' means salad of Capri. And, what might come to your mind's eye as you think of the Isle of Capri? Something gorgeous, fresh, vibrant, relaxing, almost movie-like, surreal.
At its most basic level, it consists of fresh tomatoes, basil, mozzarella, olive oil, and salt. But, at its 'boho' level, it can be paired with so many other ingredients that will expand the flavor profile. These variations always spin from the foundational Caprese salad. All we're doing is altering the style somewhat.
Tomato Mozzarella Salad
Tomato Mozzarella Salad is ideal for a scrumptious lunch and it is a great fresh side to add to any dinner. Loaded with ripe juicy tomatoes, buttery fresh mozzarella and thinly sliced onions, this salad comes together in a flash even with the homemade dressing!
Here's a recipe for dark red cherry boneless beef country-style ribs, harissa buttermilk baby back ribs, and Skillet Pasta & Vegetables that I think you'll love!
Summer Caprese Salad Recipe
In this Summer Caprese Salad Recipe, garden tomatoes are sliced and topped with fresh mozzarella, basil and drizzled with olive oil and balsamic glaze. Flakey sea salt and freshly ground black pepper add to the flavor while lending bits of texture.
Want to capture the very essence of summer? Be sure to make this delicious caprese salad before the season slips away. I guarantee you'll be dreaming about it later this year when those cold winds blow!
Balsamic Pasta Salad
An easy veggie pasta salad recipe flavored with a scrumptious balsamic dressing that uses minimum oil! This Balsamic Basil Pasta Salad is packed with delicious Italian flavors and is a crowd favorite! The perfect healthy side dish to bring to any potluck, picnic or barbecue! Try it with any combination of vegetables and don't forget the balsamic vinegar!
Caprese Salad
Now what makes the salad even more fun is the idea of redefining and shaping the design of it. It's fun to play with how you're going to serve your Caprese salad. Changing it up and presenting to your guests will definitely bring twinkles to eyes and smiles to faces.
Before you dive in and try some new things, there're three important things to remember annnnneeeetime you make a Caprese salad.
How to Make a Caprese Salad
First, the freshest tomatoes. Never refrigerated (ever). Homegrown or from the farmers market is best. Next. basil. It's got to be brilliantly green and perky fresh leaves.
Secondly, it's got to be sweet, or Genovese, basil. I try to grow my basil year round. While I live in a good climate to do this, if I didn't I'd be buying the 'live' basil at the grocer where the roots and dirt are still there or the whole stem basil leaves.
And, finally, the mozzarella. OMG, buffalo burrata (in water) tops the charts. I admit, it's pricey, but if you want an experience that will make the littl' hairs tingle on the back of your neck, then this is it. There's a lot of differences in mozzarella. Here are three good posts of better understanding it: Recipe Geek Real Simple The Kitchn
Scroll down through these pictures of Caprese salads that I've served to my guests. Hope they give you some ideas. And, I'll be adding to this post as I create new styles and designs! Have some creative juices flowing all the time! xoxo ~ally
Caprese 1: Yes, this is me to hold the large bowl. I love the white that just showcases the vibrancy of the colors of the food. A combo of large sliced farmers market tomatoes and heirloom tomatoes, whole basil leaves, mozzarella and a drizzle of balsamic glaze. Oh, yes, sea salt and pepper!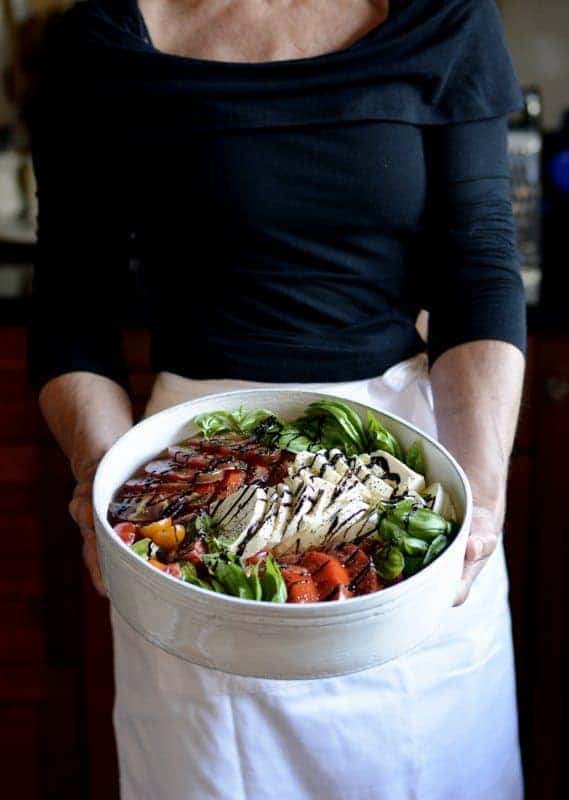 Caprese 2: Now this salad gives us the basics of caprese but you've got a burst of sweetness with the red grapes and a crunch munch with the cucumbers. And, if you use cukes, get the mini ones or English cukes. Regular cukes have this thick 'waxy' skin that just isn't palatable. I chose a platter, vintage and antiquEEE for displaying this canvas of happiness!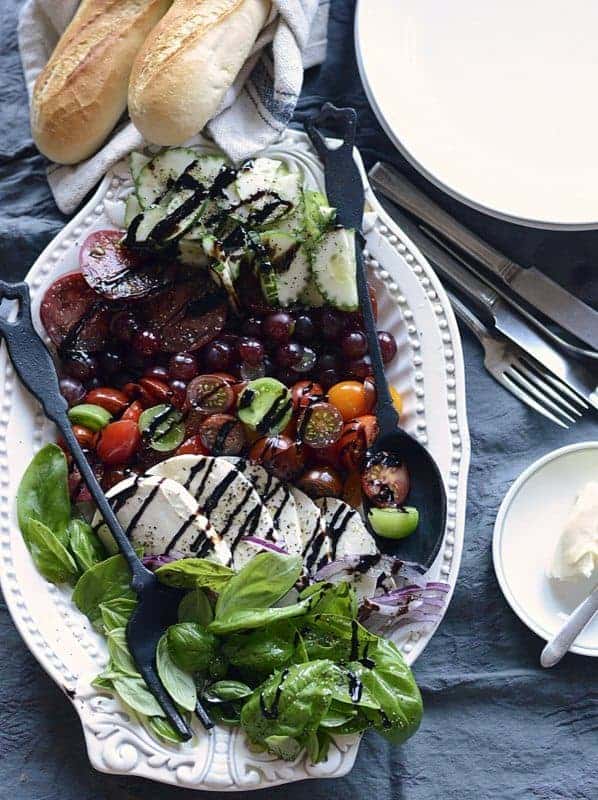 Caprese 3: I wanted to add a splash of beautiful contrasting colors with the small turquoise tray. Small sweet cherry tomatoes with basil leaves and mozzarella, drizzling of extra virgin olive oil, and wedges of lemon. It's basic and fresh and perfect with any meat!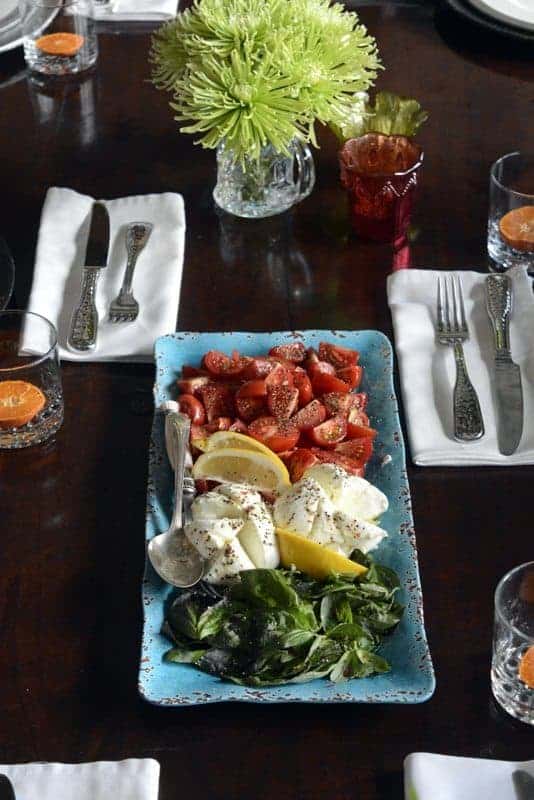 Caprese 4: Skewers! And, they're loaded with other flavors and textures to complement the basic Caprese. I strategically selected yellow pepper chunks, mini cuke half pieces, and pimento-stuffed olives. The mozzarella balls make it really easy for threading on the skewer. And, just fold the large basil leaves and slide on the skewer. It's like a salad on a stick! Topping it off as you can see, thick-cut crispy bacon!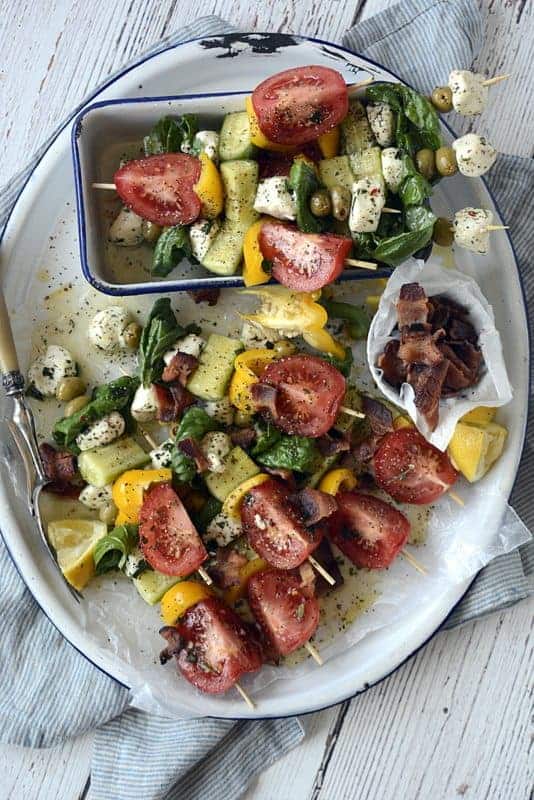 Caprese 5: This bowl is the most 'classic' caprese. Well, with the exception of the cherry tomatoes. As you've probably noticed, I really love my basil leaves to be whole!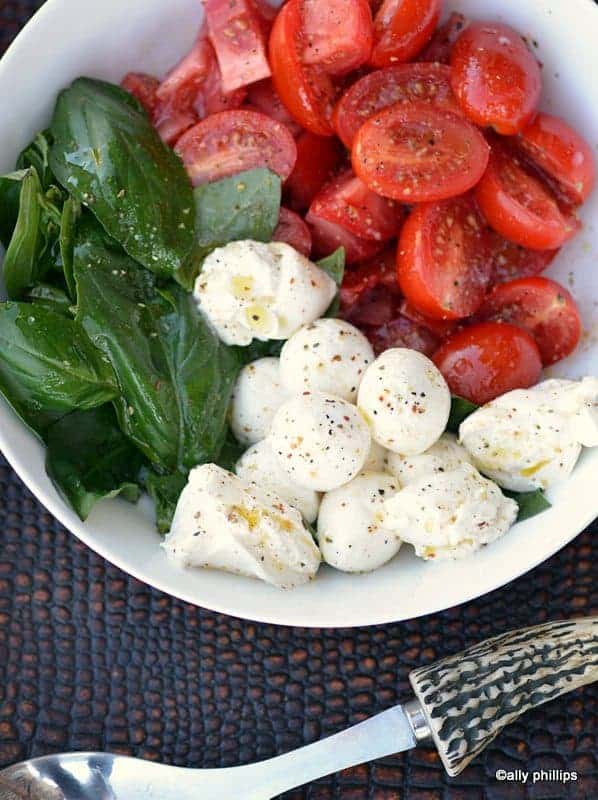 Caprese 6: Ohhhhh, talk about something fabulous! Breakfast, lunch or dinner! A Caprese open-faced grilled 'sandwich'. Now make sure you've got a great artisan bread. Slice it thick. Butter and grill in a hot cast-iron skillet. Then layer on your caprese basics. The drizzling of this blueberry balsamic just took it off the charts. Next time, however, I'll scatter a few blueberries on it, too!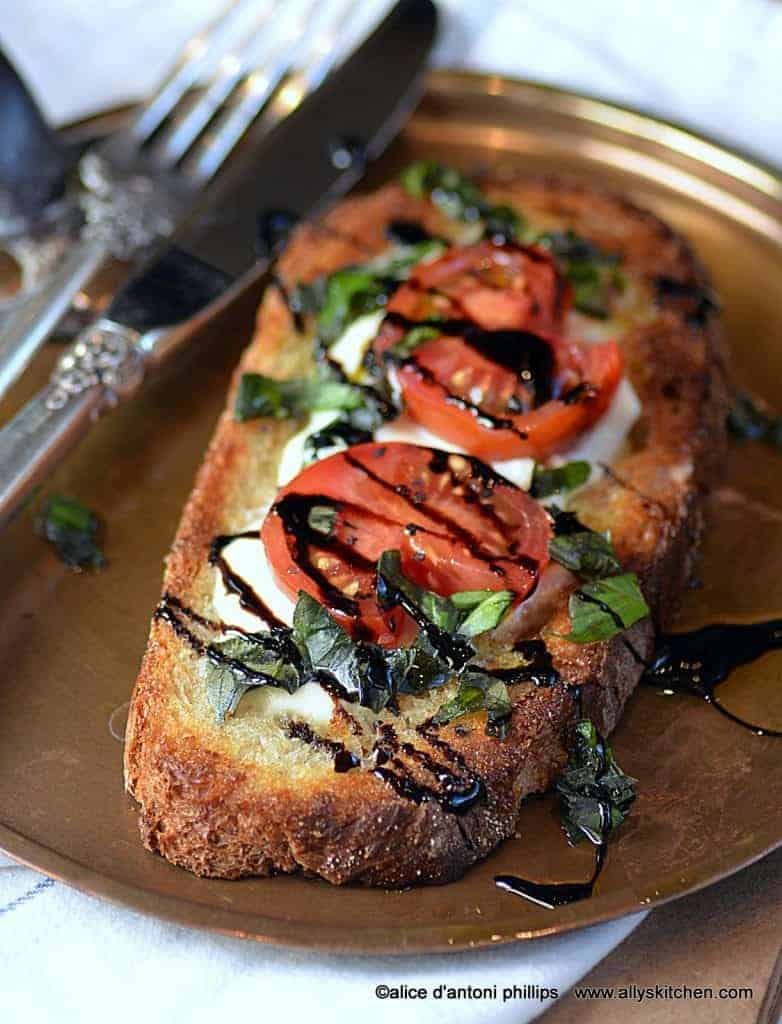 Caprese 7: The caprese deli smoked mesquite turkey sandwich! If you want to bite into something that tastes about as fresh as a tomato picked right from the vine, then this is your ticket! You can see that I'm using buffalo burrata because I want it to 'ooooooze' all that goodness and goodliness. And, I chose the thin bread because I don't want bread to overwhelm the palate!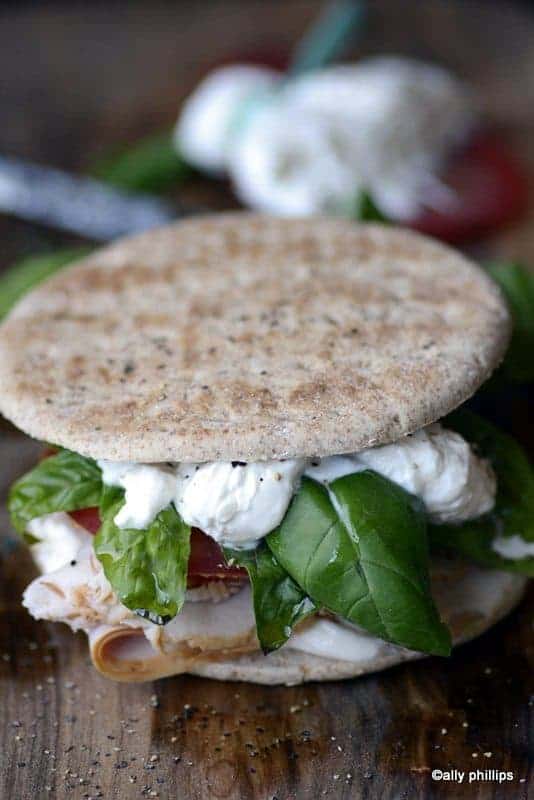 Caprese 8: This caprese inspired 'Mediterranean' Simple Salad incorporates the caprese basics, plus you've got a healthy serving of beautiful greens of all types and colors! Each person can build his/her salad with what they like. And, on the side I have small bowls of additional toppings, nuts, olives, peperoncini, onions, and more!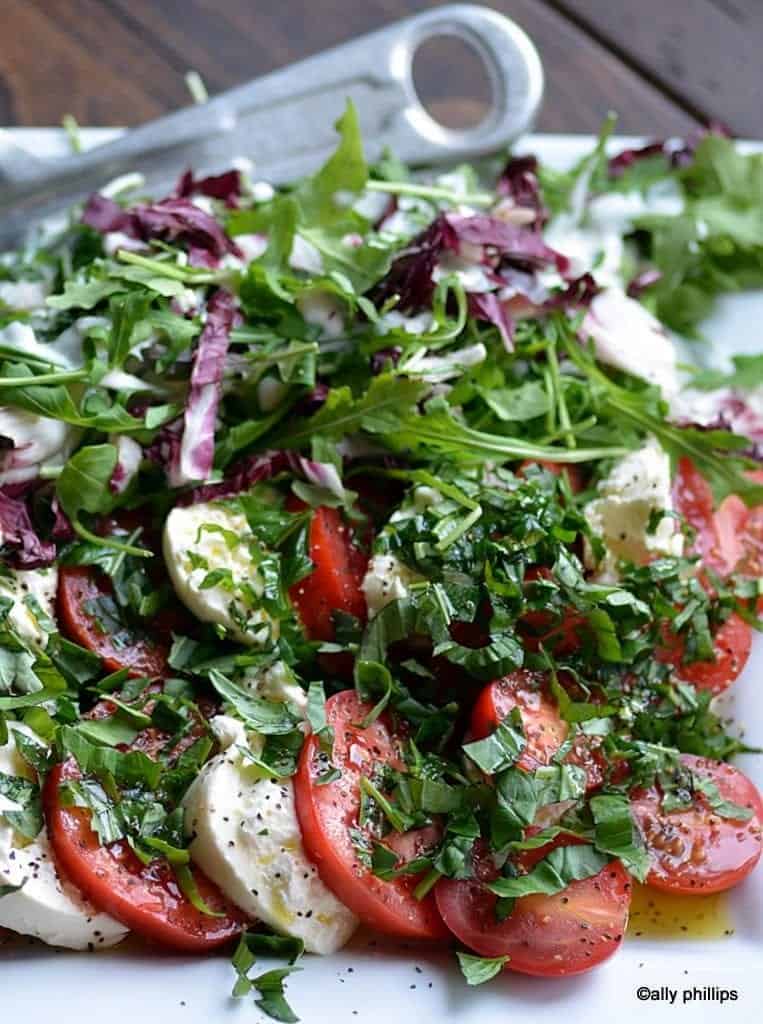 Caprese 9: The Easy Healthy Fruit Caprese Salad