The Best Oven Chuck Roast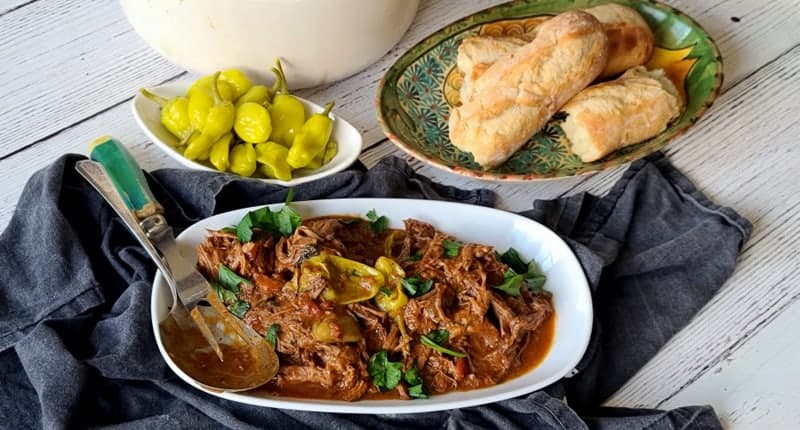 You know it's The Best Oven Chuck Roast ever when your twin 10 month-old grandsons devour it! Yes, these are the real taste testers of yummy!
Chuck Roast
I love the chuck roast cut of beef.
Cut from the shoulder and neck region of the animal, it's also sometimes called a shoulder steak, boneless chuck roast or chuck shoulder pot roast.
It's somewhat more fatty than round or brisket. With it's rich taste, chuck is also higher in saturated fats.
Oven Pot Roast Recipe
An oven pot roast take time to cook. Here's why.
Since the chuck roast cut is from the cow's shoulder, it's a heavily exercised muscle.
Yes, this gives great flavor. But, on the flip side, it makes the meat tough.
You can cube this cut of meat for stews and soups, but, again, it takes some time for the smaller pieces to tenderize.
How to Cook a Roast in the Oven
Cooking a roast in the oven is the best way in my humble opinion.
It's the old-fashioned way of cooking way before there were multi-cookers, crock pots, InstaPots and other gizmos and gadgets.
This is also a great chance for you to invest in a Dutch oven! Here are some of my favorites. And, believe me, I use mine all the time!!
Yes, the Le Creuset is the deluxe "Mercedes" of the Dutch ovens, I think, and that's what I have. You keep these pots for a lifetime and even hand them down to other generations, kind of like cast iron skillets. There are other options! So check out each and see what you think.
Dutch Oven Pot Roast
Everything goes into the Dutch oven and the heat of the oven does the rest of the job.
Be sure to check the roast about every 45 minutes to an hour to see if you need to add liquid (water). All ovens differ. The snug fit of the lid is a factor. So steam and liquid can escape.
Easy Oven Pot Roast
You can use this recipe in a slow cooker or multi-cooker. You might want to try the pressure cooker setting for meat. Check out this recipe!
Juicy Pot Roast in Oven
Here are some more of my pot roast recipes. Yes, you can see, I love them!
Bourbon and Brown Sugar Pot Roast
Blue Plate Special Easy Pot Roast
Dutch Oven Pot Roast with Gravy
There are a couple of ingredients in this recipe that might not readily be available in your pantry. These 'secret' ingredients sure to elevate the flavors of this pot roast with the thick tomato gravy!
Roast and Potatoes
Nothing's more American and homestyle than roast and potatoes.
And, you can surely add potatoes this this chuck roast if you'd like. Just make sure you have enough liquid. No need to put the potatoes in until there's about 45 minutes remaining in the cooking process.
I'd recommend a Yukon potato and cut them in about 2-3″ chunks. They'll absorb the great flavors of the gravy.
Oven Pot Roast with Vegetables
It's easy to add vegetables to this pot roast. Of course, it depends upon the size of your Dutch oven. Mine is 5.5 quarts, and there's actually not enough room to add fresh hand cut veggies. You could add frozen veggies, but again, make sure you have the space. And, frozen veggies won't take long at all to cook.
I'd think that you'd need at least a 7+ quart Dutch oven for larger hand-cut fresh vegetables.
A perfect alternative is to roast the veggies on a sheet pan while the pot roast is cooling. Then serve it alongside the roast.
Need a recipe for roasting the perfect veggies?
oven roasted garlic and herb veggies
How Long to Cook Pot Roast
For me, a chuck or pot roast should be cooked until it's about fork tender. That means you can basically you can use large forks and shred the meat.
Now some might call for cooking a chuck roast at 350 for 25 to 30 minutes per pound, but I prefer to increase the temperature. And, to get the roast to that pull apart shredding , it's going to take some time. That's the nature of a chuck roast.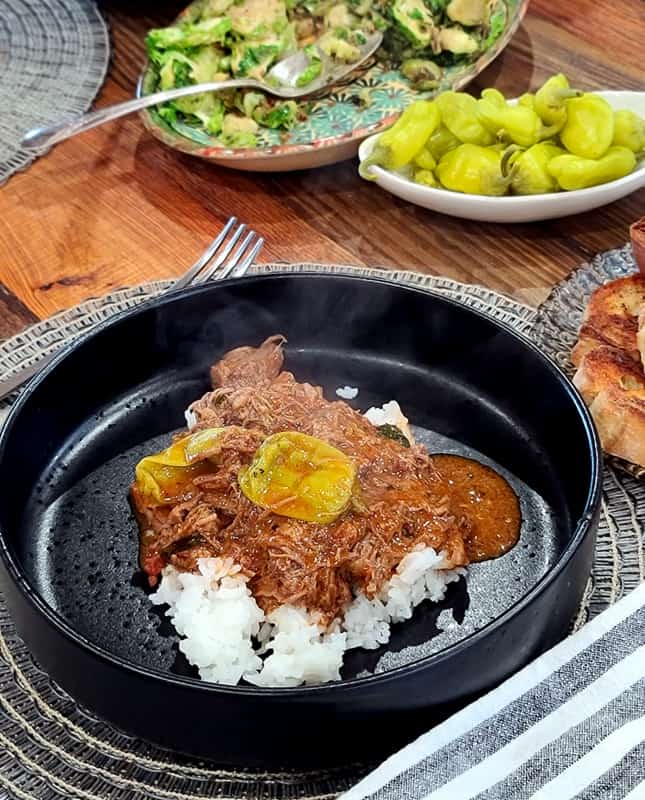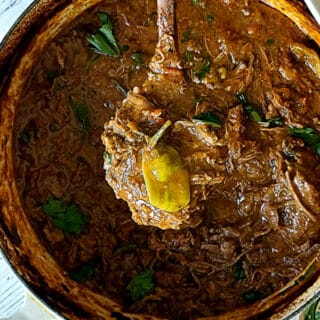 The Best Oven Chuck Roast
Ingredients
Preheat oven to 400
3 ½ to 4 lb. chuck roast, cut into about 6 smaller chunks
3./4 cup flour, all-purpose
2 tsp. sea salt
2 tsp. coarse ground pepper
1/3 cup extra virgin olive oil
1 cup sweet onions, diced
3 Tbl. anchovy paste
26 oz. crushed tomatoes
1 can (14.5 oz.) chopped tomatoes
1 cup pepperoncini with about 1 cup of liquid
2 Tbl. nutritional yeast + 2 cups water, blend together
1 fresh herb bouquet, 2-3 stems each of fresh thyme, basil and oregano, tie together with cooking twine
Instructions
Put the flour, salt and pepper in a large pie plate. Blend together. Coat each of the meat chunks with flour. Shake off excess.
Heat a large Dutch oven (at least 5 ½ quarts) on medium high heat. Add the oil. Place 2-3 chunks of meat at a time and brown on all sides. Stack the browned pieces to the side of the pot, and continue until all meat is browned. Turn off blaze.
Spread out the chunks in the pot. Add the onions, anchovy paste, crusted tomatoes, diced tomatoes, pepperoncini/juice and nutritional yeast water. Blend the mixture with a wooden spoon.
Add the fresh herb bouquet and push into the tomatoeee liquid.
Cover with the lid. Roast in a 400-degree preheated oven for three hours. Check about every hour to see if water is needed as liquid will thicken and reduce. Add a cup or so of water, then cover and continue cooking.
When done, meat should be fork tender and easily shredded with forks.

Notes
This pot roast freezes well. Keeps for about 6-8 weeks frozen.
Think of all the ways that you can use this pot roast and the thick rich gravy!