I don't know how my Croatian Mom did it. Yes, she was  abruptly widowed at the young age of 38 in 1960, with no education (never graduated from high school), and four young children to raise on her own in big time coal-mining land, Southern West Virginia.  Despite few conveniences, working her hands to the bone, no time for herself, being frenzied to the nth degree, she always had a hot hearty healthy breakfast for us on the table early every morning before school.  Yes, she hammered into us the importance of that first meal of the day.
One of the sweet and wonderful things she made was fried apples. We loved them on her homemade biscuits and even on buttered toast. Well, one morning, not long after Dad died, all us kids were sitting at the table, spit-shined and ready for school. We filled our plates. And, each of us just kind of tasted the fried apples and had this 'yuck' look on our faces. We were trying to eat them but taking kitty-cat bites and struggling to swallow. However, we knew better than to dismiss them or, worst yet, openly bellyache, whine or complain. Mom, in her 'running on that last thread of steam mode', looked at us and barked, 'What's wrong…why're you not eating those apples?"
Well, we knew better than to get sassy, so in a sheepish fashion, one of my sisters said, 'Mama, these apples don't taste good.' Mom grabbed the fork and puffed in an exasperated tone, 'Let me taste 'em'. Well, she nearly gagged! Come to find out that in her 4 a.m. frenzy of laundry, cooking and getting breakfast, she'd put a cup of salt in the apples rather an a cup of sugar! Yes, those fried apples were totally inedible. But you best be sure that we kids would never have said anything and probably would have forced them into our bellies!
I can assure you that these skillet spiced apples & coconut come with a lot of love, respect and admiration from my Mom, Katie, who was a saint and a woman steeped in substance. She never remarried, never had one date or a man in her life after Dad, and she lived until the ripe vibrant age of 86. What she gave us even with those rancid fried apples is unlimited guts and grit for life that has made us who we are today.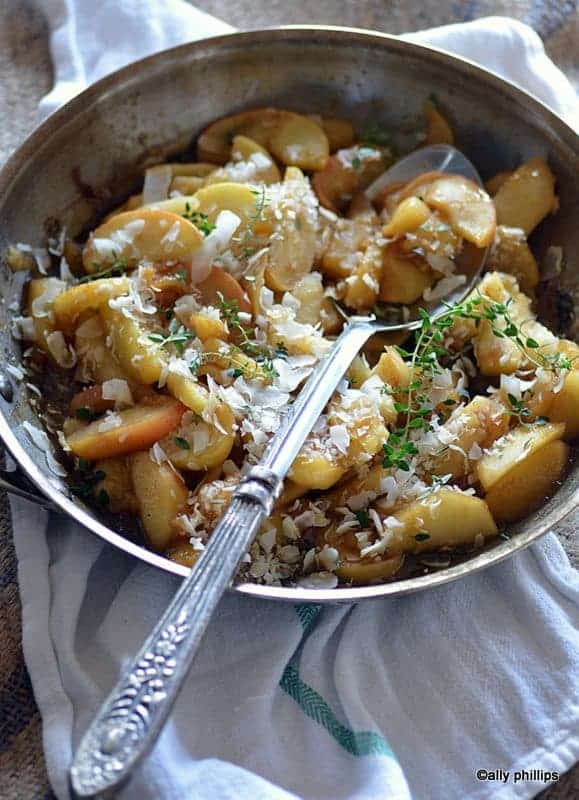 skillet spiced apples & coconut
Ingredients
7-8 apples, 5 peeled/2 leaving skins on and cut into thin slices (types that work well: gala, fiji, honeycrisp, jonagold, pink lady, etc.)
2 Tbl. coconut oil
¼ tsp. sea salt
1/3 cup freshly squeezed orange juice (I used small 'cutie' oranges.)
½ tsp. ground cinnamon
½ tsp. ground cardamom
¼ cup brown sugar, packed
½ cup coconut, preferably shaved
2 Tbl. butter, salted and melted
1 Tbl. fresh thyme leaves + sprigs for garnish
Instructions
In a heavy skillet (about 10") over medium high heat, put the oil. Add the apples, cover with a lid and cook for about 5-7 minutes tossing a couple of times with tongs.
Meanwhile, in a small bowl, combine the salt, orange juice, cinnamon, cardamom, brown sugar and blend into a liquid mixture.
Drizzle the liquid mixture on the apples and toss and blend. Reduce heat to medium low and cook another 15-20 minutes or until the apples are tender. (I don't like them mushy and falling apart—a tad bit al dente for me!)
Turn off heat. Toss in coconut and drizzle the butter on top. When ready to serve, toss in the thyme!
https://allyskitchen.com/skillet-spiced-apples-coconut/
©ally's kitchen intellectual property