Skillet Spiced Apples & Coconut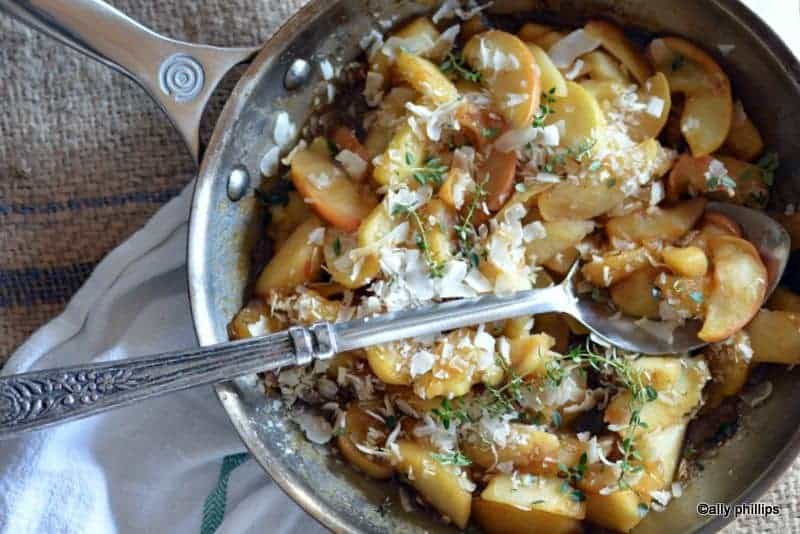 Simple, easy skillet spiced apples & coconut makes an amazing side dish, or dessert and is perfect for breakfast.
Skillet Spiced Apples & Coconut
One of the sweet and wonderful things she made was skillet spiced apple & coconut. We loved them on her homemade biscuits and even on buttered toast. Well, one morning, not long after Dad died, all us kids were sitting at the table, spit-shined and ready for school. We filled our plates. And, each of us just kind of tasted the fried apples and had this 'yuck' look on our faces. We were trying to eat them but talking kitty-cat bites and struggling to swallow. However, we knew better than to dismiss them or, worst yet, openly bellyache, whine or complain. Mom, in her 'running on that last thread of steam mode', looked at us and barked, 'What's wrong…why're you not eating those apples?"
Cooking Apples
Apple recipes are popular with lovers of homemade treats. And, this is not surprising, because apples can be found in almost any national cuisine. Sweet cooked apples are ideal for pie filling as toppings over desserts. They make great crepe filling and are delicious when served warm with ice cream.
How to Cook Apples?
Not all apples are good to go for cooking. Some apple variants are good for baking. Cooking apples are the apples that are used for cooking purposes in preparing recipes, rather than just eating raw. Apples are not only for dessert, they can be the start of an amazing side dish.
Cooking Apple Varieties
Do you know apples have various varieties? With a lot of apple varieties, how do you choose when a recipe calls for 'Cooking apples' Here are suggestions that help you to choose the right flavor such as gala, fiji, honeycrisp, jonagold, pink lady, etc. Give it a try now!
Spiced Apples
I recommend you to try this simple and easy spiced apple recipe. Every hostess wants to pamper herself and her loved ones with something tasty from time to time. Lush spiced apple recipe will be just the thing in such a situation! If you want to check out another really simple easy and delicious recipe of mine, I think you'll like malaysian mango food art.
Easy Apple Recipes
Cooking dishes with apples is a pleasure: apples enrich the dish with an additional sweet taste or add sourness. Apples go well with almost all fresh vegetables – in salads – or baked. It's just perfect homestyle comfort food that's good for the soul on a cold fall day. And of course, people of all ages love it.
Things to Make with Apples
Apples are nostalgic, scrumptious in both sweet and savory cooking, and make for wonderful breakfasts and snacks as well. Apple recipes take minimum cooking effort and maximum enjoyment. This is an amazingly tender, airy, and light dessert that both adults and children are happy to eat.
I'm also sharing a few of my favorite apple recipes that works great such as:
Orange apple upside down pie
Easy apple cinnamon roll up pie
Maple syrup fried apples & dates
Fried Apples
Fried apples will melt in your mouth. These fried apples are fresh apple wedges sauteed with butter, sugar and cinnamon until browned and tender. An easy side dish or dessert option that always gets rave reviews!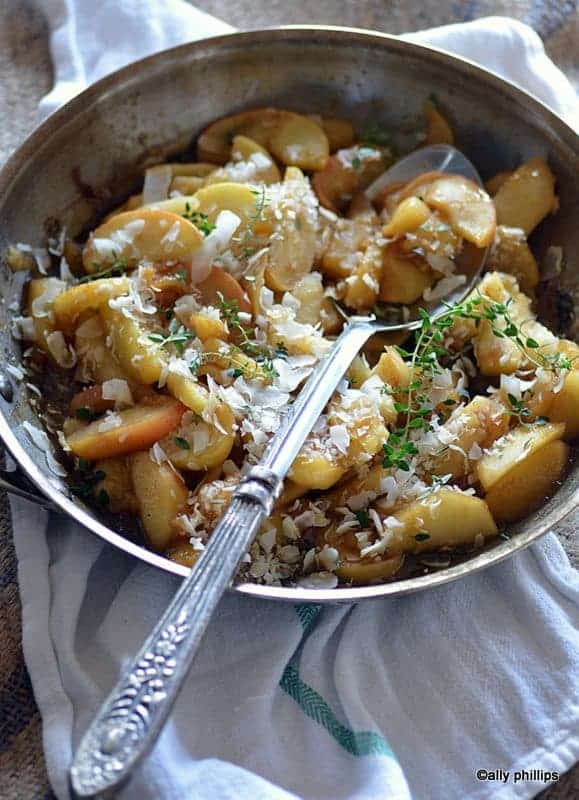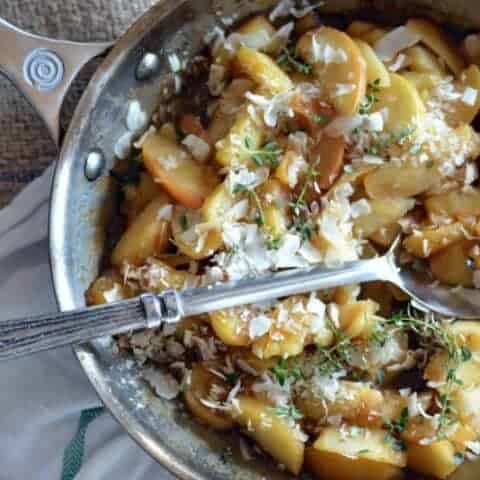 Skillet Spiced Apples & Coconut
Simple, easy skillet spiced apples & coconut makes an amazing side dish, or dessert and is perfect for breakfast.
Ingredients
7-8 apples, 5 peeled/2 leaving skins on and cut into thin slices (types that work well: gala, fiji, honeycrisp, jonagold, pink lady, etc.)
2 Tbl. coconut oil
¼ tsp. sea salt
1/3 cup freshly squeezed orange juice (I used small 'cutie' oranges.)
½ tsp. ground cinnamon
½ tsp. ground cardamom
¼ cup brown sugar, packed
½ cup coconut, preferably shaved
2 Tbl. butter, salted and melted
1 Tbl. fresh thyme leaves + sprigs for garnish
Instructions
In a heavy skillet (about 10") over medium high heat, put the oil. Add the apples, cover with a lid and cook for about 5-7 minutes tossing a couple of times with tongs.
Meanwhile, in a small bowl, combine the salt, orange juice, cinnamon, cardamom, brown sugar and blend into a liquid mixture.
Drizzle the liquid mixture on the apples and toss and blend. Reduce heat to medium low and cook another 15-20 minutes or until the apples are tender. (I don't like them mushy and falling apart—a tad bit al dente for me!)
Turn off heat. Toss in coconut and drizzle the butter on top. When ready to serve, toss in the thyme!