Easy English Cucumber Galette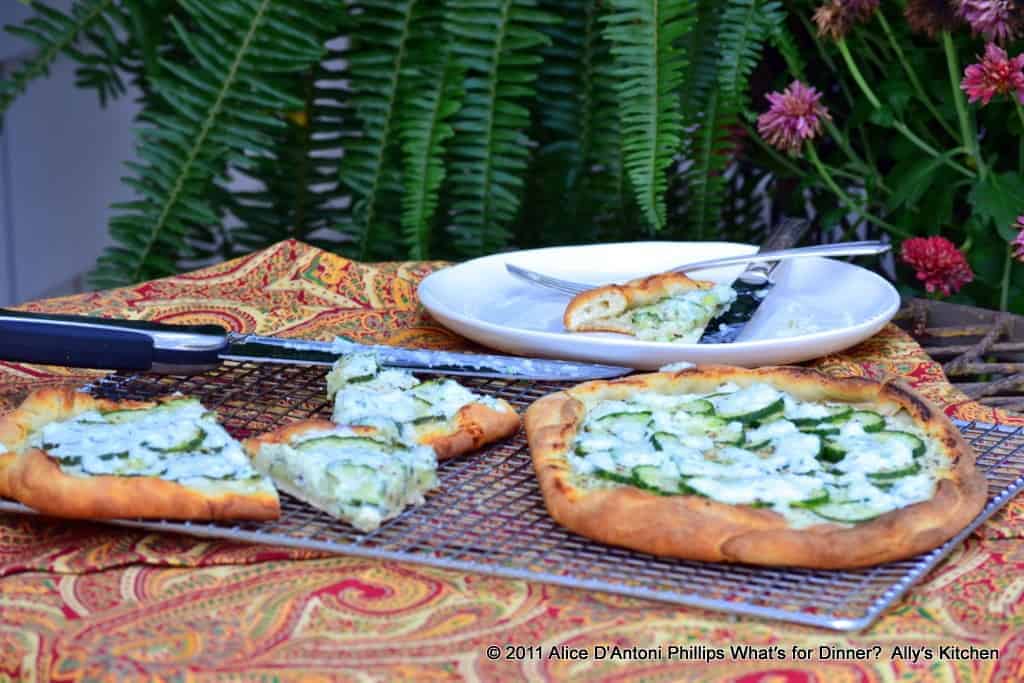 This easy English Cucumber Galette is a recipe that you never probably think of, but once you taste, you say WOW! Super refreshing!
What to do with a Cucumber
I love a challenge! And, when I saw the Lenox/Rozanne Gold 1-2-3 recipe contest, I decided I'd see what I could conjure up.
Cooking Cucumbers
Yes, you can cook cucumbers! I found that out by trying. You still have some crunch. And, actually the flavors of the cucumbers are excellent!
Cucumber Recipes Easy
Now, I love cucumbers. And, when it's Summer and so many different varieties are available, I'm like a kid in a candy store. Lemon cucumbers, yes, they look like lemons. Armenian cucumbers, kinda like an English cucumber, but they can grown longer and curl into interesting shapes.
Rustic Galette
There's nothing easier that you cannot fail at than a rustic galette! Yes, it's meant to look like it's not quite 'perfect'. And, that's one thing I love about food. I like to keep it organic looking and natural.
Seasonal Galette
Yes, this recipe is the perfect seasonal galette.
So what is a galette?
Wikipedia defines a 'galette' "…as a general term used in the French cuisine to designate various types of flat, round or freeform crusty cakes." I've created my own version of it with this English cucumber galette.
Cucumber Galette Recipe
There aren't many recipes for a cucumber galette. But, this recipe is so stinkin' versatile.
If you don't want to use cucumbers, then substitute zucchini or squash or both! Experiment with other vegetables, cauliflower, broccoli and more.
And, if you're in the mood for a sweet pizza, well, then you must must try my peach pizza and load it up with vanilla bean ice cream!
Cucumber Pizza Crust
The combination of the cucumber with the creamy Greek yogurt on the warm crunchy pizza dough IS refreshingly tasty and light. Adding the top drizzle of the cool sauce added to the pleasure of each bite!
Veggie Pizza Recipes
Veggie pizzas are probably my favorite. Well, next to a loaded pepperoni pizza!
And, that's the fun part of making this insanely easy recipe. You become the veggieMeister!
Throw on some meat with those veggies. Yes, this Holiday Italian Pizza will be like a disappearing act once you take it out of the oven or off the grill!
Crescent Roll Veggie Pizza
If you can't find refrigerated pizza dough, then by all means, use refrigerated crescent rolls.
And, of course, you're always welcome to make your own pizza dough.
Check my recipe for Garlic Butter Pizza. Grab the part of it that shows you how to make a pizza crust. Yes, I do make my own crust. Sometimes.
Cucumber Recipes Not Salad
So here you go, a great recipe using cucumbers that's not salad related! Imagine that.
And, if you want to add some sweet thinly sliced onions to this galette, oh, gosh, that's awesome.
I just had to follow the guidelines for the recipe contest. Three ingredients. That's it.
English Cucumber Recipes
English cucumbers are similar to Persian cucumbers. They both belong to the burpless variety due to its tiny, edible seeds. Both have a mildly sweet flavor and smooth skin. So if you can't find an English cucumber, look for a Persian cucumber. And, if that's not available, then try small cocktail cucumbers. They're usually always at Costco in the refrigerated vegetable section. You know, where you have to wear your coat and mittens to shop!
I happened to have a fresh English cucumber in the refrigerator and some yummy plain Greek yogurt. And, that's precisely how this English Cucumber Galette would be born. So, with a refrigerated roll of pizza dough, I had something pretty spectacular in about 20 minutes!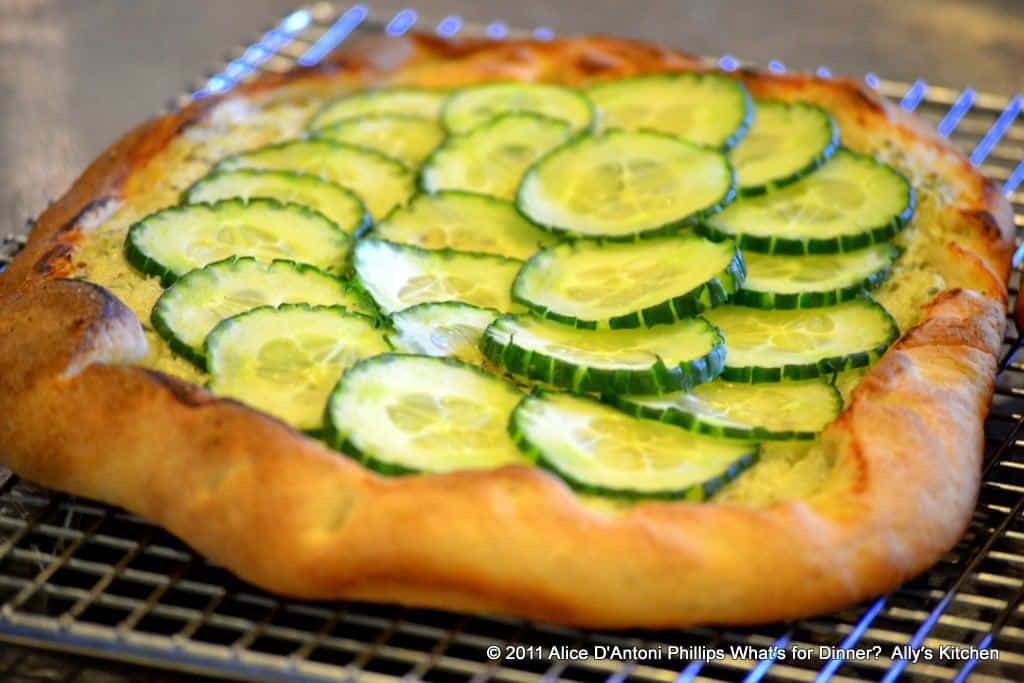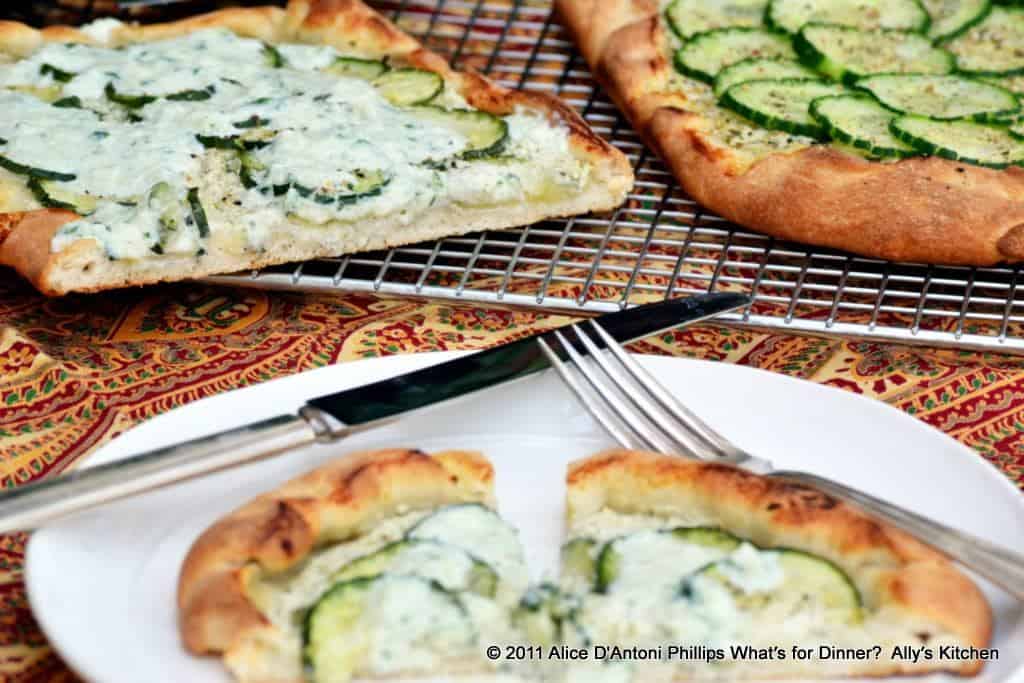 easy cucumber galette
Yield: About 6 to 8 servings
Ingredients
Preheat oven to 400
1 large English cucumber, washed, dried, and thinly sliced
¾ cup Greek plain yogurt
1 pkg. refrigerated pizza dough
Sea salt/pepper to taste
Instructions
1. Slice ends off of cucumber. Cut in half. Score (all around cuke) one half with fork making slight indentations, then cut into very thin slices. The slices (perimeter) will be slightly scalloped. Put aside. Chop up other half of the cuke. Place chopped English cucumber and yogurt into blender and pulse until a thick liquid. Pour into a small mixing bowl. Add sea salt and fresh cracked pepper to taste.

2. On a non-stick cookie sheet lined with parchment paper put the pizza dough. Roll and stretch somewhat. The shape does not have to be perfect. Turn/roll up the sides all around the 'pie' shape. Place about 1/3 of the yogurt/cuke mixture on each (not the edges). Arranged thinly sliced cukes on top. Bake for about 10-12 minutes or until edges are golden brown.

3. Remove from oven. Cool for 5 minutes. Drizzle the remaining yogurt/cuke sauce atop each slice. Cut and serve. For added kick, add some red chili flakes!
Notes
I don't recommend regular large cucumbers. The skins on them are usually very waxy and tough.

Baby or cocktail cucumbers are also good to use with this recipe.