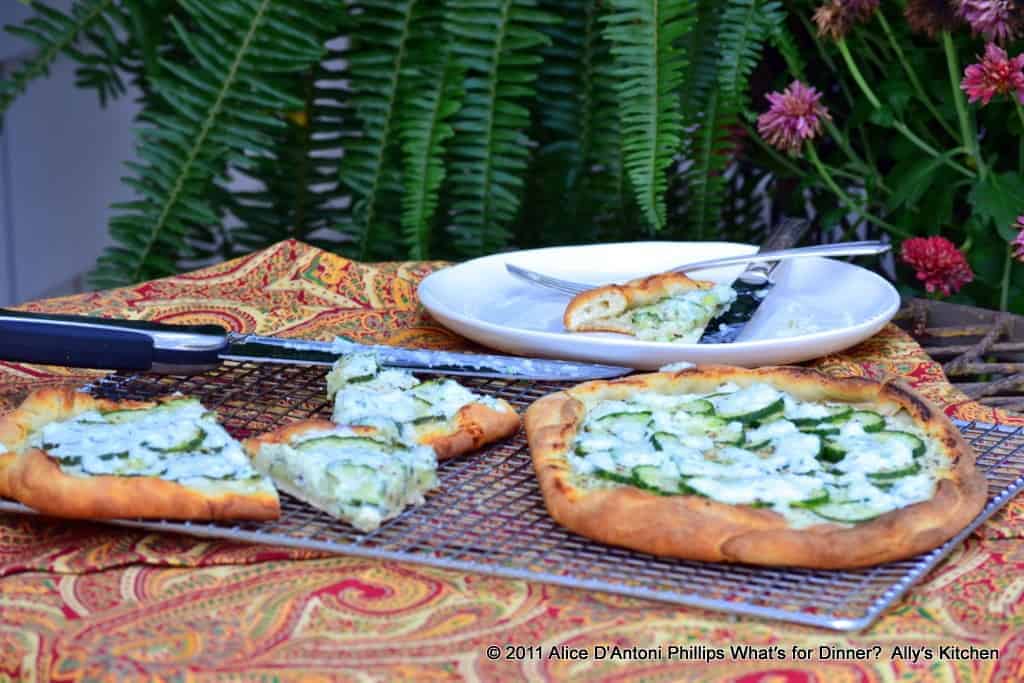 I love a challenge!  And, when I saw the Lenox/Rozanne Gold 1-2-3 recipe contest, I decided I'd see what I could conjure up.  I had a fresh English cucumber in the refrigerator and some yummy plain Greek yogurt.
I decided a English Cuke Galette would be born.  So, with a refrigerated roll of pizza dough, I had something pretty spectacular in about 20 minutes!  The combination of the cucumber with the creamy Greek yogurt on the warm crunchy pizza dough was refreshingly tasty, light and adding the top drizzle of the cool sauce added to the pleasure of each bite!
PS:  Wikipedia defines a 'galette' "…as a general term used in the French cuisine to designate various types of flat, round or freeform crusty cakes."  I've created my own version of it.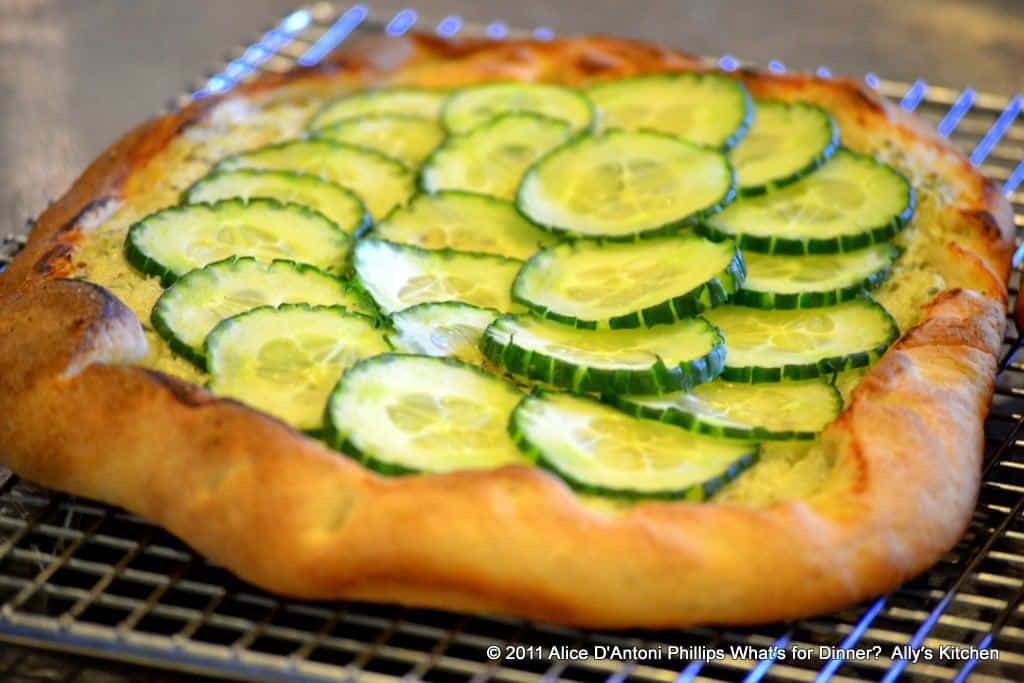 Serves:  8
Pre-Heat oven to 400
What you need:
1 large English cucumber
¾ cup Greek plain yogurt
1 pkg refrigerated pizza dough (i.e., Pillsbury)/enough for 2 galettes
Kosher salt/pepper to taste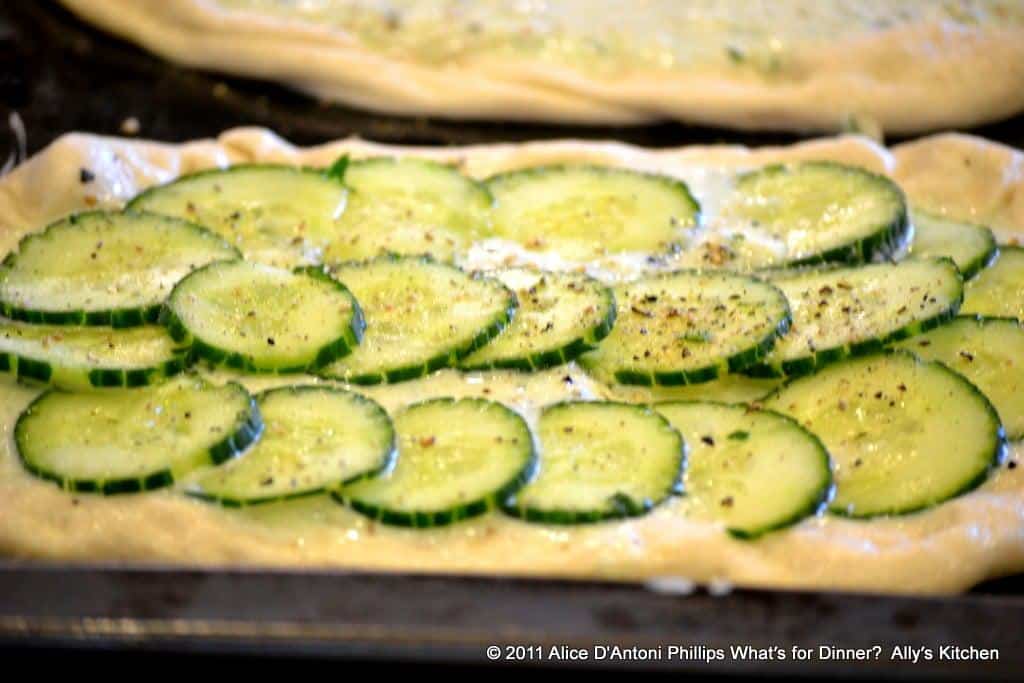 What you do:
Slice ends off of cucumber.  Cut in half.  Score (all around cuke) one half with fork making slight indentations, then cut into very thin slices.  The slices (perimeter) will be slightly scalloped.  Put aside.  Chop up other half of the cuke.  Place chopped English cucumber and yogurt into blender and pulse until a thick liquid.  Pour into a small mixing bowl.   Add Kosher Salt and fresh cracked pepper to taste.
On a non-stick cookie sheet roll out each piece of pizza dough.  The shape does not have to be perfect.  Turn/roll up the sides all around the 'pie' shape.  Place about 1/3 of the yogurt/cuke mixture on each (not the edges).  Arranged thinly sliced cukes on top.  Bake for about 10-12 minutes or until edges are golden brown.
Remove from oven.  Cool for 5 minutes.  Drizzle the remaining yogurt/cuke sauce atop each slice.  Cut and serve.  For added kick, add some red chili flakes!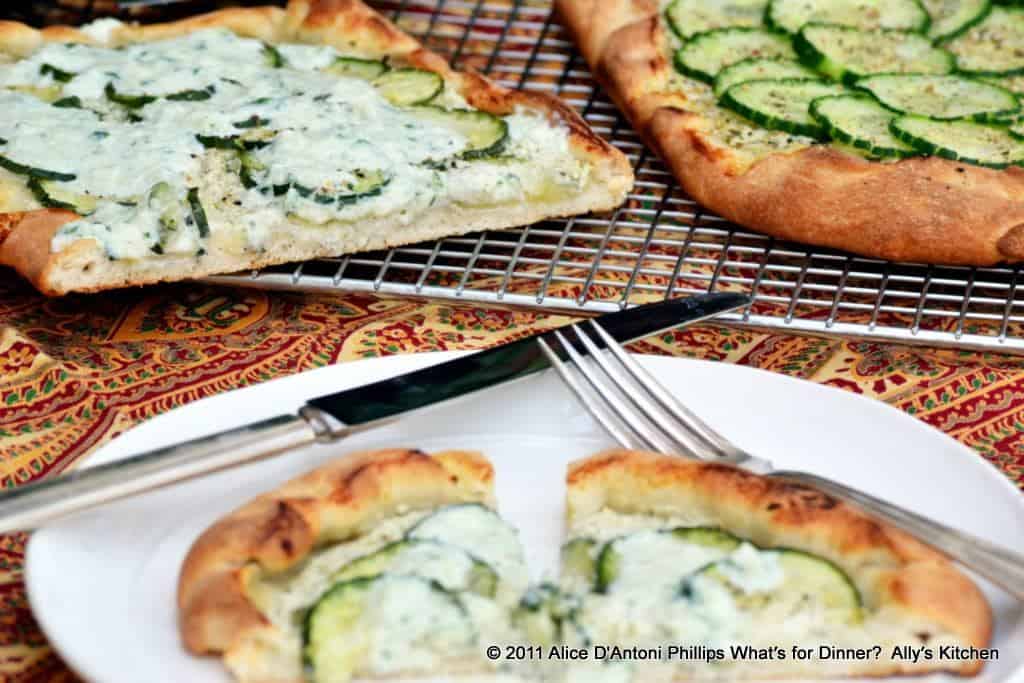 © Alice D'Antoni Phillips  www.allyskitchen.com