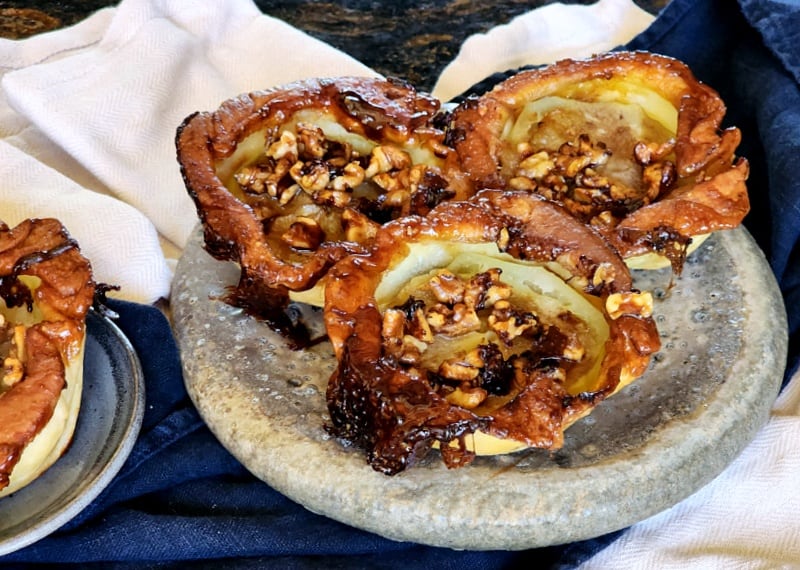 There's nothing tastier than a fresh warm apple hand pie! And, my recipe makes it super easy to make! No frying. We're baking up tasty treats!
Hand Pies
Talk about convenient. Hand pies! Yes, they're like lovely pies of happiness.
Mom used to make fried apple hand pies when I was a little girl. Oh, my gosh, they were so incredibly delicious, and you wanted to eat them while they were hot and steamy. She'd pull them out of the skillet after they'd cooked then sprinkle cinnamon sugar on them!
Mini Apple Pies Recipes
Mini apple pies don't take a lot of work.
Now I've used half of an apple for each pie. I chose to slice them the way I did, but if you want to do some other kind of slicing and piling up of the apples on the cookie sheet then wrapping them in dough, have at it.
Recipe for Apple Hand Pies
My recipe for these apple hand pies is quite simple. The instructions may sound complicated, but it's really not. I'm just trying to describe how I cut the apple. And, believe me, in the time this hand pie bakes, that apple is tender, tasty and perfect!
Hand Pies with Puff Pastry
You can use either pie crust dough or puff pastry dough.
I just happened to have the pie crust pastry dough. Next time, however, I am going to use puff pastry because I just like the crusty, crunchy, flakiness of it!
Easy Apple Pie Filling
Now there's nothing sacred about apples for this recipe. I've done the same recipe with peaches, nice thicker type slices or even the entire half peach. Haven't tried w/apricots, but I'm thinking that would work too as well as maybe a pear!
Hand-Held Apple Pies
Now I have several other recipes for hand held pies. You have to check out these 'big boy' apple cupcake pies. Talk about yummy!
Another great one is the apple cinnamon roll up pie. You must eat to warm to really savor the flavors!
Easy Apple Hand Pies
Oh yes, and don't forget cherries! My goodness those dark red cherries, frozen and pitted are the best unless you want to get fresh and pit, make the best juicy hand pies!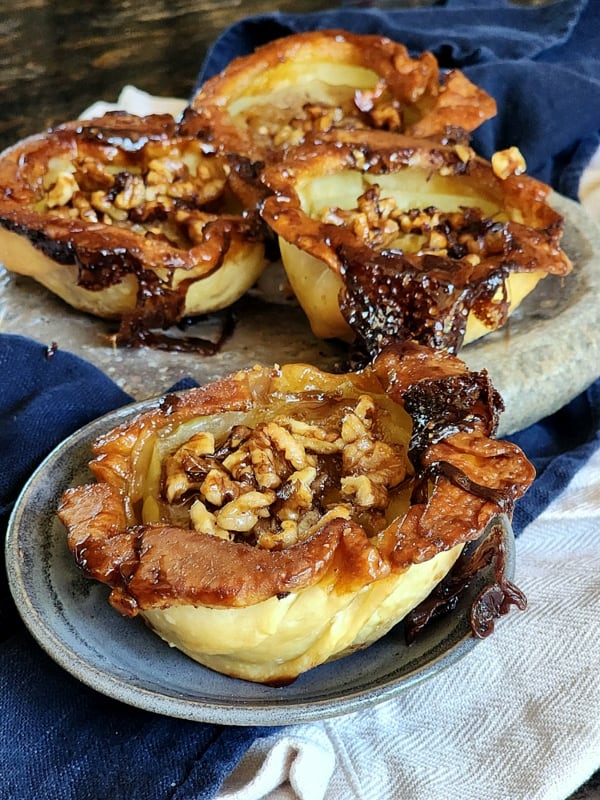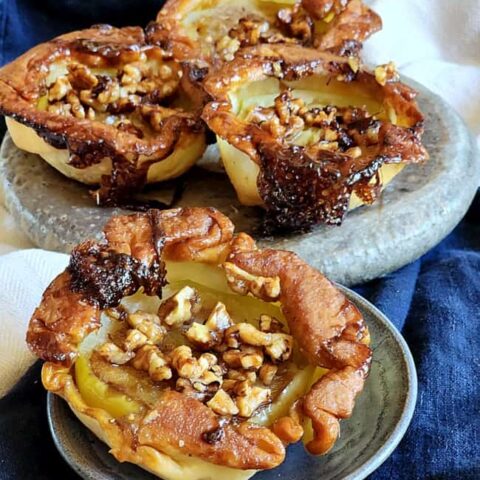 The Best Apple Hand Pie
Ingredients
Preheat oven to 350
2 large Granny Smith apples, washed and cleaned
5 Tbl. butter, soft and spreadable, salted butter
10 tsp. coconut sugar
1/2 cup walnuts, chopped, optional
1 refrigerated roll out pie crust, about room temperature
Instructions
Preheat oven to 350
Carefully cut off a thin slice of the apple on the bottom and top (where stem is). Then cut a thin small slice on the side of the apple. This will give it a flat surface and stabilize it.
Turn apple on 'flat' side then carefully sliced in half. With a small pairing knife remove the seeds.
On a parchment paper lined cookie sheet, spread about 1 1/2 tsp. of the soft butter on four separated spaces. Put about 1 1/2 to 2 teaspoons of coconut sugar on the butter.
If adding walnuts, put equal amounts of small chopped walnuts on the butter/sugar.
Place the apple on the butter/sugar then put about 1/2 teaspoon of butter and 1/2 teaspoon of coconut sugar on top of the apple.
Roll out the pastry dough. Cut in half vertically then horizontally getting four large pieces.
Take a piece and drape over the apple then crimp and tuck the soft dough around the apple. Do this for the four apples.
Slather equal amounts of soft butter and a sprinkle of coconut sugar on top the dough.
Bake in a preheated 350 oven for 40 to 45 minutes or until golden brown. There will be oozing of butter/sugar.
Remove from the oven and immediately, while hot, slide a spatula under each apple. When somewhat cooled flip the apple upside down (dough on bottom now).
Enjoy and eat! Finger licking allowed!