cumin corn soufflé cilantro & caramelized onions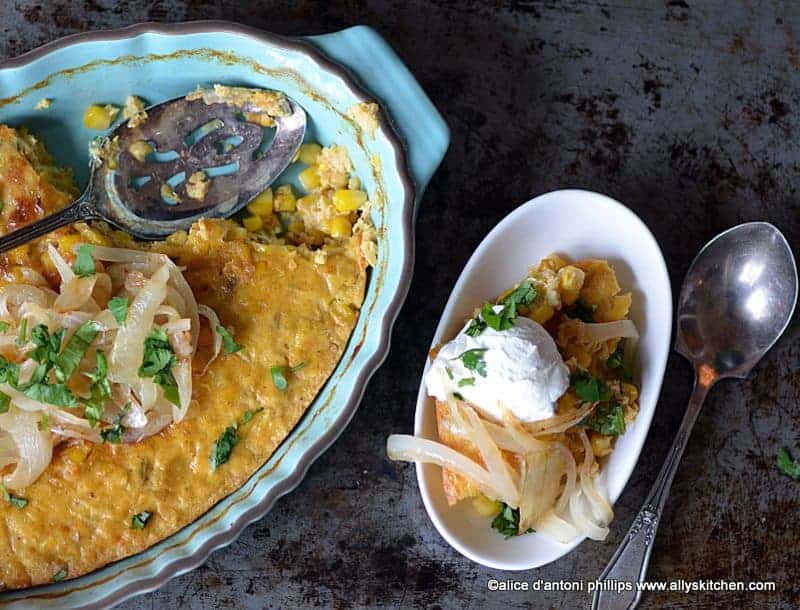 Corn souffle! Yes, a dish that for me is synonymous with Thanksgiving, and here's the backstory on this recipe! The best inspiration and ideas for new recipes come from folks who are my foodie followers~whether it's social media virtual friends, long-time flesh n' blood friends, acquaintances I meet in random places or family~the subject of food is our common DNA. So, this recipe idea came from a former 'student' of mine~~in my former 'life' I was a professional tutor, and I interacted with thousands of kids over decades, many of whom are still in my life.
This idea for cumin corn soufflé with cilantro & caramelized onions came from sweet Valerie!
She posted on Facebook that she'd just had the most wonderful corn soufflé and asked if I could come up with a recipe. Well, here you go, Valerie, and I must say, my taste testers, Nan and Noni, gave it two thumbs up! I'll be serving this on special holidays like Easter, which is right around the corner. ~peace & soufflé nirvana~ xo ally
Here's something great to serve with this recipe! OMG, you are going to love love this pot roast!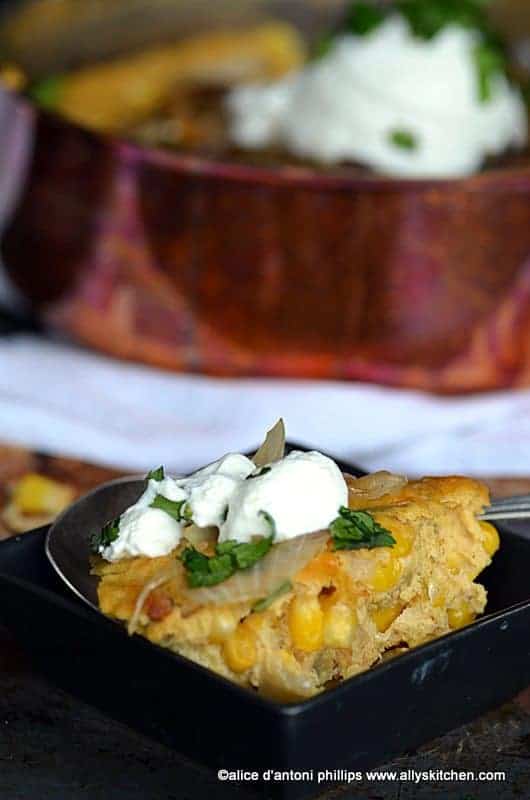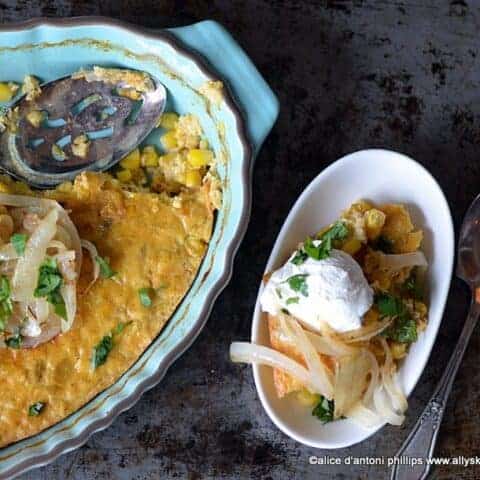 cumin corn soufflé with cilantro & caramelized onions
Ingredients
Preheat oven to 325
2 Tbl. butter, salted
1/3 cup onions, minced
1 Tbl. garlic, minced
5 cups (frozen or fresh) corn, divided & thawed
4 ½ ounce can green chiles, diced
1 tsp. sea salt
2 tsp. cumin, ground
1 tsp. smoked hot paprika
1 tsp. white pepper
4 eggs, beaten
½ cup plain Greek yogurt
¾ cups grated parmesan
½ cups milk (2% or whole)
TOPPING
3 Tbl. butter, salted
2 sweet onions, thinly sliced in half moon pieces
1/3 cup cilantro, chopped
1 cup Sour Cream
Instructions
In a cast iron skillet over medium heat, add the butter and melt. Add the onions and garlic and sauté about 3 minutes. Add 4 cups of corn and green chiles, toss and blend and cook about 10 minutes. Combine the salt, cumin, paprika and pepper in a small bowl, blend then scatter over the corn, toss and blend. Reduce heat to medium low.
In a mixing bowl, combine the eggs, yogurt, parmesan and milk and whisk together well. Add to the corn mixture and blend well.
Put the skillet on a cookie sheet and bake in a preheated 325 oven about 18-20 minutes. Remove and let rest about 10 minutes.
In another skillet over medium to medium high heat put the butter and onions and cook about 15-20 minutes until the onions are translucent, have some caramelizing going on them. Reduce heat to low and before serving atop the soufflé add the cilantro.
Servings can option for sour cream and some onions atop each.
Notes
You can start caramelizing the onions as the soufflé is baking.