pennsylvania dutch corn chowder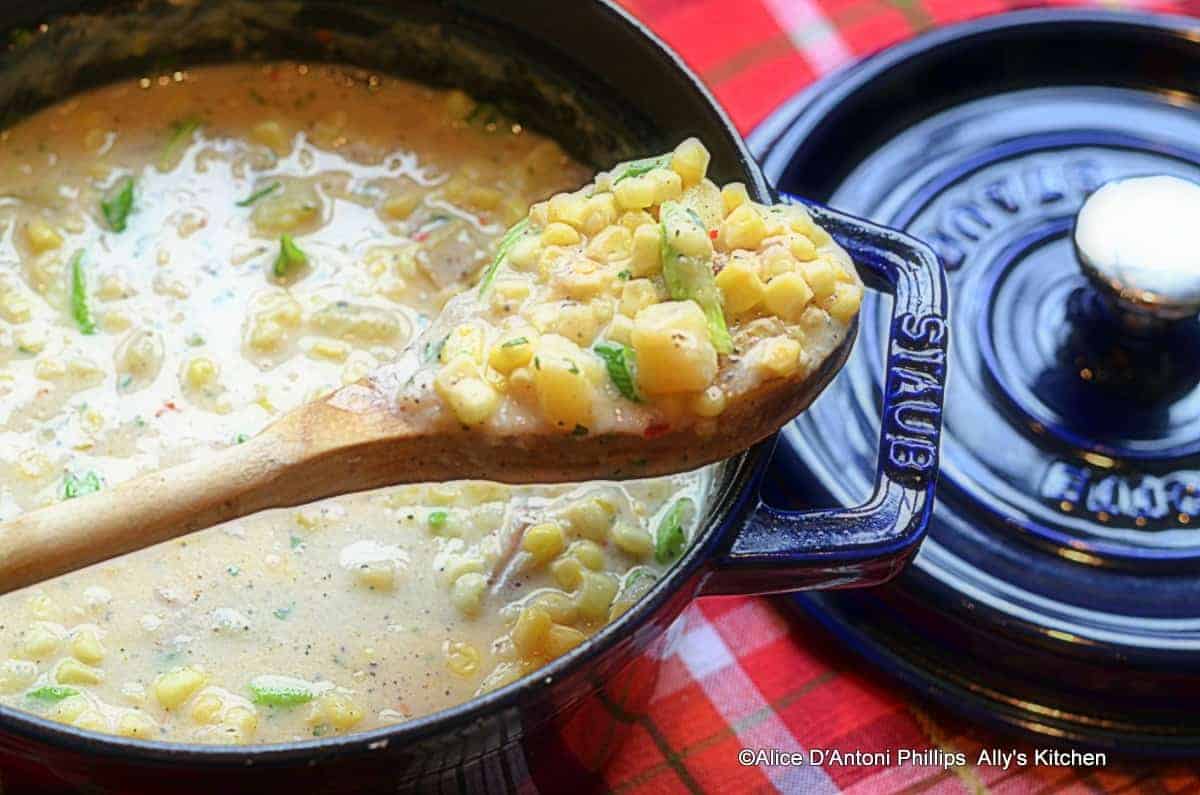 Chowders
Warm your tummy with this Pennsylvania Dutch corn chowder and you'll snuggle in for the evening! Simply perfect for lunch or dinner!
Chowders are soups with cream or milk. And, this creaminess that makes them superbly delicious. They're usually other ingredients, too, like potatoes, corn, maybe seafood, onions, celery. Popular chowders are seafood based like clam chowder.
Soups with Corn
Now I love corn. And, I love soups with corn. In fact it doesn't have to be just a vegetables soup with corn, but other soups that you'd maybe not think of adding corn.
Here're a few of my soups or stews with corn that you might want to check out:
Slow Cooker Chicken Fajita Soup
Dutch Oven Corn Chowder
German communities in Pennsylvania settled long ago came to be known as the Pennsylvania Dutch. Like Amish communities, the Pennsylvania Dutch have been known for their delicious recipes including the Dutch oven corn chowder.
Today's Dutch oven pots are perfect for making any kind of soup, stew, roast and more. They can be used both on the stove top and in the oven like a baking dish. Since they're large and roomy, they're perfect for big meals and one-pot preparation.
Creamed Corn Soup
One of the best things about being a foodie and blogger is the number of talented and generous other foodies you meet via social media. Many of my friends, whom I've never met in person but feel like I know as well as real 'brick and mortar' friends, have written cookbooks. This recipe is from one of my foodie friends, Warren Caterson, who's created 'Table for Two' .
The cookbook is full of a cornucopia of easy and simple, yet elegant and delicious, recipes. And, since I was hankering for a creamed corn soup, I landed on page 25 and found this recipe!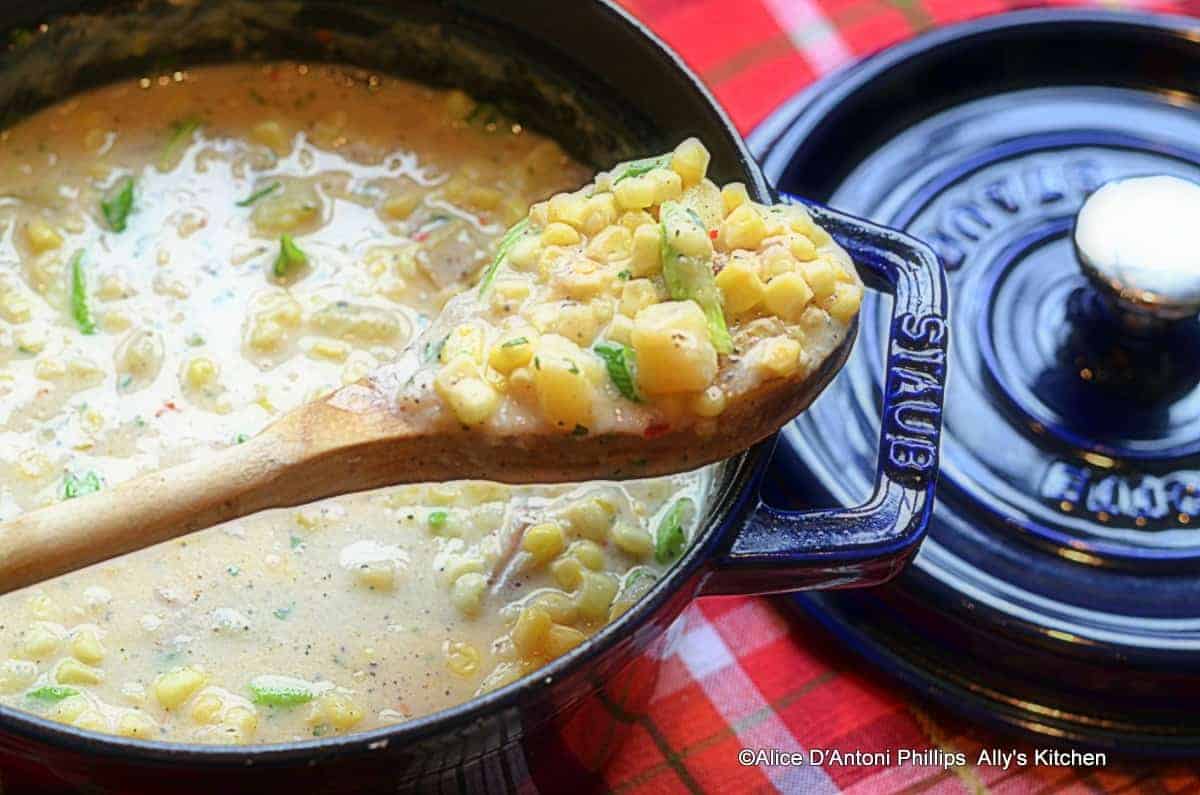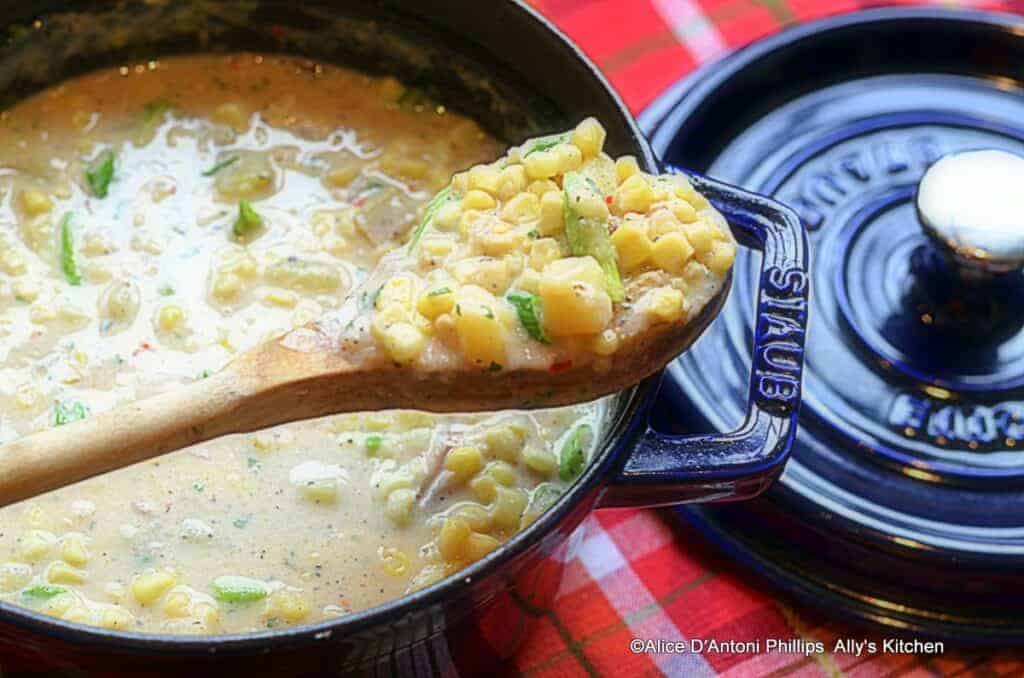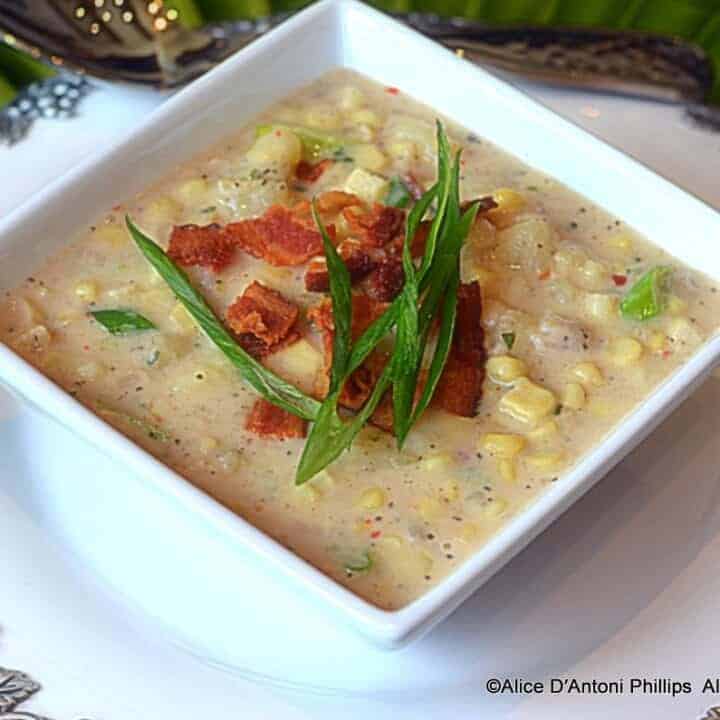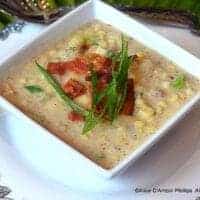 pennsylvania dutch corn chowder
Ingredients
4 slices bacon sliced, fried, and bacon drippings remaining in Dutch oven pot
2 medium Yukon potatoes, medium dice, skin on
1 medium purple onion, diced
1 1/2 cups chicken broth
2 1/2 cups frozen corn
1/2 tsp. red chili flakes
1 tsp. ground cumin
1 Tbl. dried cilantro
1 1/4 tsp. sea salt
1 tsp. coarse ground pepper
1/2 cup half and half
1/2 cup sour cream
1/3 cup sliced green onions with tops, plus some for garnish
Instructions
Over medium heat in the Dutch oven, fry bacon and remove from pot leaving drippings.

Add potatoes and onion and blend. Add chicken broth and corn. Bring to boil on medium high heat. Cook about 10 minutes.

Reduce heat to medium low and add chili flakes, cumin, cilantro, slat, pepper, half and half and sour cream and blend.

Cover with lid and cook for about 30 minutes on low stirring occasionally. Add green onions when ready to serve.