vietnamese bokchoy shrimp soup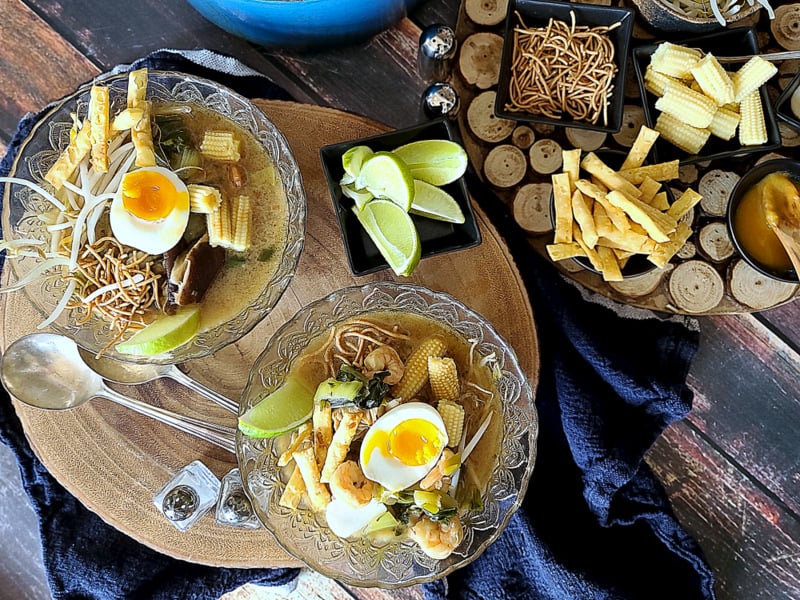 This vietnamese bokchoy shrimp soup just makes you feel healthy. I mean take a gander at the ingredients. Nothing in there that's not good for your digestive system!
Shrimp and Crab Soup Recipes
Nothing's better than seafood soups. And, two of my favorite types of seafood are shrimp and crab!
How to Make Shrimp Soup
Making shrimp soup is so easy. That's because your shrimp cooks so dang fast. So, it's going to be the very last thing you put into the soup.
Soups with Shrimp Recipes
Shrimp soup recipes come in all kinds of varieties. From Italian and Cajun to Jamaican and Asian. And, there's nothing better than Asian!
Asian Soup Recipes
The countries of Asia all share their own versions of Asian soup recipes. And, soups are big in Asia. Spending a month in Asia showed me that fact. I mean even for breakfast I ate some kind of Asian soup and it was always delicious! This Vietnamese shrimp soup won't disappoint!
Vietnamese Shrimp Soup
While the Vietnamese love their noodles I decided to omit noodles from my shrimp soup. You can certainly add them to this recipe.
Vietnamese Shrimp Noodle Soup Recipe
Vietnamese cuisine is characterized by a lot of rice, noodles, fresh vegetables and herbs. These ingredients make Vietnamese food one of the healthiest in the world. And, this soup recipe has loads of most of these wonderful ingredients.
Shrimp Soup Recipes
Trust me, growing up in West Virginia, I'd never really even tasted anything Asian and the only Viet Nam I'd heard of was the one that my brother was sent to as a young draftee infantry soldier.
For a while I thought Asian food, like Vietnamese, was 'too complicated' to make. Oh, was I wrong! And, now with the abundance of markets and even traditional grocers who stock ethic ingredients, we're all able to travel the globe without leaving our kitchens.
So grab the list of ingredients. And, have at this wonderful soup that will make you feel like you're somewhere in the beautiful country of VietNam. Here's to adventurous palates!
Asian Soups
You've got to check out some of my other Asian soups!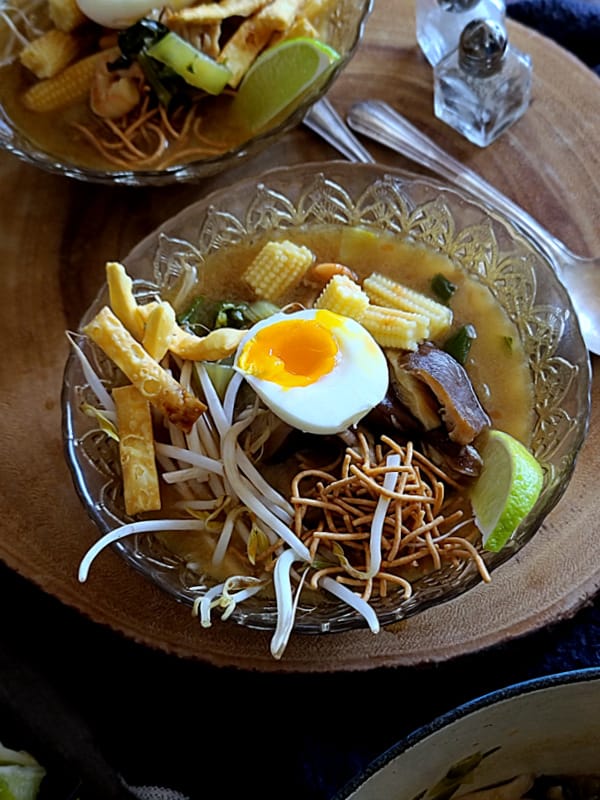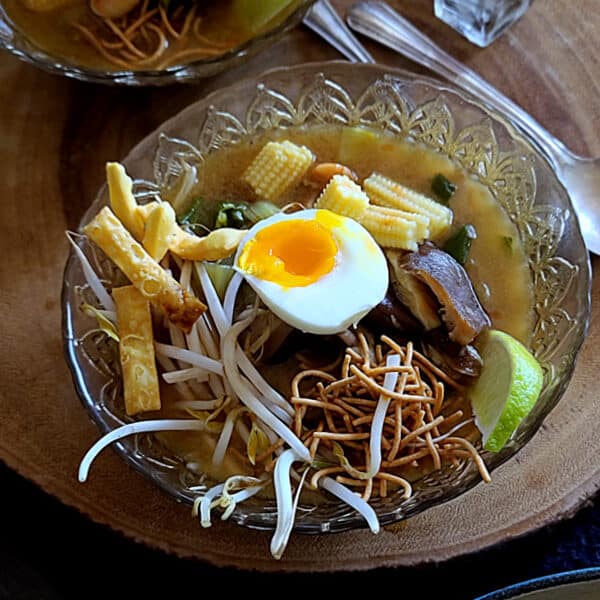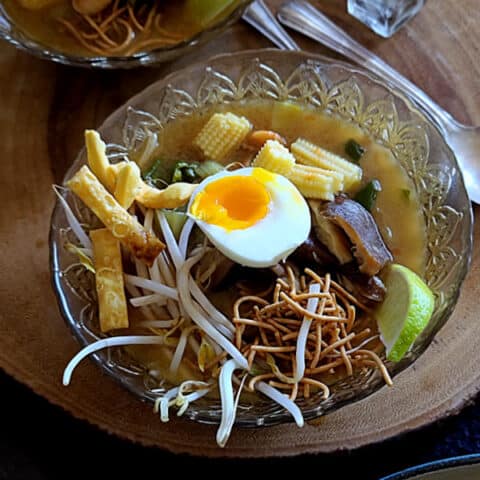 vietnamese bokchoy shrimp soup
Yield: 4+ servings (depending upon size)

This Vietnamese shrimp soup will simply make your feel like you're healthier! It's got so much flavor and will explode your palate, in a good way!
Ingredients
1 lb. medium shrimp, deveined, shells off, tails off
2 Tbl. toasted sesame oil
3 large garlic cloves, peeled and sliced thinly
2 cups chicken stock + 1 cup water
1 oz. package fried rice seasoning mixture
¼ tsp. white pepper
2 tsp. fish sauce
3 tsp. soy sauce
¼ tsp. red chili flakes
2 tsp. ginger, freshly grated
6 green onions, with tops sliced thinly
1 ½ to 2 cups mushrooms, sliced
3 cups bokchoy, sliced with greens
1 lime, sliced in wedges
¼ cup fresh basil and parsley, chopped
3 soft boiled eggs, optional
TOPPING OPTIONS:
Chow Mein Noodles
Hot Sauce
Mung Beans
Water Chestnuts
Bamboo Shoots
Tiny Corn
Chinese Extra Crispy Noodles
Fried Onions
Asian Sweet and Spicy Sauce
Instructions
In a heavy medium-sized pot on medium heat, put the oil and garlic slices. Sauté about 2-3 minutes stirring so it doesn't burn.

Add the chicken stock/water, seasoning mixture/pepper, fish sauce, soy sauce, chili flakes, and ginger. Blend. Cover with a lid and cook about 3 minutes.

Turn heat to medium low. Add the green onions, mushrooms, and bokchoy. Blend. Cover with the lid and let it cook about five minutes.

Add the shrimp and basil/parsley, cover and cook about 5 minutes.

When serving squeeze a lime wedge into the individual soup servings. and top with a soft boiled egg (optional).

Have an array of additional toppings for the soup.