Carrot Pineapple Cookie Sheet Cake Bars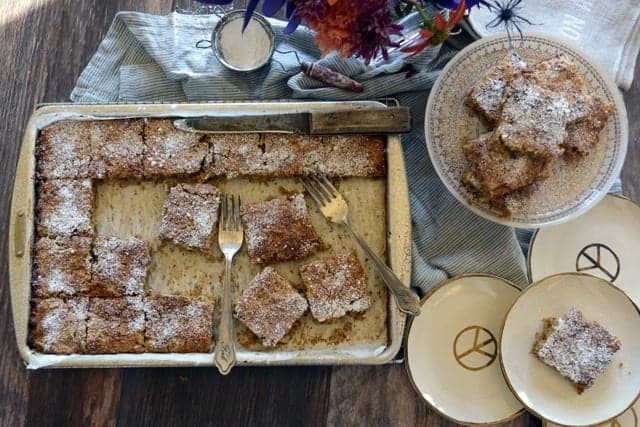 Now I love me some carrot cake. But, you're gonna find these carrot cake bars that you make in a cookie sheet pan simply ingenious!
Old-Fashioned Carrot Cake Recipe with Pineapple
Carrot cakes set the gold standard for a velvety, rich, and decadent cake. The old-fashioned way of baking carrot cakes involves a lot of patience and time consuming, but every single minute is worth it when you have a forkful of delicious and soft cake. Preparing carrot cakes with a handful of pineapple chunks and pecans gives a fruity and nutty texture to your carrot cake. If you are looking for a twist to your good old breakfast, then you can try a flavorsome carrot cake pineapple date nut waffle with the goodness of carrots and nuts! Perfect to start your morning!
Carrot Pineapple Coconut Sheet Cake
Are you having a party at your place, and the guest list is quite long? We have the die-to-for recipe for a huge crowd which can be prepared in an hour! Carrot sheet cakes have the traditional spicy flavor, coconut cream cheese frosting, and pineapple chunks in your cake, making it drool-worthy! The sheet cakes are easy to make, soft, and tender with a blast of a cocktail of flavors in your mouth. It's like biting into a heavenly Pina Colada flavored Carrot sheet cake. You can also try your take on Carrot Pineapple Coconut Cake Tartlets if the tart is your forte!
Easy Recipe for Carrot Cake
How to make a simple and quick traditional carrot cake? The secret to a moist carrot cake lies in choosing the juicy carrots; it also depends on the type of frosting you choose. Some go with cream cheese, whereas others go with normal cake frosting. The creamier, the merrier! If you don't want to indulge too much, then kindly check out our oatmeal bars recipe. One of my personal favorites is Spiced Pumpkin Pecan Oatmeal Bars.
Carrot Cake Recipe Easy
Carrot cakes are lush and can be made with a cinch! Easy gluten-free carrot cakes can be made by swapping out your normal flour with gluten-free flour. Carrot cakes are healthy in a way; they contain carrots, nuts, and raisins. Suppose you belong to the category that can't stand the flavor of nuts and raisins. Then you can avoid adding them to your cake. Either way, the cake comes out fluffy, luscious, and tender. If you want to try out a different recipe off-track from cakes, you can try ginger snap pumpkin bars; these are like biting into an actual Krusty pumpkin pie!
Carrot Cake Recipe with Pineapple
Are you a fan of county fair carrot pineapple cake? The carrot bundt cakes with the buttermilk glaze, Ohh! They are something to die for! You can also make simple carrot cakes with fresh frozen pineapples to take you back to the evergreen county fair times. The end result? Inevitably delicious! You can cut a slice of the cake and have it as an evening snack, or you can have it with a cup of tea! Either way, they're irresistibly soft and lip-smackingly delicious!
Carrot Cake with Pineapple
Who knew carrot and pineapple could go shockingly great together in a cake? What amplifies the carrot cake? Is it the spices? Or the pineapples? Or the nuts and raisins? The whole amalgamation of flavors gives you a smooth and flawless cake. When you dig in, you can feel the tenderness of the cake. Once you're done with the frosting, you could allow it to sit overnight; the frosting will seep through the layers of the cake resulting in a juicy and moist cake. Trust me! It will be gone before you know it! As a healthy alternative, you can try Pineapple Date Oatmeal Cakies.
Carrot Cake with Pineapple
Are you looking for a dazzling easy holiday dessert recipe that everyone loves? Have you ever tried to woo your relatives and guests with a carrot cake with fresh frozen pineapple chunks? I bet you haven't! It's high time you must try this recipe and blow away your guests with a lush, delicious, and moist carrot cake! Carrot cake for everyone!!! It will magically disappear in less than 5 minutes!
Carrot Cake from Mix
If you are running late on preparing the dessert, you can skip doing everything from scratch and settle down with a box cake mix. If you don't want it to be too ubiquitous and prominent to be a box cake, you can try a carrot cake with cream cheese frosting! Psst! Nobody is gonna know! If you don't have the time to run errands and buy a few ingredients necessary for a carrot cake, then you can try a Blueberry Rhubarb Crumbles with a dollop of ice cream or whipped cream to woo your guests! They'll be impressed by your recipe!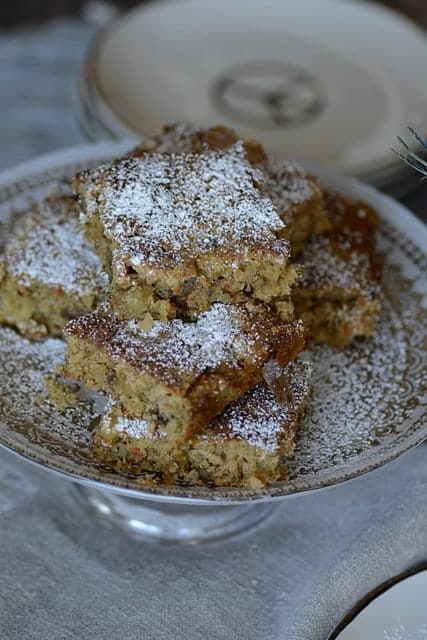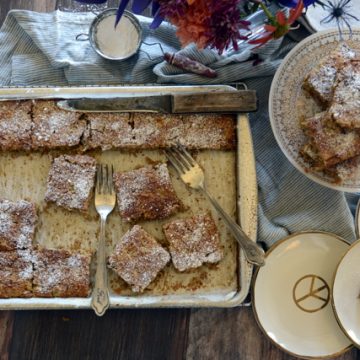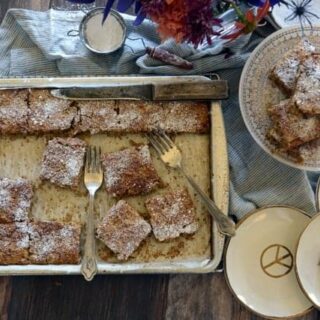 Carrot Pineapple Cookie Sheet Cake Bars
Yield: One 11 x 17 cookie sheet pan

Now I love me some carrot cake. But, you're gonna find these carrot cake bars that you make in a cookie sheet pan simply ingenious!
Ingredients
Preheat oven to 375
1 (17.5 oz.) Betty Crocker Oatmeal Cookie Mix
½ cup butter, melted, salted
2 eggs, beaten
1 cup oats, whole
1 ½ cups carrots, food processor to make into fine 'pebbly' mixture
1 ½ cups Dole Sunshine Crushed Pineapple, natural juice with juices
1 cup walnuts, chopped
3 Tbl. powdered sugar, garnish dusting
Instructions
In a large mixing bowl, combine the cookie mix, melted butter, eggs and oats and blend very well.

Add the carrots, pineapple and blend well. Add the walnuts.

Coat an 11 x 17" cookie sheet pan with cooking spray. Place a strip of parchment paper in the bottom of the pan.

Spread the thick batter into the pan distributing evenly.

Bake for about 25-30 minutes in a preheated 375 oven.

Remove to a cooling rack.

When cool, dust liberally with powdered sugar. Cut into cookie cake bar squares.
Notes
Cover well with plastic wrap or foil to keep fresh.

These cookie cake bars freeze well!