Easy 4-Ingredient Rhubarb Strawberry Flat Pie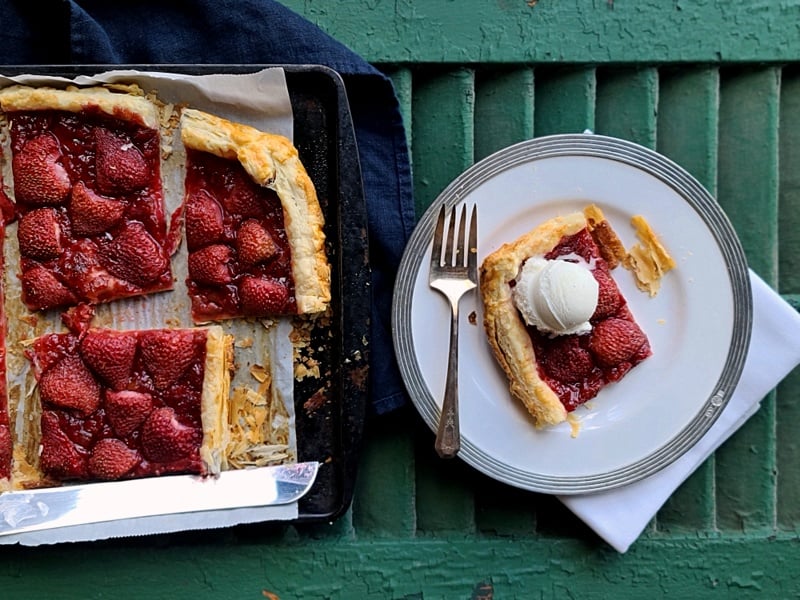 Easy 4-Ingredient Rhubarb Strawberry Flat Pie is about the most delicious you'll make! And, the slices are big because it's a flat pie! Yum!
Recipe for Strawberry Rhubarb Pie
An easy recipe is just what you need for a strawberry rhubarb pie. And, with only a few ingredients, you're guaranteed a stunning tasty pie.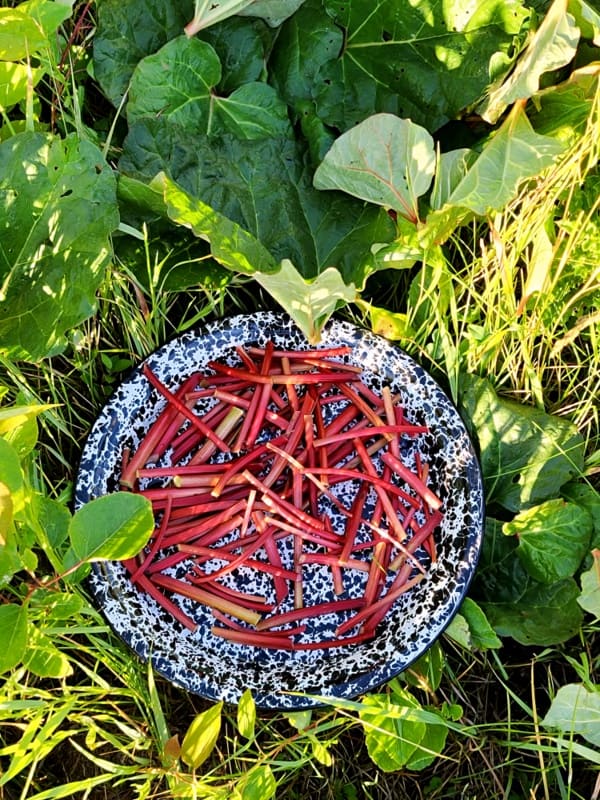 Old Fashioned Strawberry Rhubarb Pie Recipe
Rhubarb by itself is exceptionally tart. And, most people find it not really great to eat. This strong sour flavor has to be offset with sugar in order to use the beautiful rhubarb stems.
Strawberry Rhubarb Slab Pie
Rhurbarb is a vegetable. And, its stems look like a reddish crimson celery. Unlike celery, you're unlikely to just slice these stems and eat them. You're going to need to cook the rhubarb and you will need sweetener.
It's very important to know that the leaves of rhubarb are very poisonous! Do NOT eat them. They're high in oxalic acid, which can quickly cause kidney failure in humans.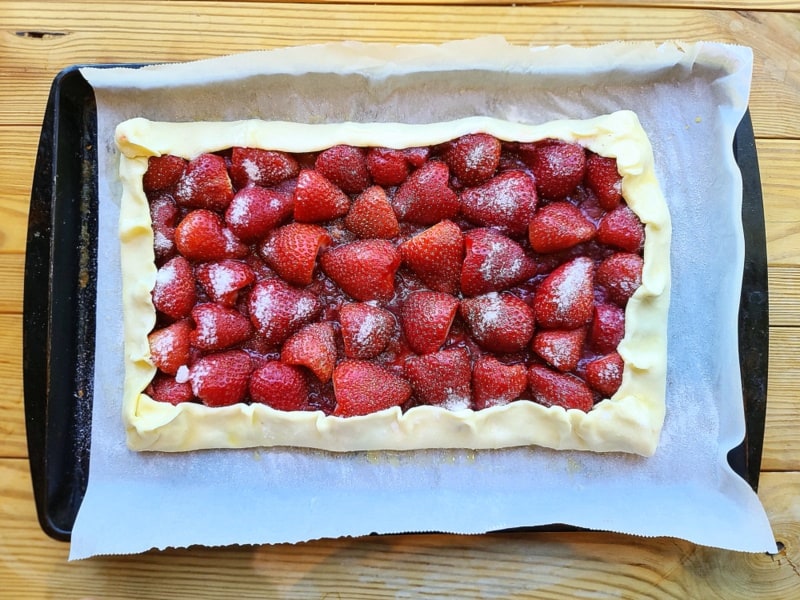 Amish Strawberry Rhubarb Pie Recipe
Amish strawberry rhubarb pie typically has a custard in it. Made from eggs, cream and sugar, the custard helps with mellowing the sour tart taste of the rhubarb. And, the naturally sweet strawberries add even more delight.
Strawberry Rhubarb Pie
When strawberries are in season, this is the pie to make. And, making it a 'flat' pie is even more effortless with your baking.
Honestly, this flat pie is like a 'pizza' but it's a sweet delicious 'pie'! Just shift your thinking about what really makes a pie a pie.
Another thing, you can have even a larger slice because it's flat and is basically fruit.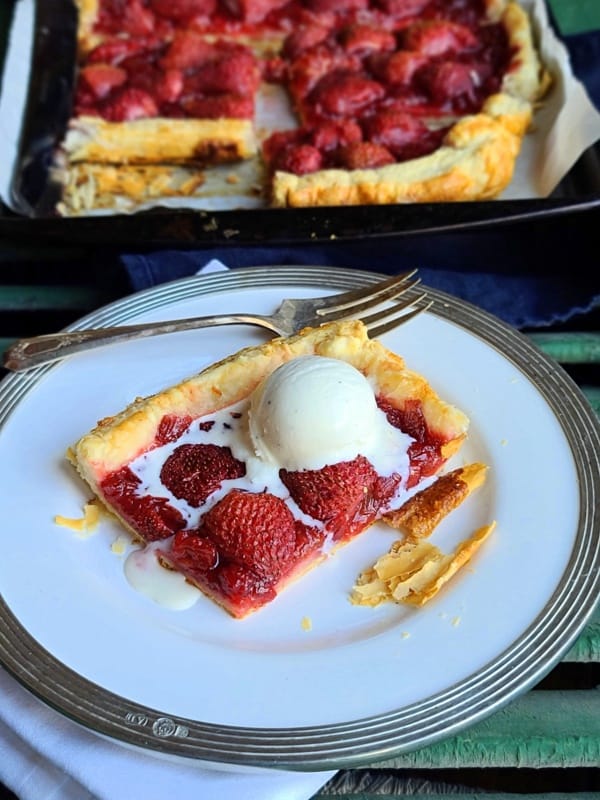 Easy Pie Crust Recipes
For me, easy pie crusts are a must when baking. Sure I can make my pie crust from scratch. And, I have. But, refrigerated pie crusts can be a very close second to homemade. And, they save some serious time, energy and mess.
For this recipe, I really think the puff pastry is the way to go. If you want to use homemade pie dough or even a refrigerated pie dough that would work, too.
So, see, you have options!
Simple 6-Ingredient Fresh Fruit Tart
Aussie Lamb Strawberry Arugula Pizza
Rhubarb Desserts
Rhubarb desserts don't have to be complicated.
Here are some simple ideas for using rhubarb in desserts and other dishes.
Simply simmer your sliced rhubarb in some water and sugar. You could actually use the first part of this recipe where we make a 'jammy' rhubarb for the recipe. Serve over ice cream.
Make a simple syrup (about 2 cups sliced rhubarb + 1 1/2 cups water + 3/4 cup sugar) with the sliced rhubarb. Simmer about 8-10 minutes. Strain off the rhubarb from the liquid. Then use in a mocktail or cocktail of your choice.
Use roughly ground rhubarb stems (slice rhubarb and pulse in food processor) in an apple or banana bread recipe.
Finely dice up rhubarb stems and use in your scone recipe! Here are some of my scone creations!
Make a simple rhubarb 'jam' (rhubarb + water + sugar + lemon juice) and serve with chicken and pork.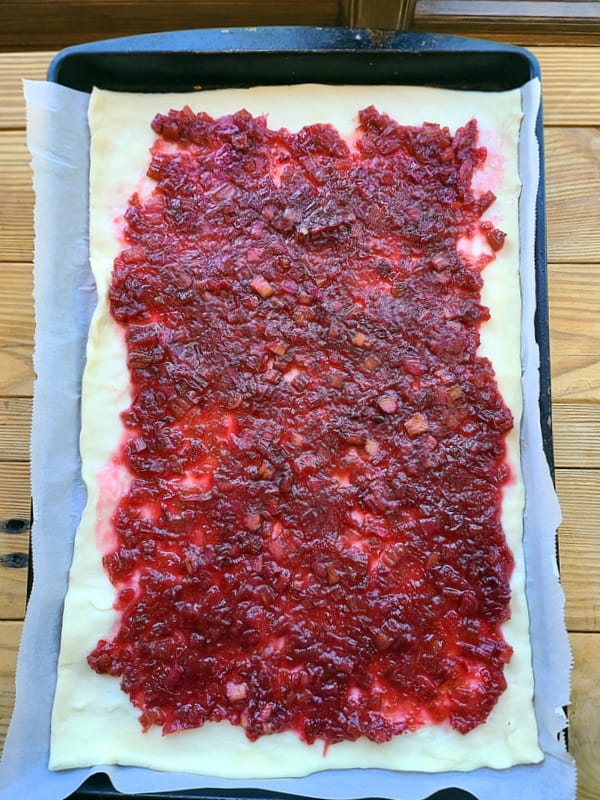 Rhubarb and Strawberry Recipes
While strawberry seems to be the natural partner of rhubarb, don't forget that it can be paired with other things: apples, figs, pears, bananas and more.
Rhubarb Raspberry Mint Sauce
Strawberry Rhubarb
Lest we not forget that rhubarb stems are exceptionally nutritious. Full of calcium, manganese, vitamins C, and K, fiber and those glorious antioxidants. Rhubarb also has been found to help digestion!
When you cook rhubarb, it essentially falls apart into translucent fibers. And, its juices thicken nicely. That means it's perfect for chutneys and pairing with other fruits like peaches.
If you're lucky enough to find rhubarb year-round, then you'll enjoy experimenting with many recipes. Otherwise, look for it from about April through July.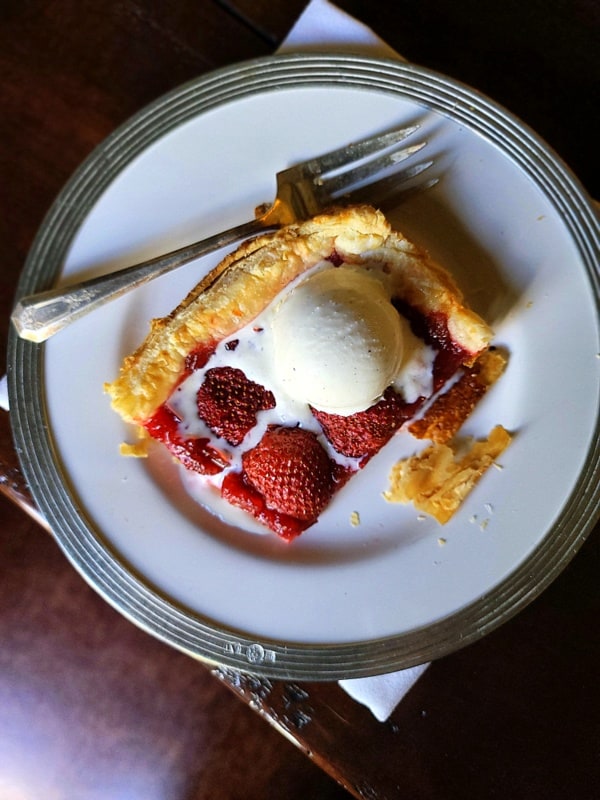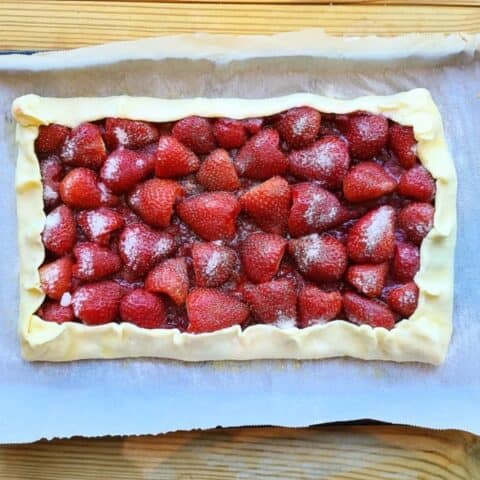 Easy 4-Ingredient Rhubarb Strawberry Flat Pie
Ingredients
Preheat oven to 375
2 ½ cup fresh rhubarb, cut into small pieces
1 cup + 2 Tbl. coconut sugar, divided
1 package puff pastry, room temperature, stretch to about 12 x 16"
16 oz. fresh strawberries, cleaned, hulled and sliced in halves
Egg white, optional
Instructions
Preheat oven to 375. Line a cookie sheet with parchment paper.
Put the rhubarb, one-half cup water, one-half cup sugar in a saucepan over medium high heat. Blend and bring to boil. Reduce heat to low, cover with a lid, and let the rhubarb cook about 8-10 minutes until basically tender and in a thick 'jammy' consistency. Remove from blaze and cool completely.
Place the puff pastry on it and gently stretch the dough.
Spread the cooled rhubarb on the puff pastry leaving about one inch around the perimeter without rhubarb. Place the strawberries on top leaving the perimeter without strawberries. Sprinkle with one-half cup sugar.
Pull up sides and crimp the dough all around the flat pie.
Use a pastry brush and cover the exposed dough with egg white. Sprinkle on the remaining sugar on the dough.
Bake in a preheated 375 oven for 40 to 45 minutes. Remove and cool thoroughly.