Best Dead Sea Granola Coffee Cake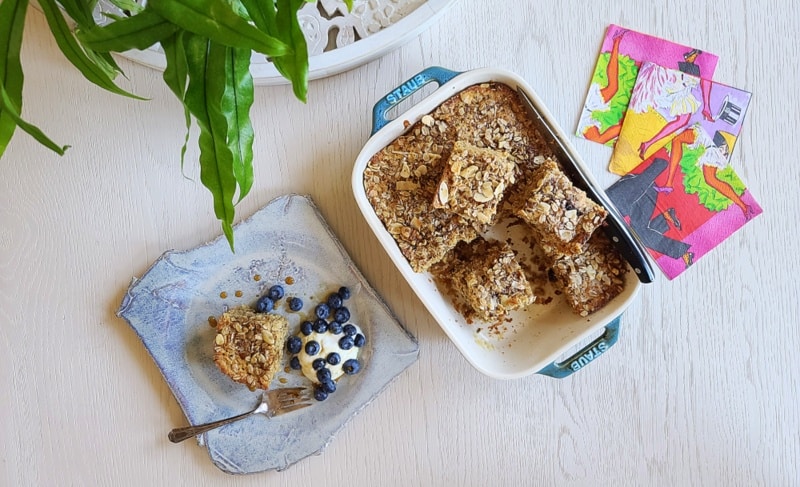 Get ready for THE best dead sea granola coffee cake! It's like a banana cake and Ally's famous DSG all in one delicious cake!
Easy Coffee Cake Recipe
Nothing's easier than making a coffee cake. And, this recipe uses my amazingly delicious Dead Sea Granola in the batter and on top. Or you could try the Toddler Granola and use it in this recipe!
Since I used a smaller baking dish, my cake is thick and somewhat dense. This means you'll want to make your slices smaller. You could also use a larger baking pan and make the cake thinner. You'd simply adjust the baking time to accommodate the different pan.
Coffee Cakes
Don't think you're going to be 'burdened' with Dead Sea Granola. Believe me, it will be the best granola you've tasted. And, you can customize add ons to your liking.
For instance, if you don't want almonds, then use walnuts or pecans. Use the kind of dried fruit that makes you happy.
Coffee Cake Recipes
Sometimes I like to make coffee cakes super easy. And, that means using as a base a muffin mix. Then I add on and in and create something totally unique.
This Pineapple Cinnamon Coffee Cake starts with a muffin mix, then morphs into something pretty special with diced apples, pineapple and more. And, if you want to substitute buttermilk or almond milk for the milk, then no problem.
Best Coffee Cake Recipe
Honestly, one of my best coffee cake recipes is this easy pumpkin cake. I know I know, pumpkin's usually a holiday thingeeeee, but I'm telling you, it's worth having anytime of the year!
And, I love to serve coffee cakes with a scoop of plain Greek yogurt and fresh fruit. It just adds a creaminess, tang and bursts of juiciness. It's all about the textures and flavors that come together.
Buttermilk Coffee Cake
I love to use buttermilk in cakes. Yes, it tangy, but this helps balance out some of the sweetness of the cake. I'm not one for super sweet desserts. I like to err on the side of slightly sweet.
Buttermilk also helps a cake to rise. It's all about the acid in the buttermilk that reacts with leavening agents helping the cake lift.
Healthy Buttermilk Coffee Cake
Overall, buttermilk brings a pleasant tang to your baking whether it be a cake, biscuits, cupcakes, bread and more. And, another bonus of buttermilk, it adds very little fat.
Amish Buttermilk Coffee Cake
This buttermilk, like sour cream or yogurt, helps tenderize the gluten. Yes, it's an acidic ingredient. And, in the long run you should have a softer texture and more body in your finished product.
Like a streusel topping, this dead sea granola cake uses a crumble topping of the granola. It really adds to a hint of texture!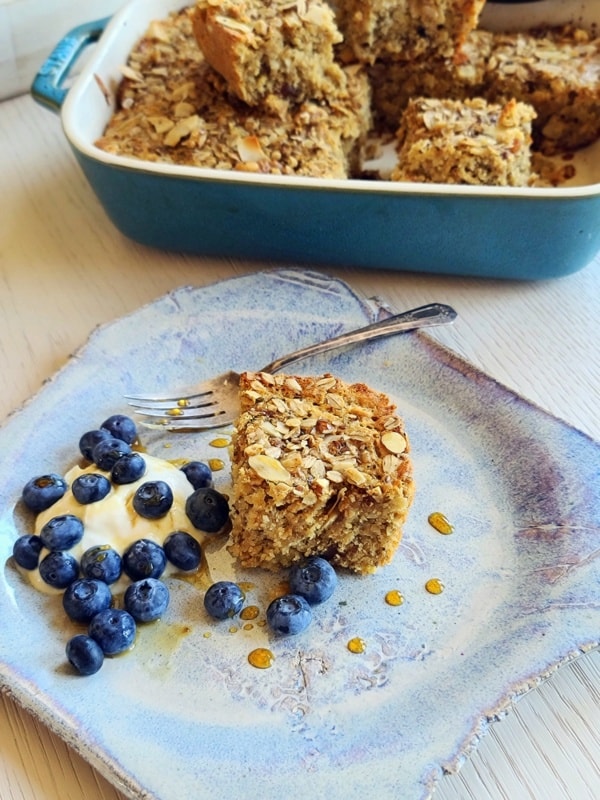 Best Dead Sea Granola Coffee Cake
Yield:
Makes One 8 x 10" baking dish pan
Ingredients
Preheat oven to 350
Makes: One 8 x 10" baking dish
DRY INGREDIENTS:
1 ½ cup flour, gluten free
1 Tbl. baking Powder
1 tsp. ground cinnamon
1/8 tsp. sea salt
2 cups Dead Sea Granola, divided
WET INGREDIENTS:
2 bananas, ripe and mashed
1 tsp. vanilla
2 eggs
1/3 cup coconut oil
1/3 cup maple syrup
1 cup buttermilk
Instructions
In a large mixing bowl, combine the flour, baking powder, cinnamon, salt and one and one-half cups of Dead Sea Granola. In a medium mixing bowl, put the bananas and mash.
Add the vanilla and eggs and whisk well. Add the coconut oil, syrup and buttermilk and blend well. Add the dry ingredients to the wet and blend well.
Sprinkle on top the batter the remaining Dead Sea Granola. Let this mixture sit about 5 minutes. Pour into a well-greased baking dish.
Bake in a preheated oven for 40 to 45 minutes.
Remove and thoroughly cool before slicing.