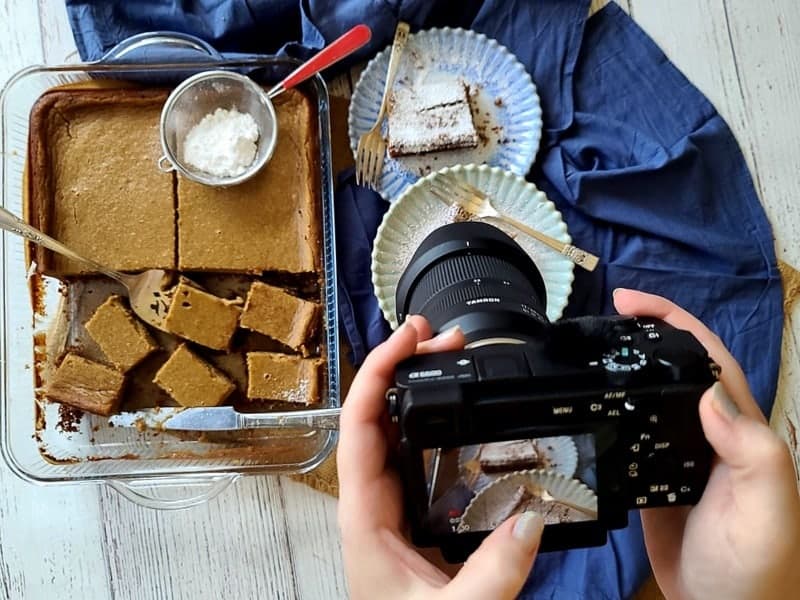 Pumpkin bars year round! Yes, why wait for the holidays. This ginger snap crust has healthy walnuts. The filling is airy fluffy & delicious!
Easy Dessert with Pumpkin
An easy dessert with pumpkin can't be beat. And, that's what this recipe is! Who says pumpkin isn't for year round and not just for the holidays.
Pumpkin Pie Bars
Pumpkin pie bars can come in different forms. You can have the cakey pumpkin pie bars. Then you'll find the brownie like chewy bars. And, you might even prefer the fluffy airy cheesecake type pumpkin pie bars.
Pumpkin Spice Bars
In order for these pumpkin bars to be really delicious. Well, the key is spice. And, these are some crazy good pumpkin spice bars. You're going to be using lots of cinnamon and allspice. And, if you love a little more spice, then you can grate on top, before baking, some fresh nutmeg. Oh, yes, these are spice bars, for sure.
Pumpkin Spice Bar Recipe
This pumpkin spice bar recipe is basically two steps. And, it's quite simple. You'll make your crust. Then you'll prepare the filling. No special equipment needed. Well, other than a food processor to grind the ginger snap cookies for the crust and a hand mixer. That's it!
Spicy Pumpkin Cheesecake
Now these ginger snap pumpkin bars are more like a spicy, but, not too spicy as in heat, but warm Fall spices, pumpkin cheesecake. And, because I'm using as a biner almond flour, we have an added health value, plus, I believe the almond flour, which acts as a binder, actually makes the cheesecake bars more airy and fluffy in texture.
Ginger Snap Pie Crust
If you've never made a ginger snap pie crust, then all you're basically doing is swapping out those graham crackers that are so often used for ginger snap cookies. And, boy, do I love a crunchy crispy ginger snap with a tall glass of cold milk!
Nut Crust for Cheesecake
And, this ginger snap pie crust, well, we're adding more health value with walnuts!
Gingersnap Cheesecake
That's what makes these gingersnap cheesecake bars so insanely delicious.
The thick walnut spicy crust that has no sugar added, and the creamy melt-in-your-mouth pumpkin cheesecake!
Recipe Ginger Snaps
Now you could find a recipe for ginger snaps, but there's no need to make them because the store bought ginger snaps are perfect.
And, why not save some time. But, if you have made ginger snaps and have some left over, freeze them and even throw them in your next graham cracker crust.
Old Fashioned Ginger Snap Cookies
Old fashioned ginger snap cookies take me back to my childhood. They're kind of like vanilla wafers. Usually pretty inexpensive and you get a bag or box full. They're perfect for so many quick desserts.
Ginger Snaps Recipe Fresh Ginger
Now for these pumpkin bars, I'm intensifying the ginger snaps with fresh ginger. Yes, this ginger snaps recipe uses fresh ginger in the filling.
And, it calls for a tablespoon, but make it a heaping tablespoon, which means pile it up, because that aroma and hint of ginger with the pumpkin is divine.
Gingersnap Desserts
Gingersnap desserts can be your backup go to dessert in a pinch! If you're scooping out vanilla ice cream, crumble some ginger snap cookies on them.
Swap out your vanilla wafers in your next banana pudding. So many possibilities!
Mascarpone Desserts
Mascarpone is wonderful in desserts! It's somewhat different than cream cheese. Mascarpone is an Italian cream cheese and has a tad of sweetness.
I also think it creates a lighter cheesecake than regular cream cheese. However, if you can't find mascarpone, certainly substitute regular or whipped cream cheese.
Pumpkin Recipes Easy
Looking for more easy pumpkin recipes? Well you might want to try some of these that I've created!
Simple Pumpkin Spice Apple Cake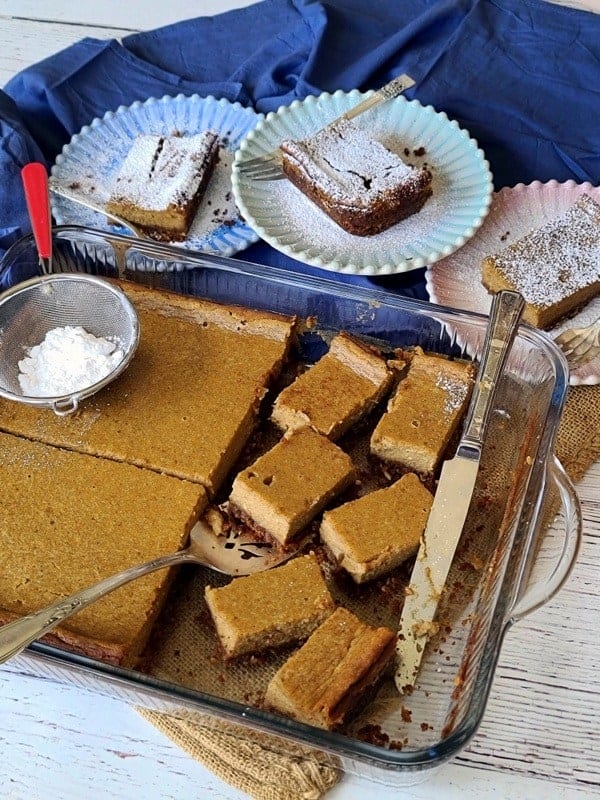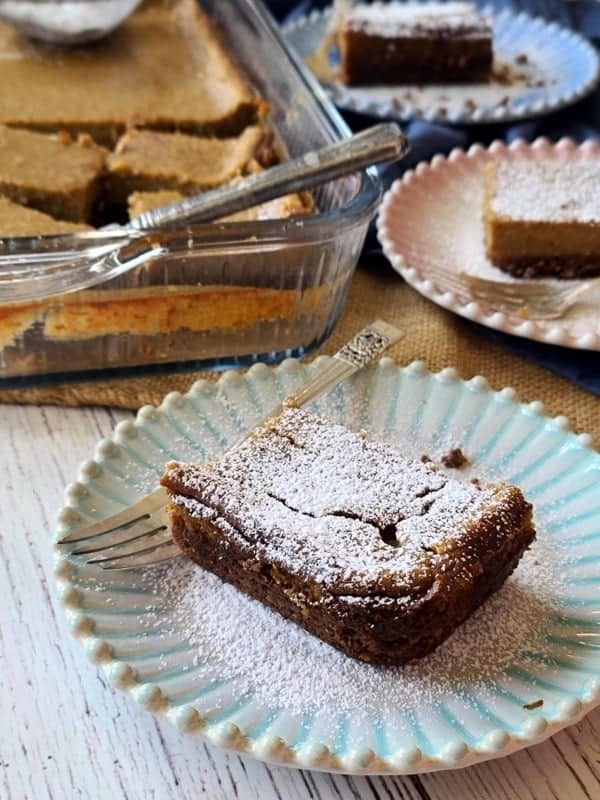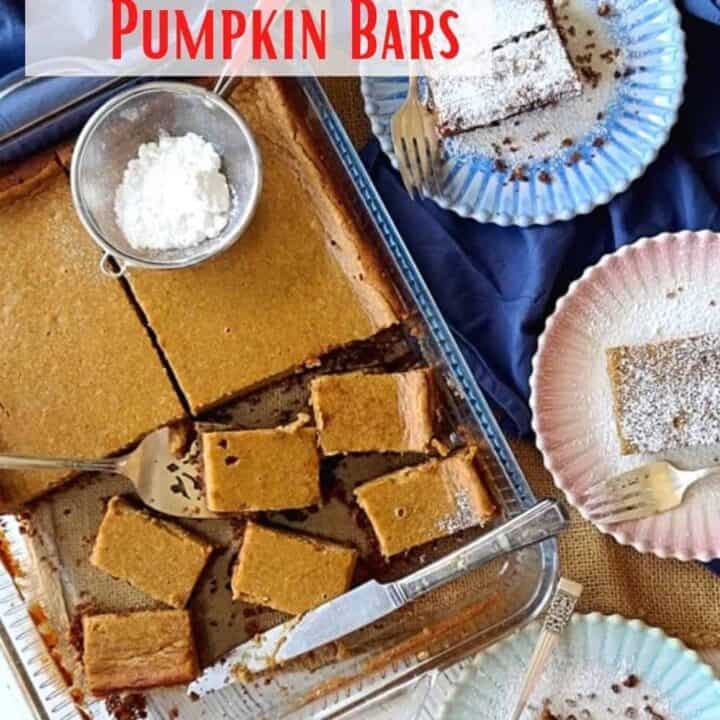 ginger snap pumpkin bars
Yield:
Makes One 11 X 15 baking dish (outside measurements) INSIDE measurements 9 x 12
Pumpkin bars year round! Yes, why wait for the holidays. This ginger snap crust has healthy walnuts. The filling is airy fluffy & delicious!
Ingredients
Preheat oven to 350
16 oz. bag ginger snaps
1 cup walnuts
12 Tbl. butter, salted, melted
4 eggs
¾ cup coconut sugar
1 can (15 Oz.) pumpkin puree
3 tsp. ground cinnamon
2 tsp. allspice
2 (8 oz.) tubs of mascarpone
½ cup almond flour, can use all-purpose flour
1 Tbl. ginger, heaping and freshly grated
1 cup half and half, half whole milk and half cream
OPTIONAL:
Freshly grated nutmeg
Powdered sugar
Instructions
Put the ginger snaps and walnuts in the food processor and pulse into a fine mixture. Pour into a large bowl. Add the butter and blend well. Pour into a baking dish (11 x 14) and firmly pat the mixture into the dish. Put in a preheated 350 oven for 5 minutes. Remove and cool.
In a large mixing bowl, add eggs and sugar, pumpkin and blend well with a hand mixer. Add the cinnamon, allspice, mascarpone and blend with the hand mixer. Add the almond flour, ginger and half and half. Blend with the mixer until all is well incorporated.
Pour into the baking dish. Optional: Grate fresh nutmeg on top. Bake in a preheated 350 oven for 50 to 55 minutes. Use a thin wooden skewer to test doneness. It should come basically clean from the center.
Remove to a cooling rack. Let cool well before slicing. Best to refrigerate overnight. Serve with a dusting of powdered sugar and your favorite topping, yogurt, crème fraiche, ice cream, chocolate ganache.