meaty pizza bolognese sauce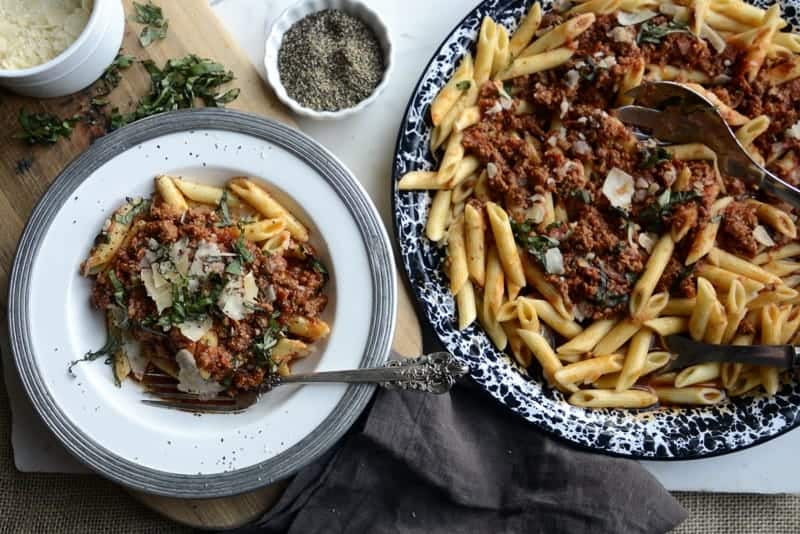 Meaty pizza bolognese sauce is going to work on your pasta and your pizza! Who doesn't love a hearty meat sauce that gets better on days 2 and 3!
Recipes for Bolognese Sauce
Meaty meat sauce is important to me. Why? Because I raised three boys and this is what they preferred in their pasta sauce. Lots of meat and make that thick. And, this meaty pizza bolognese sauce had to also have certain flavors, some ingredients had to be masked (like onions) and textures.
Meaty Bolognese Sauce Recipe
And, I wanted all of this plus I didn't want to have to wait hours to have it ready to serve. So, this quick and easy sauce, made in about seventy-five minutes, is pretty amazing.
Secret to Best Bolognese Sauce
You'll see probably an ingredient in this recipe that you don't typically associate with bolognese. And, that's anchovy paste. Now before you start thinking, it's gonna have a fishy taste, what you're going to see is that anchovy paste simply adds flavor to so many things.
Bolognese Sauce Recipe
Yes, it's an oftentimes overlooked flavor enhancer! It's great in savory dishes, and you need only a small amount, because it hits on that sixth taste bud, umami! So, if you want to boost the flavor of something, whether it's soup, stew, a rubbing base, or in this recipe, bolognese, then give the anchovy paste a chance!
If you're in the mood for lamb bolognese, then this recipe is super easy and intensely flavorful!
Traditional Bolognese Sauce
Another nutrient booster in this recipe that you might not expect, V8 juice! While it's not considered 'traditional', it is adding more flavor and nutrition. And, another way to elevate nutrition? Add ground almonds. Yes, you must check out this recipe for my almond bolognese!
Bolognese Sauce
Yep, you're gonna get full servings of vegetables with juice added. And, you decide is you want regular or spicy V8. When you're making this, you might want to double the recipe and freeze some for later uses. It's a great base for pizza, as a chili base, lasagna, hot dog chili, tacos and more. I'm banking on you loving it! xoxo ~ally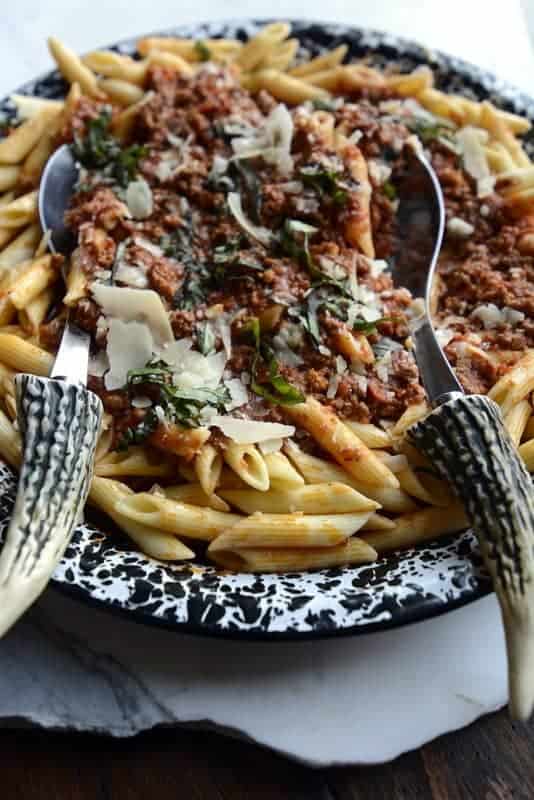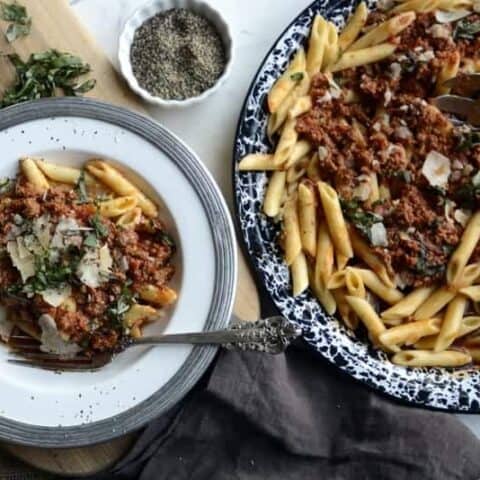 meaty pizza bolognese sauce
Ingredients
1/3 cup extra virgin olive oil
3 garlic cloves, sliced thinly
1 (heaping) Tbl. Anchovy paste
¼ tsp. sea salt
1 tsp. coarse ground pepper
½ tsp. red chili flakes
½ cup UNcured pepperoni, diced, packed
1 lb. Italian ground pork
1 lb. grassfed ground beef
¾ cup basil pesto
1 cup parmesan, grated + more for garnish
2 cups V8 juice
1 can (28 oz.) San Marzano crushed tomatoes + 2 cups of pasta water reserved
½ cup fresh basil, garnish, chiffonade sliced
Instructions
In a large pot over medium heat, put the olive oil, garlic and anchovy paste. Blend a sauté for about 2-3 minutes. Add the salt, pepper, chili flakes and pepperoni and cook another about 2-3 minutes.
Crumble the pork and beef into the pot and brown. Add the pesto, Parmesan and blend. Add the V8 juice and tomatoes and blend. Add about one cup of the pasta water.
Place on a medium blaze and bring to a simmering boil. Reduce heat to medium low, cover and let the sauce cook about an hour stirring occasionally.
Notes
This sauce freezes really well! Double the recipe!

So many other uses for this sauce: making pizza, using as a base for chili, add frozen meatballs for more fun, topping for hot dogs, use as a meaty sauce over chicken parmesan, and more!