For busy families, cooking is all about having time, enough time, to prepare a great meal.  The key to making that easier is cooking more of something when you're first preparing it, and then have leftovers (or set the extra aside) to re-invent the 'whatever' into something else!  You know the drill~~you have a pot roast, you have some leftover, so you make soup for the next day's meal!  That's the genesis of this salmon salad~~there was leftover salmon, so rather than just eating it or sharing it with Callie kitty, I created a tasty salad, throwing in the leftover peas, and it was boholicious to the nth degree!
Ya know, if you really think about it, during the week, you really only need to cook two meals, then have the re-fashioned other two meals, and BAM!  (as Emeril says) you're at Friday!  Think ahead just a tad, and you'll make life easier and eat a lot healthier!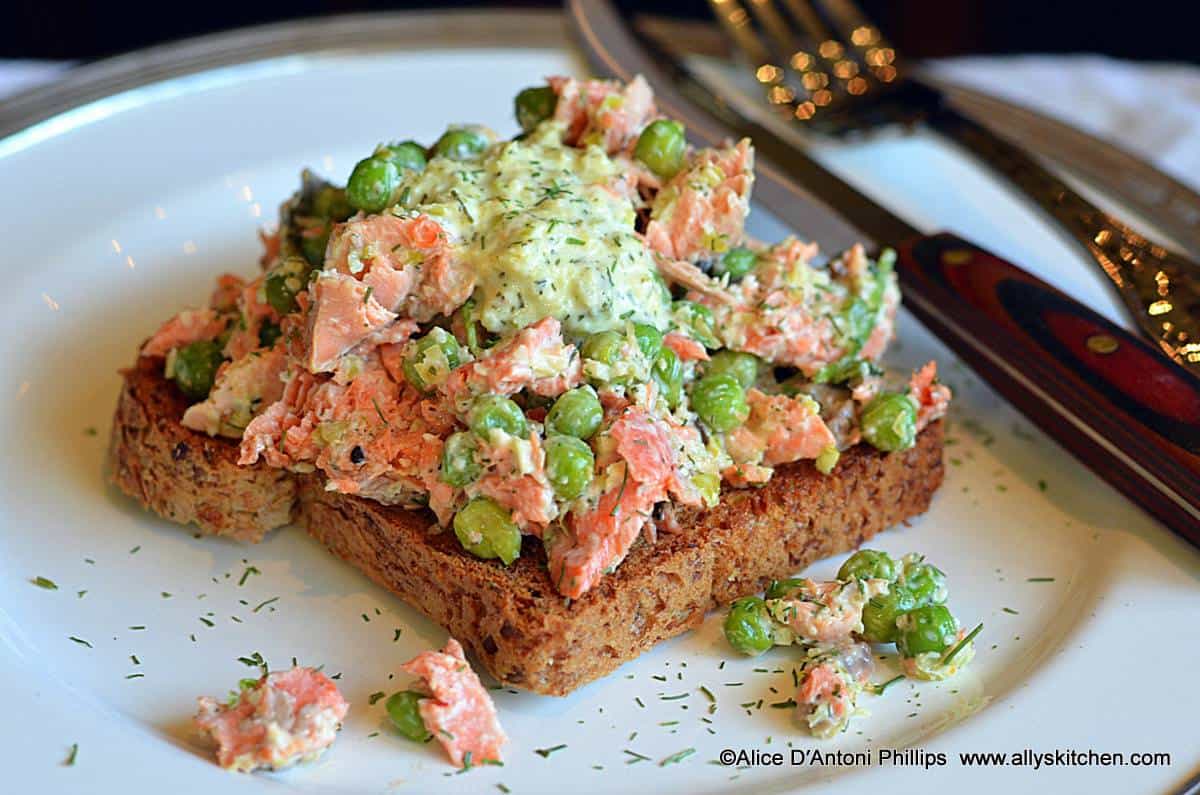 Servings: 4
What you need:
1 lb cold & crumbled grilled salmon (or use leftover grilled salmon)~~Recipe for Grilling Salmon
1/4 cup mayonnaise
1/4 cup sour cream
2 tbl Fresh dill chopped
1 tbl dijon mustard
1 tbl rice vinegar
Mint Pepper Jelly Peas (Prepare half of this recipe)
4 slices thick cut butter grilled artisan bread (butter and grill in a skillet)
What you do:
Combine the  mayo, sour cream, dill, mustard and vinegar in a mixing bowl and toss and blend. Set aside about 1/4 cup of it.  Blend in the remainder into the salmon.   Fold in the 'Mint Pepper Jelly Peas' .  Serve atop a slice of thick artisan grilled bread. Dollop with a tablespoon of the reserved sauce.
©alice d'antoni phillips  www.allyskitchen.com