Citrus Honey Nut Oatmeal with Cream & Fresh Fruit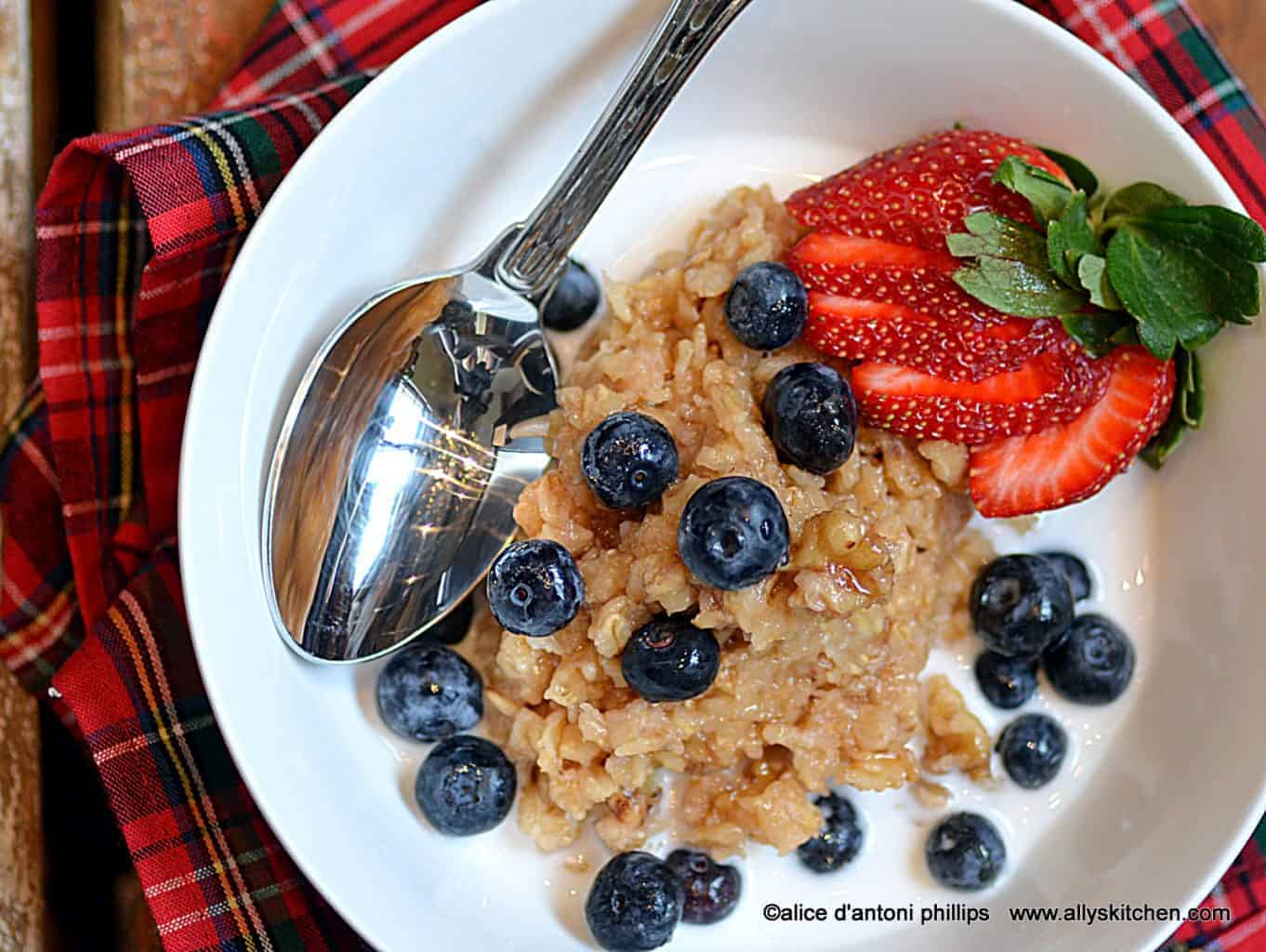 Citrus honey nut oatmeal with cream & fresh fruit is packed with even more healthiness because of adding ruby red grapefruit juice when cooking it.
Oatmeal and Orange for Breakfast
What better way to kick start your day if not with a bowl of fiber-rich oats and an orange filled with Vitamin C? Oh yes, there can't be a better breakfast that gives you a good amount of nutrients than this one. You could switch from a heavy breakfast like Southern collards eggs and bacon with less fat, gluten-free, and high fiber oats. Pair it with an orange or any fruit to take you on for a long hectic day at work with oatmeal!
Citrus Juice Oatmeal
This one might sound a bit crazy, but when you can prepare and hit it off with the most popular Lovebird citrus garlic chicken with a zing of citrus taste to it. Why not make a Citrus juice Oatmeal? Quite unconventional, agreed! But you'd bite into citrusy flavored oats, which is so refreshing and, for a change, not so dull! So try out a different recipe and see how it works out for you!
Healthy Oatmeal
Why is that, Oatmeal for breakfast is always a healthy way to start your day? It provides many health benefits for many with any underlying medical conditions, including blood pressure, diabetes, cholesterol, and much more. None of the healthy food out there tastes so great, but they boost your health by providing more vitamins and nutrients to your body than those which taste suitable to your taste buds but are junk or empty calories. Try to switch to a healthy diet that will make you feel fabulous too!
Basic Oatmeal Recipe
Oh!!! Here we are with the basic oatmeal recipe that many of us loathe. Oats cooked with water and a splash of milk. It can't get any better, can't get any tastier. I'm kidding! If it's too arduous to eat basic oatmeal. You could try a different recipe like making an oatmeal coconut cookie, gluten-free, vegan, and much better than the basic oatmeal. All you have to do is, grab a cup of rolled oats, grind it coarsely and mix it with almond milk or oat milk; add honey or maple syrup, whichever fancies you. And add a few toasted coconut flakes and sea salt on top. Voila! You have a healthy, much better version of basic oatmeal. Enjoy it with a glass of milk. You can't help yourself craving for one more cookie!
Healthy Oatmeal Breakfast
Breakfast is the most important meal of the day; it's implicit that you have to start your day with a healthy breakfast which gives you the energy to survive a natural disaster. Pun-intended! Oatmeal keeps you satiated for a long time. If you can't tolerate the raw oats cooked with milk, then you can make it enjoyable by adding in a pinch of cinnamon or nuts to make it taste better. You can also have it with a small quantity of raw cocoa powder rich in antioxidants.
Oatmeal for Breakfast Benefits
Oatmeal itself has a list of health benefits; Nevertheless, you're having it for breakfast or not. But having it for breakfast also has its perks. Oats is a wholesome gluten-free grain that helps in controlling the risk of obesity. Your go-to breakfast on the run would be a cup of coffee filled with sugar leads to an increase in blood sugar level. At the same time, oatmeal helps control the blood sugar level by increasing the insulin sensitivity in your system. Oats also help in maintaining your cholesterol levels and blood pressure. It is also a source of high antioxidants, and it secretes beta-glucan, which helps keep you full for a long time. That's why having oatmeal for breakfast is considered to be very healthy!
Homemade Fruit Oatmeal
In the modern era, with the advancement of technology, people have transitioned on different levels. It means we don't have to stick to the basic conventional oatmeal. We can do our experiments to make it more interesting. One of which includes making oatmeal with ruby red grapefruit martini. Are you appalled? Adding grapefruit juice into your regular oatmeal would result in a subtle, beautiful taste and a pretty pinkish-orange color to your oatmeal, with an underlying citrusy flavor from the grapefruit. It feels so good, especially when you are getting more nutrients and antioxidants from the grapefruit. Give it a try! You'll love it!
Oats with Fruit and Nuts
Oats with fruits and nuts are zesty and nutty. It gives a nice texture to the ooey-gooey oatmeal. You can top it off with freshly sliced strawberries, blueberries, raspberries, or even apples and bananas. And go crazy with the choice of your favorite nuts. A mixture of all gives a great flavor to the bland oatmeal. Not satisfied yet? How about you try a citrus banana nut cake? With Oat flour, bananas, nuts, and raisins soaked in orange juice and that will give a lovely cake which takes you back to your childhood time. It is a great recipe and low calorie, vegan, gluten-free cake. You could have this for coffee in the evening on a lazy weekend! Do whichever works for you! Ultimately you're getting your shot of nutrients and antioxidants; that's all it matters at the end!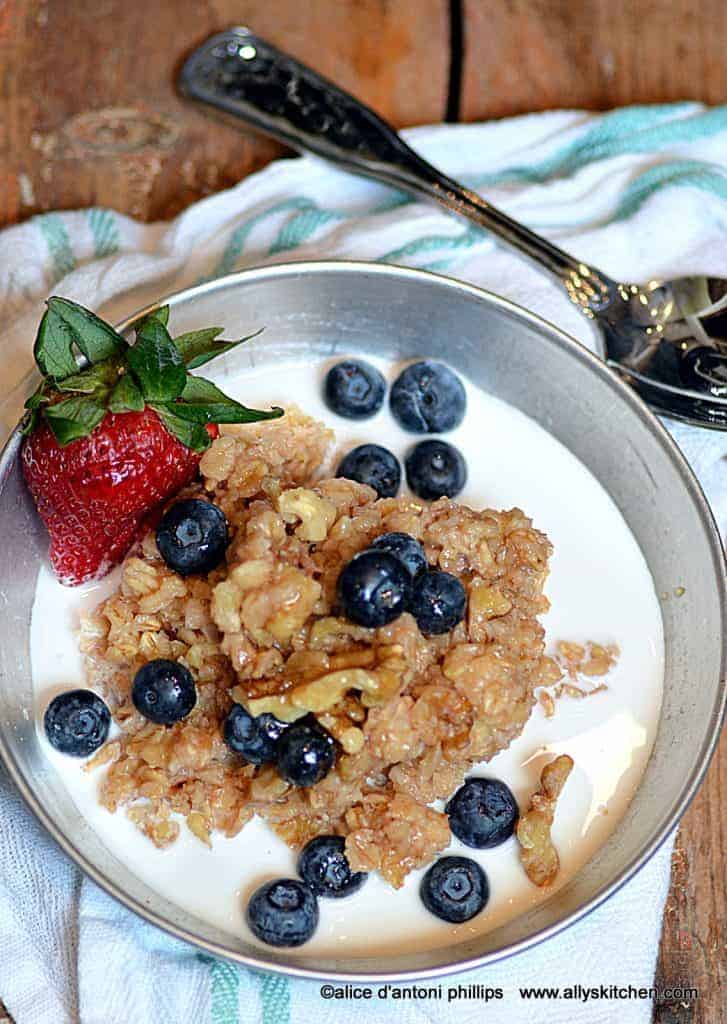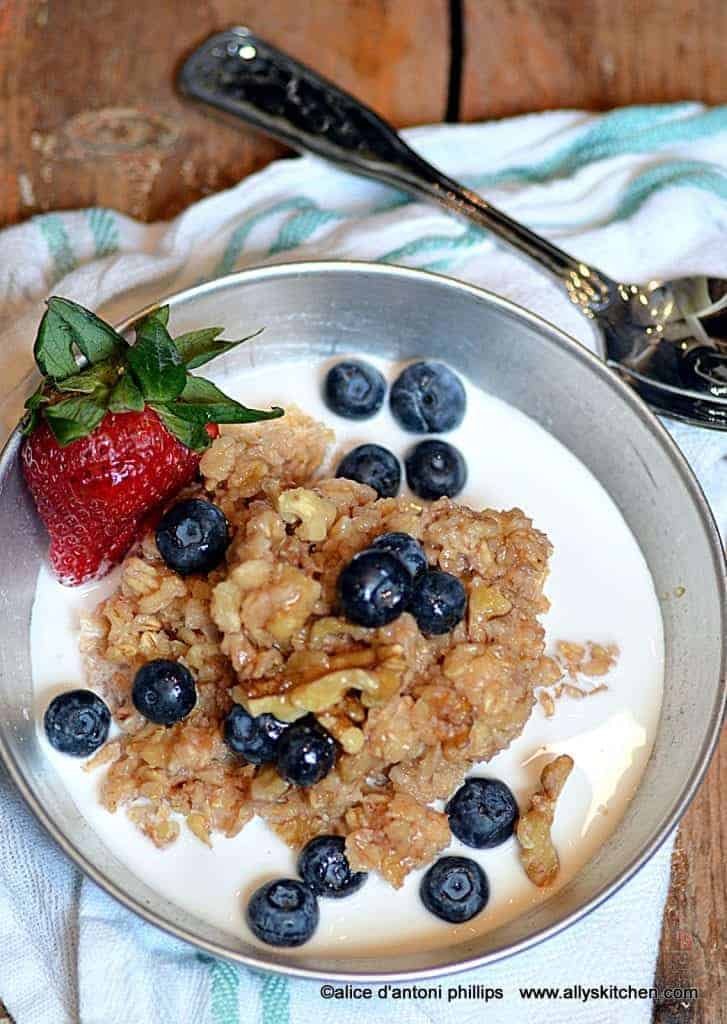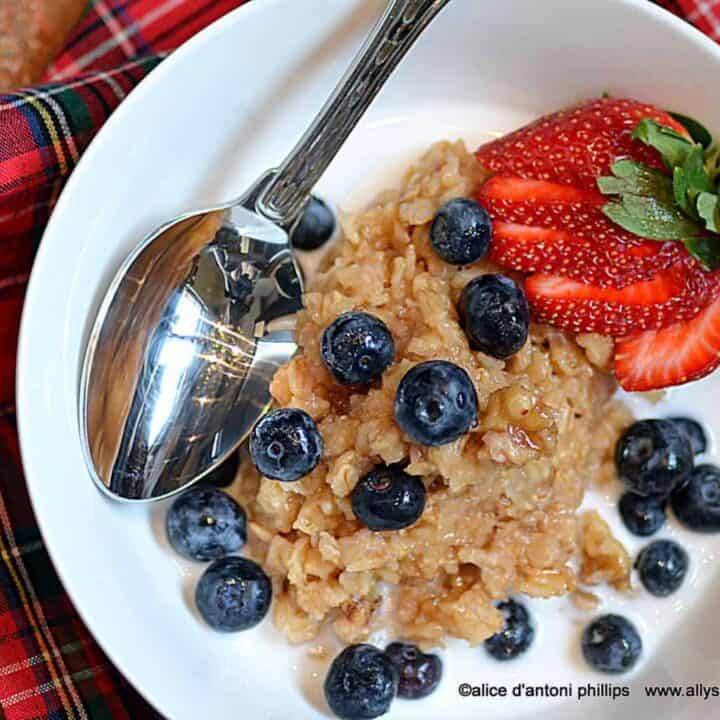 citrus honey nut oatmeal with cream & fresh fruit
Citrus honey nut oatmeal with cream & fresh fruit is packed with even more healthiness because of adding ruby red grapefruit juice when cooking it.
Ingredients
1 cup ruby red grapefruit juice
1 cup water
1 cup whole oats
2 Tbl. + 4 tsp. honey (divided)
1/4 tsp. sea salt
½ cup walnuts, chopped
1 cup Milk or Cream
1 cup fresh blueberries
4 strawberries, large, green stem on
Instructions
In a heavy saucepan over high heat, add the juice, water, oats, one tablespoon honey and salt and blend. Bring to a boil and cook for 3 minutes.

Reduce heat to medium low, add walnuts, stir and cook another 5 minutes. Turn off heat and let oatmeal steam about 7-10 minutes.

In each bowl, pour ¼ cup of milk, dollop in equal amounts of oatmeal, blueberries and one strawberry each. Drizzle each serving with one teaspoon of honey. Serve immediately