apple salad with swiss chard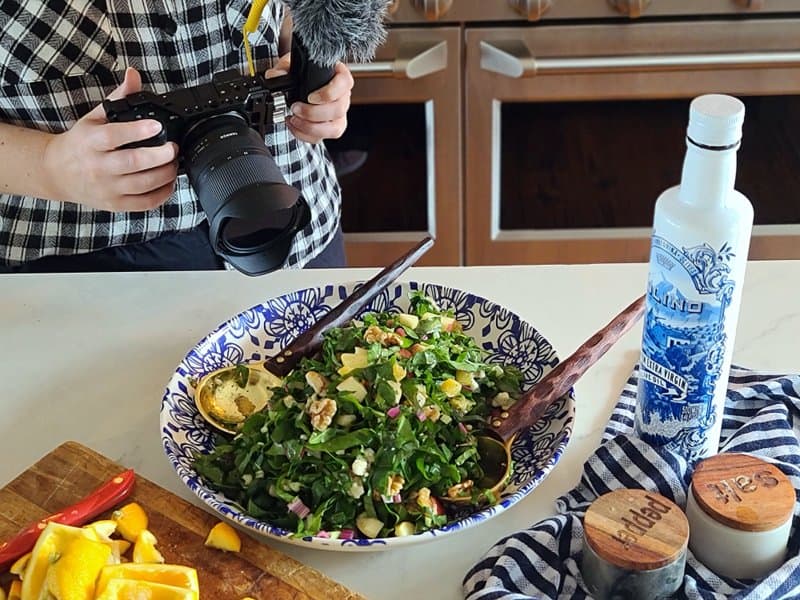 Get ready to savor the best chard apple salad you've ever had! So simple to make. Super nutritious. Vegetarian. Vegan. And, perfect for all!
Swiss Chard Salad
Swiss chard in my humble opinion is preferred over kale. Now I'm not ditzing kale by any means. I just think that chard slices beautiful in thin ribbon strips for salads.
You must check out my Croatian Blitva! It's the national side dish of Croatia, and it's because of Swiss chard!
Arugula Apple Salad
If you don't have swiss chard, then by all means try arugula. And, if you can find baby arugula, yes, the leaves are 'babies' and so delicate, then this recipe would be perfect with it.
Another idea? Just mix chard, kale and/or arugula for this recipe!
Swiss Chard Apple Salad
There's nothing more refreshing than the crisp crunchy apples in this salad. And, you add to that the Valencia orange and, well, it's an explosion of deliciousness.
What kind of apple? For me, it's a must to have it sweet, crispy, crunchy. Wash the apple well. Leave the skin on. The addition of the red in the salad is beautiful.
And, when you sliced the apple chunks, make them thin and bite size like in my Healthy Green Apple Salad that has an Asian twist dressing to it!
Swiss Chard Recipes
So many of my recipes can be adapted to add swiss chard. For instance, if you're doing a cabbage salad like my Cabbage Chard, it's obvious. Instead of oranges, we're going to use pineapple in this salad.
But, you can buy bunches of chard, rainbow or regular stems, and use in other things like this Andouille Sausage Beans Kale Stew.
Instead of the kale, substitute the chard. And, speaking of the stems, yes, they're edible! I love to slice the stems like celery and toss in salads or use as garnishing.
Rainbow Chard
Rainbow chard has stalks that are white, yellow, red, purple, pink and striped. They're full of color, like the rainbow. And, they're simply gorgeous!
Chard Salad Recipes
Chard leaves are firm and large, kind of like kale and collard greens. With a mild, sweet and earth taste, they can be slightly, but not offensively, bitter.
Their stalks or stems resemble celery stalks or the stalks on beets. However, unlike beets, the roots of chard are not edible.
Recipes with Chard
This recipe with chard is amplified by citrus, crispy apples, juiciness and the meatiness and crunch of walnuts. What's better than apples and walnuts! And, if you want to add a dollop of avocado oil mayo, about two tablespoons, to the olive oil and lemon juice, whisk it up and you'll have a creamy delicious dressing. You might even want to chop some fresh herbs, basil, thyme, chives, parsley and throw in. So many possibilities!
Swiss Chard Salad Recipe
What makes this Swiss chard salad recipe so delicious is that it's simple, easy, just a few ingredients, super healthy and absolutely delicious.
Another great feature of the recipe is the fact that you can do substitutions and still have a tasty salad.
Chard Gorgonzola Salad Recipe
And, don't forget that chard salads like most salads can be even more creamy and delicious with the addition of crumbles.
My preferences? Gorgonzola. Blue Cheese, Feta cheese. Goat cheese. And, shaved or grated parmesan or asiago.
Best Dressing for Salads
For me, the best dressings for salads are the simplest ones. Extra virgin olive oil, fresh lemon and/or lime, maybe a dollop of avocado oil mayo for some creaminess, maybe some crushed and mashed garlic, salt and pepper.
When you have beautiful fresh vegetables and fruits, you don't need much more in terms of dressing than that.
Vegetarian Salad Recipes
This salad certainly will be loved by vegetarians. And, if you're a vegetarian who also does seafood, or a pescatarian, then you could top this salad with some grilled shrimp or another type of grilled seafood. Make it fresh. Make it simple. Let the natural flavors of the seafood shine.
Ingredients for a Salad
While there are only seven ingredients in this salad, you could certainly throw in a few more things that would be delicious.
Add a protein like grilled chicken. Slice grilled flank or skirt steak slices the top the salad. Toast some fresh garlic croutons for more crunch with every bite. Add a can of drained garbanzo beans. Maybe some crushed pretzels. The options can go on and on. Just get creative!
Homemade Dressings
I have several homemade dressings, but there's not doubt that, by far, my MOST popular is this one! You would not believe how many folks have made it, and it always gets rave reviews!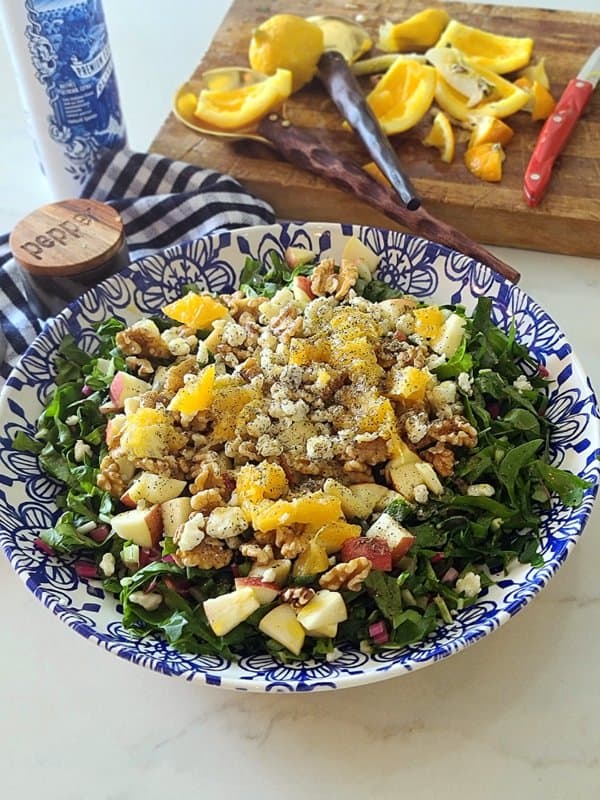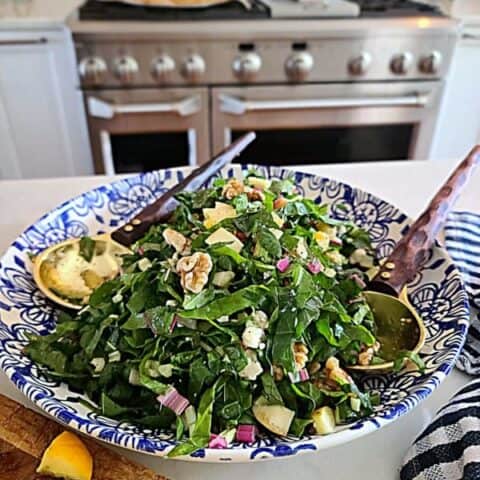 easy nutritious chard apple salad
Ingredients
4 cups fresh chard, packed, sliced in thin strips, cut stalks in small pieces
1 large crisp apple (fuji), cut into bite size pieces
1 cup walnuts, chopped
1 orange, Valencia, seedless, flesh cut into bite size pieces
1/2 cup gorgonzola crumbles
4 Tbl. extra virgin olive oil
1 small lemon, juice only
Salt and Pepper to taste
Instructions
Combine all ingredients in a large mixing bowl. Toss together.
Drizzle olive oil and lemon juice on salad. Salt and pepper to taste. Toss, blend and serve immediately.