grandma's easy apple ham strudel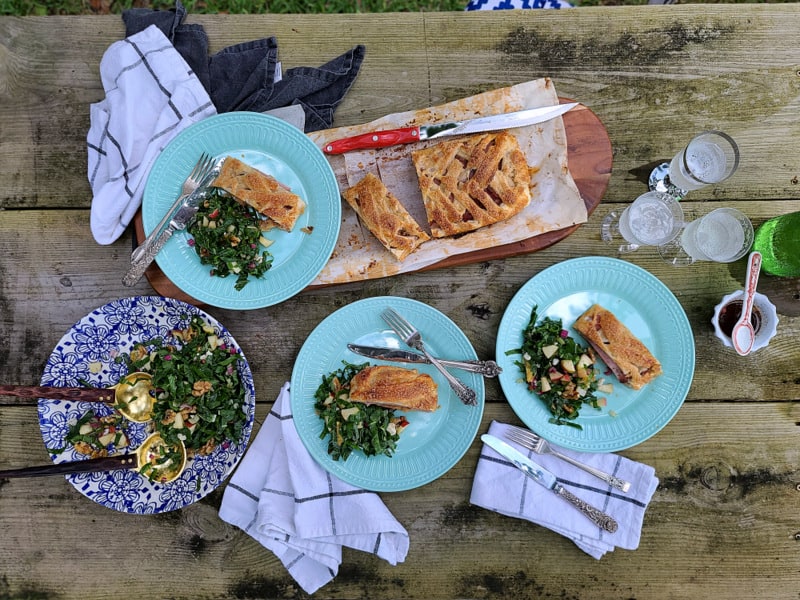 Grandma's Easy Apple Ham Strudel is divine for so many reasons! Fresh apples with savory ham wrapped and baked in crispy puff pastry!
Traditional Apple Strudel Recipe
This information is really cool!
"One of the most popular treats in any traditional Viennese café, this iconic dessert is considered by many to be the national dish of Austria. Often mistaken for being of German origin, the oldest known strudel recipe dates back to 1697 and survives today in a handwritten cookbook in the Vienna Town Hall Library."
Apple Strudel Recipe with Puff Pastry
Puff pastry is such a glorious product with which to work. Baking is simply easy with it!
I like the Wewalka brand of puff pastry because it comes refrigerated, and you roll out the large piece of puff pastry.
Pepperidge Farms puff pastry is found in the frozen foods section. You have to thaw it, of course, then the sheets are scored into three pieces. Each is 3 x 9″. If you use this type of puff pastry, you'll need to seam the three pieces together and make a 9 x 9″. Then you can proceed with stretching and rolling to about a 12 x 15″ piece.
Breakfast Strudel Recipe
While this strudel is best served warm, cooling about ten minutes after it comes out of the oven, I must say it's absolutely divine tasting at room temperature!
And, you can certainly warm this strudel. Don't do in the microwave. Turn the oven to about 250. Wrap the strudel or slices in foil that's left open somewhat. Then warm for about 15-20 minutes.
Ham and Cheese Puff Pastry
Ham and cheese is a class go together. And, the cheese we're using in this recipe is whipped cream cheese. It's going to add some creamy to the salty of the ham and the sweet of the apples.
Recipe for Apple Strudel
Now, you could simply omit the ham in this recipe and have a perfect recipe for apple strudel. You might want to double the number of apples. Or you could add a slightly savory crunchy texture with some sliced celery and chopped walnuts. Just toss in the apples, lemon juice and spices!
Strudel Recipes
According to The Delaunay 'A Brief History of Apple Strudel', it is a complex dish to make.
"The making of a traditional Viennese strudel is complex. The chosen filling is spread intermittently between layers of the finest unleavened dough, making for the characteristic swirling pattern of pasty and filling when cut. No wonder strudel derives from the Middle High German word meaning 'whirlpool'."
I do think things have changed, however, with modern baking.
Apple Strudel Puff Pastry
Puff pastry makes this recipe so much more simple. I love using puff pastry and have some amazing recipes with it. You must check them out. You won't be disappointed!
Raspberry Vanilla Mille Feuille
French Almond Cinnamon Puff Pastry
Lemon Cream Cheese Puff Pastry
Apple Strudel Recipe Easy
What makes this apple ham strudel so easy is not only do we NOT peel the apples, thereby saving time, but, we're 'fanning' the ham slices and placing on top the cream cheese. The cream cheese will stabilize and hold them in place.
Using the 'fan' or accordion technique with the ham slices ensure that they'll slice nicely. And, you'll be able to see the ham more prominently in each slice.
When I go to the deli, I have them do a demo slice and I make sure it's stable and thick enough to be fanned. You certainly don't want your deli slices to be shaved or super thin.
I know at one of my markets there's a 'chart' at the deli that shows the thickness cut. It goes from 1-7 and I choose the 2.
Apple Strudel Filling
There's really nothing to the apple strudel filling for this recipe. Most important thing is to get crispy crunchy sweet juicy and happy apples. Wash them well because we're not peeling.
Since we're doing a rather small, albeit not teeeny tiny, dice, the peel will not even be noticed. And, when it bakes, it's going to get even more tender.
Tips for Making the Best Apple Strudel
You certainly don't have to do the criss-cross pattern in this recipe. You can simply place the filling ingredient in the centermost part of the puff pastry. Then wrap the remaining puff pastry around it. It's almost like 'wrapping' a Christmas gift.
But, the criss-cross pattern adds so much flair. Just cut the sides (about 3″ sides) into about 1″ strips. Then when you have the filling in the center, just criss-cross the strips over each other alternating one side and then the other. You can gently stretch the strips when crossing.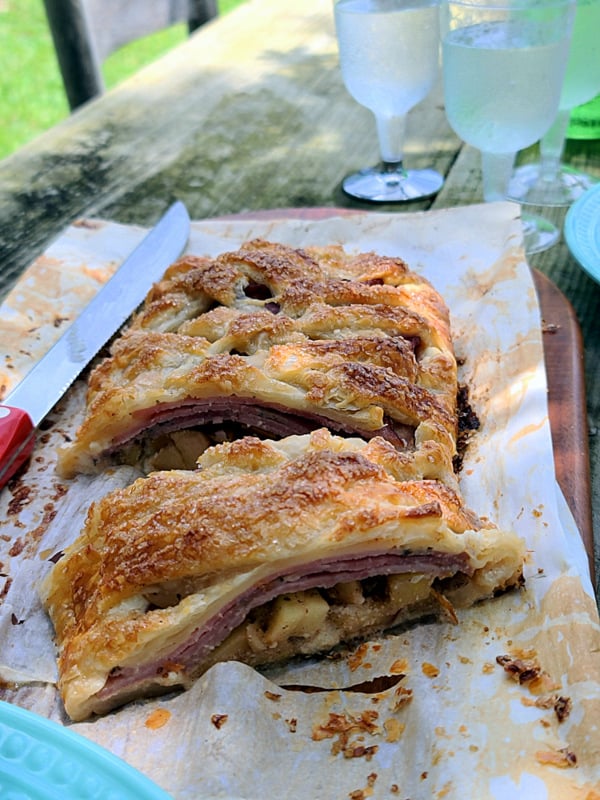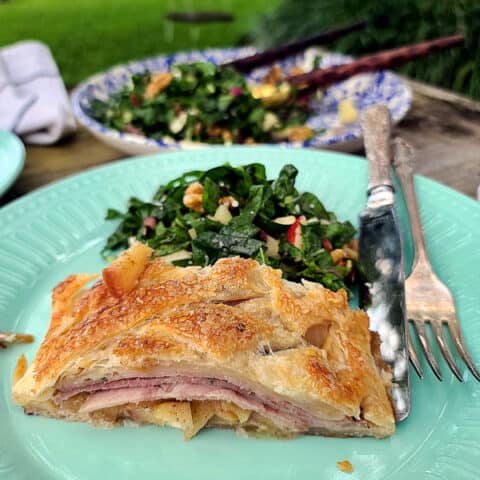 grandma's easy apple ham strudel
Ingredients
Preheat oven to 375
1 9x9" puff pastry, room temperature, gently hand-stretched to about 12 x 15"
3-4 cups apples, small dice, crispy firm apple (Fuji), washed, skin on
1 lemon, juice
2 tsp. pumpkin pie spice
¼ cup brown sugar
2 cup whipped cream cheese, about room temperature
6 slices deli smoked peppered ham
1 egg
2 Tbl. turbinado sugar
Instructions
Prepare the dough on a large clean piece of parchment paper on a large cookie sheet. Roll out with a rolling pin or simply stretch with your hands.

Reserve the 'middle' of the puff pastry for the filling. Leave equal sides for making strips to make crisscross cuts. Make about 1" strip cuts on each side using a pizza cutter.

Small dice the apples (skin on). Put in a medium mixing bowl with the lemon and toss well. Add the spice mixture and brown sugar and blend.

Spread the whipped cream cheese down the center of the pastry dough. Fold (like an accordion) the ham slices and lay crosswise on the cream cheese. Mound the apples on top. Be sure to leave about ½" to 1" dough on the ends of the middle strip (no ham or apples on this pastry).

Fold up the end center piece of the pastry dough. Then begin crisscrossing the side strips. When you get near the end, fold up the end and continue crossing the dough strips until completed. Gently pat the sides and ends to secure.

Give the entire strudel an egg wash. Sprinkle with turbinado sugar. Bake in a preheated 375 oven for 32 to 37 minutes or until the strudel is golden brown.

Remove and let it cool, then slice with a serrated knife.