fig bacon onion bundle with bourbon brown sugar drizzle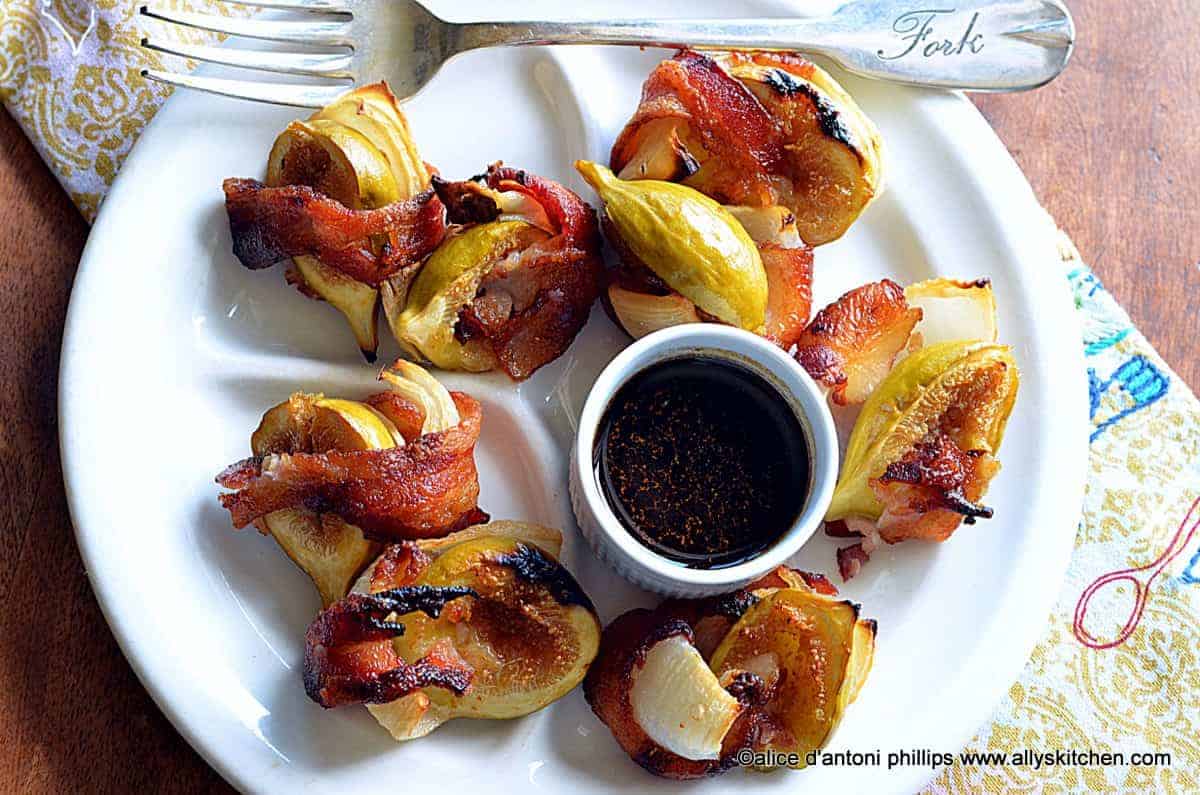 When a dear neighbor has a prolific fig tree and shows up at your kitchen door with a big mixing bowl of them, what do you do? ***Happy Dance*** OMG, when I saw Miss Tresa at my door with those beautiful ripe tender brilliant figs, I just knew I had some fun recipes ahead of me.
Oh, sure these figs are fabulous eaten right off the tree, but do a few things to them, and you've got some trendy and healthy treats! Who doesn't love salt, sweet and onioneeee! And, that's what these mouth poppers are! Yep, you can make them two bites, but the open side and take the whole bite's the best!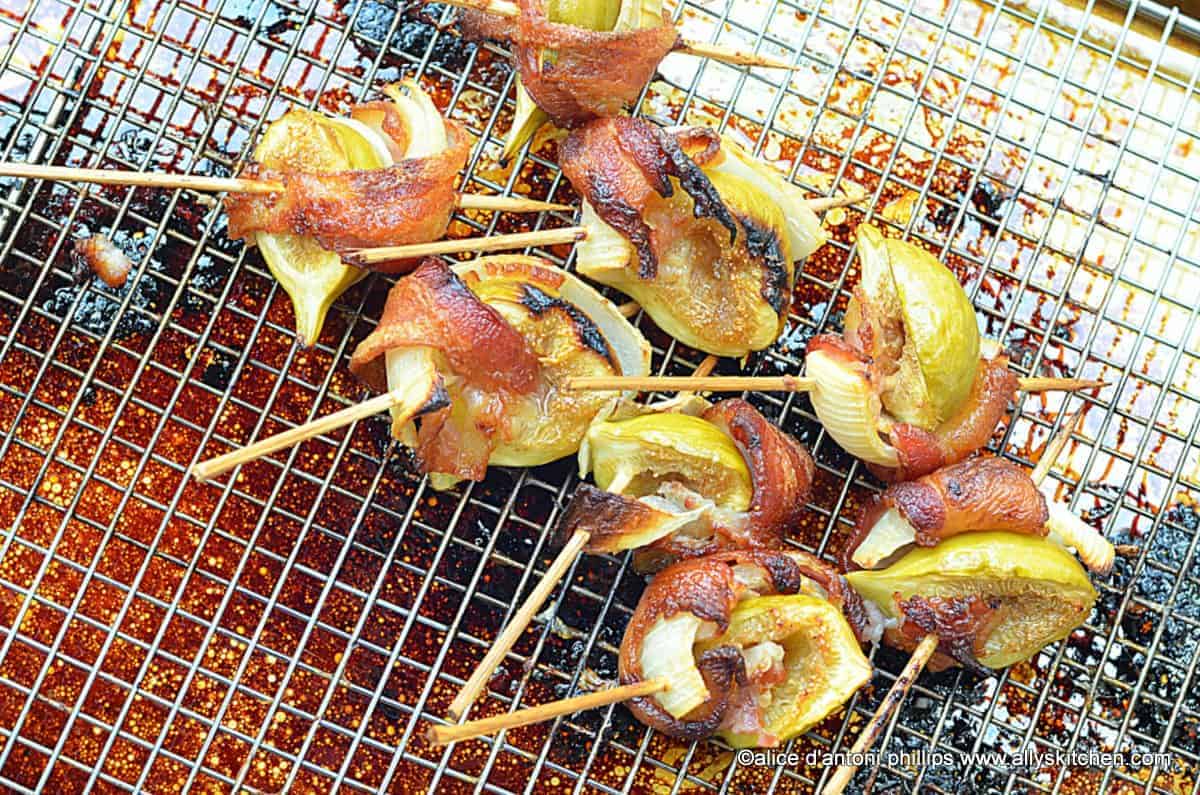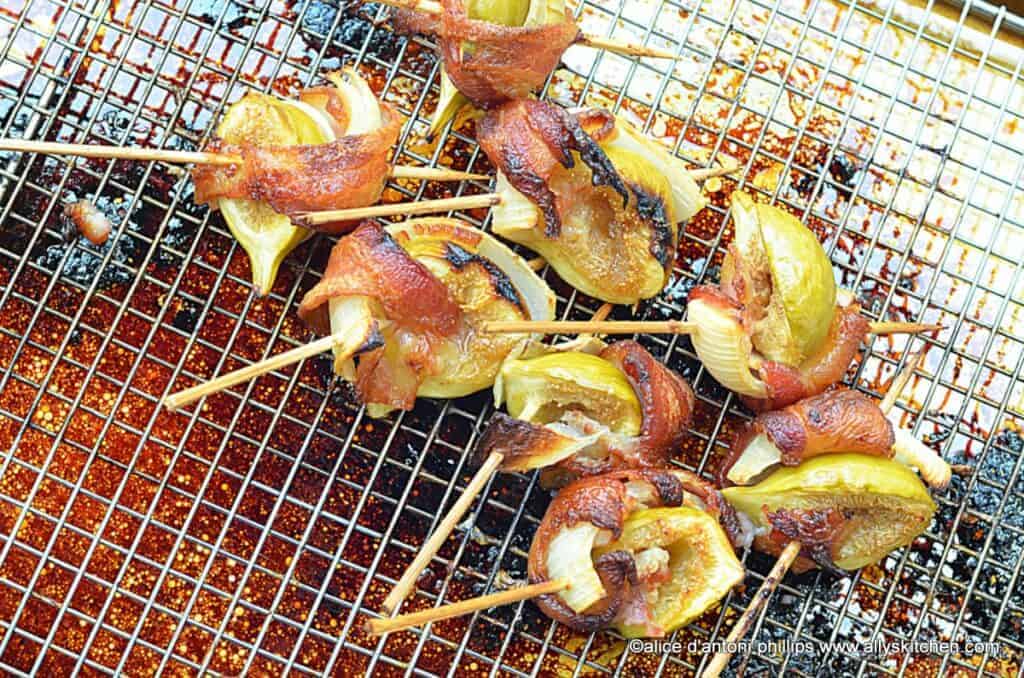 Makes: 8
Oven temperature 375
What you need:
8 skewers 4″ length
4 large fresh figs cut lengthwise in halves
1 medium sized onion cut half moon shape thick rings
4 slices of thick-cut bacon cut in half
3 Tbl. brown sugar
1 Tbl. bourbon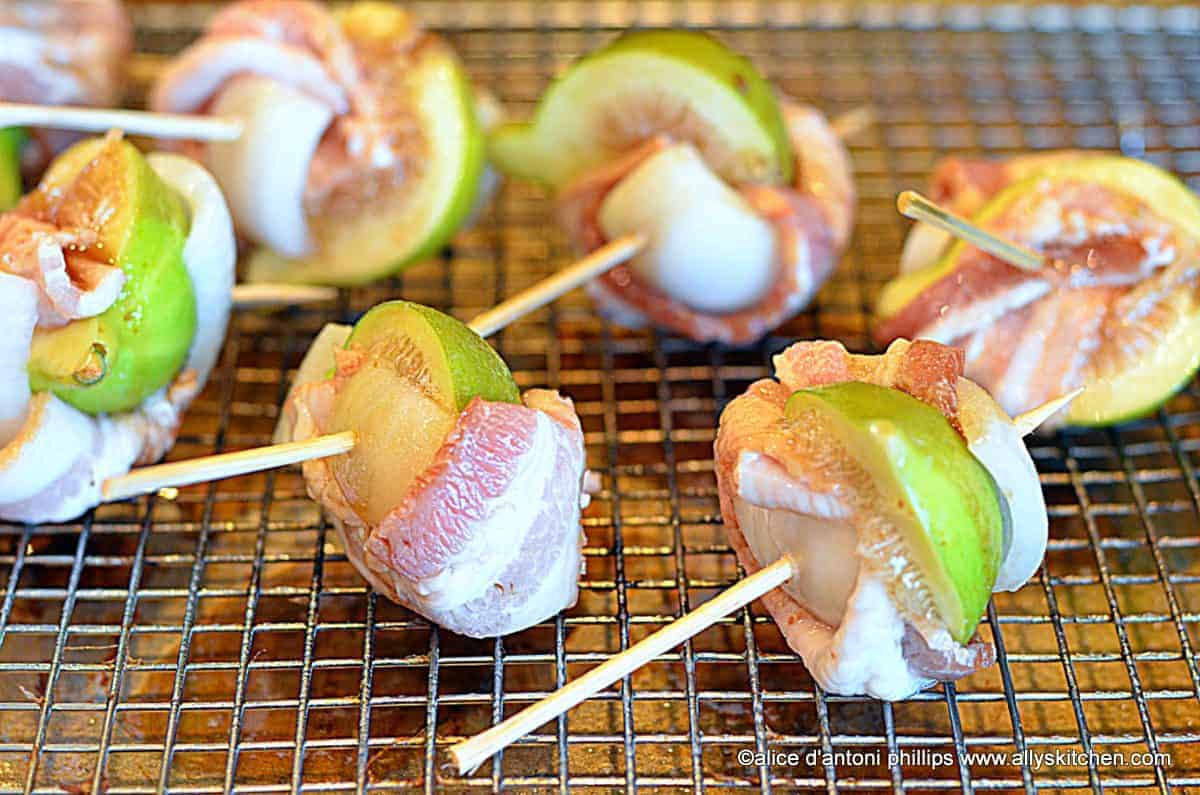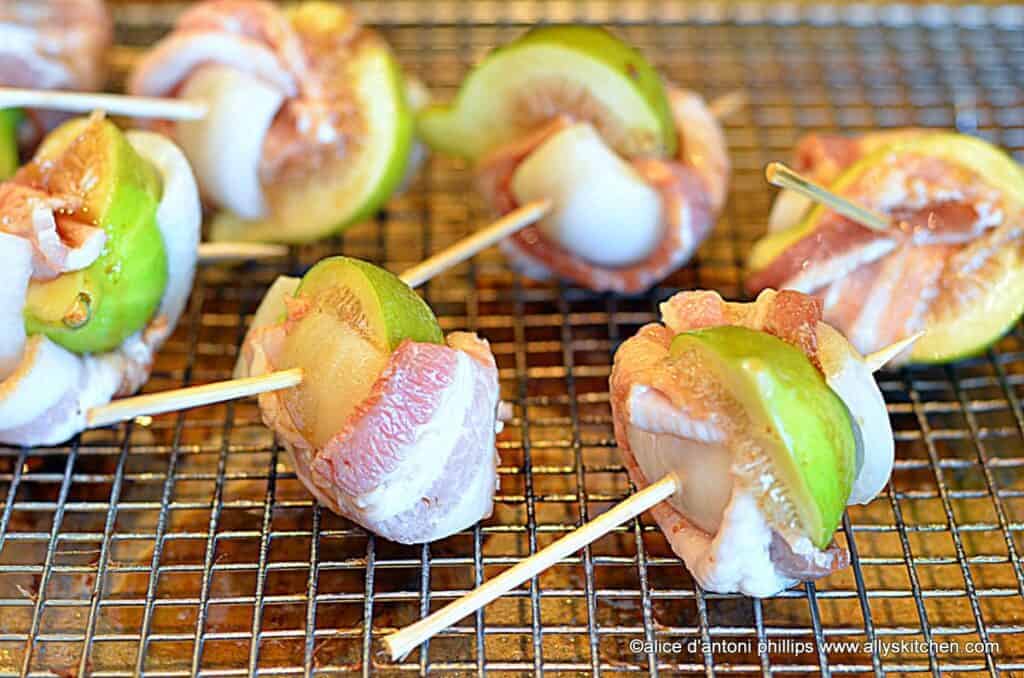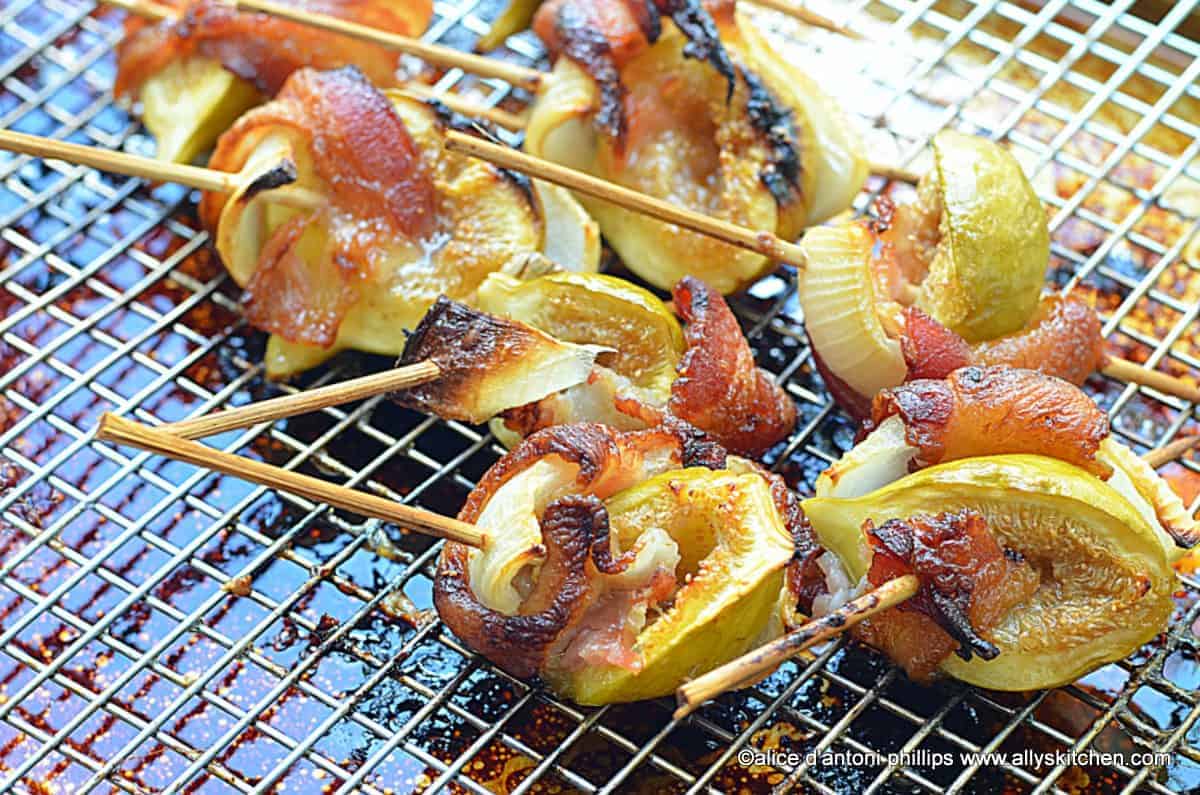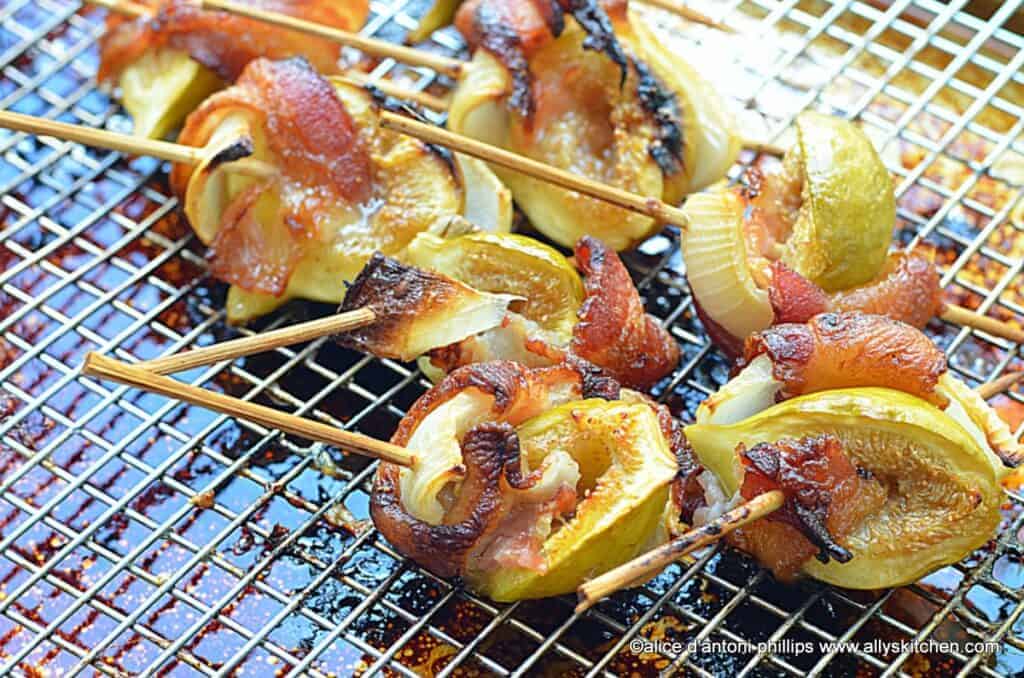 What you do:
Place the half fig on the thick slice of halfmoon onion. Wrap the bacon around it and skewer to hold together. Do this for all the figs/onions/bacon.
In a small bowl, combine the brown sugar and bourbon. Drizzle on the skewered figs.
Place the skewered figs on a cooling rack that's laid on a cookie sheet. Put in a cold oven set for 375 degrees. Cook for about 18-2 minutes or until the bacon is sizzling and brown. Remove and add 1/4 cup water to the hot cookie sheet because the drizzle will have stuck to it, candied like and caramelized. The water will deglaze it and become the dipping sauce.
Remove the figs to a plate. Remove the cooling rack. Stir around the water removing the good candied brown sugar. Pour into a small cup.
Serve immediately!