Food hacks are always interesting. If you're not familiar with food hacks, they're basically using products or objects for cooking and food in different ways then they were intended. Food hacks have taken off. They're 'hot' items and a novelty. Honestly, for me, food hacks are what I learned growing up as being resourceful and creative. Finding ways to multi-use things getting more mileage out of them.
So, with this recipe for french brioche coconut milk waffle toast, I wanted to use the waffle iron as a grill. I mean if  you live in a small studio apartment in Manhattan and all you have is a waffle iron, you have to multi-use it. It can be a waffle iron, a grill, a pizza oven or a hot plate for frying an egg. Yeah, I've done an egg on a waffle iron, and it's bizarre. It works!
What I love about these waffles is that I've used coconut milk in the egg batter. It gives it a richness and creamy taste that you don't get with regular milk. Then if you can find brioche bread, you're in business. If you can't, get a thick cut bread. Of course, brioche is made in a different way. I've never made it from scratch, but that's on my bucket list!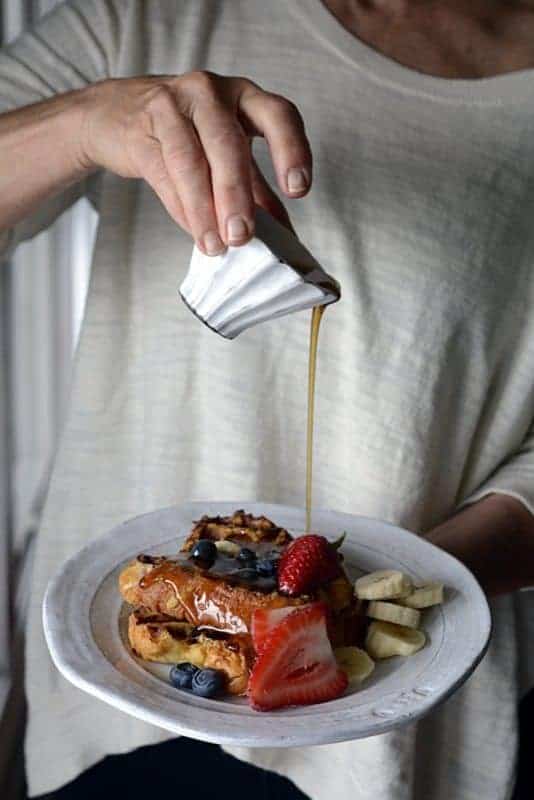 french brioche coconut milk waffle toast
Ingredients
Preheat Waffle Iron (High Level)
1 loaf of French Brioche Bread, cut into about 7-9 slices
3 eggs, mixed
1/3 cup coconut milk
2/3 cup milk
2 tsp. vanilla
2 Tbl. sugar
TOPPINGS:
Butter
Blueberries
Strawberries
Bananas
Maple Syrup
Instructions
Preheat the waffle iron to the high level.
Combine in a large glass pie plate the eggs, coconut milk, milk, vanilla and sugar. Whisk and blend.
Dip the bread in the mixture, both sides. Give the hot waffle iron a quick coat of cooking spray.
Depending upon the size of your waffle iron, place one or more pieces of bread. Do not shut the lid.
You'll use the waffle iron like a 'grill'. Let the first side down grill to a golden brown, about two to three minutes.
Take a fork and gently flip to the other side and repeat the cooking.
Remove the waffle slices to a plate, and repeat until all slices are cooked.
NOTE: You can place the lid down, but your brioche bread will flatten.
Serve immediately with butter, fresh fruit, and warm syrup.
https://allyskitchen.com/french-brioche-coconut-milk-waffle-toast/
©ally's kitchen intellectual property