cast iron skillet new york strip steak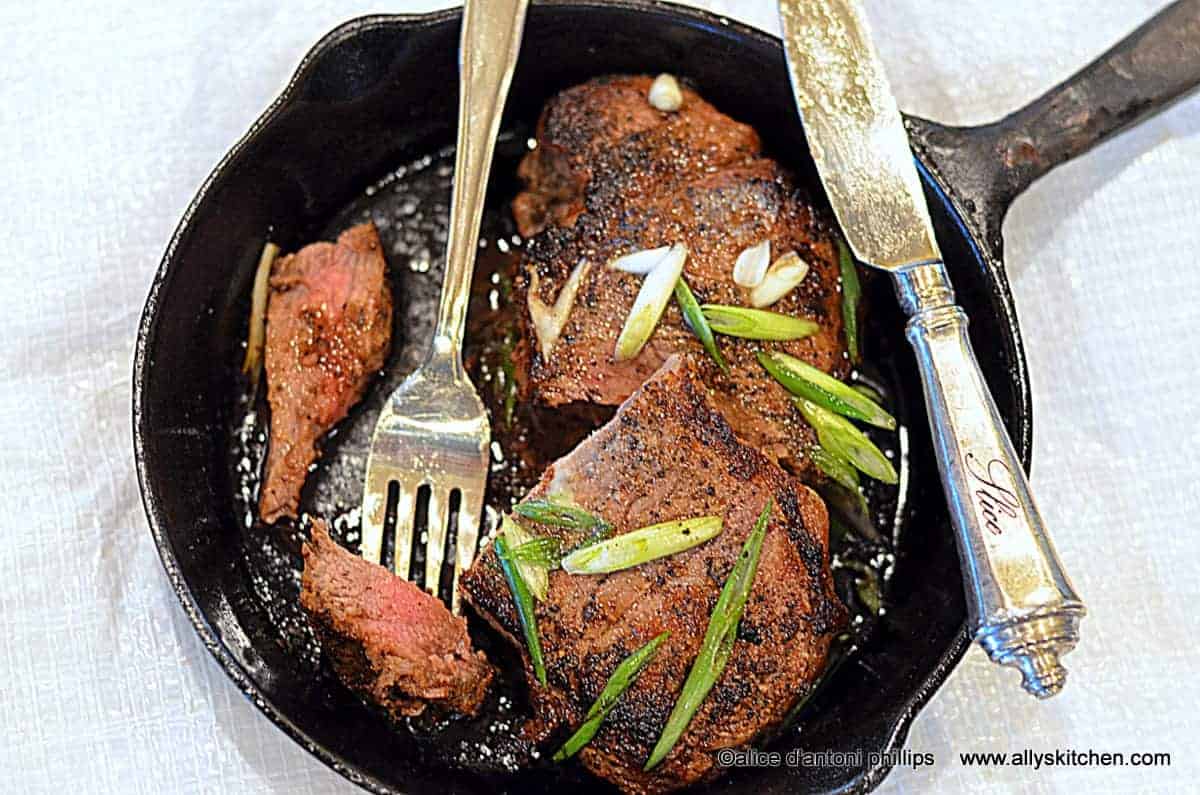 It doesn't get much better and easier than this cast iron skillet New York strip steak! Juicy and tender and pan seared in a hot skillet! And, if you want to make it a T-Bone, that works, too!
Grassfed Steaks
If you can start with the best beef, yes, grassfed steaks, then you don't need much more than salt and pepper for seasoning. Of course, my preference is Aussie Grassfed Beef. Check out where you can find it in your neighborhood stores!
You can also look for local farmers in your state who produce grassfed beef
Have Romantic Dinner For Date Night!
Want to have a romantic dinner for date night? This fantastic steak is the perfect idea or any special occasion that deserves something extra delicious at the table.
A little butter adds richness and keeps lean meat moist without adding a lot of total fat. Not sure how to cook a steak on the stove?
No worries! Not only is this one of our best steak recipes, it's incredibly easy. A word of caution though: this recipe is smoked! Keep your exhaust fan on high or cook in a skillet on a hot outdoor grill.
Cook Stunning Steak Dinner For Two
Cooking stunning steak dinner for two can be simple in just a hot skillet. It tasted like something from a fancy steak house like Mortons or the Palm. Hummm, maybe better!
It's super easy, and the really important thing here is getting the best cut of meat your budget can afford.
Not much is needed when you've got a fantastic cut of beef! The butter is slightly browned and with those wilted green onions, oh, man, I'm talkin' tastebud nirvana!
Serve The Perfect Steak Dinner This way!
Best Way to serve the perfect steak dinner are these ways! Pan-frying, grilling, and broiling are good options. Because its abundant fat is prone to breakouts, grilling ribeye can be a bit tricky.
Have a lid ready and wait with the tongs in case you need to quickly jump into action and retrieve the steak from the depths of a fireball. This is my favorite cut to stir fry.
Healthy Recipes with Beef
Healthy recipes with beef start with adding lots of vegetables and salads like this Aussie Girls Glitz Steak party!
Steak Recipes Easy
Steak recipes are easy. It's all about the beef. Whether it's breakfast, lunch or dinner, try something different with your delicious healthy beef.
Bacon Drippings Steak and Eggs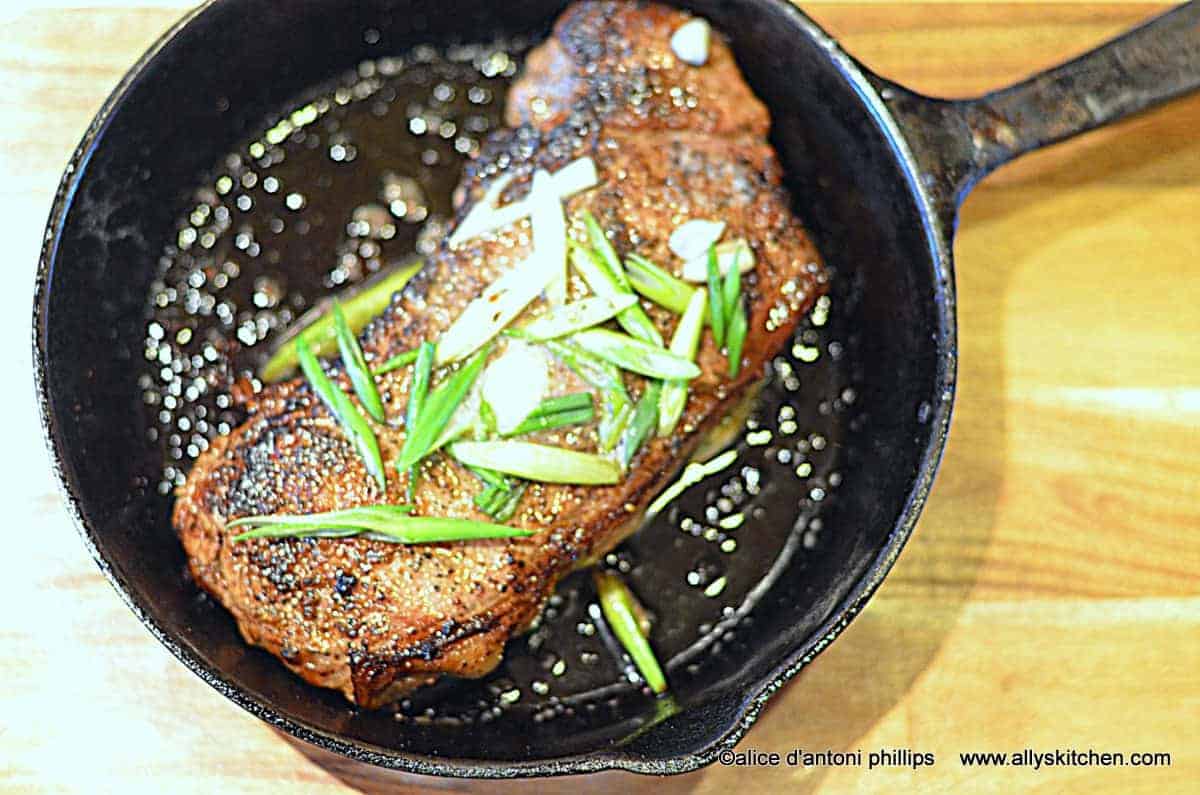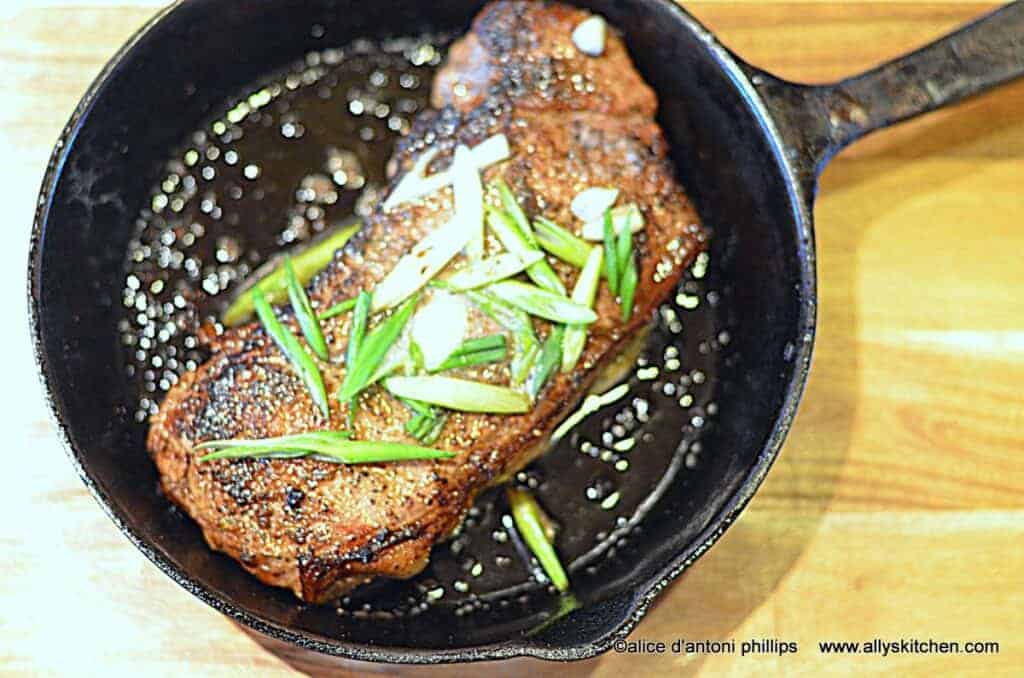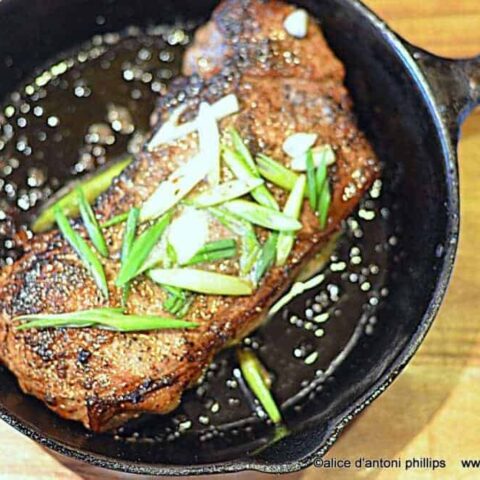 cast iron skillet new york strip steak
Yield:
1 very hungry or 2 normal folks
It doesn't get much better and easier than this cast iron skillet New York strip steak! Juicy and tender and pan seared in a hot skillet!
Ingredients
1 16 oz+ thick-cut NY strip steak, can use TBone steak, about 2" thick cut
3 Tbl. butter, divided
1 tsp. sea salt
1 to 1 1/2 tsp. coarse ground pepper
2 green onions chiffonade sliced
Instructions
Preheat oven to 400. Coat both sides of the steak with salt and pepper. Let the meat come to about room temperature.
Over high heat on the stovetop, let a cast iron skillet get hot. Put half the butter in to melt. Reduce heat to medium high.
Put the steak in the hot skillet and pan sear on each side about 2-3 minutes.
Finish the steak in the preheated 400 oven for about 8 minutes for medium rare to medium.
Remove from oven. Put the remaining butter on top the steak. Add the green onions to the side/top of the steak in the hot skilet. Loosely cover with a lid. Let the meat rest then slice.
Cowboys will start gathering to chow down immediately!