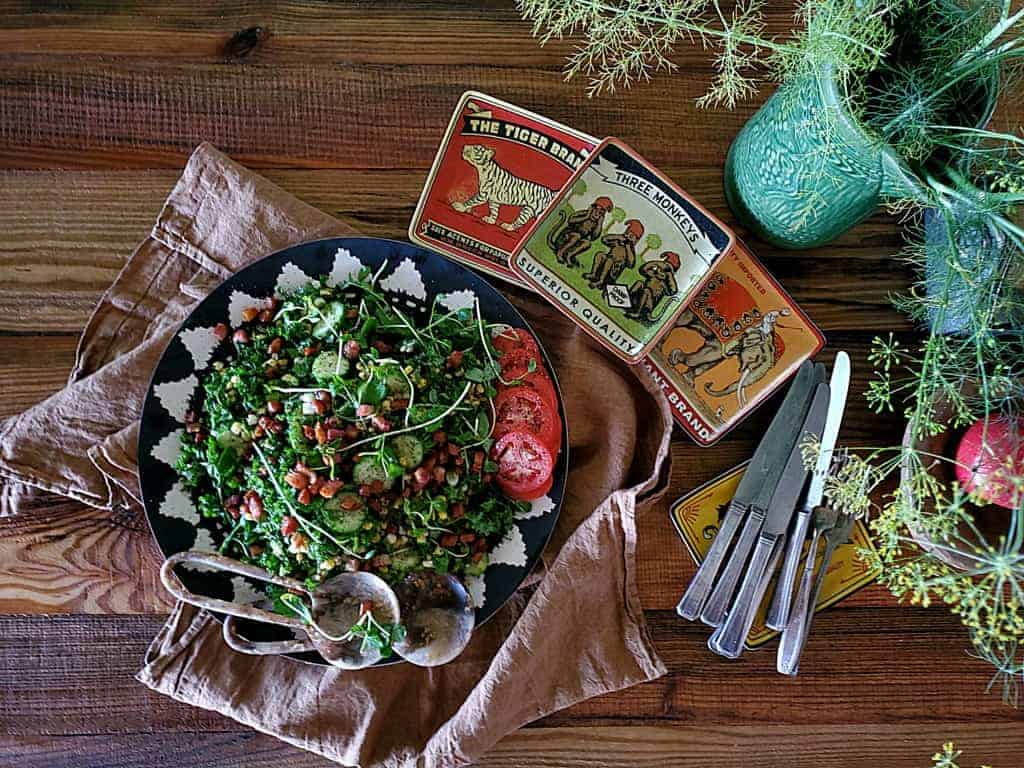 If you haven't added a breakfast salad to your morning menu, then you're missing healthy yumminess! This pancetta breakfast salad's for anytime!
Pancetta Breakfast Salad
OK, I get it. Most people don't think of salad for breakfast, but I'm telling you, it's the hottest new Ally trend out there! I've been adding the green stuff to breakfast for decades. I mean it just makes sense to me to add nutritional value anyway I can to this first meal of the day.
Keto Salads
I really love Keto salads. After all, a salad can become a hearty breakfast and a light dinner, a separate dish or a side dish. A Keto diet is a very low crab, high fat diet that has been shown to provide several health benefits.
Brunch Salad ReCipe
This pancetta breakfast salad is really perfect for ANY meal be it a sit down dinner, a quick lunch, brunch, picnic, cookout. Whatever! Your choice of greens is certainly a personal preference. I've used finely chopped kale and tender pea shoots. I love the kale because it holds up well if you want to save any leftovers for the next day. Chards would be great, too, as they hold their happy lift a little longer than some greens that just wilt with time.
Breakfast Salad Ideas
Breakfast Salad is one of my new favorite, delicious ways to start the morning! This salad is becoming the latest health trend. Breakfast salad is also the best way to start your day with nutrient-rich foods. They can also improve your mood and productivity, improve digestion, and even help you lose weight.
Avocado Breakfast Salad
Avocados are a favorite for many healthy eating people. Avocado has become a part of our home menu and deservedly so. The avocado pulp is rich in vitamins and minerals, and has a rather neutral taste. The healthy avocado salad for breakfast is easy to make. Such food will be a great addition to breakfast or a good snack at any time!
Breakfast Salads are a Thing
For the pancetta in this recipe, I go to the market's meat counter and have them cut me pancetta from the large roll. Usually about 1/4″ to 1/2″ thick rounds. Then I dice into small pieces and fry. Again, like the type of green you use, this Italian bacon holds its shape better than regular bacon that while great usually crumbles. I like seeing the little golden brown diced pancetta in my salad. As for taste, you're gonna get about the same thing with bacon. But, try to make thick cut bacon.
Breakfast Egg Salad Recipe
All you need are chopped hard boiled eggs. Eggs are such a versatile product that they are used to prepare salads. Breakfast Egg Salad with Bacon is creamy and loaded with flavor – there's just something magical about the addition of bacon. Here's a wonderful recipe to serve for breakfast, too.
Skinny girl chicken meatballs
deli olive mix
Refreshing rice grape salad
Bohemian sparkles
Shrimp & pancetta gravy
mezze or tapas style dining for the holidays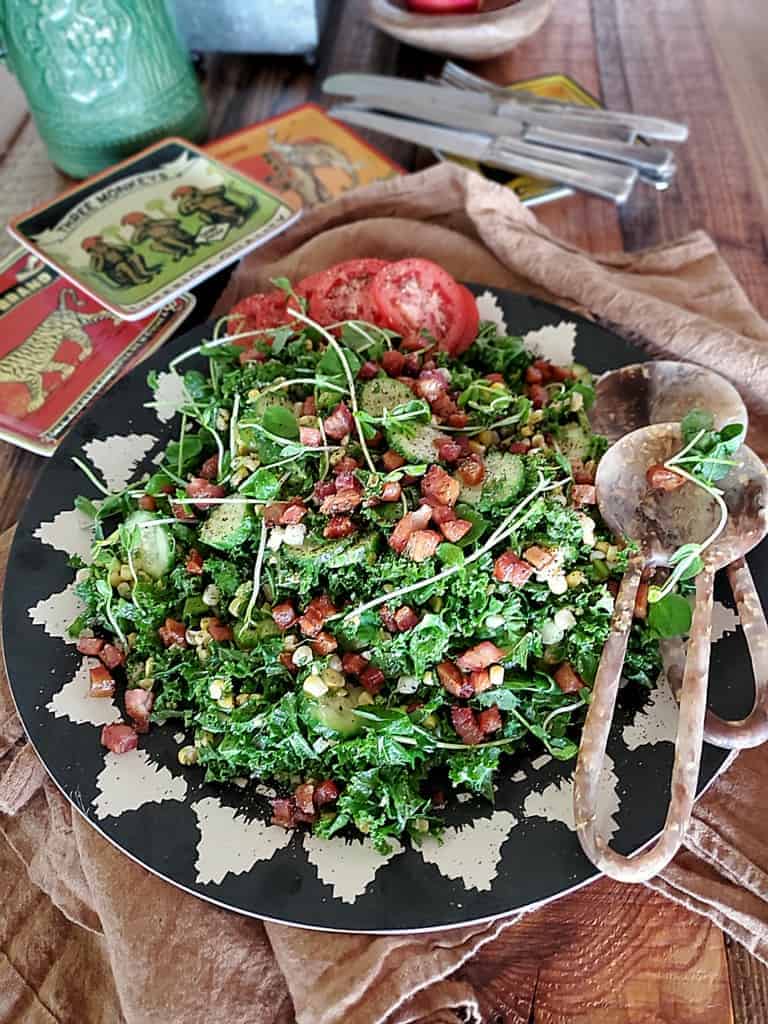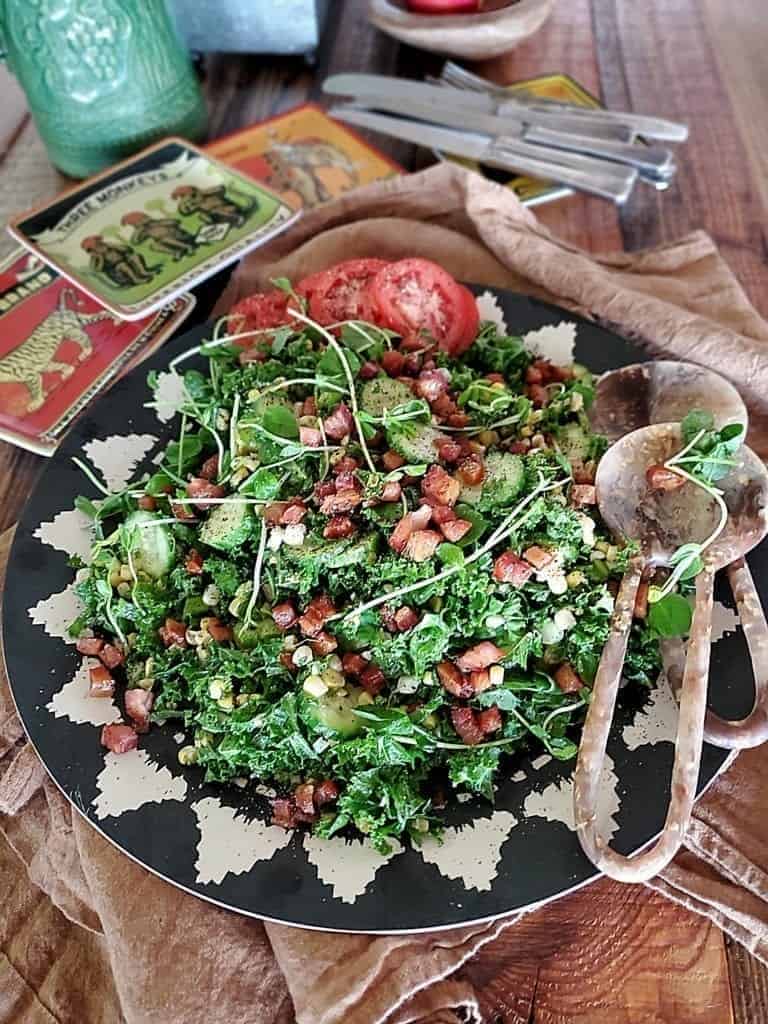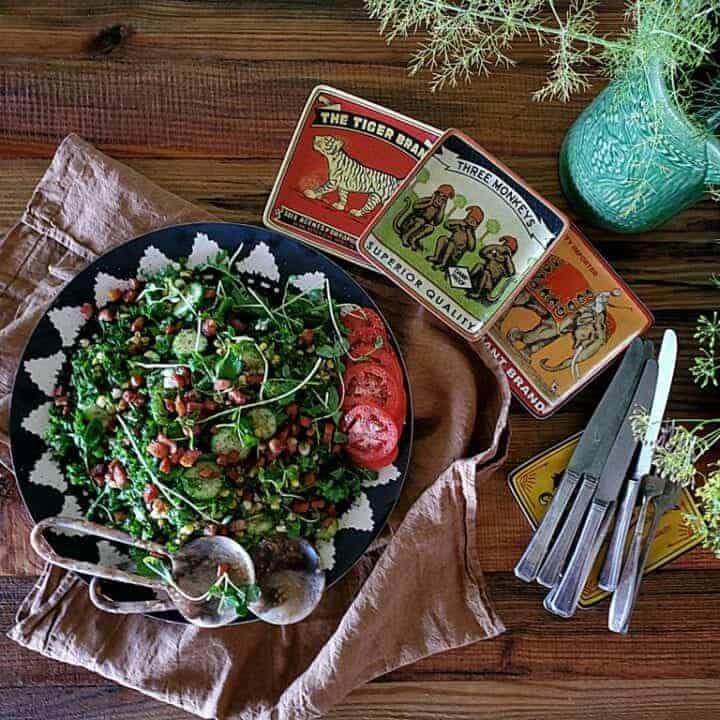 Pancetta Breakfast Salad
Yield: 6-8 big mounds of salad!

If you haven't added a breakfast salad to your morning menu, then you're missing healthy yumminess! This pancetta breakfast salad's for anytime!
Ingredients
1 lb. thick cut pancetta, deli cut, two to three slice(s), large dice
½ cup Extra Virgin Olive Oil, divided
3 cups white & yellow corn, previously frozen
1 tsp. ground cumin
10 mini cucumbers, washed and medium dice, skin on
6 green onions, thin slice with some of the green tops
6-8 cups green pea shoots, packed, if you can't find green pea shoots use a small delicate similar type green (kale, arugula or mixture), roughly chopped
1 large lemon, juice and zest
1 tsp. sea salt
1 tsp. coarse ground pepper
½ tsp. red chili flakes
Instructions
Put two tablespoons of olive oil in a large heavy skillet over medium high heat. Add the pancetta and sear about 3-5 minutes. Remove the pancetta with a slotted spatula to a plate.

Add another tablespoon of olive oil, corn and cumin. Pan sear for about three to five minutes. Reduce heat to low. Return pancetta to skillet and blend. Remove from heat and set aside.

In a large salad bowl, add the sliced green onions and pea shoots. Toss and blend. Add the pancetta/corn mixture and toss and blend.

Whisk together the remaining olive oil, juice and zest of one lemon, salt, pepper, and chili flakes. Pour on the salad bowl mixture and give it a quick toss.

Serve immediately.
Notes
You can substitute your favorite greens into this salad.

Greens that work well: baby kale, baby arugula, European greens, baby spinach, baby bokchoy. Or do a combo of greens!