I love this recipe because it's all in ONE skillet! Yes, it's one skillet for cooking the pasta. No filling a big pot of water, waiting for it to boil and lugging the heavy hot pot to the sink to pour into the colander and drain. Basically, you're going to skip that step and cook that pasta, yes, even al dente, in the skillet.
It's just a step closer to what you really want to do. Eat! Plus, you'll simply serve from the skillet. Less clean up. Less work. More time to sit and enjoy the meal. Hope you like this technique as much as I do. It really works well for this kind of pasta dish!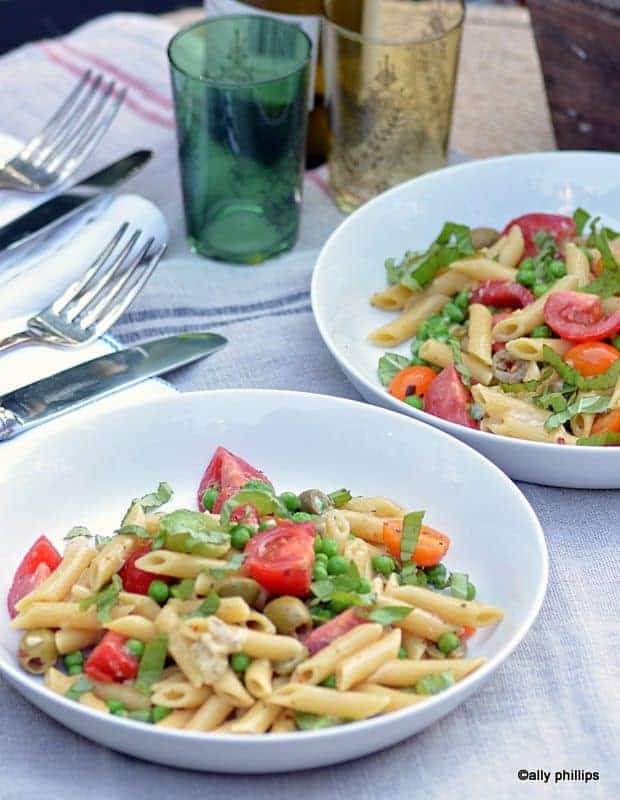 skillet pasta & vegetables
Ingredients
2 ½ cups chicken broth
½ tsp. coarse ground pepper
1 tsp. red chili flakes
1 tsp. garlic granules
1 tsp. sea salt
3 cups penne pasta
2 Tbl. Butter
3 cups penne pasta
¾ cup asiago cheese, grated
2 cups peas, partially thawed
1 cup cherry tomatoes, sliced in halves
½ cup green olives, sliced
1/3 cup fresh basil, chopped
Instructions
In 10" cast iron skillet over medium heat, put the chicken broth, pepper, chili flakes, garlic, and salt. Bring the liquid to a simmering boil and add the pasta. Cover with a lid and cook about 4 minutes.

Reduce the heat to medium low and cook another 3-4 minutes. Add the asiago cheese and blend.
Remove from the heat and add the peas, tomatoes and olives and toss and blend.

Cover with a lid and let this steam about 15-20 minutes.

When ready to serve, toss in the basil.
https://allyskitchen.com/skillet-pasta-vegetables/
©ally's kitchen intellectual property