Roasted Creamy Spicy Root Soup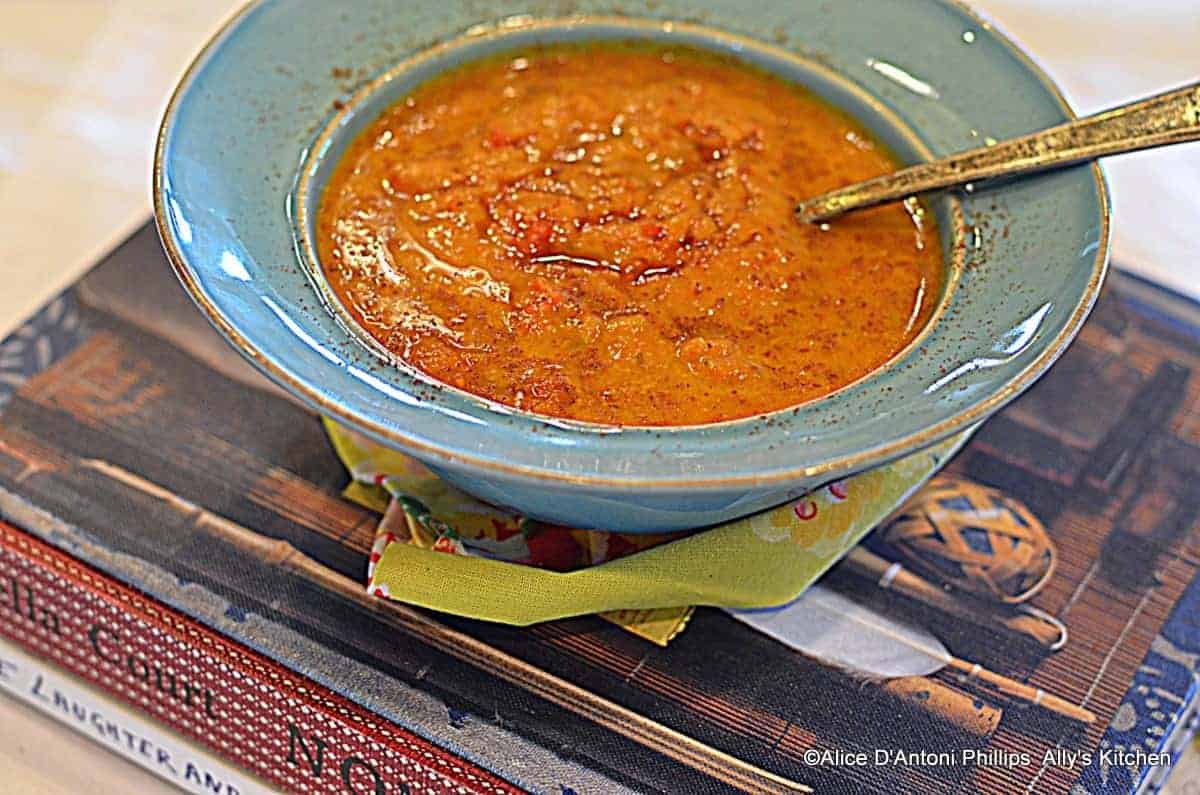 I've never really spent a lot of time cooking with parsnips~~it's pretty cool that parsnips date back to the Roman times and that they were once used as a sweetner in Europe before cane sugar got there!  Parsnips are high in vitamins and potassium, and since I've been having some foot and calf cramps I'm thinking this can help!
I decided to use another root veggie, carrots, and some celery together knowing that the flavors would be a great trio.  Since one of my favorite spices is cumin and since I had some cumin seeds, yep, I decided to roast all these babies together as the base for this creamy spicy soup!  The roasting seems to pull out some hidden rich tones in food kind of like the hidden sweet marrow in a bone…you just don't know it's there unless you somehow extract it!
This soup is rich and creamy.  It's got a kick and heat to it, which you can regulate depending upon your heat index.  It's gonna be good hot or cold, and it's going to keep for a few days and those layers of flavor will only get better!  So here's to my new friend the parsnip~~I think we're gonna be good buddies!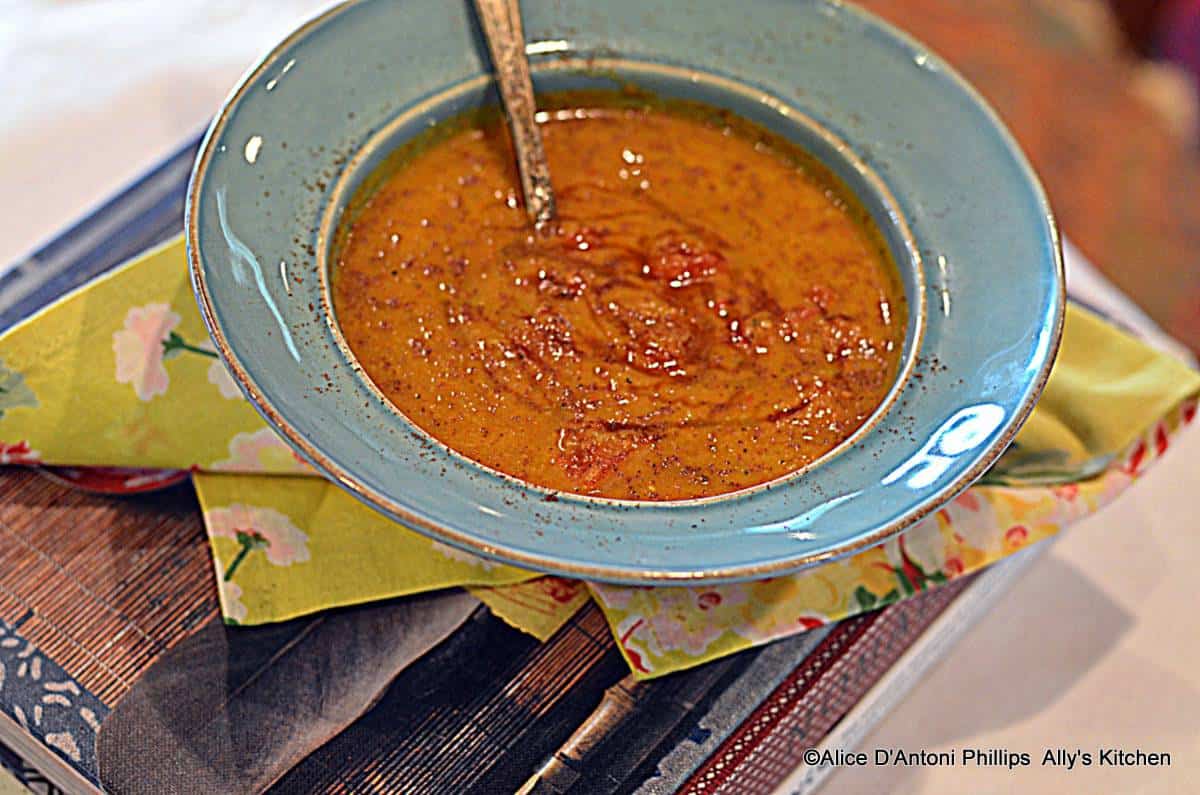 Serves:  6+
Preheat oven to 425
What you need:
3 cups parsnip chunks
2 cups carrot chunks
1 cup celery chunks
1 serrano pepper (remove some of the seeds~~or omit if you don't want the spice and kick!)
1 tbl cumin seeds
1 can drained diced tomatoes (reserving liquid)
2-3 tsp sea salt (divided)
2 tsp garlic powder
1/3 cup olive oil (divided)
½ cup milk
32 ounces chicken broth
3 bay leaves
1/2 cup grated reggiano parmesan
1/2 tsp Ground Cloves (plus more for sprinkling garnish)
Garnish Options:  Drizzle of honey or balsamic glaze (i.e., fig)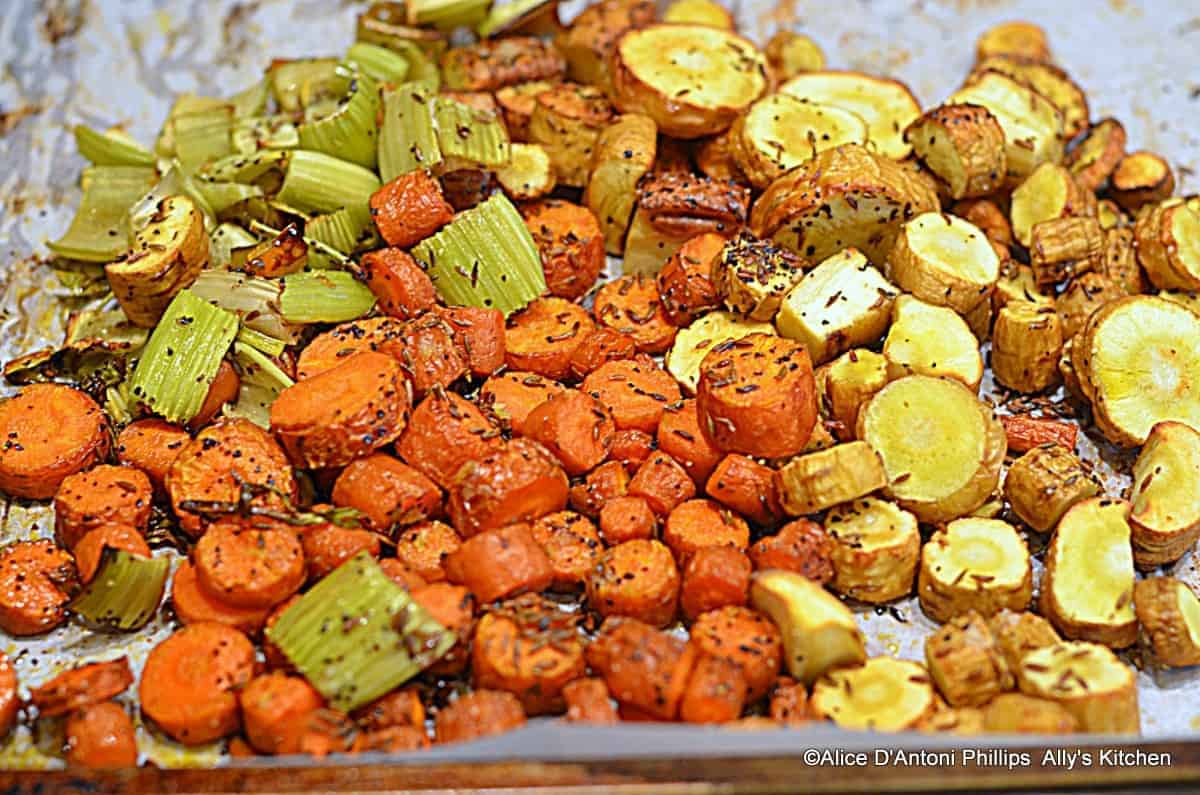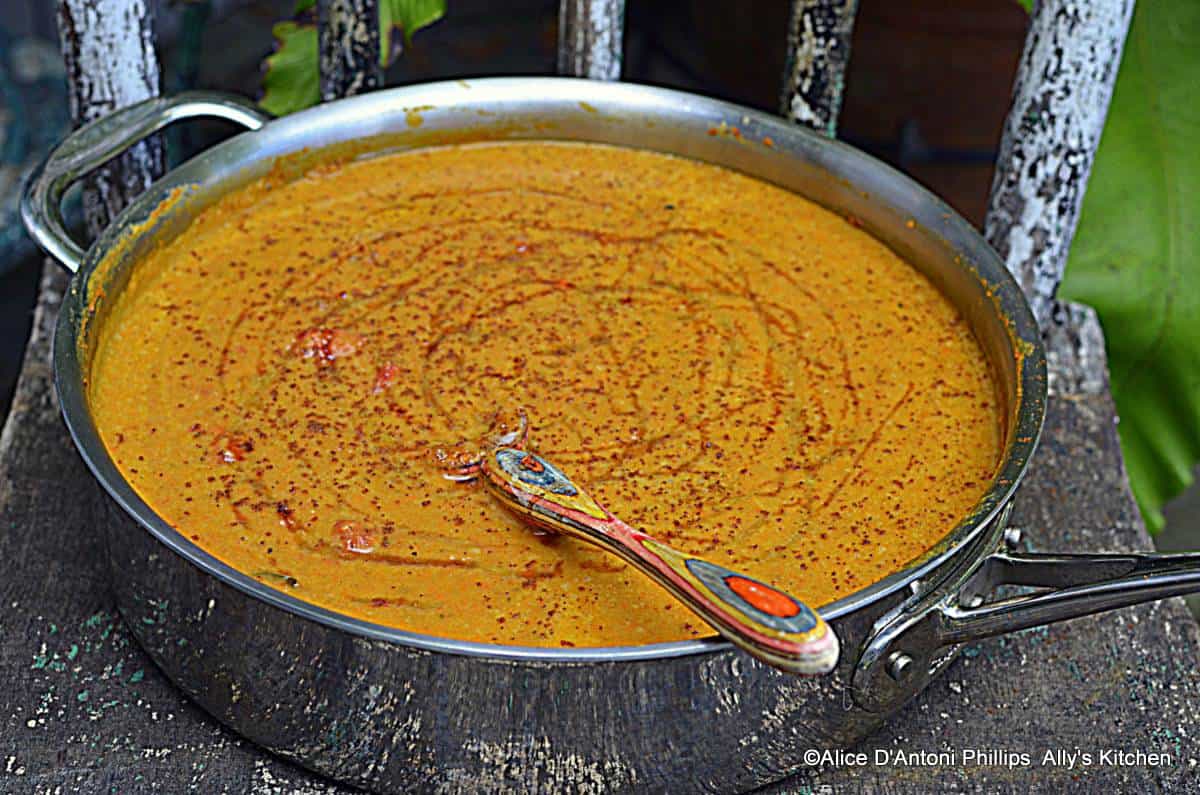 What you do:
Spread turnips, carrots and celery on a parchment-paper lined cookie sheet.  Coat with about 4 tbl olive oil, 1 tsp sea salt, and the cumin seeds.  Toss and blend.  Roast for about 25 minutes in a 425 oven.  The veggies will be somewhat charred around the edges.  Remove and cool about 5 minutes.
Put all the veggies in a blender.  Add the reserved liquid from the can of tomatoes, 2 tsp sea salt, garlic powder, remaining olive oil and blend about 2 minutes.  Mixture will be thick.  Continue blending slowly adding the milk and about ¾ of the chicken broth.  Blend for about 5 minutes then remove to a heavy sauce pan or pot.
Add the remaining chicken broth and blend.  Turn heat to medium low and add bay leaves.  Let simmer about 30 minutes (remove bay leaves).  Add tomato chunks, ½ cup parmesan, 1/2 tsp ground cloves and blend.
Ready to serve. Garnish with a sprinkle of ground cloves and a drizzle of honey or fig balsamic glaze.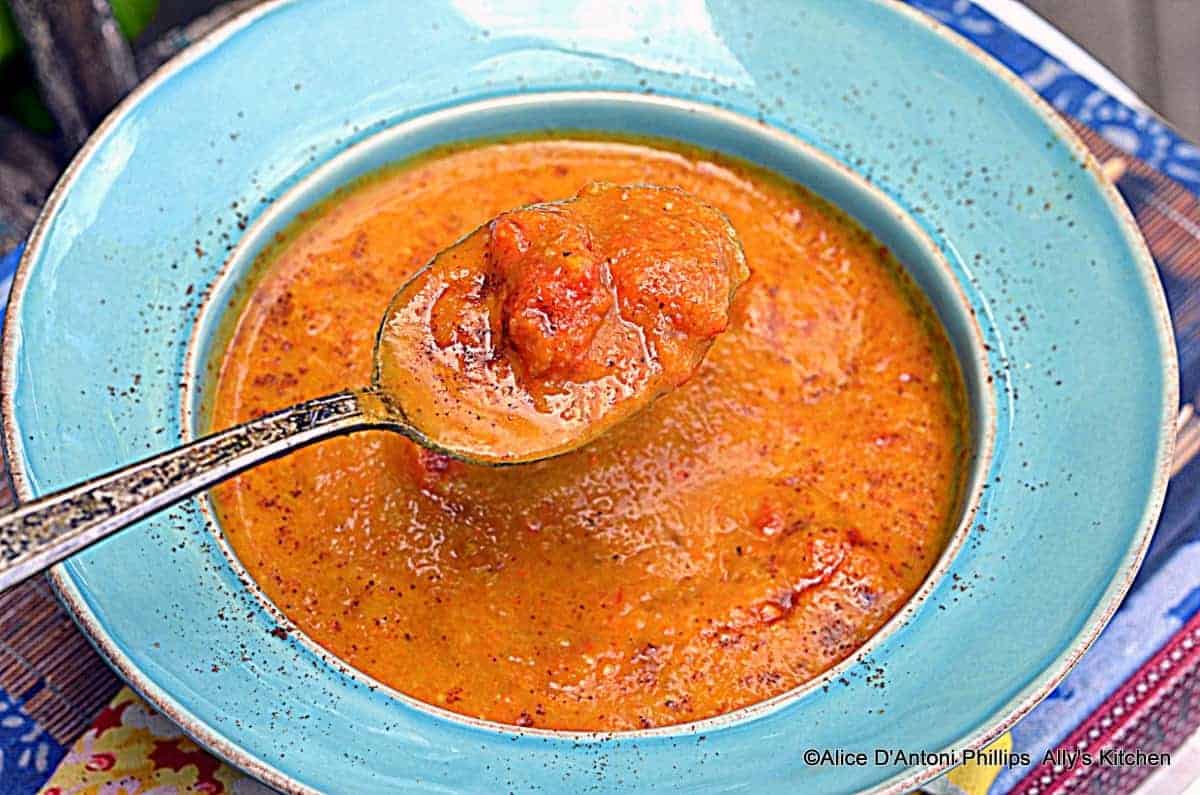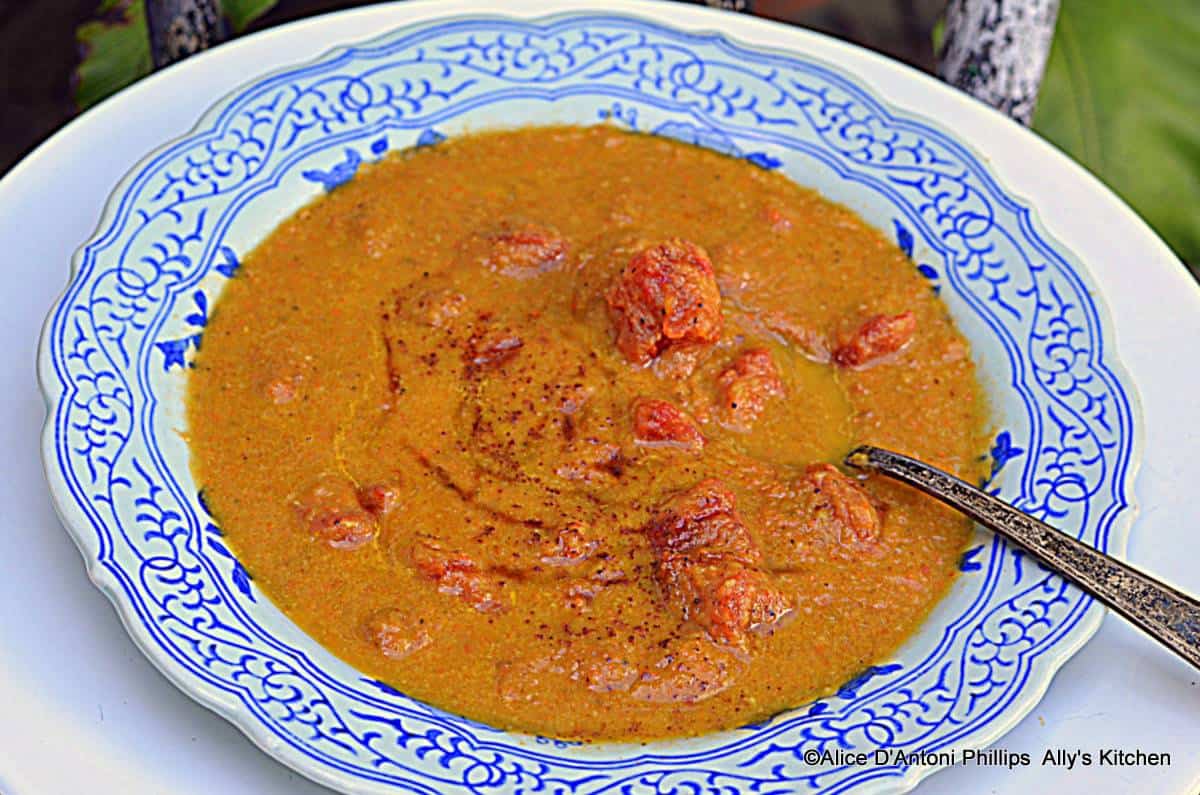 ©Alice D'Antoni Phillips    Ally's Kitchen