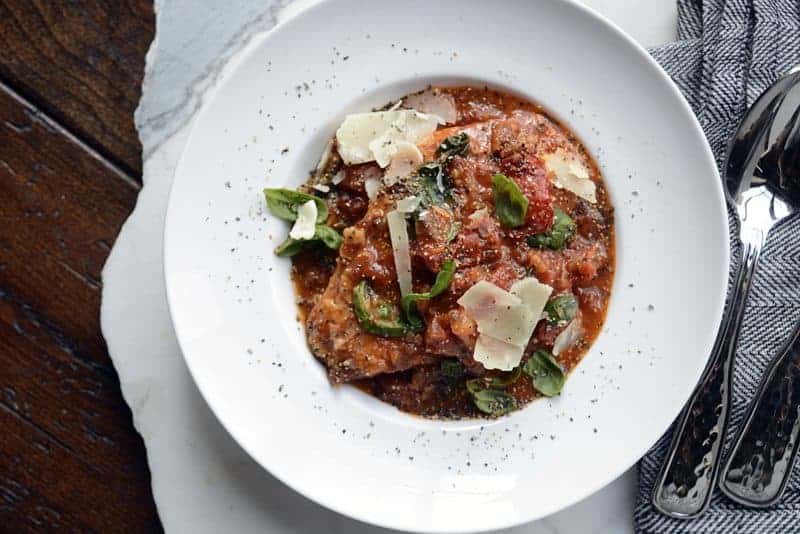 Easy salsa chicken will be your go to on busy nights! Simple, fresh delicious. Boost with bone broth protein supplement for more nutrition!
Chicken Salsa Recipe
Ever wonder what the most popular meat is in the world?
Yeah, I know, that's a random thought. And, there's debate on that and different opinions, so research on and dig deeper if you want to know.
Here in the United States my white meat of choice is chicken. And, my red meat of choice is beef. Some think that goat meat is the most popular meat in the world.
Stovetop Salsa Chicken
But, the Huffington Post is challenging that belief. I really haven't eaten a lot of goat meat in my life, but I admit, I do have some goat meat stew chunks in my freezer.
They came from a local rancher here in Colorado, and I can't wait to use it!
Easy Salsa Chicken
Regardless of the debate or thoughts, for me, as I said, I'm a chicken lover.
And, I'm always looking for ways to prepare chicken in new simple creative tasty ways that highlights this bird's wonderful flavors.
Chicken and Salsa
One thing I do when purchasing chicken is look for organic chicken.
I love all cuts of chicken. Bone in. Filets. Skin on. Skinless. Legs. Thighs. Wings. Even the carcasses that provide me with an amazing chicken stock!
Salsa Chicken Breast
Now this easy salsa chicken is an example of a dish that is bursting with flavor. Shining with beauty.
And, exploding with great versatility! It's kind of like chicken parmesan but without all the breading. So, you're saving some major calories and carbs.
Salsa Braised Chicken
Like a lot of stews, soups and sauces, this chicken caprese is even tastier and more delicious the next day, so if there's any leftover then you know what lunch is gonna be!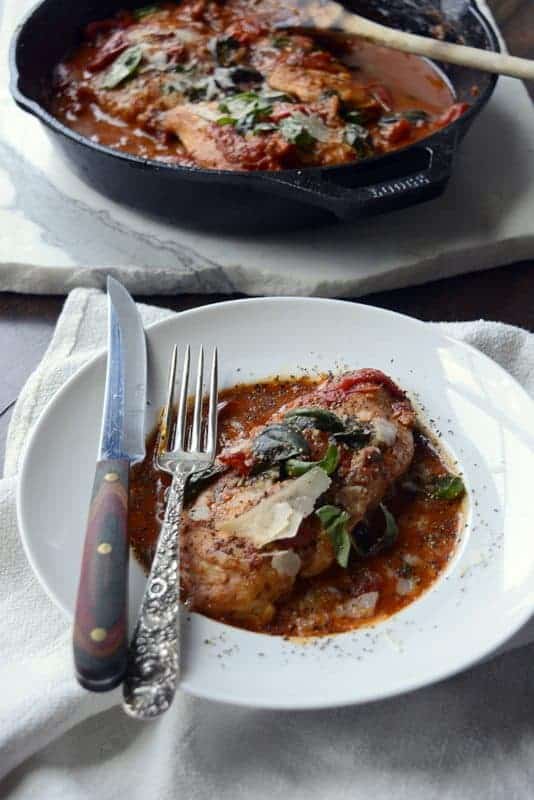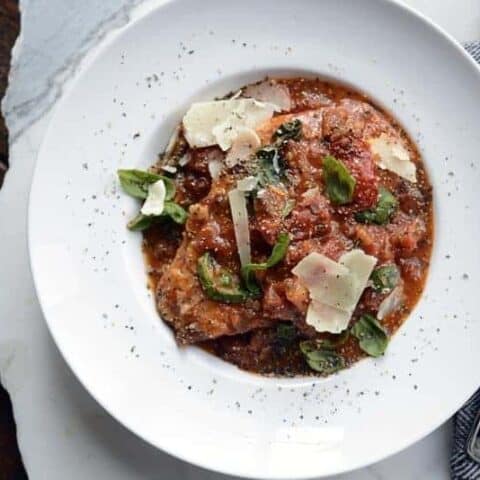 Easy Salsa Chicken
Ingredients
4 Tbl. extra virgin olive oil
1 medium sweet onion, French cut slices thin
1 ½-2 lbs. chicken filets, thin cut, boneless, skinless
1 tsp. sea salt
1 tsp. pepper
1 container (16 oz.) fresh mild salsa, or pico de gallo
1 scoop Bone Broth Protein Supplement, PaleoValley, see Notes below for link/discount
1 cup fresh spinach leaves, packed, chopped
½ cup fresh sweet basil leaves, roughly chopped and packed
½ cup parmesan Reggiano, shredded or shaved + more for garnish
Instructions
Rinse and pat dry with paper towels the chicken breasts. Coat both sides with salt and pepper.
Put the olive oil in a large skillet over medium heat. Saute the onions about 2-3 minutes.
Scoop the onions into a small bowl leaving as much oil as possible. Set aside. Make sure the skillet is hot. Put the chicken in and let it pan sear about 3-4 minutes on each side. Use tongs to remove the chicken to a plate.
Add the onions. Mix the scoop of bone broth protein supplement with the salsa then add to the chicken.
Turn heat to medium low. Cover and cook about 20 to 25 minutes.
Right before serving add the fresh spinach and basil. Mix somewhat. Let it steam about 10 minutes.