Sweet & Smoky Hibachi Peach Pork BBQ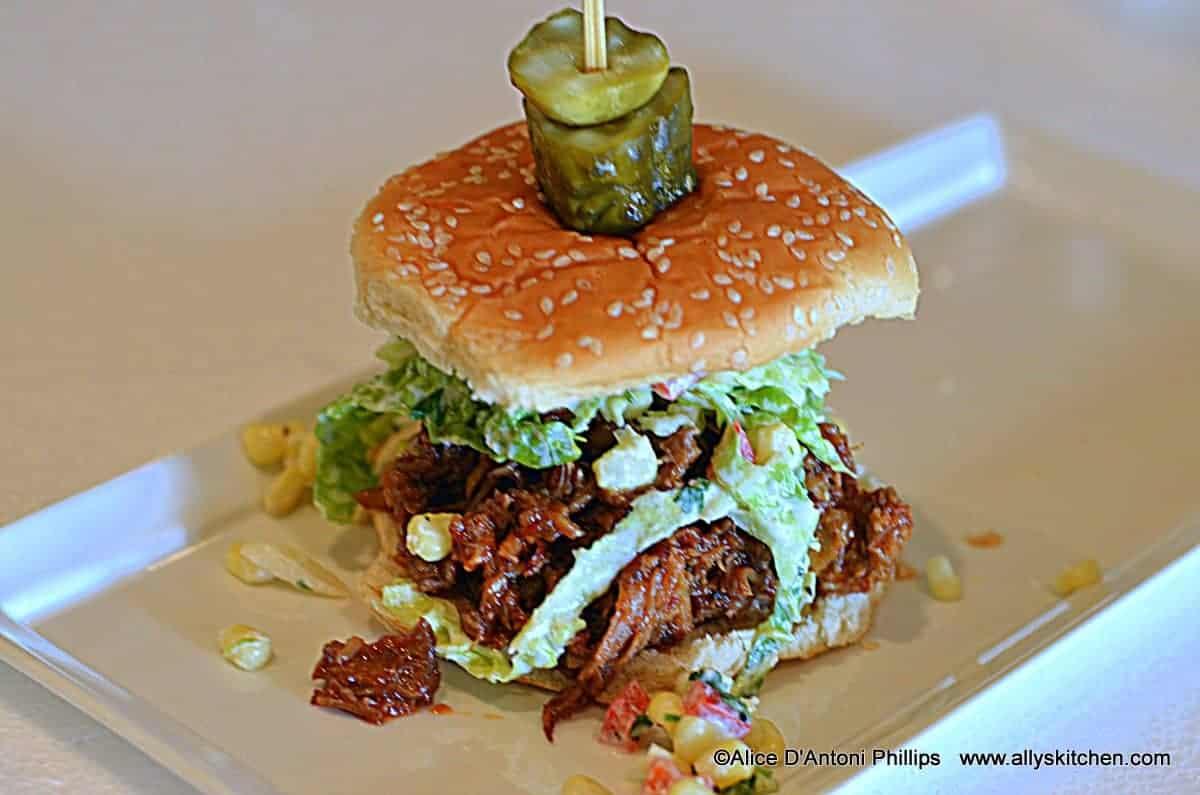 Pork…Southern.  Peaches…Southern.  BBQ…Southern.  Sweet & Smoky Hibachi seasoning…welcome to being Southern!  Take a bone-in pork loin roast, let it just bathe in some really nice seasoning and juices in a low temperature oven for several hours, and what you have is the beginnings of a fabulous chopped pork BBQ!
I made a  cabbage slaw to go with it using this recipe, Napa Bokchoy Spicy Cabbage Slaw,  but changing up the cabbage to Savoy and throwing some corn and red pepper cubes in it, and the flavors were just robust, there was a crunch, and a spice that added a tad more kick to the sweetness of the peaches!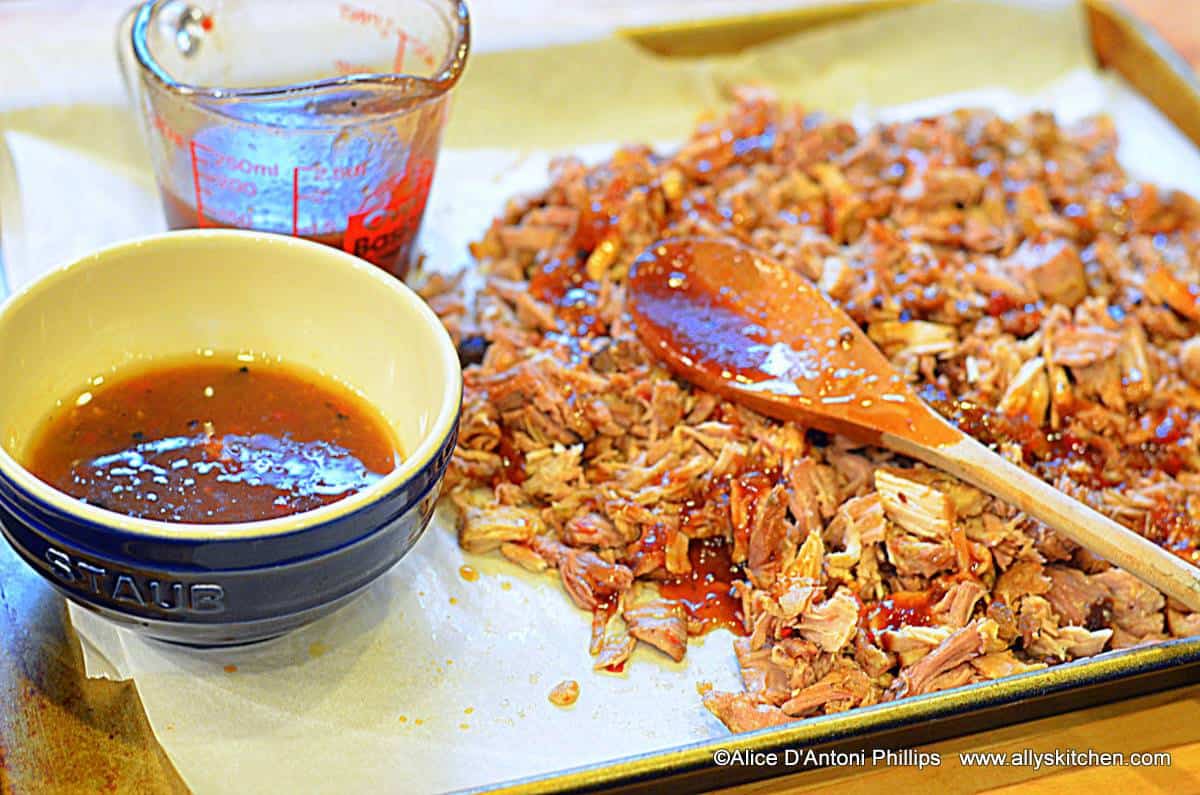 Serves:  6+
Preheat oven to 325
What you need & What you do:
3.5 to 4 lb pork loin rib end roast
1 tsp sea salt
3 tbl Simply Asia 'Sweet & Smoky Hibachi' seasoning
1/4 cup canola oil
1 1/2 cups water
1/2 cup finely mashed DOLE peaches
1/3 cup sweet pepper relish (I used Uncle Gary's.)
1 cup BBQ Sauce (I used Uncle Gary's 'Zesty Peach BBQ'.)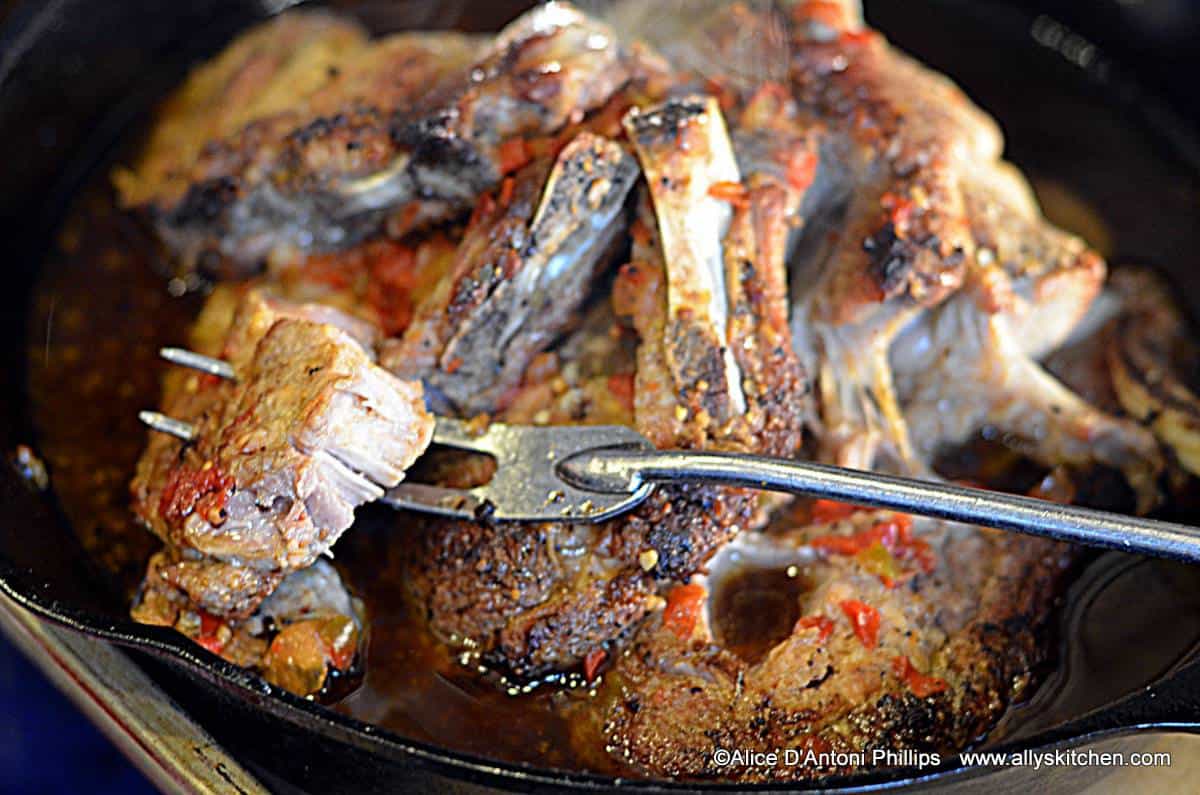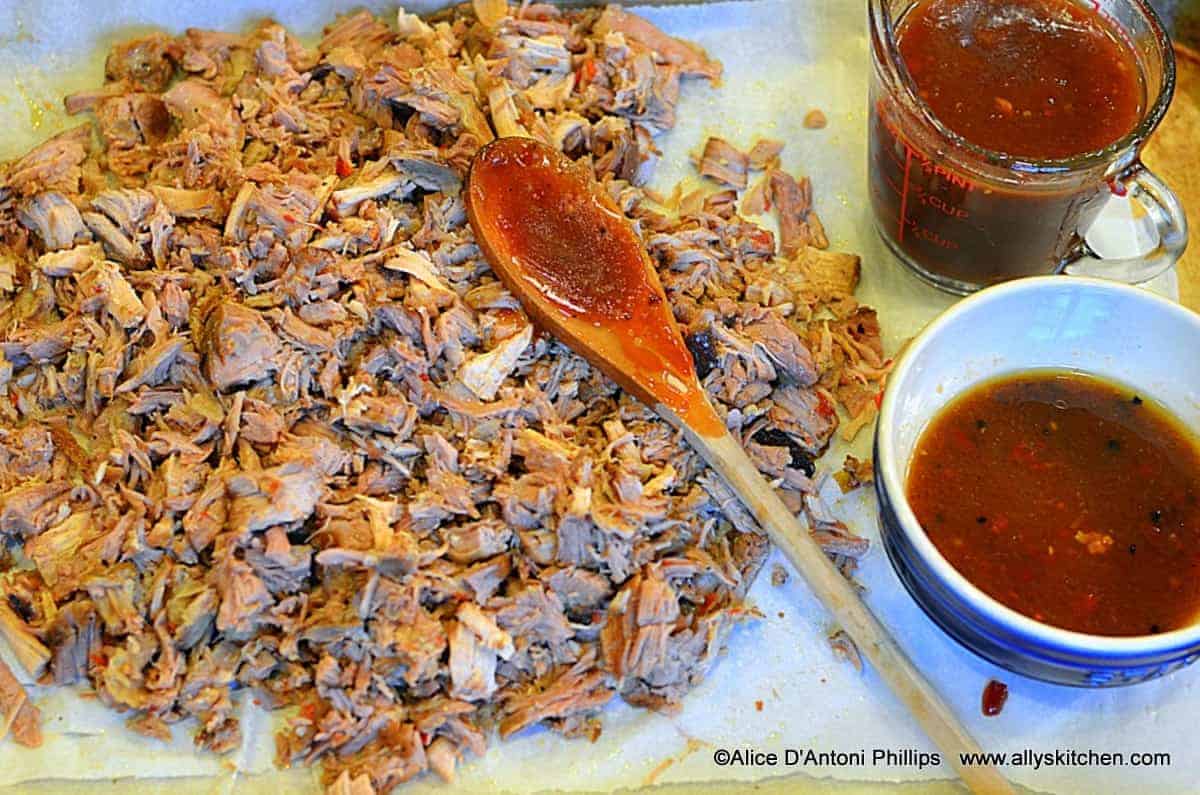 Using a sharp knife cut between the pork loin bones making butterfly-like separations, but not cutting entirely apart.  The pork will be able to fan out.  Sprinkle on the salt and the seasoning on top and in between the pork.
Put oil in a heavy large cast iron skillet over medium high heat.   When the skillet's hot, lay in and pan sear about 3-4 minutes  (cover with a lid) on one side and then flip to the other side.  Mix the water, mashed peaches and sweet pepper relish together and pour over the pork.
Cover pork with doubled foil (air tight hopefully) and place a lid on top.  Slow roast in a preheated 325 oven for about 2 to 2 1/2 hours.  Let cool and pull pork off the bones and chop.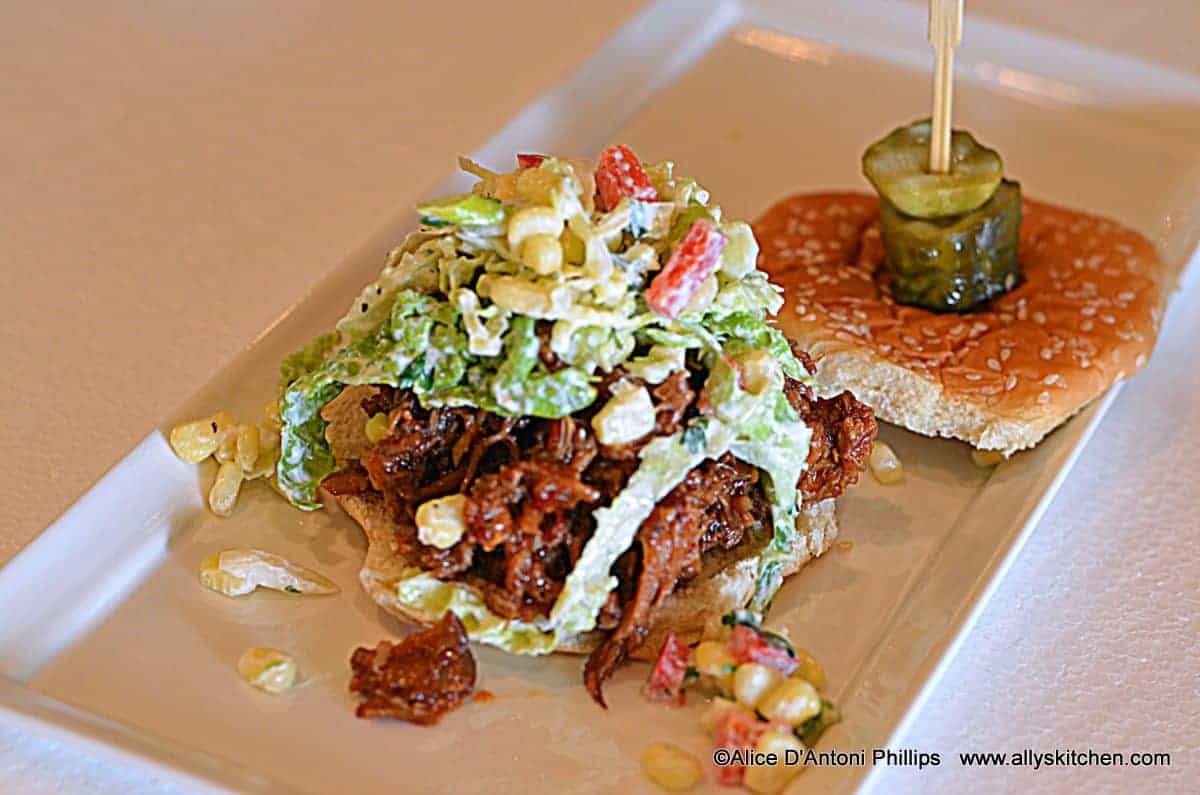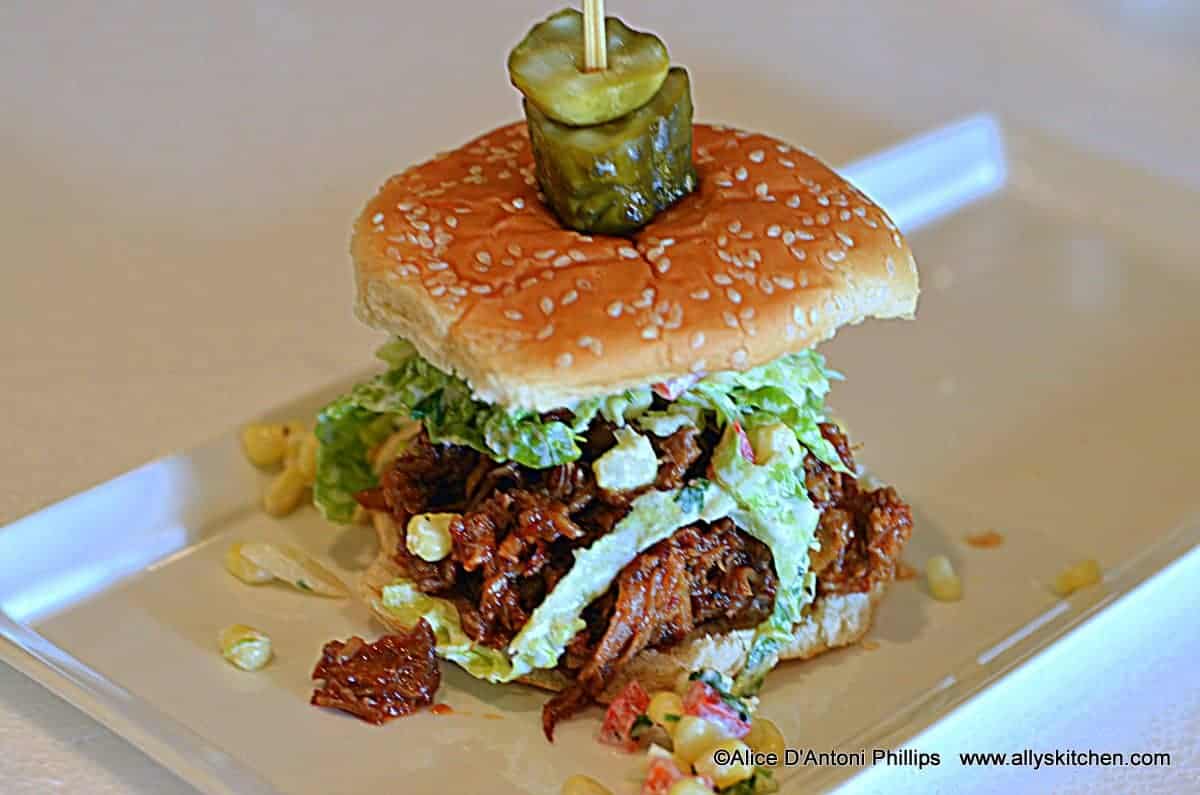 ©alice d'antoni phillips  www.allyskitchen.com