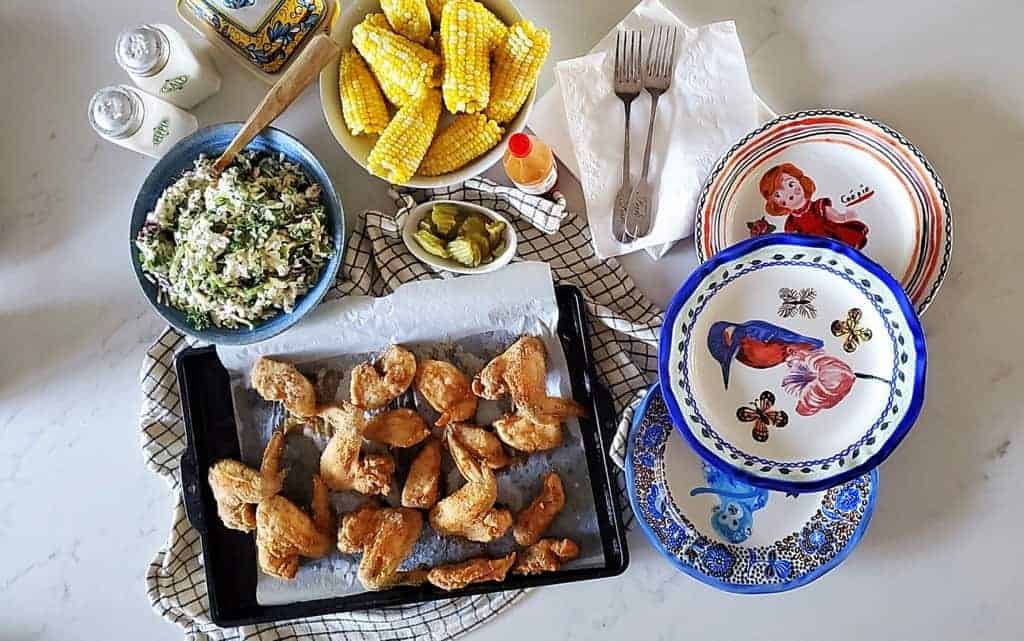 This fried chicken stays ultra-moist thanks to a double soak in sweet tea and buttermilk. Get the recipe from Ally's Kitchen.
Creole Chicken
Every now and then you just have to indulge yourself. My infrequent, but always amazingly delicious and maybe not so super healthy, indulgences are things like eggs fried in bacon drippings. Yes, these eggs take me the home country road, to when I grew up in those coalfields and majestic mountains of Southern West Virginia. Another indulgence? OMG, yes, chipped beef on toast. Oh, the gravy. And, maybe once a year, sausage gravy and biscuits. Of course, another infrequent, albeit divine, cuisine indulgence. Fried chicken!
Creole Fried Chicken Recipe
Now this creole fried chicken is half fry and half bake. So maybe we get a few extra brownie points for not being totally fried! You know, life is about moderation. And, in this moderation of making wise choices, you an have on occasion some of those forbidden things you love to eat. As I've gotten older, I also find that I pick and choose what my splurges are foodwise. So whether you want something that's decadently sugary like a big piece of homemade carrot cake with cream cheese icing or this creole fried chicken, just remember, you can't have both!
Chicken Creole Recipe
For a chicken creole reicpe, once you coat the chicken with spices and a dusting of flour, which you shake shake shake before putting in the hot oil to flash fry, you're gonna just get that light golden brown coating. You've seared in the juiciness and as the chicken bakes in a hot oven, almost like 'air frying', you finish the cooking of it. Now, I haven't tried this recipe in an air fryer, but you might give it a whirl. You could even omit the flour coating step and see what kind of crunch you get. That's what cooking's all about. Trying new things. Experimenting and having a good ol' time!
Creole Seasoning
I just love the aroma of Creole seasoning. This is so great! I love having homemade spice mixes because I can adjust the seasonings as needed for our tastes. And it's so much easier to make than people think. Definitely a money saver! This Creole seasoning blend is great for seasoning rice, meats, soups and stews, or anything that needs a flavor boost. Also makes a great gift when placed in a decorative jar with recipe attached.
Fried Cajun Chicken
All ingredients that don't look like powder are put into a mortar. You can do this with a blender, but if you grind the spices with your hands, the aroma is brighter. It is better to take coarse salt. Coarse salt will work like an abrasive when rubbed. Here, I grind the spices, mix and sift through a fine sieve.
Creole Seasoning will add a real depth of flavor. Store the Creole spice mixture in a tightly closed glass jar.
Fried Chicken With Coleslaw
Here I have a gorgeous dish for lunch! And dinner with him will, of course, be excellent! Everything is delicious, sincere and so harmonious! I offer you this Fried chicken with coleslaw with your family to try!
I love serving fried chicken with coleslaw. Here are a few of my fabulous recipes! And, corn on the cob is a great side, but so are crispy roasted potatoes or maybe green beans or both! My parting thoughts are MODERATION, my luvs! When you practice that in life, you're not denying yourself much of anything! xoxo ~ally
Here you can check some of my recipes where you might find creole fried chicken!
super quick creole chicken dinner
skinny girl sheet pan creole chicken
best ever creole chicken wings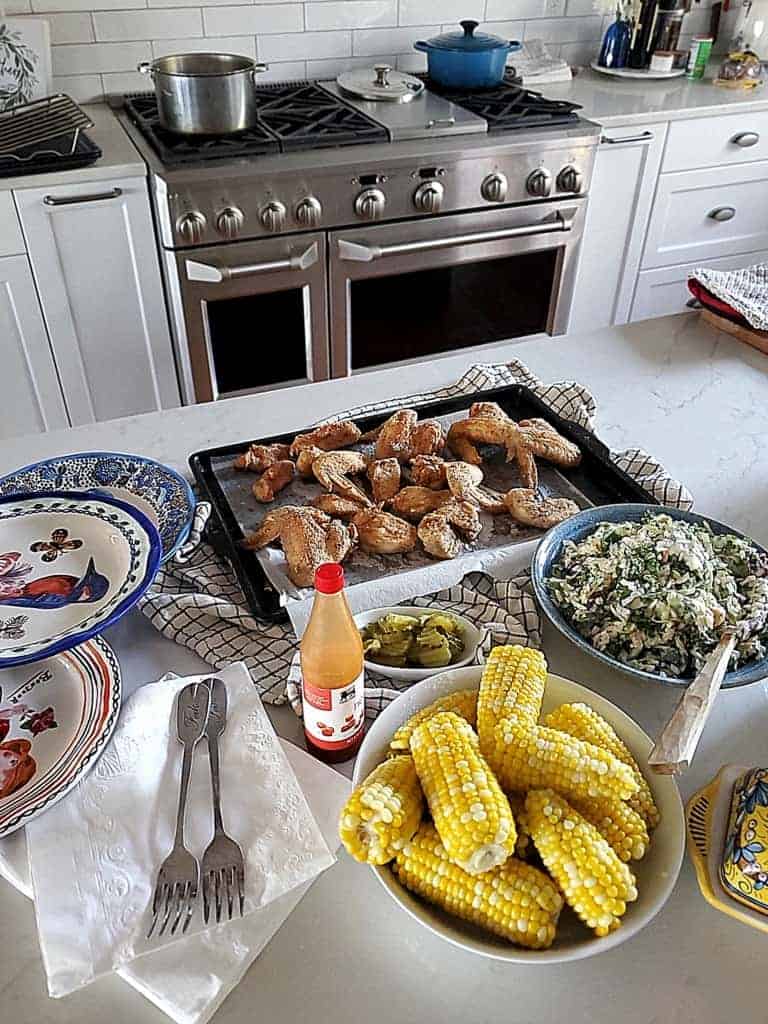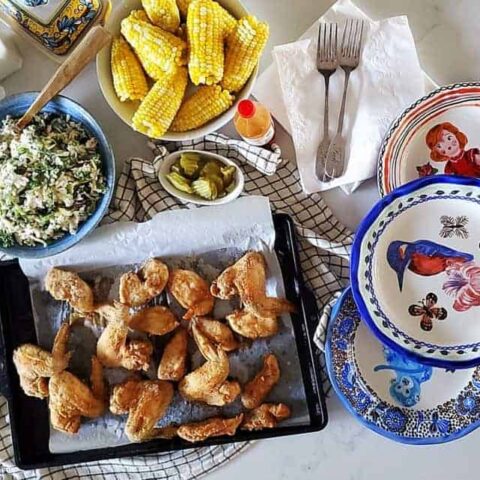 creole fried chicken
This fried chicken stays ultra-moist thanks to a double soak in sweet tea and buttermilk. Get the recipe from Ally Kitchen.
Ingredients
Preheat oven to 400
2 cups oil,avocado, coconut or olive oil
2 to 2 ½ lbs. chicken wings (6 large) and one thick breast, boneless skinless cut into thick strips
3 tsp. creole seasoning
1 Tbl. nutritional yeast
1 ½ cups flour, all-purpose
1 tsp. sea salt
1 tsp. pepper
Instructions
Put the oil in a Dutch oven or large pot. Turn heat to medium high and let it heat to 350.

Rinse and pat dry the chicken. Put in a large mixing bowl. Coat well with the creole seasoning and nutritional yeast.

Put the flour, salt and pepper in. Toss and coat the chicken pieces well.

When oil is hot, place two to three pieces of the chicken (shake off excess flour!) into the hot oil and flash fry to a golden brown (about 5 minutes depending upon the size of your chicken pieces).

When golden brown, remove to a parchment paper lined cookie sheet. Repeat this process with all the chicken. Remove this pot of oil to a cold eye on the stove.

Finish the chicken in a preheated 400 oven for about 20 minutes or until it's 165 degrees internally.

Remove and serve.
Notes
Leftover chicken can be refrigerated and eaten cold or warmed in the oven.

Nothing better with fried chicken than dill pickles. Yes, the classic hamburger dills. And, of course, hot sauce!