Bohemian Lasagna with Veggies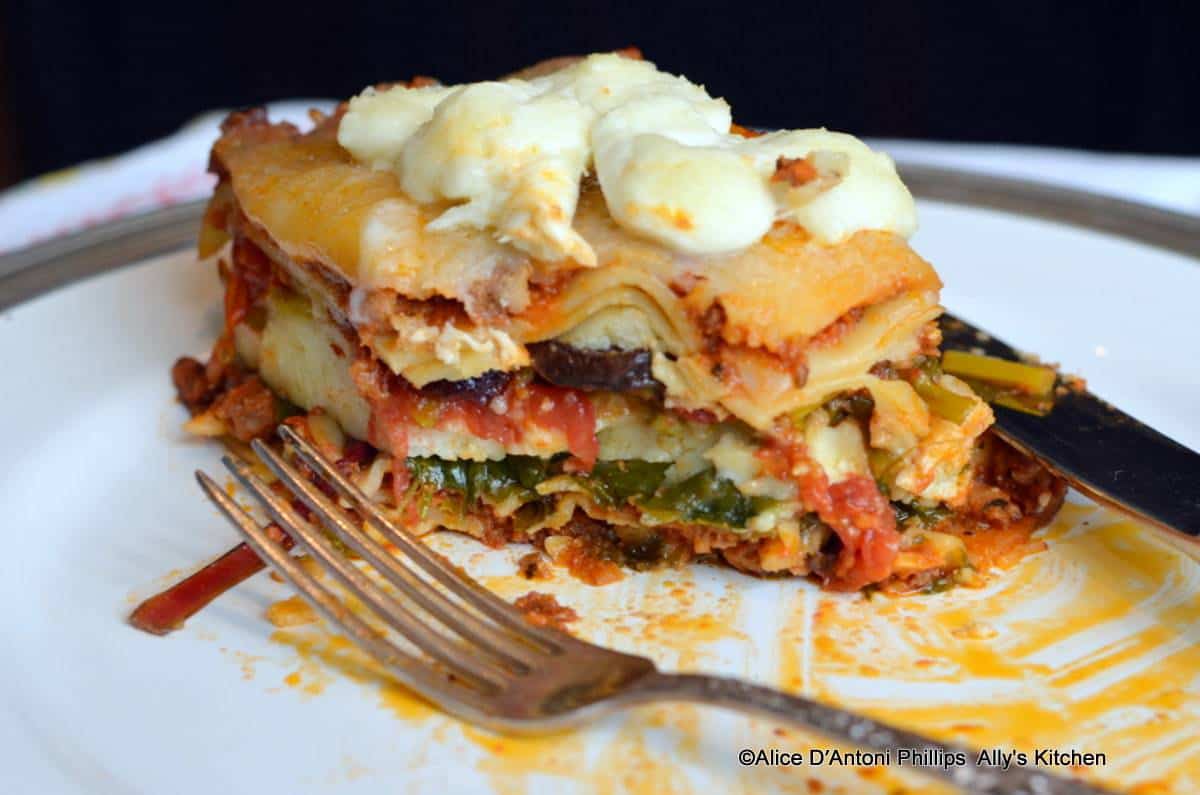 According to the Urban Dictionary, someone who's Bohemian is 'somebody who leads an alternative lifestyle, they are not hippies because they can have an extremely wide range of different tastes in music, fashion, art, literature, etc.  They are usually very creative people.  They are above all optimists  even if they can be very cynical, too.  They like wearing a mixture of weird clothes and mix different fashions together just for the heck of it.  Generally, they are laid back and relaxed.  I totally agree with most all of this description in terms of who I am…yes, in the late 1960s and early 1970s, I had my hippie lifestyle, but that dissipated as I got older, settled into a married lifestyle, began a career, started having children, and doing all those traditional things you do as such~~build a home, start college funds, become the carpool Mom, hang out at PTA meetings, start a Supper Club, have your kids in the gazillion activities after school.  However, my Bohemian roots and lifestyle never left me~~it's resonated through every part of my fabric and never more so than in my cooking.
This 'Bohemian Lasagna' made with my 'Bohemian Bolognese' is a perfect example of Boho meanderings in the kitchen! The big thing to remember with anything 'bohemian' is that there are no rules, whatever tickles your palate works~~that's the exciting thing about cooking this way, you never fail!  There's always a way out because 'it's you'!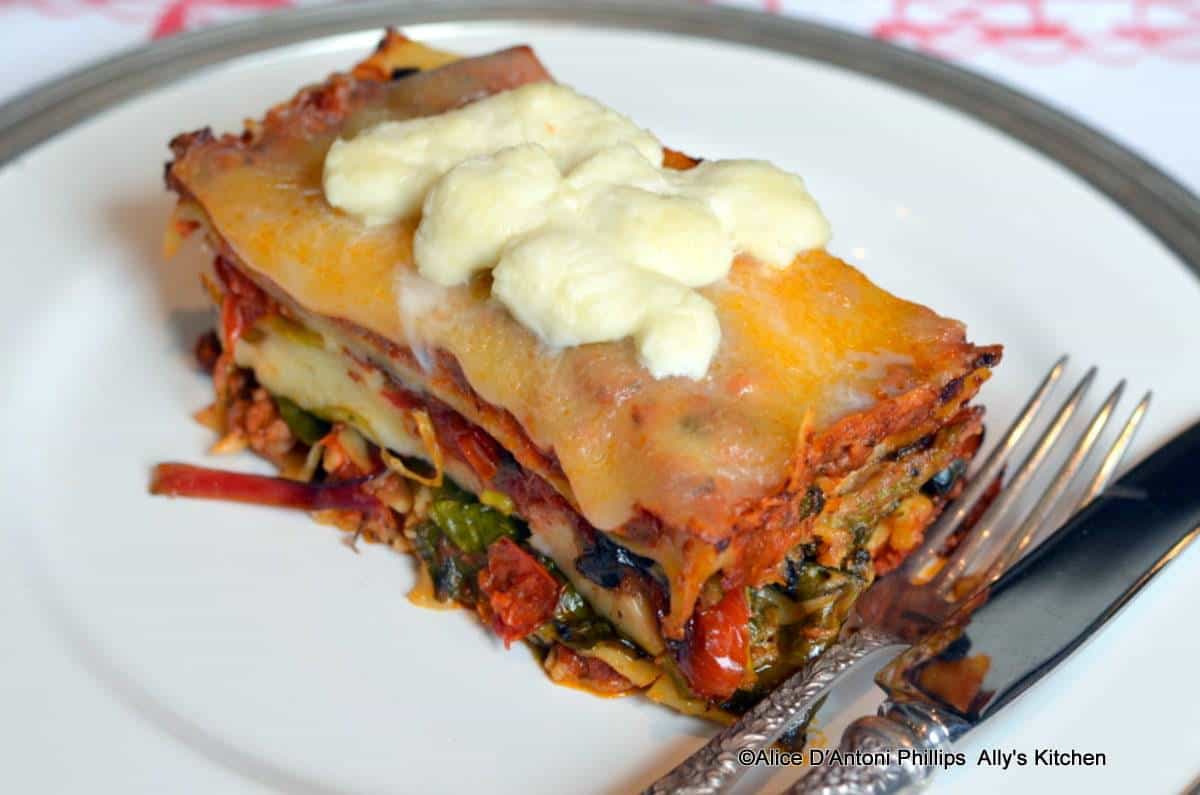 Serves: 6-8
Preheat Oven to 350
Baking Dish:  Appx 8x10x3″
What you need:
12-15  lasagna noodles (I used those that don't require pre-boiling and bake in the oven.)
4-5 cups of Bohemian Bolognese Sauce
2 cups European salad greens
2 cups chopped broccolini~~yes, include some of the stems (or your favorite veggies~~cherry tomatoes, mushrooms, zucchini, onions, peppers, etc.~~ or a combination of veggies~~sometimes I oven roast a batch and use them in the lasagna!)
3 large Roma tomatoes sliced (or cherry tomatoes!)
1 cup sliced fresh basil
3 cups cheese (Your choice~~I used shredded mozzarella, grated mild cheddar, and grated pecorino~~whatever you like!)
3/4 cup olive oil
1/2 tsp red chili flakes
18-24 Ciliegine Cherry Size mozzarella bites (for garnish)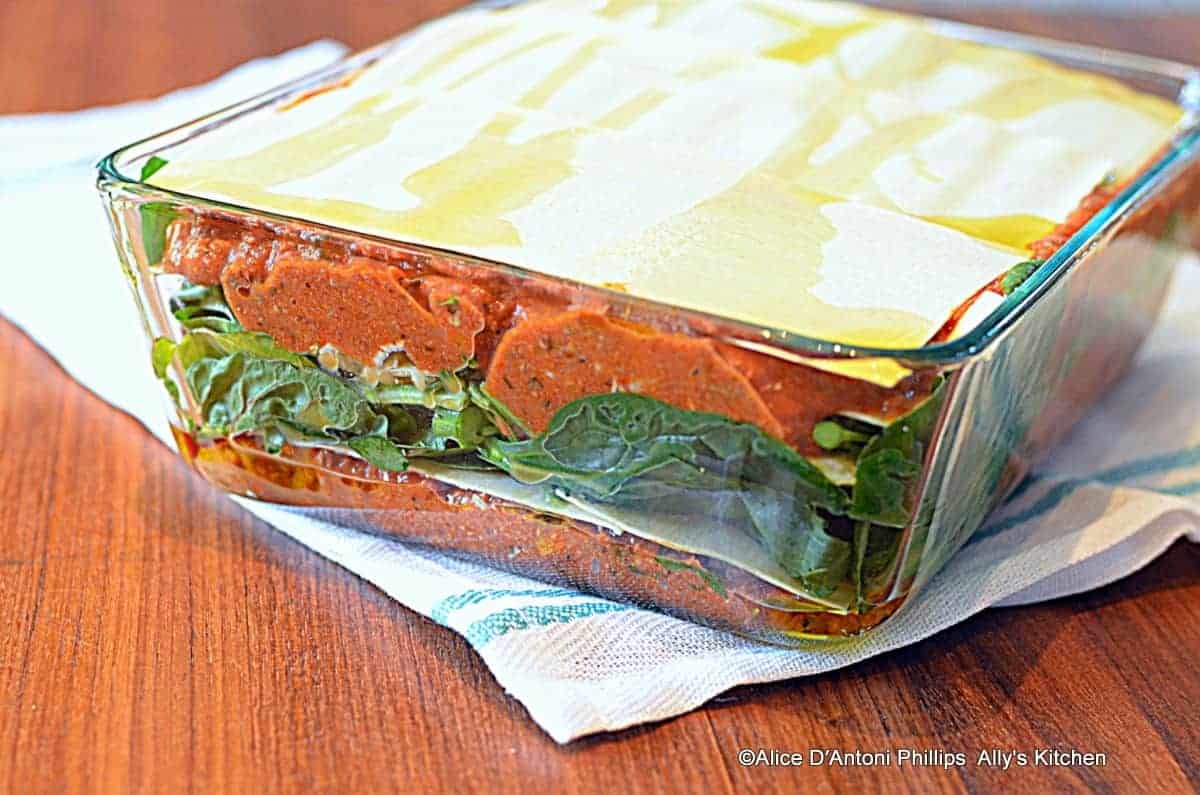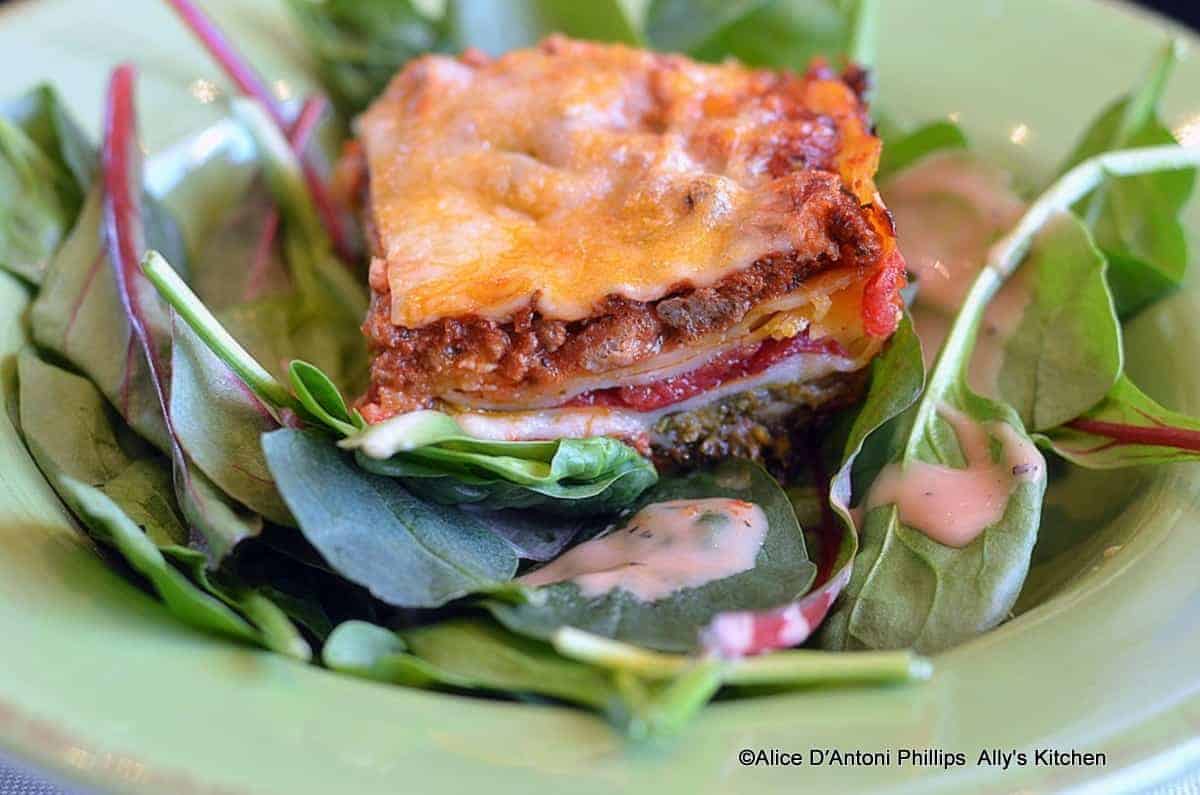 What you do:
Coat inside of baking dish with cooking spray. Lay bottom layer of lasagna noodle.  The following layers (which you can change if you have a Boho spirit inside you!):  first a layer of  lasagna then 2 cups sauce + 1/2 cups cheese, lasagna noodles, salad greens + broccolini (or your veggies) + 1/4 cup drizzle of olive oil, sprinkling of pepper + red chili flakes, lasagna noodles with Roma tomatoes layered on top + 1/2 cup fresh basil + 1/4 cup olive oil, lasagna noodle layer with remaining bolognese spread on top and another layer of noodles + 1/4 cup drizzled olive oil.
Cover with doubled foil.  Bake in 350 preheated oven for about 35-45 minutes.  Remove foil and cover top with remaining shredded/grated cheese.  Put back in oven  just to let this melt.  Then put the ciliegine mozzarella bites on top, return to oven, and let them melt slightly.  Remove and let rest about 20+ minutes before serving.  Garnish with the remaining sliced fresh basil.  Serve on a bed of greens for a new twist!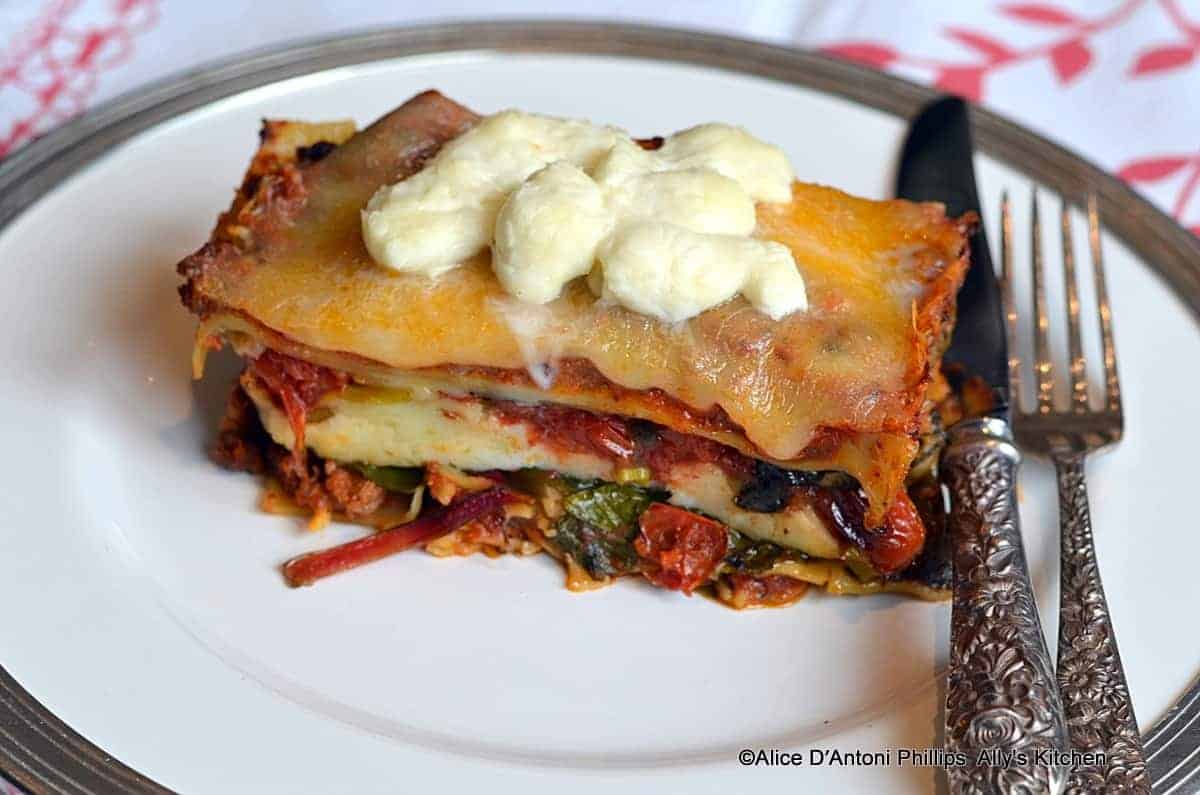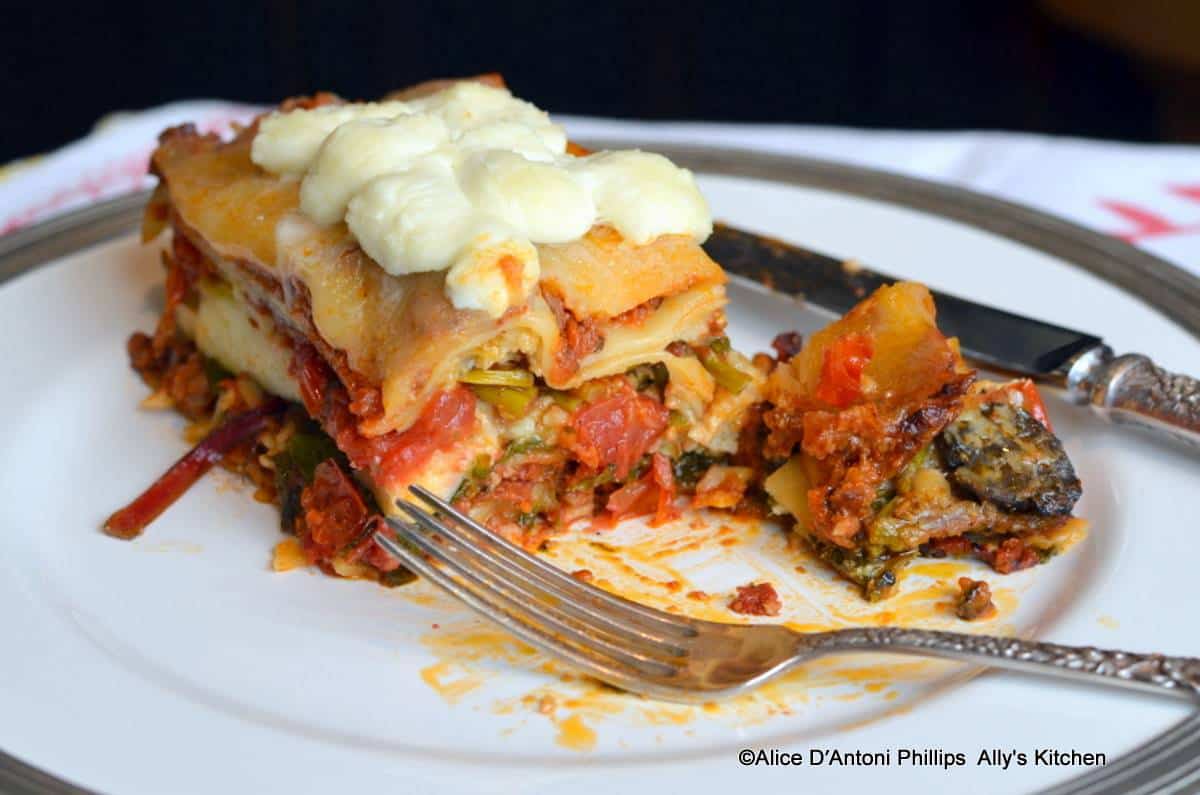 ©Alice D'Antoni Phillips   Ally's Kitchen