30 Minute Lemon Shrimp Pasta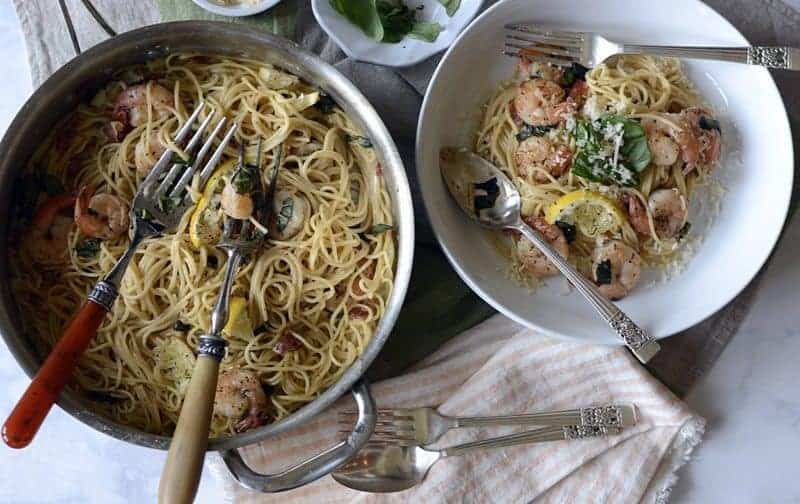 30 Minute Lemon Shrimp Pasta is very delicious. Good enough for company, easy enough for any weeknight. Give it a try today!
Lemon Shrimp Pasta Recipes are Easy
Making a pasta recipe easy is a challenge faced by many, but sometimes challenges can be those that you choose to do with yourself to keep you on your toes and receive gratification. As there's no time to cook for hours when you have guests visiting, so making an easy lemon shrimp pasta goes handy because when you prepare the dish you just need basic ingredients and, along with some Butter squash and corn pasta to add to it as a bonus.
Pasta Shrimp Recipes
If you also don't want to be the slave of your kitchen then making the pasta shrimp recipes with Garam masala veal and pasta is the best get going dish you can choose to make. Regardless of your cooking skills, it takes time to plate the pasta so you can just take two skillets and wooden spoons, do a bit of topping with sliced lemons and tomatoes or garlic, this will add thickness and richness to your dish and will surely keep up your cooking reputation.
Shrimp Linguini
The shrimp linguine is filled with garlic, lemons, red pepper flakes to keep up the warmth of the dish. If you are also looking to make the best shrimp linguine recipe just add heavy creams, and let your sauce thicken for almost five minutes, trust me the results will be mind-blowing and the taste will surely be mouth-watering. It is a very easy and simple dish that can be made in just one pot and within thirty minutes and for a better taste just do a tad bit of Pasta alla carbonara with chives in it.
Lemon Pasta with Shrimp
The lemon pasta with shrimp gets ready very quickly and will surely be your favourite pot meal as well. The shrimp is cooked with an amazing lemon garlic butter sauce that is sure mouth-watering and to die for. You can take light noodles that can perfectly pair with the shrimp and creamy sauce or you can take the Fresh herb arugula penne pasta and parmesan to combine after the pasta is cooked.
Shrimp Lemon Garlic Pasta
For making the shrimp lemon garlic pasta, it is preferred that you take larger shrimps because they hold up to the pasta in a better way. All your basic and favourite ingredients like lemon which gives you citrus yet tasty taste, butter for a creamy taste, garlic parmesan are all added to the pasta, are you getting hungry, eh? Also, the Mussels shrimp and pasta enriched with tomato sauce can be served for the meal as well.
Lemony Shrimp Pasta
The lemony shrimp pasta is a very easy dish to make, you just need a few basic ingredients like garlic cloves, lemons, olive oil, red pepper, peeled or butterflied shrimp, onions and so on. These are available in your basic pantry so what are you waiting for? Go to the kitchen and try making the very tasty and jaw-dropping pasta and if you like to have some Italian springtime why not make the easy-peasy Rustic pasta primavera.
Lemon Shrimp Spaghetti
The lemon shrimp spaghetti can be cooked in a medium saute pan, just heat the olive oil in medium flame and season the shrimp with some salt and pepper for a better taste and when the pasta is cooked just toss it with lemon sauce and garnish with the fried capers or if you like to add some more parmesan, why not? And if you would like to have some fresh tasteful chicken in it, cook one skillet chicken pasta and combine it with your spaghetti.
Quick Lemon Shrimp Pasta
If you are looking forward to making the easiest and quick lemon shrimp pasta then just use the ingredients and vegetables that do not require much time on the stove and when served provide you with a mouth-watering taste, because pastas when combined with fresh vegetables and heated up in a low flame, gives you that crunchy and tasty taste.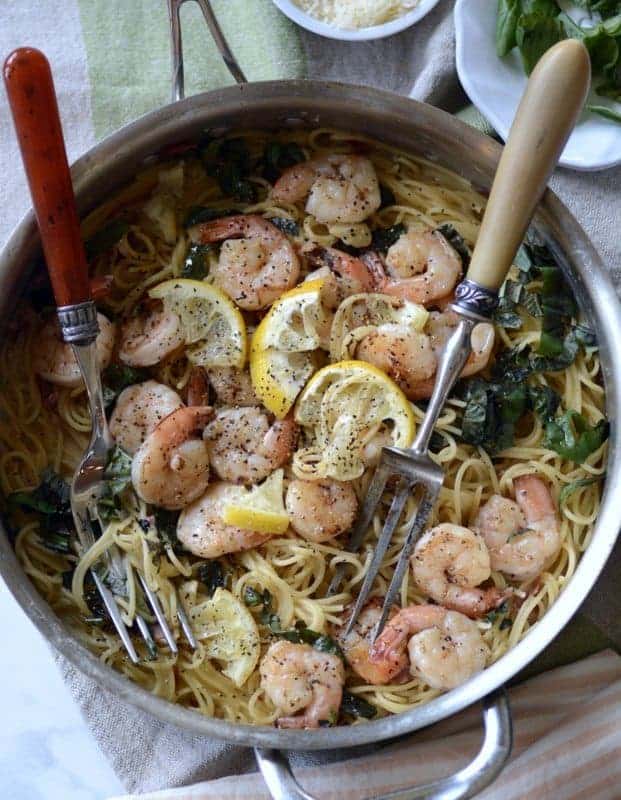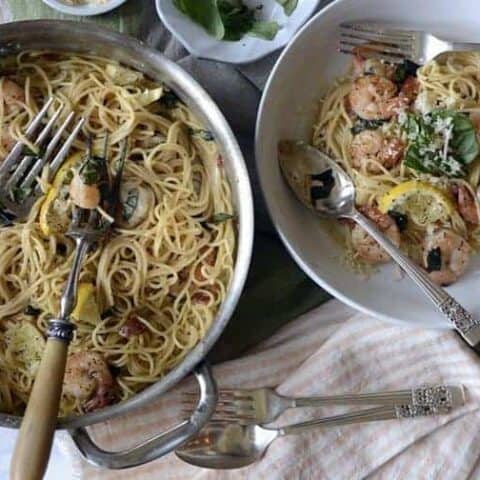 30 Minute Lemon Shrimp Pasta
30 Minute Lemon Shrimp Pasta is very delicious. Good enough for company, easy enough for any weeknight. Give it a try today!
Ingredients
PASTA
2 Tbl. Butter, salted & divided
2 garlic cloves, sliced thinly
1 slice prosciutto, chopped (about 3 Tbl.)
2 cups cooking chicken stock + 2 cups water, mixed
1 tsp. sea salt
1 tsp. red chili flakes (optional for amount depending upon your palate)
¼ cup sour cream
8 oz. thin spaghetti
½ cup grated parmesan reggiano + more for garnish
½ cup fresh basil, chopped
PREPARING THE SHRIMP
1 Tbl. Butter, salted
24 shrimp, tail on, deveined, medium size
½ tsp. sea salt
½ tsp. coarse ground pepper
1/3 cup chardonnay
1 lemon, juice
Instructions
In a large deep skillet (about 10-12" diameter) over medium high heat, put the butter, garlic and prosciutto and sauté about two minutes.

Slowly add in the chicken stock, water, and salt. Increase heat to high. Bring to a simmering boil. Add the sour cream and whisk in. Add the spaghetti. (It may not fit completely with some leaning on the side of the skillet.)

Let the pasta get tender on the end that's in the liquid then work in the rest that is resting on the side of the skillet. Use a pasta dipper or large forks to separate any that may be sticking together.

Cook uncovered 5 minutes. Reduce heat to medium low. Add the parmesan, swish around blending in the cheese and separating pasta, cover and let it cook while you prepare the shrimp.

In a medium size cast iron skillet over medium high heat, let it get hot. Add the butter. Watch it sizzle just a second or two.

Add the shrimp, salt, pepper and blend cooking about four minutes (shake the skillet to flip the shrimp). Add the chardonnay, lemon juice and stir. Add to the pasta (scrape out the good stuff that could be in the skillet) and gently blend in.

Add the fresh basil and toss. Serve immediately. Throw on some more grated parmesan reggiano for good measure!