Pasta Alla Carbonara with Chives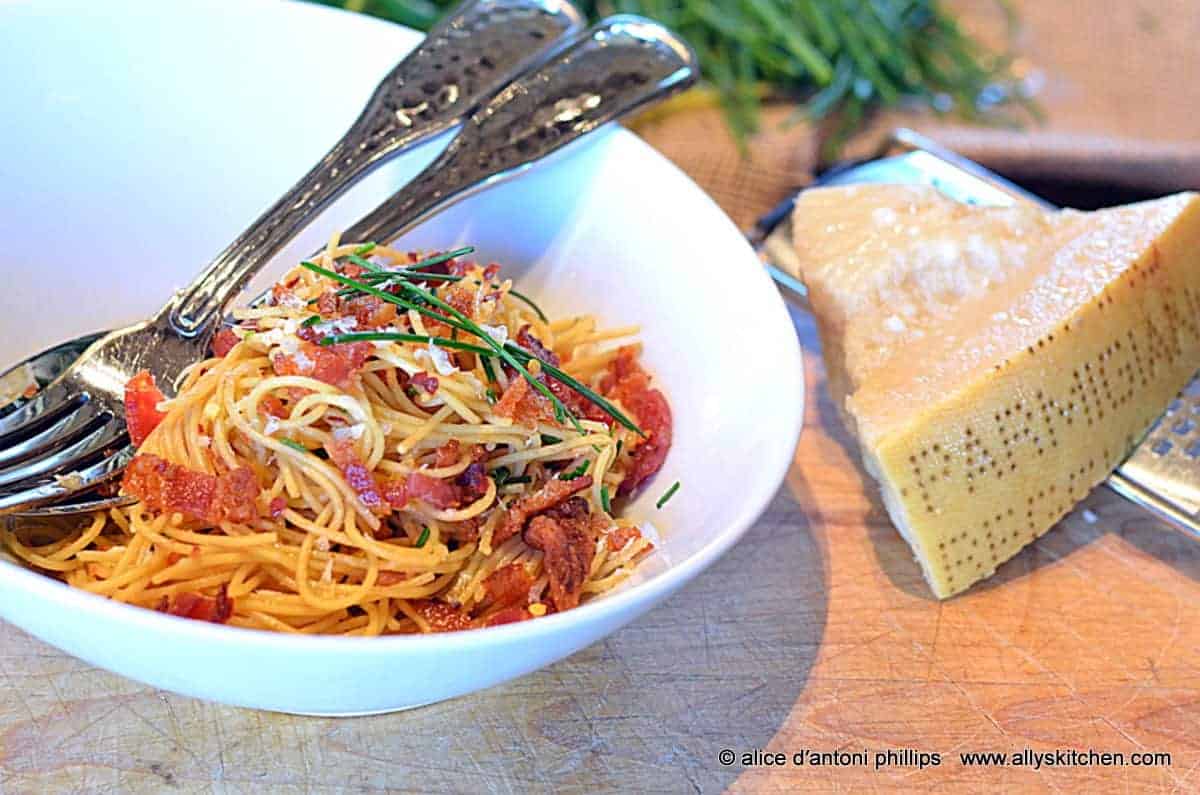 Yes, this can be for breakfast, and that's why I fixed it one morning~~I thought, hey, why wait, this is about as close to great eggs and bacon as you can get!
Carbonara
Carbonara pasta is all about cheese and its varieties. The pasta used here is spaghetti, which is common in Italy & Rome. Apart from this, meat & bacon are an essential part of this dish. This dish is named based on a theory that says it was first made for workers in Italy who used to work in Charcoal Burners.
Carbonara Recipe
A very recently discovered dish, Carbonara pasta, is prepared by boiling those long spaghetti. A lot of people add raw eggs, but boiled eggs would also flavor it up. Adding your favorite cheese is a must for this dish. Different sauces & meats are added to present a new version of Carbonara. It can be combined with one skillet chicken pasta for that lavish family dinner feel.
Spaghetti Carbonara
Spaghetti Carbonara is a must as part of Italian cuisine with a spicy chicken bokchoy arugula soup. The soup is an integrated dish of two different cuisines-Chinese & Italian. The organic & flavorful soup is full of the goodness of veggies like bokchoy & chicken.
Recipe for Pasta Carbonara
Pasta recipes vary as per the individuals since some prefer red sauce pasta and some like only white sauce pasta. Pasta can be combined with blueberry potato salad for that fruity and flavourful dish. Blueberry, potato & pasta with cheese dressing is what any pasta lover would want any day!! Easy pasta recipes with variations are available online, with so many food bloggers sharing their versions.
Fettuccini Carbonara
Egg-based pasta is what Fettuccini is all about. This pasta is not your regular alfredo, zucchini or prego pasta, but it's all about that creamy egg & bacon spaghetti perfect for your dinner. The fettuccini carbonara is very easy to make, and all you need is a spicy sauce for the dressing.
Easy Carbonara Recipe
The carbonara recipe is relatively easy, which anyone can make on a tiring day and enjoy it. Spaghetti carbonara needs some bacon or meat with loads of parmesan cheese. Make it more delicious by adding the egg yolks. Prepare an easy homemade sauce for topping it over your customized, easy & yummy Carbonara.
What is Chicken Carbonara
Spaghetti is combined with multiple ingredients such as meat, bacon, eggs & chicken. Lemon chicken carbonara has a very authentic flavor of chicken, eggs, cream all over the spaghetti. Pasta lovers savour this dish with caramelized warm pear strawberry & mascarpone as the perfect dish on a date night.
Pasta Carbonara with Peas
Tired of cooking the same meal every day and that too when you are low on energy levels after a long day!! Worry not; try a simple and tasty weeknight dish. All you need is spaghetti for Carbonara pasta with green peas, cream & cheese. For meat & bacon lovers, add some meat/bacon or even chicken nuggets to your dreamy creamy Carbonara.
Creamy Carbonara
Carbonara is a very famous Italian dish that was first discovered in Rome. The creamy Carbonara is nothing but a yummy dish that can be eaten in the morning breakfast. The spaghetti rolled with cream, chives & that bacon! Ahh, one should try this dish once in their life.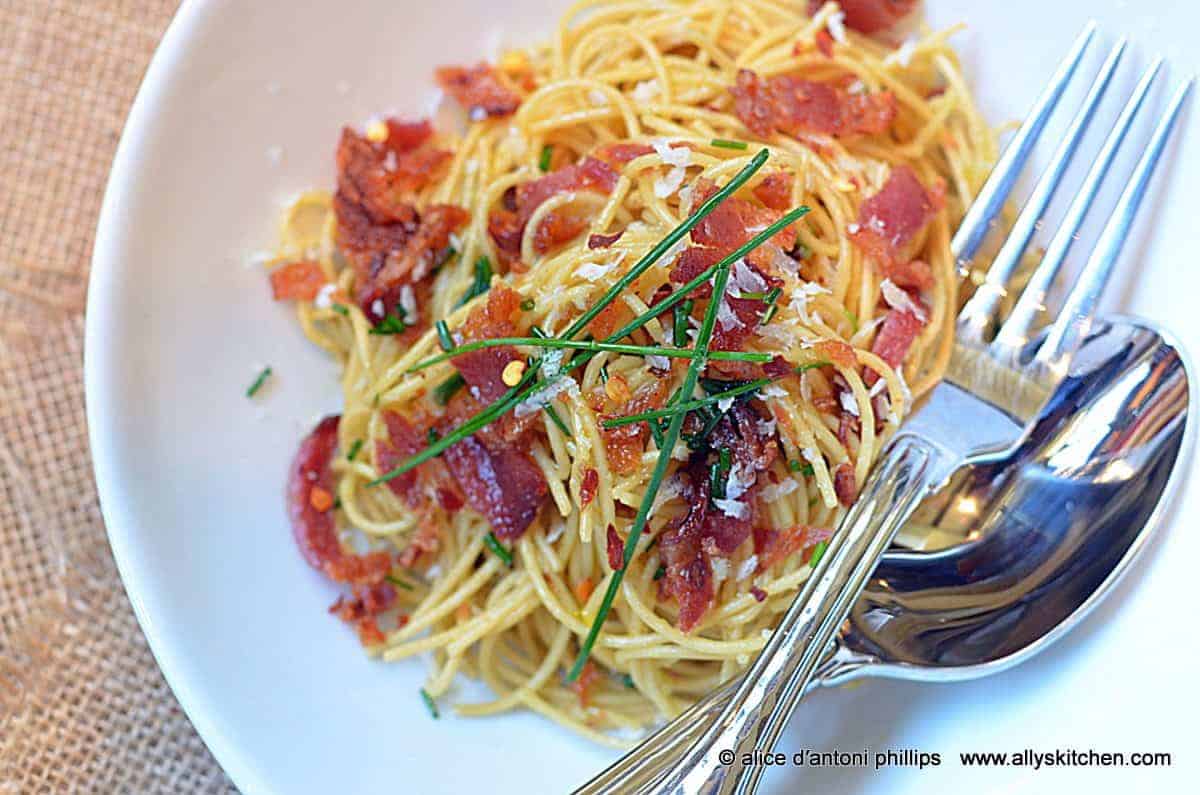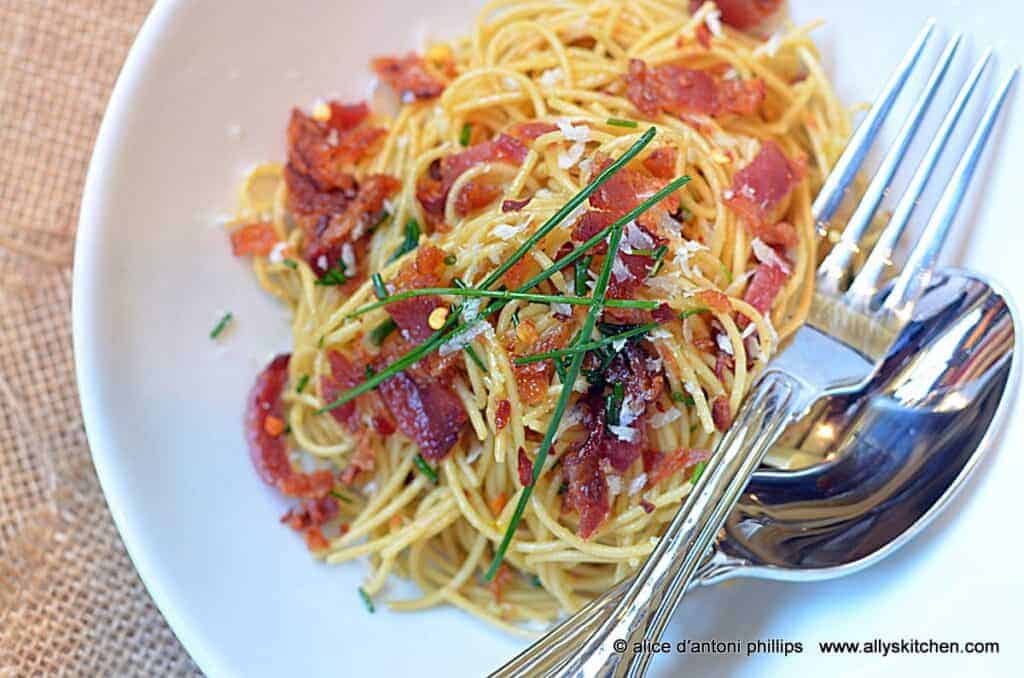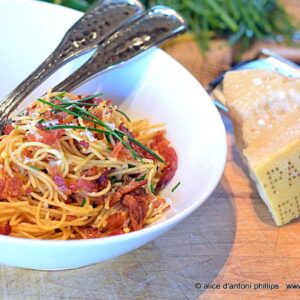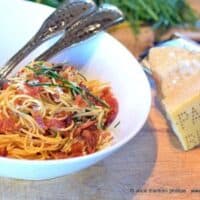 pasta alla carbonara with chives
Yes, this can be for breakfast, and that's why I fixed it one morning~~I thought, hey, why wait , this is about as close to great eggs and bacon as you can get!
Ingredients
8-10 slices fried and chopped/crumbled thick-cut bacon (divided) (I used thick-cut hardwood smoked bacon.)
2 eggs, beaten
1/2 tsp. red chili flakes
1/2 tsp. sea salt
1/2 cup grated fresh Parmesan reggiano (plus more for serving)
1/4 cup chopped fresh chives (plus more for garnish)
12 ounces spaghetti
Instructions
Have the bacon, beaten eggs, grated cheese and chives all ready to go.

Cook the pasta al dente according to the package directions. Be sure to salt your water well~~it should taste like ocean water.

Drain the pasta well reserving about a cup of the water just in case you will need it. Return the pasta immediately to the pot and put the pot back on the stove burner (that's still warm). Drizzle on the beaten eggs, chili flakes, salt and toss well with a pasta utensil or tongs. The hot pasta will 'cook' the eggs.

Let this sit a few minutes to absorb into the pasta. You may want to gently toss again.

Add about half of the chopped/crumbled bacon, chives, and Parmesan reggiano and toss well.
When serving, add more bacon crumbles, Parmesan reggiano and chives. Serve immediately!