Smokey Pablano Cannellini Beans & Chicken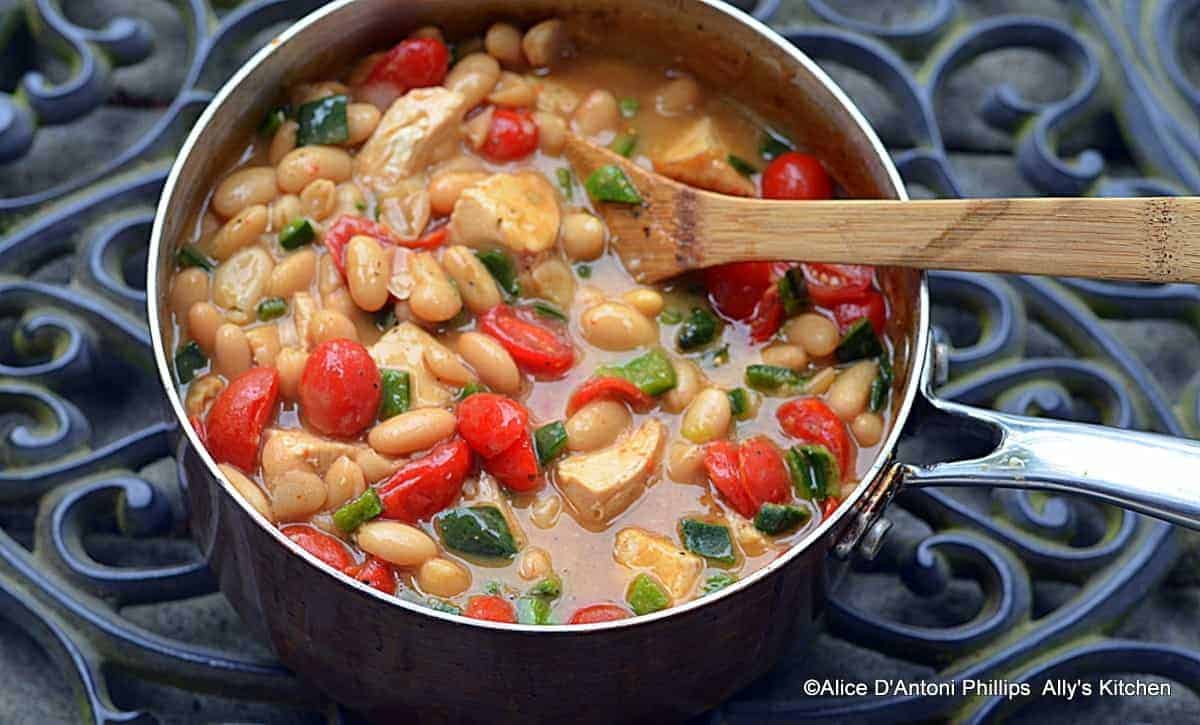 Smokey Pablano Cannellini Beans & Chicken is packed with veggies, beans, and chicken. It is perfect for harsh winter nights.
What to do with Poblano Peppers
Are you a fan of Mexican food? Then you have a lot of recipes up the sleeve that you can do with Poblano peppers. Of course, it's going to be hot, duh! But you can make it cheesier and delicious by making stuffed Poblano peppers. The end result is Mouth-wateringly delicious (literally)! You'll love it. You can have it with a Chicken Marsala Mushroom Stew to compliment the flavor of hot peppers.
Canned Cannellini Bean Recipes
Canned cannellini beans are already cooked, and you can eat them as such, but who likes to eat a bland can of beans as such anyways? You can make a dozen recipes with cannellini beans, or you can even add them to your White Bean Chicken Chili Stew. Cannellini beans are a good source of proteins and nutrients. You can make a wholesome and delicious stew and meals with cannellini beans, bonus – they also add a good texture to your food. Enjoy them while it's hot!
Poblano Pepper Recipes Healthy
You could get creative with your dinner recipes with Poblano poppers, but don't tell anyone that you've had 8 of them(Giggles)! The cheese and the pepper compliment each other so well that it's so drool-worthy! If you want to spice it up, prepare the same with Jalapeno to tingle your taste buds. What could go well with poppers is a One skillet harissa chicken and vegetables, a healthy dinner with Mexican-style spicy poppers to add a twist to your normal dinner recipes.
Poblano Pepper Recipes Easy
Some can't handle the hotness of Poblano peppers, although they're on the mild side of hotness. So to compensate for the hotness of the peppers, if you're having a chili or stuffed Poblano or enchiladas, then prepare a creamy broccoli chicken, which could go very well with the hotness of the poppers. You don't have to worry about a wholesome meal or dinner for your guests, and you could surprise them with your Poblano recipes. They'll be stunned!
White Bean Poblano Chili
Speaking of chili, you can make the best chili recipes with Poblano peppers and canned white beans. Add some steak to your chili, and the end result is damnation! It'll be the best chili recipe you've ever had; want to take it up a notch? Try your take on the best homemade pinto beans, swapping it with canned beans instead. The chili will taste more natural and great since you're cooking everything from scratch. It will come out perfect!
White Bean Chili Poblano Peppers
Looking for a vegan alternative for the famous steak chili recipe? We have got the right recipe to satiate your chili craving in a vegan style. Try your take on a smoky and hot chili recipe with corn, mashed beans, and some tortilla chips for added crispiness and texture to it. Alternatively, you can try a pepperoncini chipotle chili beans recipe the same way and have a chili taco Thursday!
Poblano Pepper Recipes
You can make a quesadilla, chili tacos, Chipotle, and stuffed poppers with your Poblano peppers; guaranteed you would absolutely enjoy the dish, relishing every bite of it because it would be lip-smackingly good! The most healthy and nutritious way you could pair your Poblano recipe would be a deeply flavored Andouille Sausage Beans & Kale Stew. You get a meaty delight for the cold weather, and it is also easy to prepare. Enjoy it while it's still hot!
Chicken Poblano Chili
Chicken Poblano chili is the most comforting food which can be prepared and preserved in the freezer and could be reheated whenever you are craving a warm chicken poblano chili. On the contrary, you can make a vegetarian Poblano chili recipe with beans and corn instead of chicken or steak. The zesty and spicy Poblano with the protein-rich chicken and beans are a great combo for a satisfying meal! It hits the holy grail spot every time you have it. Serve it warm with your favorite toppings!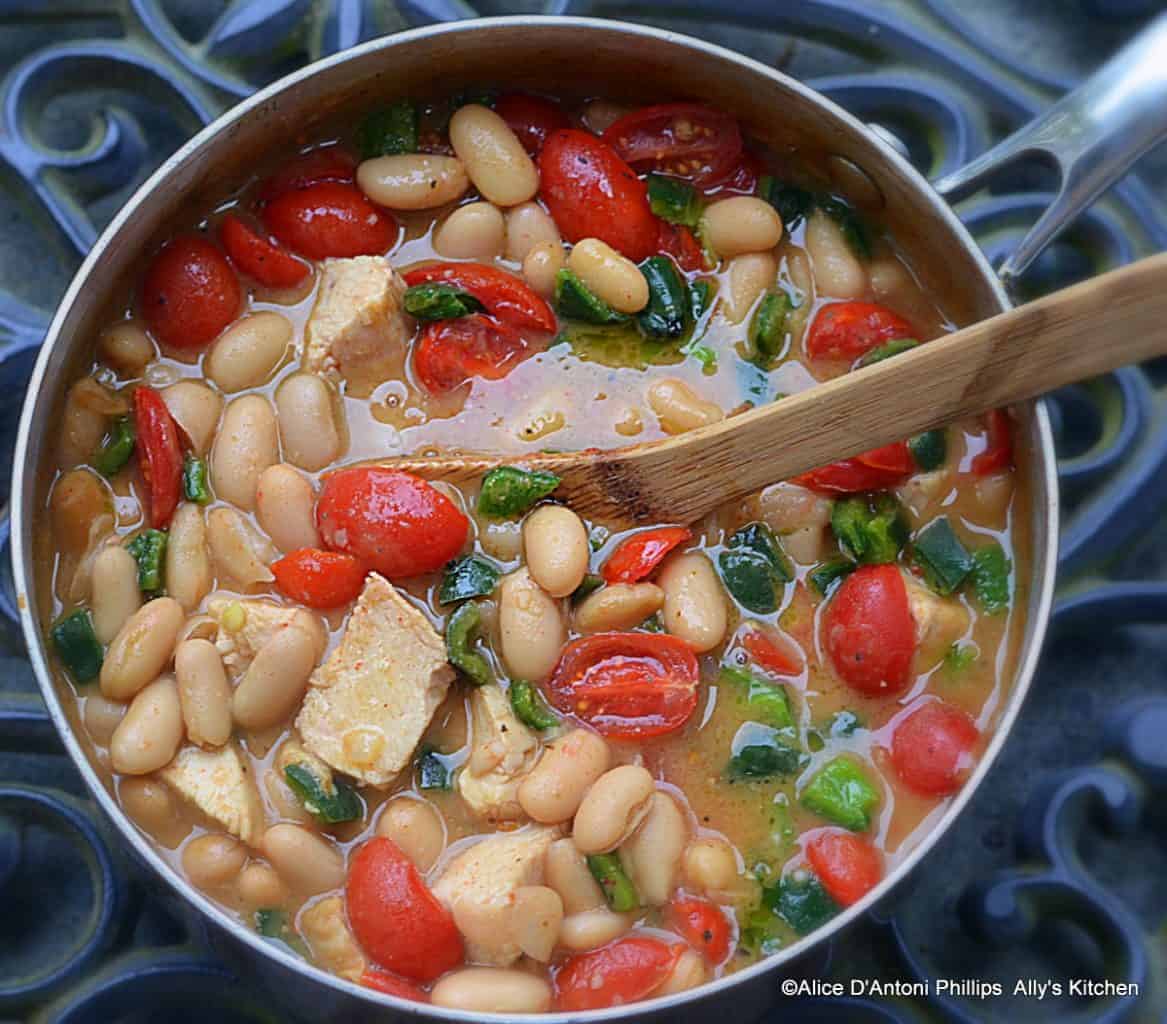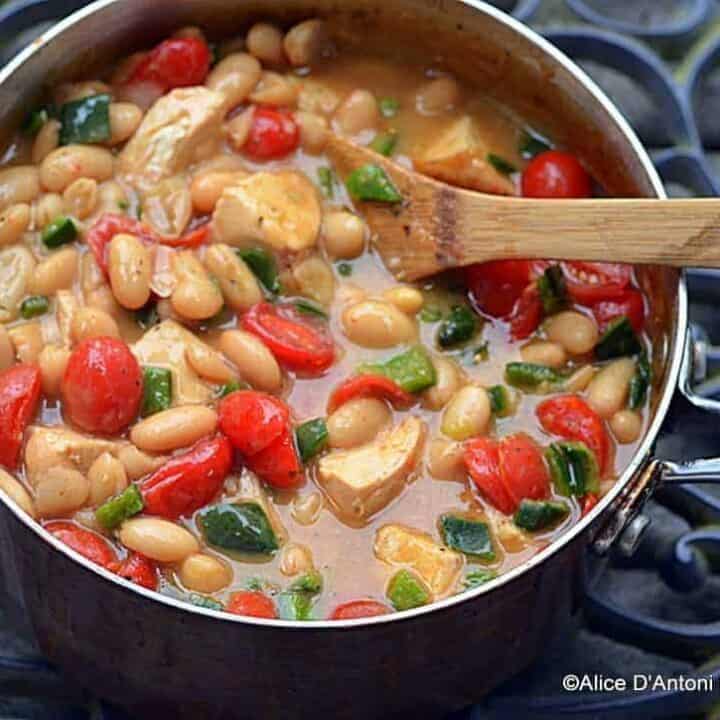 Smokey Pablano Cannellini Beans & Chicken
Smokey Pablano Cannellini Beans & Chicken is packed with veggies, beans, and chicken. It is perfect for harsh winter nights.
Ingredients
5 tbl olive oil
4 garlic cloves chopped
1 medium shallot chopped
1 large poblano pepper diced
3 cans of cannellini beans
1-2 cups chicken broth
1 tsp cumin
1 tsp smoked paprika
½ tsp sea salt
1 tsp coarse ground pepper
1 cup sliced cherry tomatoes
1 ½ cups large chunk pieces of cooked chicken
¼ chopped Italian parsley (garnish)
½ cup freshly grated parmesan cheese
Instructions
In a heavy pot over medium heat, put oiive oil, garlic, shallots, and chopped poblano and sauté about 3 minutes. Add the beans (including broth in can), some of the chicken broth (depending upon your desired consistency) and blend. Add the cumin, paprika, salt, and pepper. Reduce heat to medium low and cook about 20 minutes. Add tomatoes and chicken and blend. Simmer on low for about 30 minutes. Serve with parsley and freshly grated cheese as garnish.