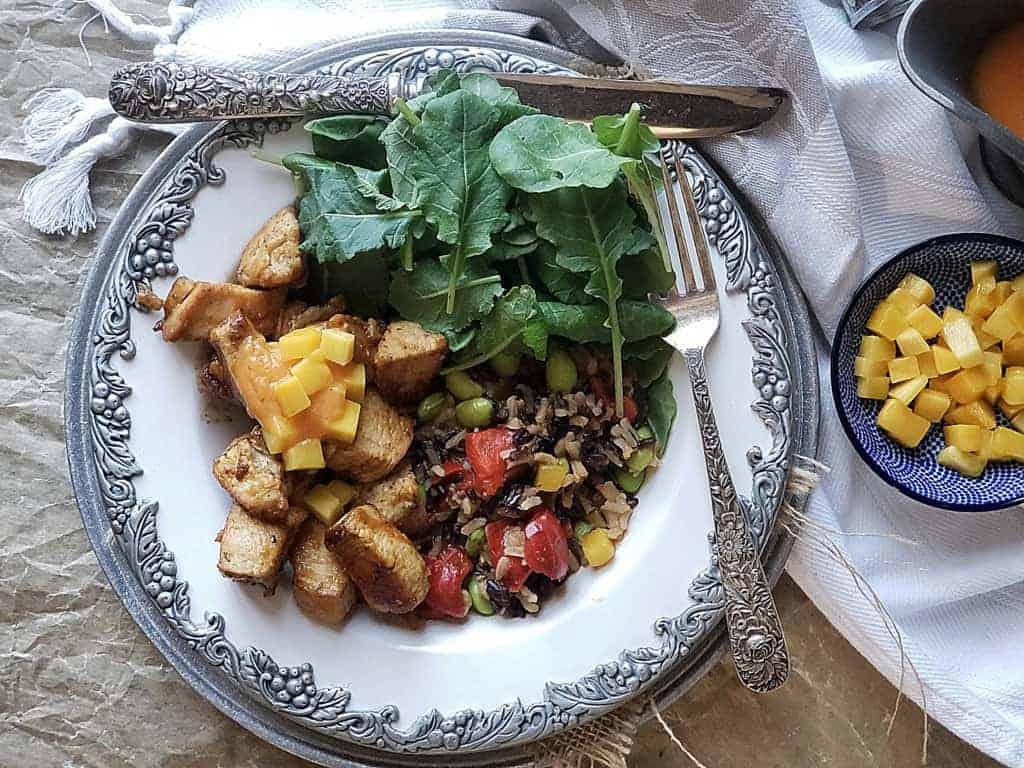 Mango Chicken Recipe
Cheeeekin! Who doesn't love chicken. In fact, chicken is one of the most searched food recipes! Everyone's looking for new recipes to use with chicken. This mango chicken recipe is perfect with all kinds of chicken. Bone in. Boneless. Skinless. Skin on. All kinds of cuts of chicken. Whole chickens. Bone in chicken. Boneless skinless chicken. Chicken tenders, breasts, legs, thighs. Everything! Yes, chicken is one popular meat! And, once you taste this mango chicken, you're gonna be doing more chicken!
Bowl Recipes
Buddha-Bowl
I've always loved eating out of a bowl. In fact, many of my meals, breakfast, lunch, dinner, are served in bowls, shallow bowls, deep bowls, small bowls, large bowls. For dinner, I love serving in bistro bowls and this mango salsa chicken is perfect for a buddha-bowl feel! All you need to do is put the naked greens in, add the rice then top with the mango chicken! Presto! You have a buddha-bowl! However, as you an see from my pictures, I'm serving the mango salsa chicken in shallow bowls.
Mango Salsa Chicken
Nothing goes better with chicken than delicious mangoes. And, this mango salsa chicken puree is just so easy to make. It's sweet and spicy and once it coats the chicken pieces, well, you'll see why it's gonna be a favorite recipe going forward. On busy weeknights, it's important to save time, but still eat healthy. And, using the super foods blends from Birds Eye (found in frozen food case) sure does help with getting things done fast. I always keep a big bag of fresh organic greens in my crisper, too. Love these greens naked or if you want to toss in some vinaigrette or your fave dressing, have at it.
Dinner Ideas
Seems we're all looking for new exciting, albeit, simple and easy dinner ideas. In our fast-paced world of living, we want to cook at home. But, we don't want to be stuck in the kitchen. This mango chicken recipe for mango chicken bowl will give you great flavors, innovative cooking and a healthy delicious meal in no time at all.
Oh, here's another awesome meatball recipe using ground chicken (cashew chicken meatballs!). Promise you'll LOVE! And, it's super simple and quick!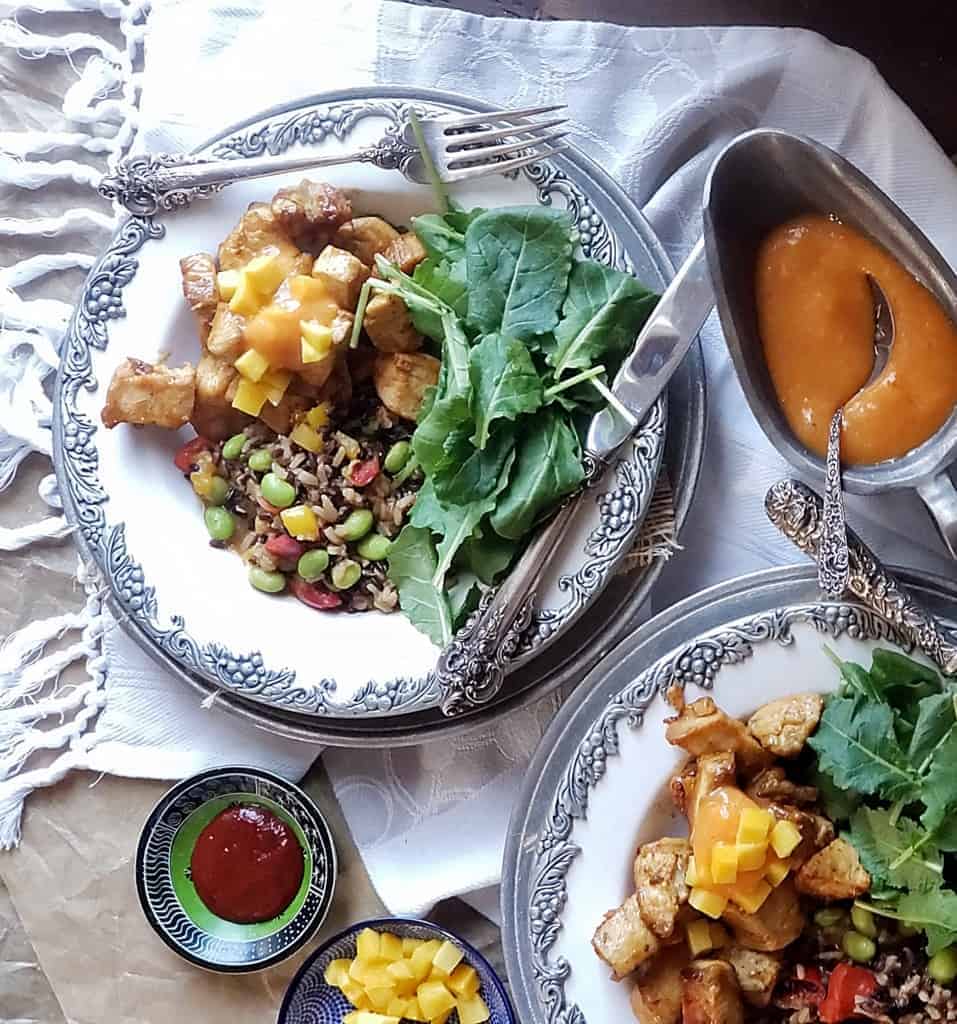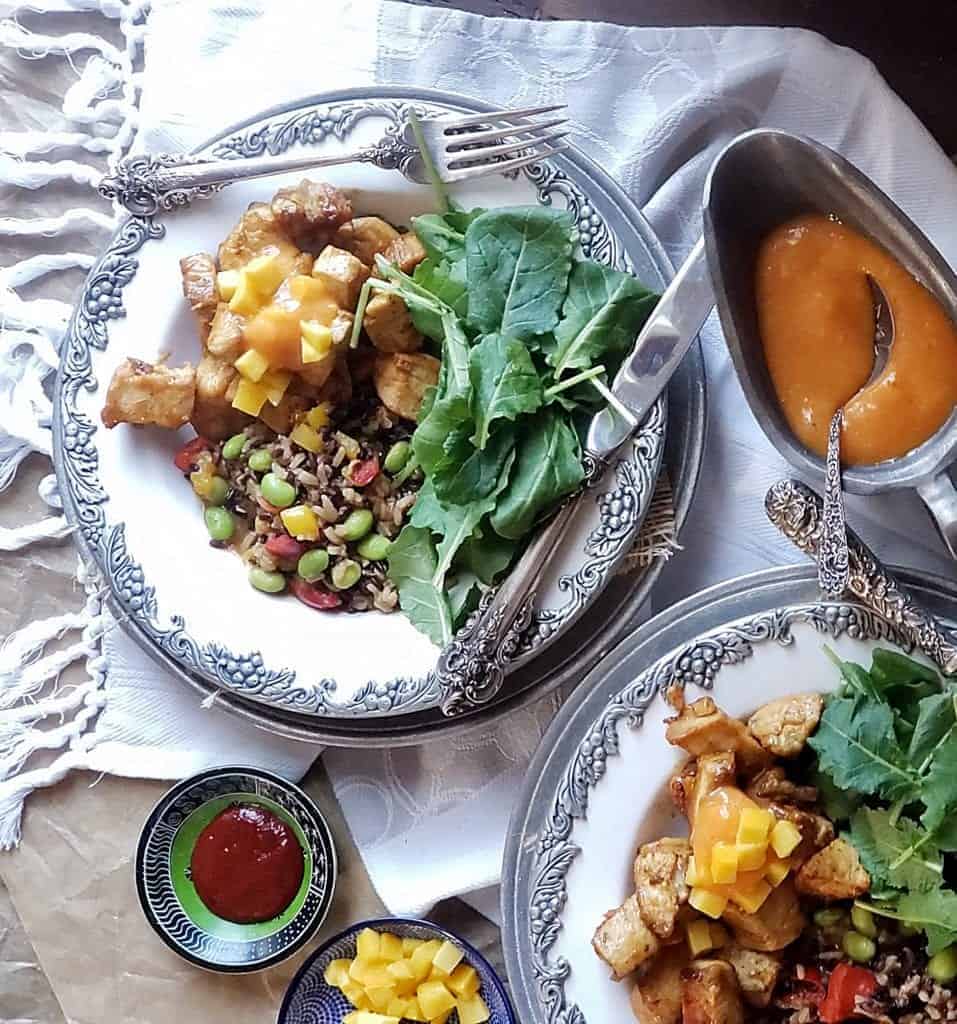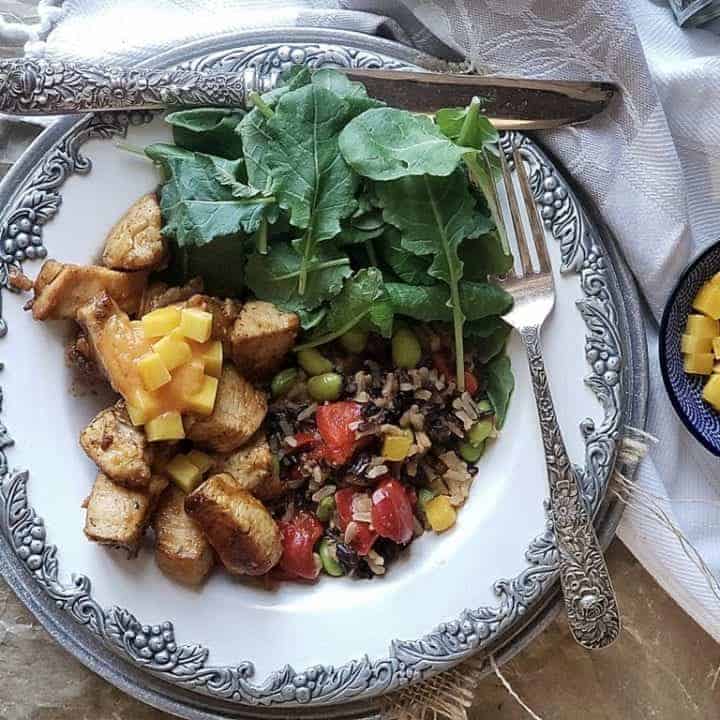 mango chicken bowl
Ingredients
MANGO PUREE:
12 oz. mango chunks, previously frozen and thawed
¼ cup Thai Mango Sauce, Thai Kitchen Brand
1 Tbl. + 1 tsp. Gochujang, Korean Chili Sauce
8 oz.  Pineapple Juice
CHICKEN:
2 chicken breasts, boneless, skinless, cut into about 1 ½" chunks
2 tsp. Garlic Herb Seasoning mixture, no salt
Salt/Pepper to taste
3 Tbl. olive oil
VEGETABLES:
1 (10 oz.) bag Super Foods Blend Black Rice & Edamame, Birds Eye Brand
3 cups fresh greens, packed, i.e., baby kale, baby bok choy, spinach/arugula, European blend
Instructions
Take eight to ten mango chunks and dice into small pieces. Set aside.
PUREE: Place the remaining mangoes, mango sauce, gochujang sauce and pineapple juice in a food processor and pulse into a very smooth creamy mixture. Refrigerate.
CHICKEN:
Put the chicken chunks in a mixing bowl. Add the garlic herb seasoning, salt and pepper and toss and blend well coating all pieces.
Heat a large cast iron skillet on medium high. When hot, add the olive oil. Add the chicken chunks and pan sear on all sides to a golden brown. Reduce heat to medium and cook another 7 to 10 minutes (uncovered).
When done turn off heat and add one cup of the mango puree. Toss, blend and coat all pieces. Cover until plating.
VEGETABLES: Prepare the frozen vegetables per the instructions on the bag. When done, add salt and pepper to taste and one-half cup of the mango puree blended into the vegetables.