Yeah, I've done these mussels and shrimp before (just put those words in the Google search box on my website and start counting), but each time I gussy 'em up a little differently. So hang in there with me and try this new version of this seafood and pasta~~cuz, that's really all it is~~good seafood, killer soppin' gravy, sauce or broth or whatever you want to call it, and some pasta to twirl and give you some carbs.
It's fresh, it's easy, it's healthy, it's quick~~you can't ask for more! And, even if you do, it's not on this page probably! Oh, one more thing, have some good crusty warm bread for dippin' soppin' and lip smackin' goodness!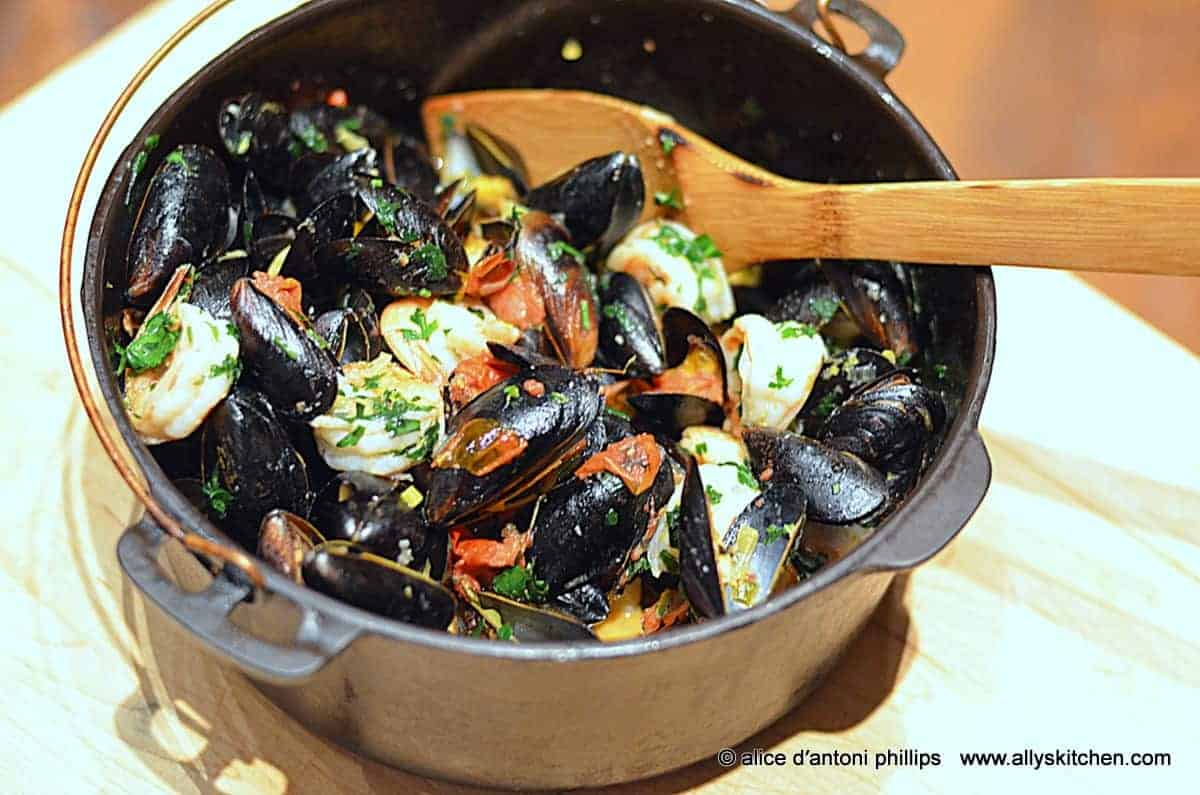 Serves: 4+
What you need:
1/4 cup bacon drippings (fry about 6 slices of bacon, remove and use drippings)
1 tbl minced garlic
2 green onions with tops thinly sliced
1 cup white wine
1/2 cup cream
1 cup chicken broth
1 tsp sea salt
1 tsp red chili flakes
1 tbl Old Bay seasoning
1/3 cup each of diced red, green and yellow peppers
1 cup cherry tomatoes sliced in halves lengthwise
1/2 large shrimp (tail on, deveined)
2 lbs mussels (I used small-medium size~~if you use a larger size, reduce amount to 1 lb)
1/3 cup chopped flat parsley
Juice & Zest of 1/2 lemon
Pasta (Your choice prepared per package directions)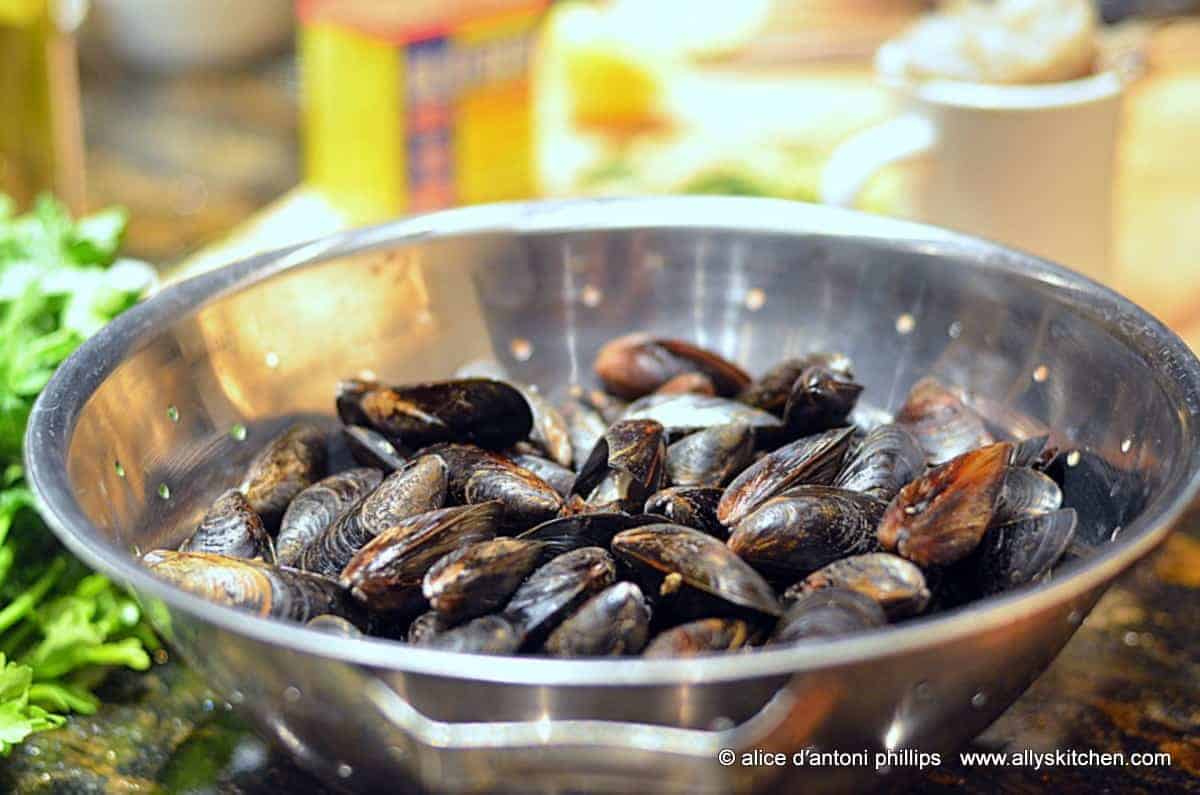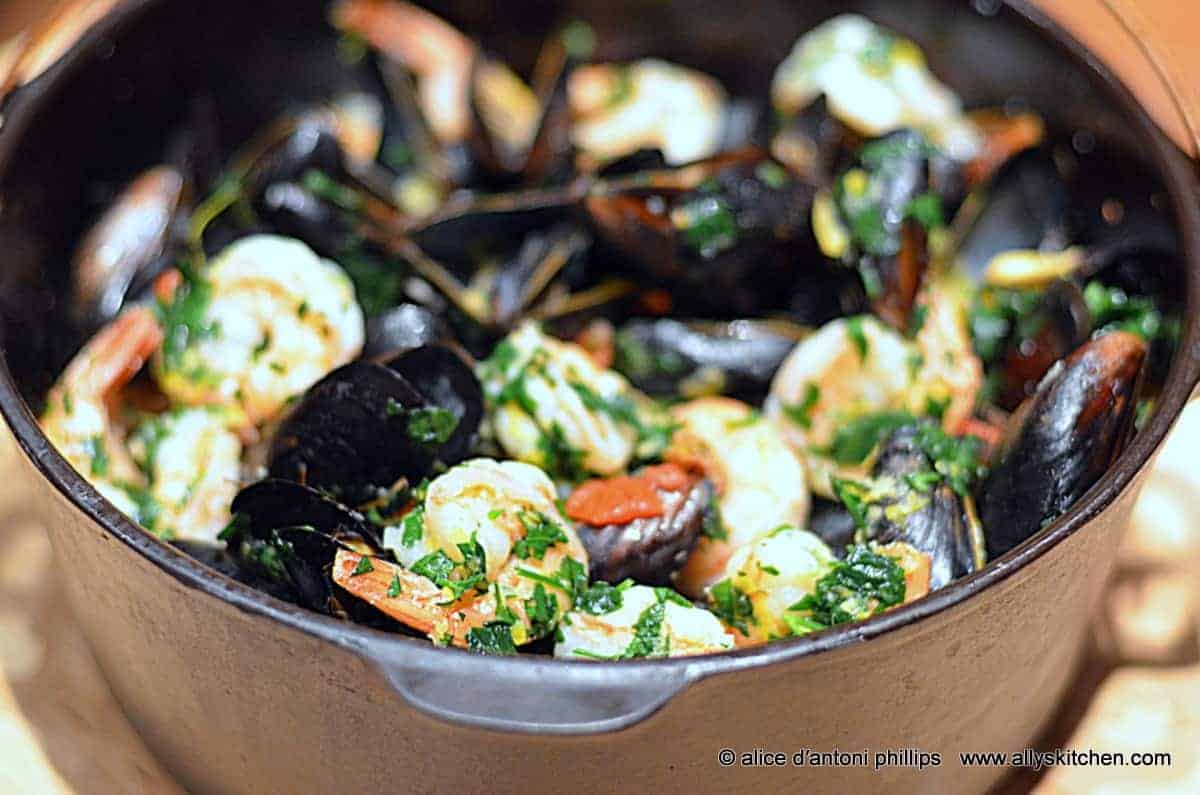 What you do:
In a heavy stock pot put the bacon drippings, green onions and garlic and saute over medium heat. Add the white wine and cook about 5 minutes. Combine the cream and chicken broth in a cup then slowly add to the pot. Season with the sea salt, chili flakes, and Old Bay and blend. Add the peppers and cherry tomatoes and cook about 7-10 minutes over medium heat.
Turn heat to medium high and add the shrimp and mussels. Cover and cook until the mussels open (probably 5-7 minutes). Use a large slotted spoon to mix the pot of good stuff. Add the parsley, lemon juice and zest and toss together.
Put your pasta in large bowls, scoop some of the broth on it, add some fresh grated Parmesan and cover with big spoonfuls of the mussels, shrimp and more sauce. Have some good bread for soppin'!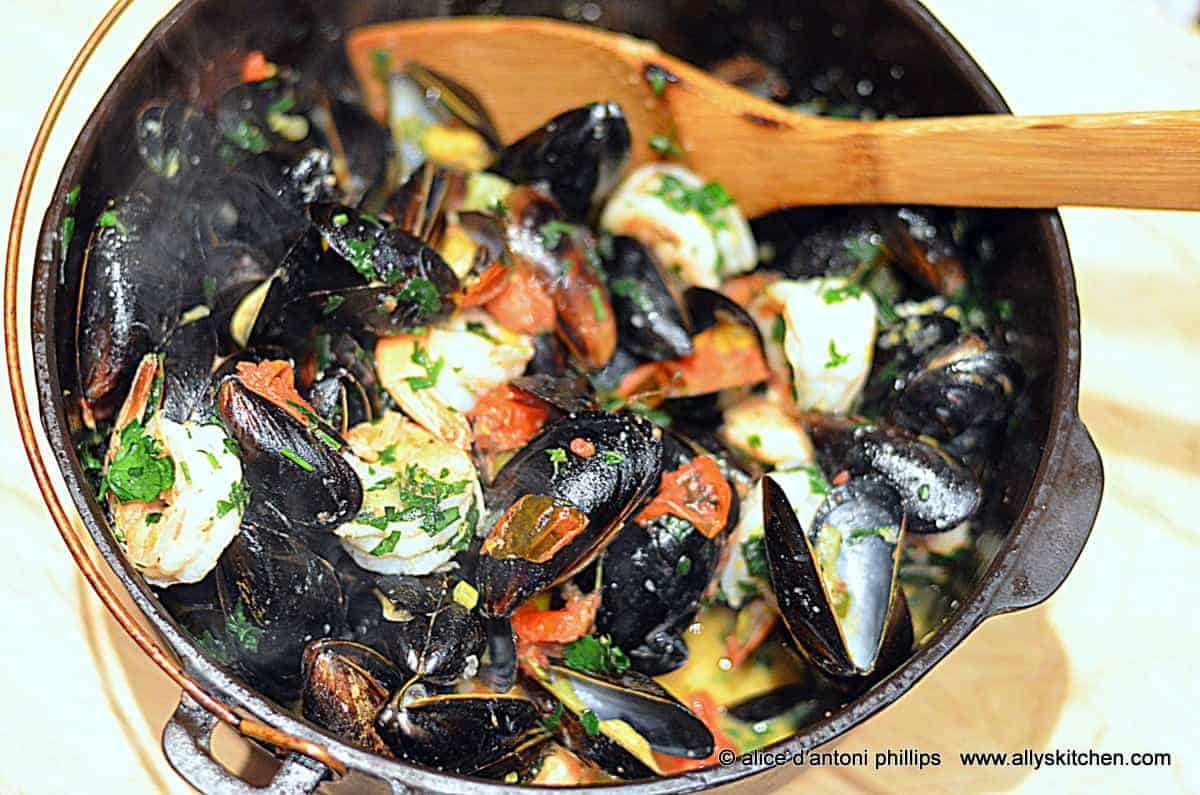 ©alice d'antoni phillips www.allyskitchen.com