Sometimes I want good ol' comfort food. Something that will fill my belly and make me feel like i'm wrapped in love and security. And, that's what this Italian chicken and gravy does for me. It's just a taste of being enveloped in a comfy blanket like when you're sitting on the sofa on a chilly night watching your favorite television show without a care in the world!
What's so great about this recipe is its simplicity. Once you get everything in the pot, it's just all about letting it simmer and cook. You could adapt this recipe for a slow cooker if you wanted. Or if you want to cook it in the oven, then that would work, too. I just wanted to cook it on the stove because it reminds me of being at my Grandma's house as a kid. All of the stove top eyes had a pot or skillet on them, and there was a buffet of goodliness coming.
I decided to serve this italian chicken and gravy on a buttery grilled parmesan slice of artisan bread. Of course, you could add dumplings. You serve with some pasta. Spiralized zucchini noodles would be awesome. Just get creative. Or, serve simply with a salad of chopped tomatoes, cukes and onions!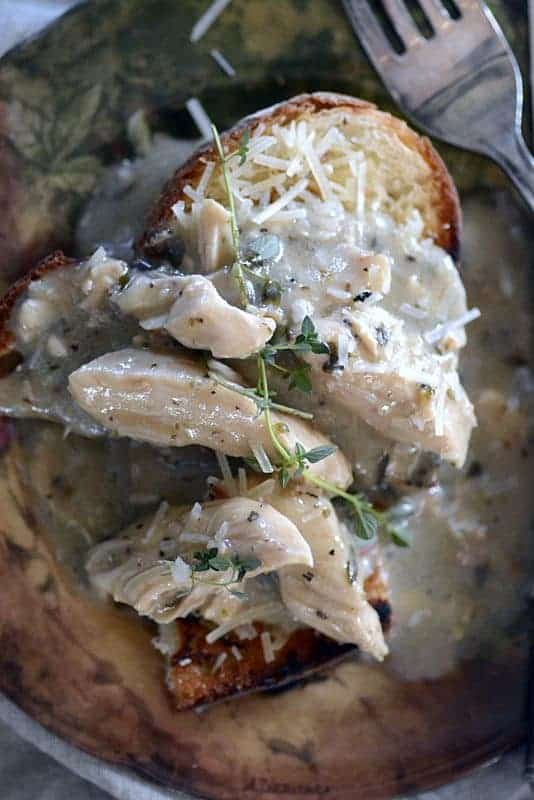 Ingredients
¼ cup oil, canola or vegetable
3 Tbl. butter, salted
1 cup sweet onions, diced
2 Tbl. garlic, sliced in thin slivers
2 lbs. chicken strips, boneless skinless
1 tsp. sea salt
1 tsp. coarse ground pepper
2 tsp. Italian seasoning mix
½ tsp. red chili flakes
3 cups chicken stock
12 oz. box organic cream of chicken soup
1 bouquet fresh thyme, tied with cooking twine
GRILLED PARMESAN TOAST
4 slices artisan bread
4 Tbl. butter, salted, room temperature
4 Tbl. parmesan reggiano, grated
Instructions
In a Dutch oven over medium high heat, put the oil and butter. Let it get good and heated.
Add the onions and garlic. Sauté for about three minutes stirring and blending. Add the chicken and cook about five minutes tossing and blending all ingredients.
Put the salt pepper, Italian seasoning and chili flakes in a small container and blend together. Sprinkle and blend into the chicken mixture.
Add the chicken stock and cream of chicken soup. Blend and stir into a soupy mixture.
Add the fresh thyme bouquet and stir.
Put heat on medium. Let the chicken come to a somewhat bubbly boil. Cook uncovered for about 35 to 40 minutes stirring occasionally. Cover (with lid slightly askew to let out steam) and cook another 15 to 18 minutes.
GRILLED PARMESAN TOAST
Slather one side of the bread each with a tablespoon of butter. Heat a cast iron skillet on medium high. Place the buttered side down and grill to a golden brown. Remove and sprinkle with a tablespoon of grated parmesan reggiano.
Serving:
Place a piece of the toast on a plate and scoop the chicken and gravy on top. Serve with your favorite salad and vegetables.
https://allyskitchen.com/italian-chicken-gravy/
©ally's kitchen intellectual property