asian curried fried rice & chicken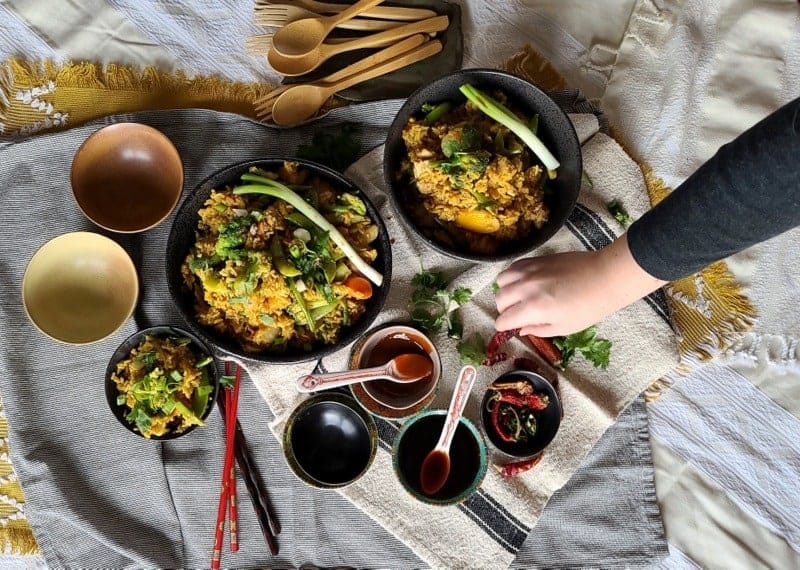 Hankerin' for Asian food tonight? Look no further, this Asian curried fried rice & chicken will be your go to! Pray for leftovers. Deeelish!
Easy Fried Rice
Every kitchen needs an easy fried rice recipe in their cache. So, here's the best fried rice you can find!
How to Cook Rice in Microwave
My multi-cooker has a setting for rice. But, sometimes, I'm just not in the mood to pull that counter-top appliance out. It's really simple to learn how to cook rice in the microwave. The key is creating an air-tight vaccum on the microwavable glass or ceramic bowl you're it in (no plastic!). I do this with a really simple procedure.
How to Microwave Rice
Cover the bowl with plastic/saran wrap.
Top with another bowl the size of the diameter of the cooking bowl.
Place in the microwave that's got a 'pad' of about four folded paper towels. If there's any steam/liquid to escape, this makes for simple clean up.
Set your microwave time (High).
Remove and very carefully peel back the plastic wrap. Careful it's HOT and STEAMY!
Use a large fork to fluff the rice.
Reseal the top with the plastic and bowl.
Let it sit and steam for about twenty minutes.
Veggies in Fried Rice
Now I love big organic cut and real looking veggies in my fried rice. Yes, you can use the smaller cut if you like. But, for me, I'm all about the larger pieces. And, I can find a fabulous frozen Asian vegetables at Costco! Perfect in so many dishes!
Curry Rice Recipe
Yes, this is a curry rice recipe. And, you can use a dry curry mixture or a paste. I like to use the yellow curry because I love the hue tones it gives the white jasmine rice!
Yellow Curry Fried Rice
This yelllow curry fried rice comes together so fast. So, it's a perfect weeknight meal.
Fried Rice with Egg
You can make this fried rice with egg, but opted not to include the egg. Certainly that's a personal preference.
Chicken Fried Rice Recipe
When you make this chicken fried rice recipe, keep in mind that there can be adjustments. For instance, I know that saffron threads are expensive, and a real decadent ingredient. So if you want to omit, and add about one-half teaspoon more of curry or turmeric, then that's a doable adjustment. Another adjustment is with the hot sauce. My family loves spicy. Simply reduce that ingredient amount, then taste and add as needed for your palate.
Chicken Fried Rice Ingredients
Chicken fried rice ingredients include some things that you may not be familiar with, like fish sauce. Like its name, it derives most of its flavor from fish. This ingredient isn't expensive and you can use it in other Asian dishes.
Fish sauce has an umami flavor. It's earth and savory and tastes like maybe mushrooms, roasted tomatoes and soy sauce. It's salty and briny. And, a little bit goes a long way.
Chicken Fried Rice Recipe Indian
Some of the ingredients in this recipe align with a chicken fried rice recipe Indian style. So besides your typical Asian, you can derive some Indian flavors.
Curried Chicken Fried Rice
Besides this curried chicken fried rice, you might find some of these recipes distinctively creative and flavorful! Check them out! xo ~ally
Super healing the good for the sniffle season!
Thai Red Curry Lemongrass Pork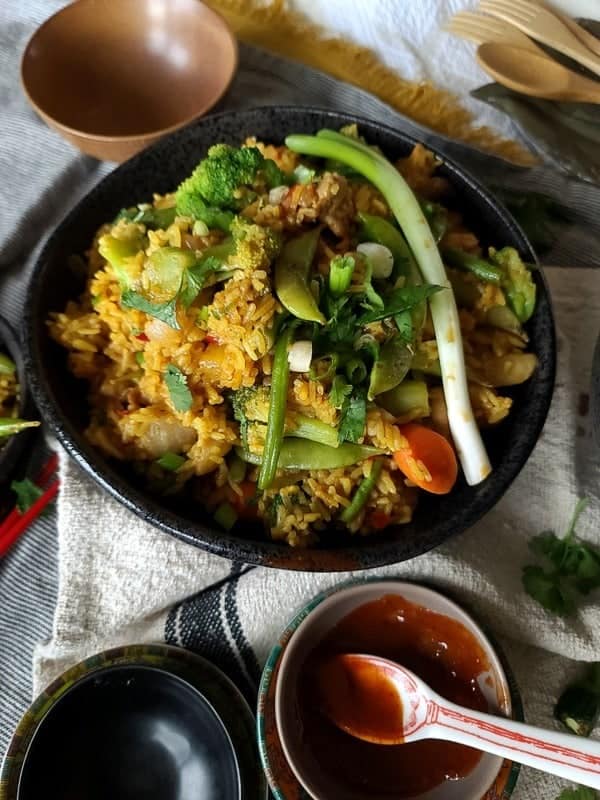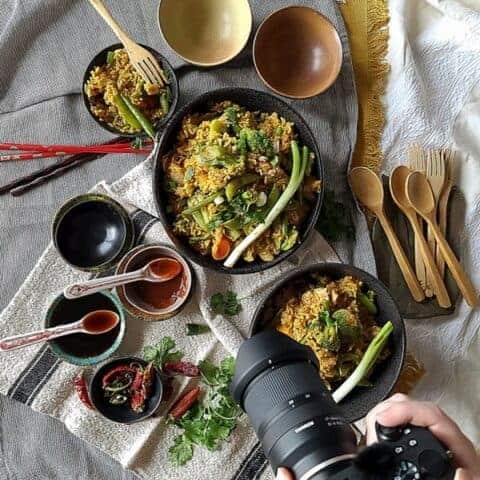 asian curried fried rice & chicken
Yield: Healthy servings for 6+

Hankerin' for Asian food tonight? Look no further, this Asian curried fried rice & chicken will be your go to! Pray for leftovers. Deeelish!
Ingredients
1 ½ cups jasmine rice
2 2/3 cups chicken stock
1 ½ tsp. salt
1 Tbl. curry powder
½ tsp. turmeric
2-3 saffron threads, optional
2 Tbl. butter, unsalted
3 Tbl. sesame oil, toasted or regular
½ cup sweet onions, diced
4 garlic cloves, peeled and thinly sliced
1 ½ lbs. chicken thighs, boneless, skinless, cut in bite size pieces
1 cup pineapple tidbits + ¼ cup pineapple juice
3 Tbl. fish sauce
3 Tbl. hot sauce
¼ cup soy sauce
½ cup sweet chili sauce
32 oz. Asian blend frozen vegetables, slightly thawed
Instructions
Put the rice, chicken stock, salt, curry powder, turmeric, saffron and butter in a large microwavable bowl. Blend together. Cover with plastic wrap and place a plate on top. Microwave on [High] for 17 minutes.

Remove and carefully loosen/remove plastic wrap. Use a large fork and fluff the rice. Recover with the plate and set aside until ready to put into the skillet mixture.

In a large skillet (12" or slightly larger) over medium heat, put the sesame oil, onions and garlic slices. Sauté about 2 minutes stirring most of the time.

Add the chicken and brown for about five minutes. Add the pineapple tidbits and juice and blend.

In a small bowl or measuring cup combine the fish sauce, hot sauce, soy sauce and sweet chili sauces. Pour over the chicken/pineapples and blend.

Reduce heat to medium low. Add the rice and blend well. Reduce heat to low, cover and cook about 5 to 7 minutes.