Charred & Roasted Fresh Green Beans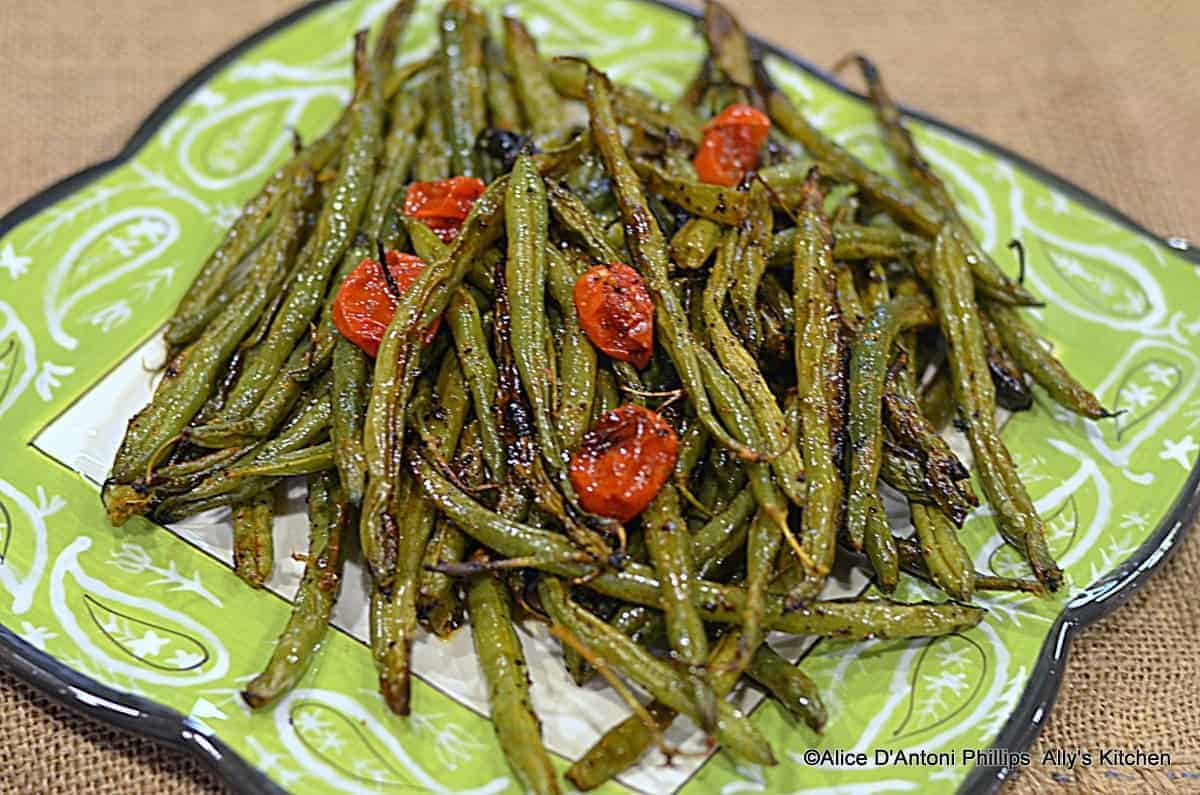 Delicious Charred & Roasted Fresh Green Beans are a must-have family recipe. This is always perfect as a side dish for dinner and or the Holidays.
Spicy Charred Green Beans
Oh! Beans! No, thank you! Pass me the mashed potatoes instead! We have come across this situation a zillion times. No matter what we do, beans are like the big no-no for kids. Sometimes adults too. It's because of the blandness and drab flavor of the beans that people aren't always a big fan of eating green beans. But have you ever tried charred old bay green beans before? I bet you haven't, but I insist that you must give it a try. You'll absolutely love this charred green beans version, which is healthier and has a Smokey and crunchy texture to it. A little twist to the good ol beans.
Sheet Pan Charred Green Beans
Making charred green beans in a skillet can sometimes be a hot mess because you might end up leaving it in the skillet for too long. Then the beans are no good to eat anymore, already they are hard to eat the way they are since it's green beans, come on! Green beans have only a handful of admirers. So let's not mess it up; try making your green beans recipe on a sheet pan and bake it until they're charred and crispy. Season it the way you want and serve it with creole fried chicken for dinner. It is smoking hot!!!
Charred Green Beans with Garlic
Do you know why Italians added garlic to almost every dish they cook? When Italian immigrants found the better flavor to season their food available at a cheaper rate, guess what they found? Garlic! Thus they started adding Garlic to their dishes, although they have hundreds of different recipes without it. But the flavor that roasted garlic gives to your food is great, and it's also very good for your health. Mix it up and have an easy taco meatball with charred beans on a Thursday! Let's have tacos!
Blistered Green Beans
If you have a lot of patience to allow the beans to get cooked until they turn dark brown and shriveled, then this recipe is totally for you! The green beans are dry-fried along with bombastic chopped garlic and ground pepper. The end result of this dish would be… For the first time, you'll be amazed to see the beans are totally devoured at the dinner table. I could guarantee that! Serve it hot with Paradise Pineapple Smoked Pork for dinner. Your kids would love this new take on green beans!
Charred Green Beans Oven
Using fresh and organic beans to make charred green beans would be a great choice! No matter which recipe you are cooking, always prefer fresh to canned. You can also check out how to make picnic fresh Italian green beans, and it will come in handy if you are looking for a gentle and subtle green beans recipe. Bake it in the oven on a baking sheet until it's crisp. Voila! It'd come out smokey and tasty!
Green Beans Cherry Tomatoes
Are you looking for a perfect recipe to make for this holiday season? How about Smoked Green Beans with Roasted Cherry Tomatoes? Do you know what the beauty of this recipe is? It brings out the combo of red and green, which is perfect for the Christmas season or any other day! Just go for it; your guests and family would love the recipe; green beans will never be a boring vegetable again!
Green Beans with Blistered Tomatoes
This recipe is perfect for a holiday get-together, especially for Christmas. It gives away the nice Scorsese red color from tomatoes, and the blistered green beans a great combo to give away a Christmas-y vibe to it! Also, this recipe comes out so good with the charred cherry tomatoes and beans, with the hint of garlicky flavor alongside the seasoning of your choice. It's easy to cook, and you can toss it up in a skillet and serve it hot. You can pair it up with Elk meatloaf green chiles and serve it for a holiday dinner or a family get-together!
Sheet Pan Charred Green Beans and Potatoes
What else would be a great combo, if not crisp sauteed potatoes and charred beans with some great seasoning? Let's get the dinner table ready for this yummy vegan dish all in one pan if you are too lazy to use more than that. But the recipe will come out great; the beans and potatoes totally complement each other! As end result, everything will be gobbled up clean off the plate! Dig in and enjoy!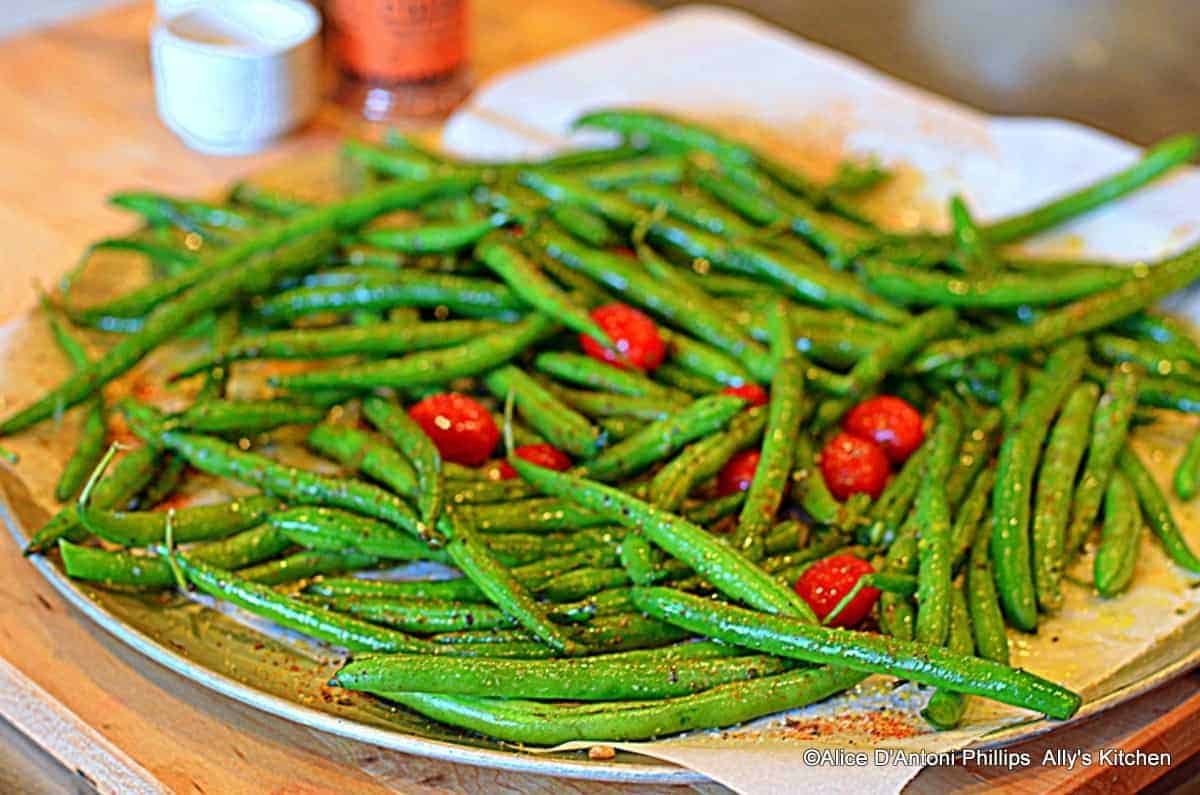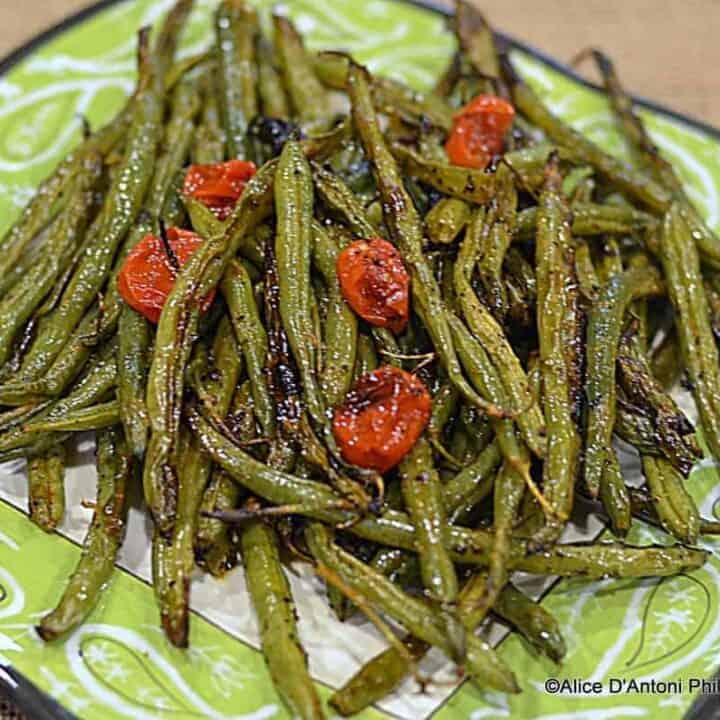 Charred & Roasted Fresh Green Beans
Delicious Charred & Roasted Fresh Green Beans are a must-have family recipe. This is always perfect as a side dish for dinner and or the Holidays.
Ingredients
Preheat Oven to 425
1 to 1 1/2 pounds fresh green beans (can use frozen whole beans)
1/2 cup cherry tomatoes
1 tbl lemon pepper
1 tsp sea salt
2 tbl spicy seasoning mix~~I used 'Wow-a-Chihuahua' a combo of garlic, paprika, cayenne, chili powder, cilantro, parsley, cumin)
1/4 cup extra virgin olive oil
Instructions
Put green beans and tomatoes on a parchment-paper-lined cookie sheet. Drizzle with oil, lemon pepper, salt, seasoning mix and toss well.

Put in preheated 425 oven about 15-20 minutes. If you want more charring turn up heat to 450.