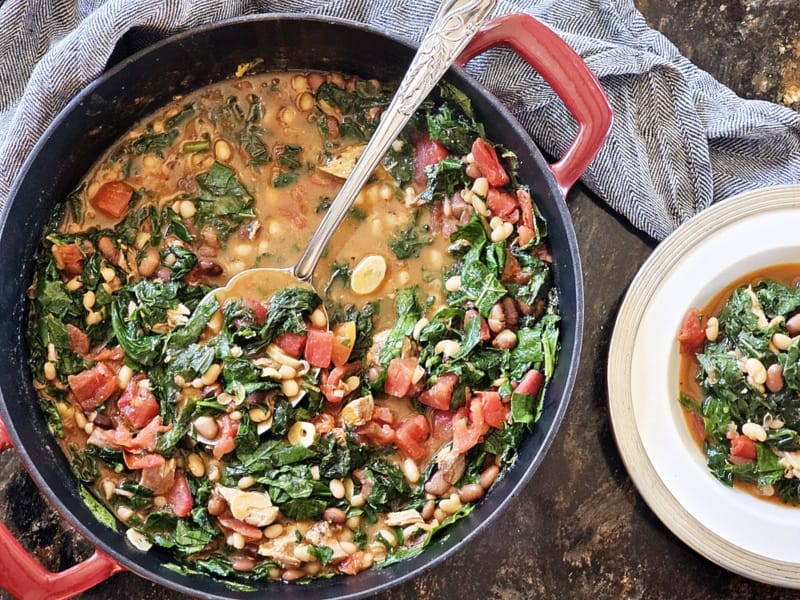 Collard green stew is a healthy meal in itself! But, it's also a perfect side with any protein! Packed with nutrients, it's a must make!
Collard Greens
I sure wish everyone had a friend named Captain Dale!
Dale worked for decades with my hubby, Ben, in the building supply business. And, we continue to be friends to this day.
Now, we call him 'Captain' Dale because he's a master fisherman. And, he and Ben fish as much as they can. You can imagine the fresh fish we eat like this Crispy Pan Fried Fish!
Besides fishing, Captain Dale loves to garden. And, boy, does he grow some mighty fine vegetables like collards!
I absolutely love collards! So much so that I'll eat them for breakfast in this collard egg smoked bacon bowl. Oh, yeah, this is super healthy!
Collard Green Stew
I love love collard greens and have several recipes that you might consider. When Captain Dale brings me a 'mess' of fresh collards, you'd better believe I'm in hog heaven.
Now, fresh collards grown locally can be the size of elephant ears. And, they're super tender and deep vibrant green. All I do is de-stem them!
You can also use butternut squash with your collard greens in a soup. Oh, big yum on this recipe!
And, with new mess of collards, I'm making a stew!
Meat and Greens Recipe
I'm getting some meat in this stew because I'm using leftover pinto and navy beans with chunks of pork in it.
Add one pound of your favorite sausage ground meat, browned and cooked. This can be chorizo, country sausage, Italian sausage. You also could use a kielbasa and cut into pieces, brown and add to the stew.
It's an easy way to make this into a truly complete meal. All you need now is a loaf of baguette or a skillet of crispy cornbread!
Collard Greens with Bacon
Oh, collard greens with bacon is like salt and pepper, PB and jelly, and other duos that just go together.
Collard greens are a Southern delicacy. You always remove the stems before cooking. They're a member of the cabbage family.
Greens are the quintessential nutritional punch in the gut. A good punch in the gut. They're full of chlorophyll and that's good for you. Chlorophyll contains vitamins, minerals and lots of nutrients that keep you healthy.
Collards are great for fiber and they're an excellent source of vitamins A, C E, and K, which fortifies bones.
You're getting a healthy dose of magnesium, potassium, iron and calcium, too, when you eat collard greens.
How to Cook Collard Greens
Collards like other greens, kale, chard, mustard and turnip greens, are super easy to cook and enjoy almost in no time.
All I do is cook them in some kind of oil then add some chicken or beef stock (here's the best! Use the code: ALLYSKITCHEN at checkout for a 20% discount), salt, pepper and red chili flakes!
Easy Collard Greens Recipe
Not only super healthy, these greens, which are amazingly delicious, can even be for breakfast, so pairing some sauteed spicy collards with a sunny side up egg and some thick smoked fried bacon is like having a hug in your tummy!
Collard Greens Healthy Recipe
There's nothing about this recipe that isn't good for you. It's full of flavor and nutrient dense ingredients.
If you have leftover beans that you can use in the recipe, like I'm doing here (also with chunks of pork in the beans!), then toss them in. If you don't, I'm gonna recommend canned cannellini beans first, but if that's not your preference, then any type of canned drained bean will be fabulous.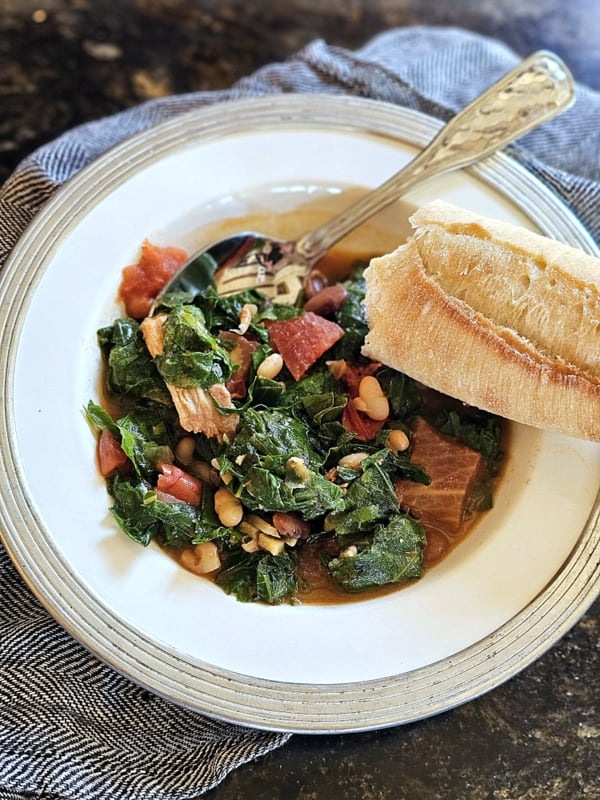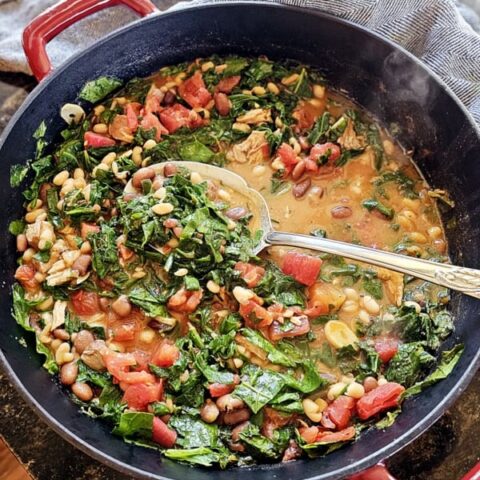 Collard Green Stew
Ingredients
1/2 cup bacon drippings
3 garlic cloves, thinly sliced
8-10 cups fresh collards, chopped, packed
1 can (15.5 oz.) diced tomatoes + 1/3 cup water to rinse can
6 cups beans, previously cooked, leftover OR 3 cans (15 oz.) beans, your choice, drained
1 tsp. Himalayan sea salt, more or less to taste
1 tsp. pepper
1/2 tsp. red chili flakes
Instructions
In a large cast iron pan (10"+) over medium heat, put the bacon drippings and garlic. Saute a few minutes to tender and fragrant. Careful not to burn.
Add the chopped collards. Use tongs and toss and blend into bacon drippings/garlic. Cover and cook about 5 minutes tossing a couple of times.
Add the tomatoes/water, beans, salt, pepper and chili flakes and toss and blend.
Reduce heat to medium low and cook about 20 minutes or until beans are tender and mixture is hot.
Serve immediately or turn off heat and serve when ready.
Notes
I used leftover pinto/navy beans with chunks of pork in them. They'd been previously frozen.
You can add meat if desired.
Suggestions: Ground pork, chorizo or sausage, brown and put in the mixture as everything is simmering/cooking. Another meat option is sliced kielbasa or sliced link sausage (bite size slices).