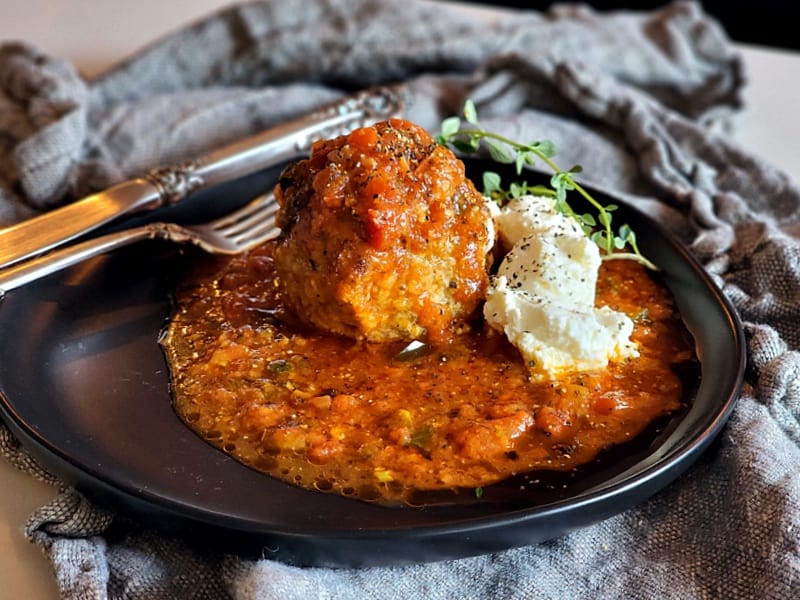 Best pizza meatballs for dinner! And, you want large size meatballs that are scrumptiously delicious! Easily prepared & guaranteed yum!
Meatballs for Dinner
First of all, I love meatballs. Any kind of meatball. And, meatballs aren't just for pasta as in meatballs and sauce.
I believe meatballs can be your dinner entree, especially when they're super sized.
Meatballs Dinner Recipe
My simple easy meatballs dinner recipe is sure to be a hit. Make them a day ahead of time. Let them hang out in the refrigerator in the sauce. And, on that second day, well, you'll taste even more flavor and punch!
Pizza Meatballs
Pizza meatballs are 'pizza' because we're putting pepperoni in them. I like to get the turkey pepperoni. You can get the extra flavor! There's also uncured pepperoni. So you have choices to use in this recipe
Pepperoni Pizza Meatballs
You're going to dice up that pepperoni into to small pieces. It's going to pack a punch that makes these meatballs a cut above.
Plus, it adds to the flavor of the marinara as the meatballs simmer in the sauce.
Pizza Meatballs Recipe
Yes, these meatballs also can make a decadent pizza. Like a real pizza. Just grab your crust. Slather on some of the sauce, Slice or crumble up a meatball or two, and bake.
Then add some yummy mozzarella cheese. Let it melt. For me, I'm going to finish off this meatballs pizza with a mound of arugula baby greens!
Pepperoni Meatballs
I also like to add pepperoni to some of my pasta sauces that I make from scratch. There's just something about the hint of smokey that works for me. Slightly spicy, pepperoni tends to balance the sweetness of a tomato sauce.
And, when you're buying your pepperoni, please try to source uncured, all natural like Applegate's Pork & Beef Uncured Pepperoni. You don't want those nitrates or nitrites added!
Pepperoni is also know for it's spices. Yes, paprika. But, some have other wonderful aromatic spices like anise, allspice, fennel, nutmeg, cinnamon, cloves, mustard and black pepper. And, another option to use would be pepperoni sausage!
Pepperoni Meatballs Crockpot
You could certainly finish out these dinner pizza meatballs in your slow cooker or crockpot.
I'd, however, not skip cooking the meatballs in the oven then browning. The juices from the oven roasting are perfect for adding more layers of flavor to the marinara sauce!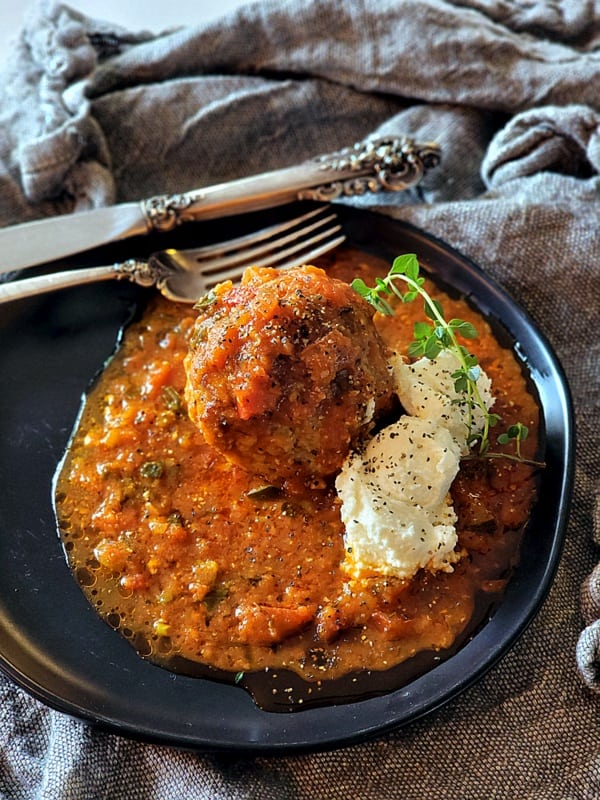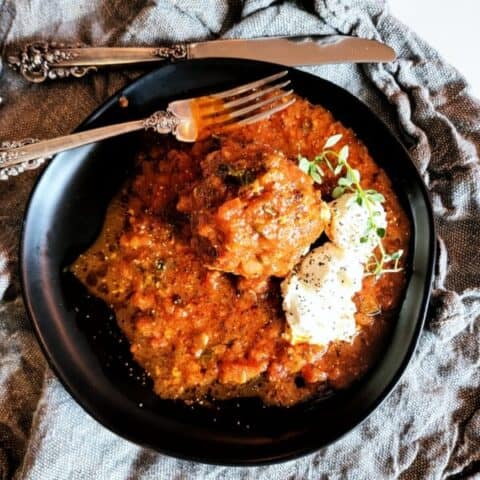 Best Pizza Meatballs
Yield:
About 10-11 large meatballs
Ingredients
Preheat oven to 400
2 lbs. ground pork
2 pasture-raised eggs
1 cup grated parmesan + more for serving
1 cup ricotta cheese
1/2 cup pepperoni, uncured, diced into small pieces
2 Tbl. Nutritional yeast
2 Tbl. Garlic granules
2 Tbl. Italian seasoning mixture
1 Tbl onion powder
1 ½ tsp. sea salt
1 ½ tsp. coarse ground pepper
2 Tbl. Bone broth protein, optional
1 cup bread crumbs, can use finely crushed saltines
4 Tbl. extra virgin olive oil
1 jar (28 oz.) marinara sauce
1 ½ cups pico de gallo, deli section of grocer
½ cup fresh basil leaves, packed
2 Tbl. Fresh thyme
Instructions
Preheat oven to 400 then to broil to brown meatballs. In a large mixing bowl, combine the pork and eggs. Blend together.
Add the parmesan, ricotta, pepperoni and blend well. In a small bowl, mix together the nutritional yeast, garlic, Italian seasoning onion powder, salt, pepper. Sprinkle over the meat mixture and blend well. Add the bone broth protein (sprinkle on meat mixture). Optional.
Add the bread crumbs and blend well. Roll meat mixture into large meatballs. Place on a parchment paper lined cookie sheet. Bake in a preheated 400 oven for 20 to 22 minutes. Turn to broil (meatballs should be about 12-18 inches from broiler) and brown for about 3-5 minutes.
Put the marinara sauce, pico de gallo, basil and thyme in a large braising pan. Bring to a simmering boil over medium high heat for about 5 minutes.
Reduce heat to low, cover and let the sauce simmer until the meatballs are ready. Add the meatballs to the sauce. Be sure to scrape all the good drippings into the skillet.
Cover them with the sauce. Let them simmer in the sauce for about 20-30 minutes before serving.