nomad eggs with black forbidden rice & quinoa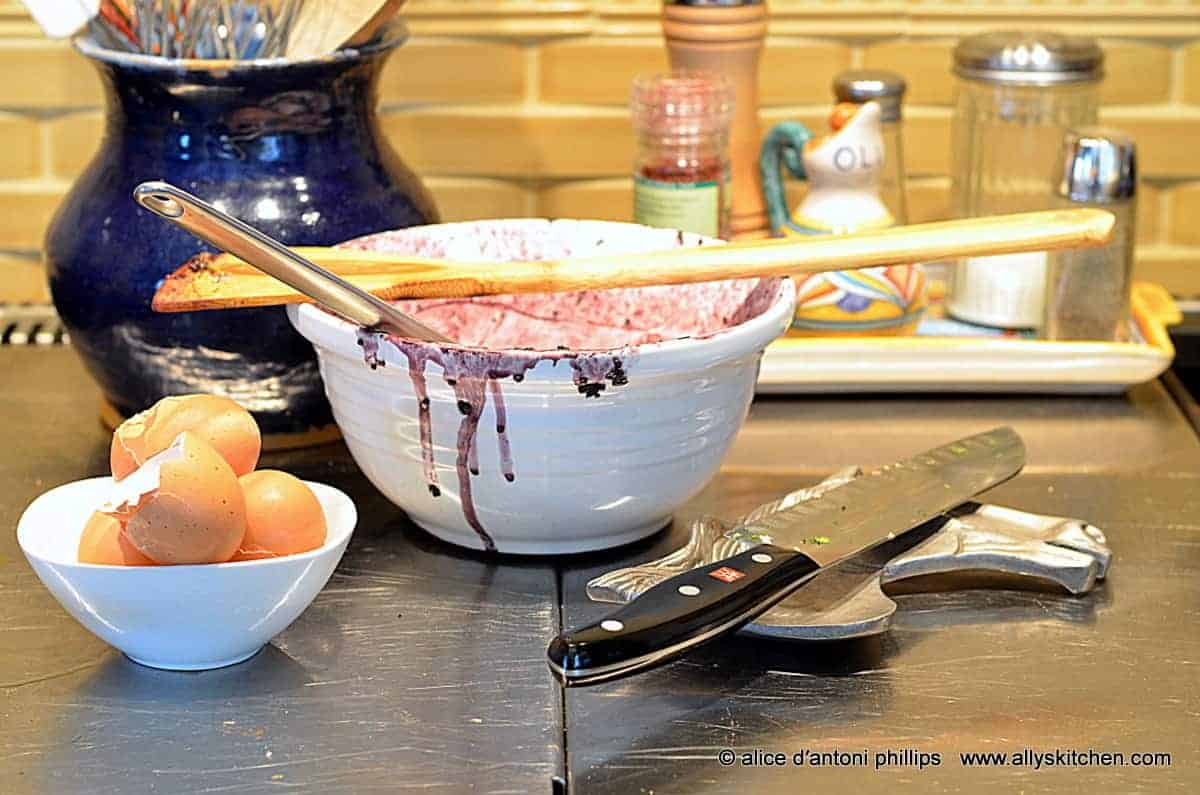 Inspiration for new dishes comes from random events and places for me like when I'm brushing my teeth or gargling and then from some pretty predictable places like cookbooks, but I must say not many cookbooks and/or recipes truly inspire me, like make my heart skip a beat or two~~like when I literally want to take the cookbook to bed with me, prop up my pillow and just read it like a novel.  Yeah yeah, I know that's probably bordering on pathetically sick and insane!
There's just a few cookbooks that I've come across that do the latter for me~~make me kinda like my kitty, Callie, when she has a catnip toy~~makeuh my headuh crrrrraaaaazeeee!  One of those cookbooks is Yotam Ottolenghi and Sami Tamimi's entitled Jerusalem~~A Cookbook.  I'm like Callie on catnip~~deliriously happy~~as I go through drooling over the photos, reading the backstories, and imagining the flavors, textures and tastes.  This is my type of cuisine~~rustic, global, historical, vintage, legacies of spices and food that is extraordinarily healthy.  
Of course, I'm not likely to follow the recipe(s) exactly~~it's my nature to 'boho' and make it 'Bohemian Bold' putting my 'ally' stamp on it~~isn't that what life's about?  Recognizing your fabulously amazing self in everything you do~~because there's none other like you~~never forget that YOU cannot be replicated, so be you!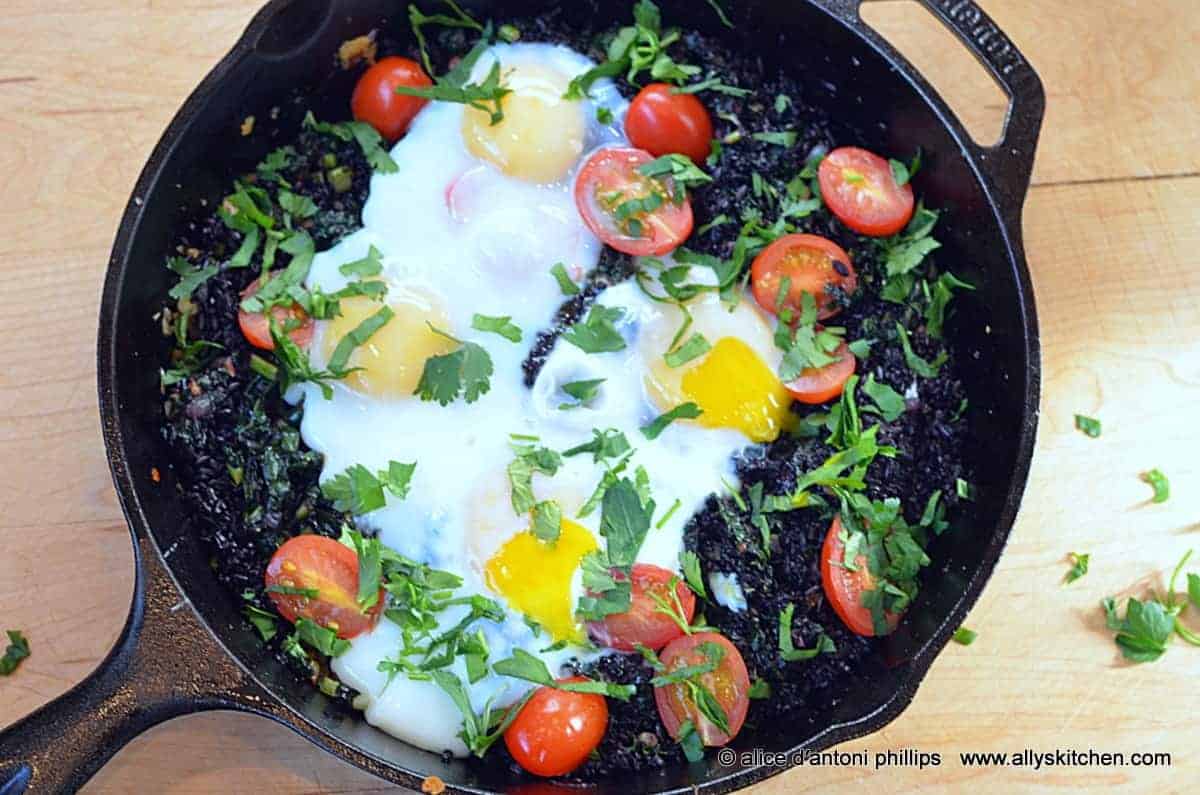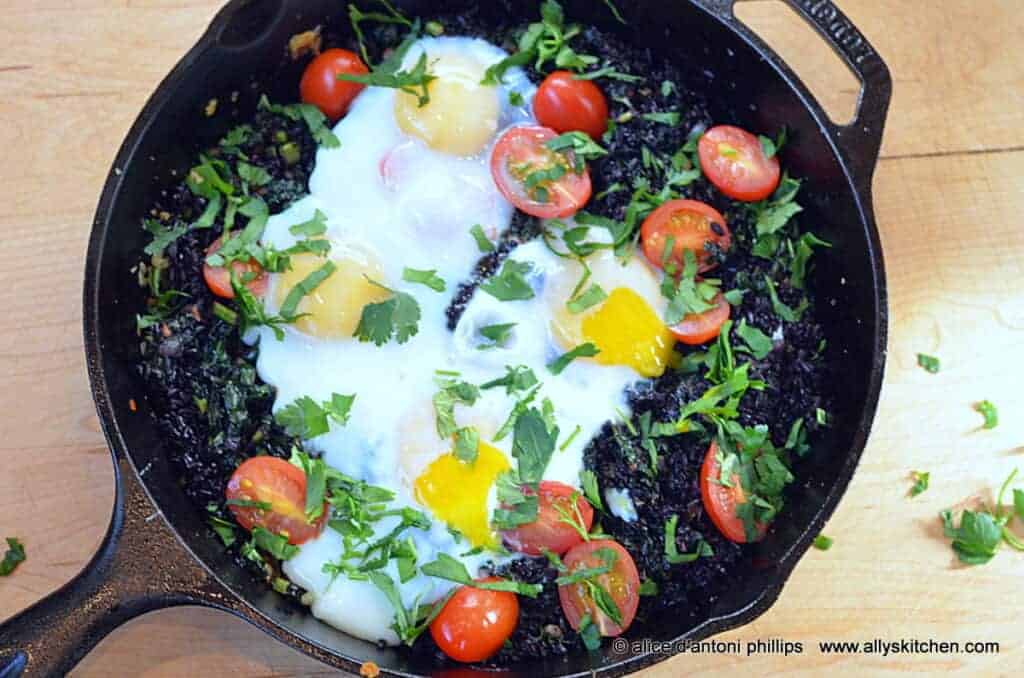 Serves: 2-4
What you need:
1/2 c. black rice
1/3 c. black quinoa
(Note:  Can use only rice or quinoa, but the mixture is an interesting texture combo!)
1 c. chicken broth
1 c. water
1/4 tsp. sea salt
4 tbsp. olive oil
1 tbsp. chopped garlic
2 tbsp. chopped shallots
6 leaves of Tuscan kale cut into slivers (can substitute regular kale or another green)
1 tbsp. pine nuts (optional)
1 1/2 tsp. cumin
1 tsp. sea salt (divided)
1/4 tsp. red pepper flakes
½ lemon (juice)
4 eggs
8 cherry tomatoes sliced in half lengthwise
1/3 cup roughly chopped cilantro and flat Italian parsley including some of the stems with the leaves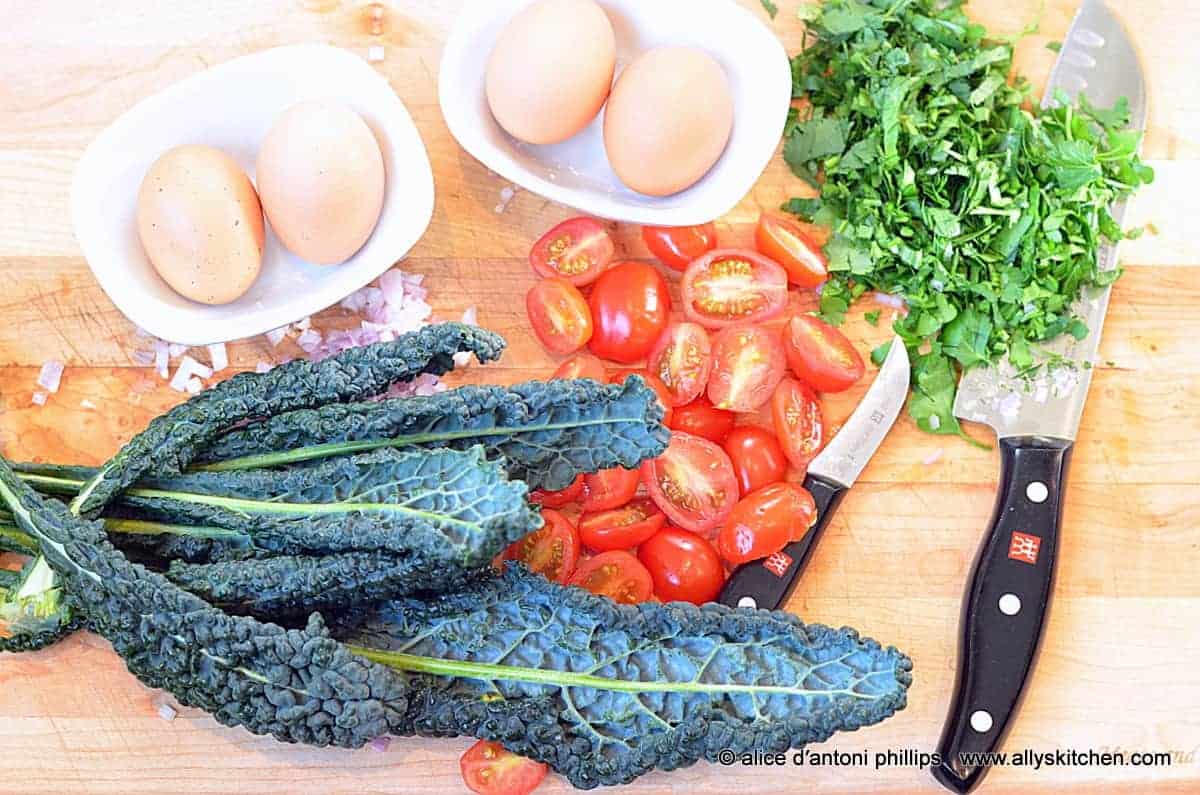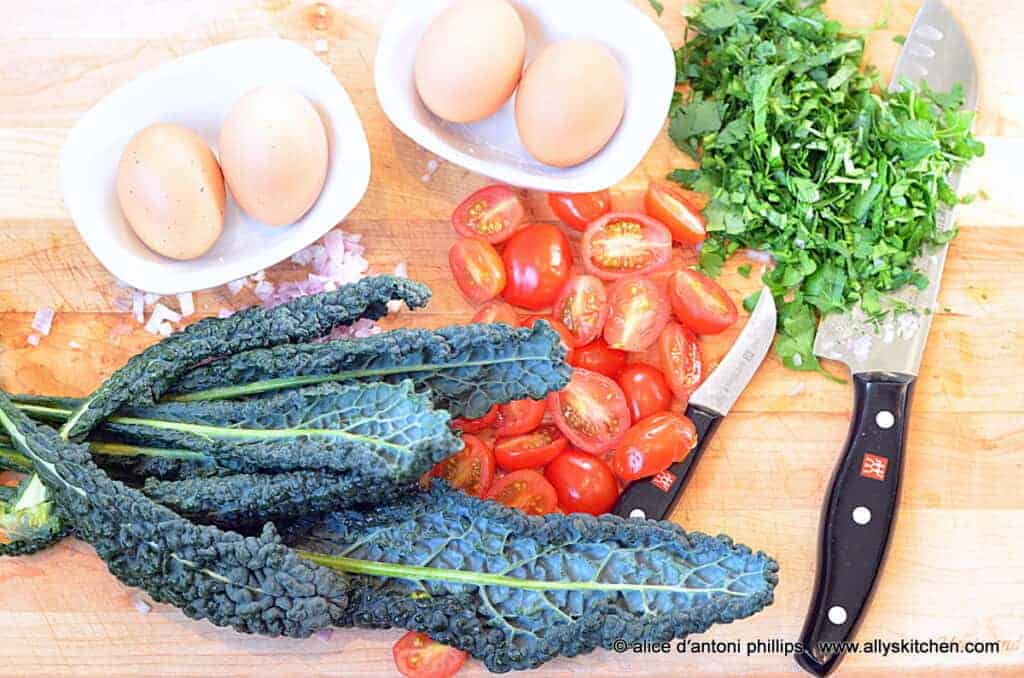 What you do:
In a medium, microwave-safe bowl, combine the rice, quinoa, chicken broth, water and salt. Cover with a microwave-safe plate and microwave about 22 minutes on high until fluffy.  Remove and with a fork mix.  Recover and set aside.
In a 10″ skillet, preferably cast iron, over medium heat, put the olive oil and sauté about 2 minutes the garlic and shallots. Reduce heat to low and add the sliced kale.  Sprinkle on the cumin, ½ teaspoon salt, red pepper flakes and blend.  Add the lemon juice and blend.  Add the cooked rice/quinoa into this mixture and blend.
Reduce heat to low.  Crack the eggs on top of the greens and add the tomatoes, cover with a glass lid.  Let the eggs steam, about 5-7 minutes, until sunnyside or yolks runny.
Plating & Serving~~With a large spoon scoop a helping onto a plate or into a small bowl (with at least one egg in each serving).  Dollop on a scoop of Spicy Labneh Sauce and garnish with the chopped parsley/cilantro.