If you put the word 'beans' in my search box, you'll find some great recipes. Go ahead, try it! Once you see some of my bean recipes, you'll know why I'm an addicted bean lover! Ya know, growing up in Southern West Virginia, coal-mining country, beans were a staple on the tables of most all families. Even the coal miners would take pinto bean sandwiches in their lunch buckets! I mean on white bread, these sandwiches were great grub and filled many bellies! This hearty white bean soup is a complete meal! No kidding! You have your meat and greens all in one bowl, and if you're like me, you want some sweet raw onions scattered on top and a drizzle of olive oil!
I love most any type of bean, and while I certainly buy canned beans for convenience, when I want to 'real' bowl of beans to eat, they're always made from scratch. Yep, from dried beans. And, this isn't a complicated process at all. In fact, it's really easy, but it just takes a little time. Yes, with the slow cooker, you can make this recipe even more simple. Just put all the ingredients, EXCEPT the Tuscan kale, in and cook for about 4-5 hours on low or until those beans are tender as a cotton ball. You'll add the kale once those beans are done because it will steam and cook in the hot juices and gravy.
Cooking the beans on the stove top cuts the cooking time about in half, so that's what I've done with this recipe. Now, you have to kind of watch those beans because the liquid does cook down and you don't want those beans to burn (yeah, I've had that happen my fair share of times!), so keep a couple of cups of water on the stove next to the beans and keep adding liquid during the cooking process.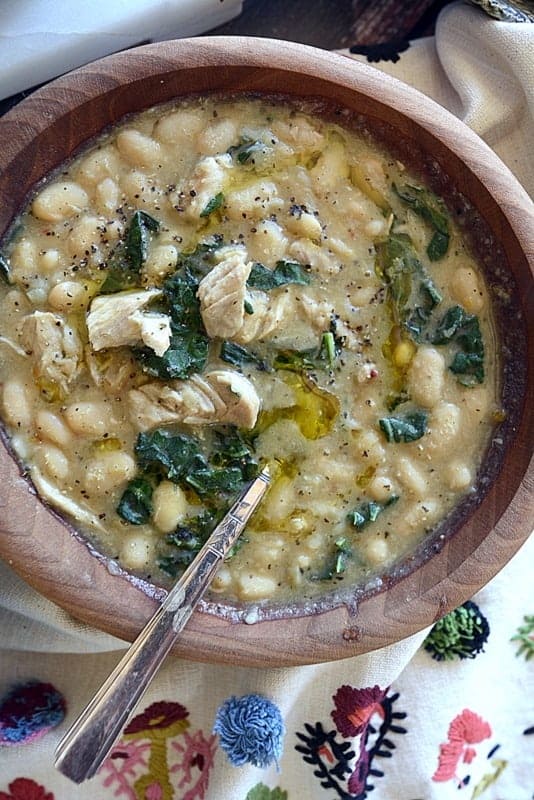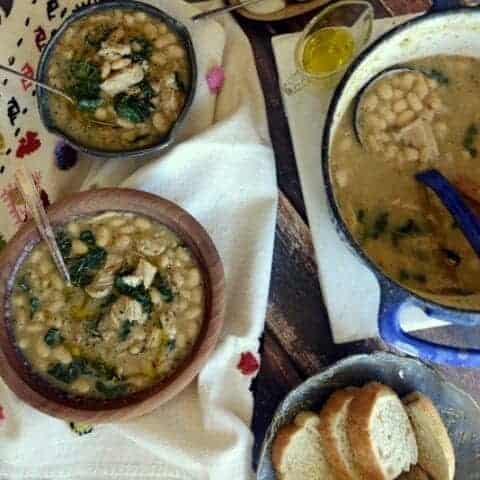 hearty white bean soup
Ingredients
3 cups Great Northern dry white beans, water to cover the beans
3 bay leaves
2 tsp. sea salt
1 tsp. coarse ground pepper
3 boneless thin pork chops
1 bone marrow
1 pkg. (1.3 oz.) Lipton Golden Onion Soup & Dip Mix
3 cups Tuscan Kale, loosely packed and chopped
Instructions
Rinse and drain the beans. Put in the large heavy pot. Add the yeast seasoning, no-salt seasoning mixture, bay leaves, salt, pepper, pork chops and bone marrow. Cover the beans with about 3-4 inches above the beans and ingredients.
Bring to a boil on high. Let it cook 15 minutes. Reduce heat to medium. Cover with a lid, slightly askew to let steam escape. Cook another 45 minutes. Add water as needed (the beans should never becomes dry).
After an hour of cooking, add the onion soup mix and blend. Add more water. Cover and cook on medium low another hour and a half adding water was needed.
The broth will thicken as the beans cook. Remove the cooked pork and shred. Return it to the bean soup.
Remove and discard the bay leaves and bone marrow bone. Check beans to ensure they are tender.
About 15-20 minutes before serving, add the chopped kale and let it steam in the bean soup.