beer drenched cowhand roast beef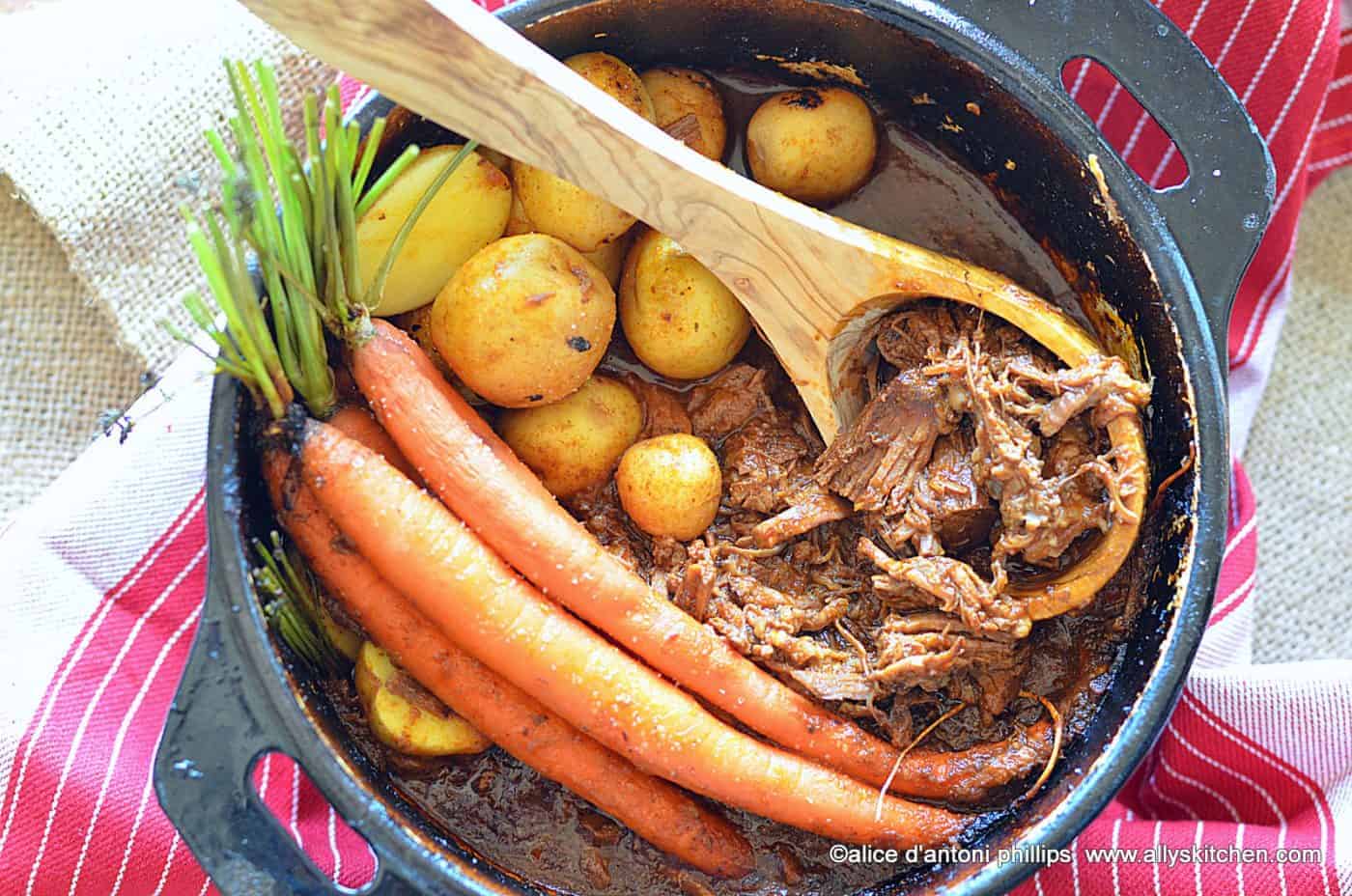 If you're a cowhand on a roundup I'm sure by the end of the day you could eat one of those heifers in one sitting. Yeah, we're talking roast beef! You're flat out starvin'! I've watched enough of Ree Drummond's shows to know that. Cowboys are hard workin' and deserve stick to the ribs grub! And, who doesn't like a good cold frothy beer after sweatin' to the mooing?
Well, that's what you're gonna get in this beef and more. It's beer drenched as it slow cooks for several hours (yes, it's adaptable to your slow cooker), the spices put some heat on the back of your throat, and if you want to throw in veggies and make it a full blown meal you can!
Or, just do the beef, have some really nice crusty big cowhand rolls ready and pile on the fork-tender beef and dig in. Be sure to have big ice buckets of long necks! ~peace & beer~ xoxo ~ally
Here's another pot roast that's in your multi-cooker and just so simple! Tavern Style Pot Roast!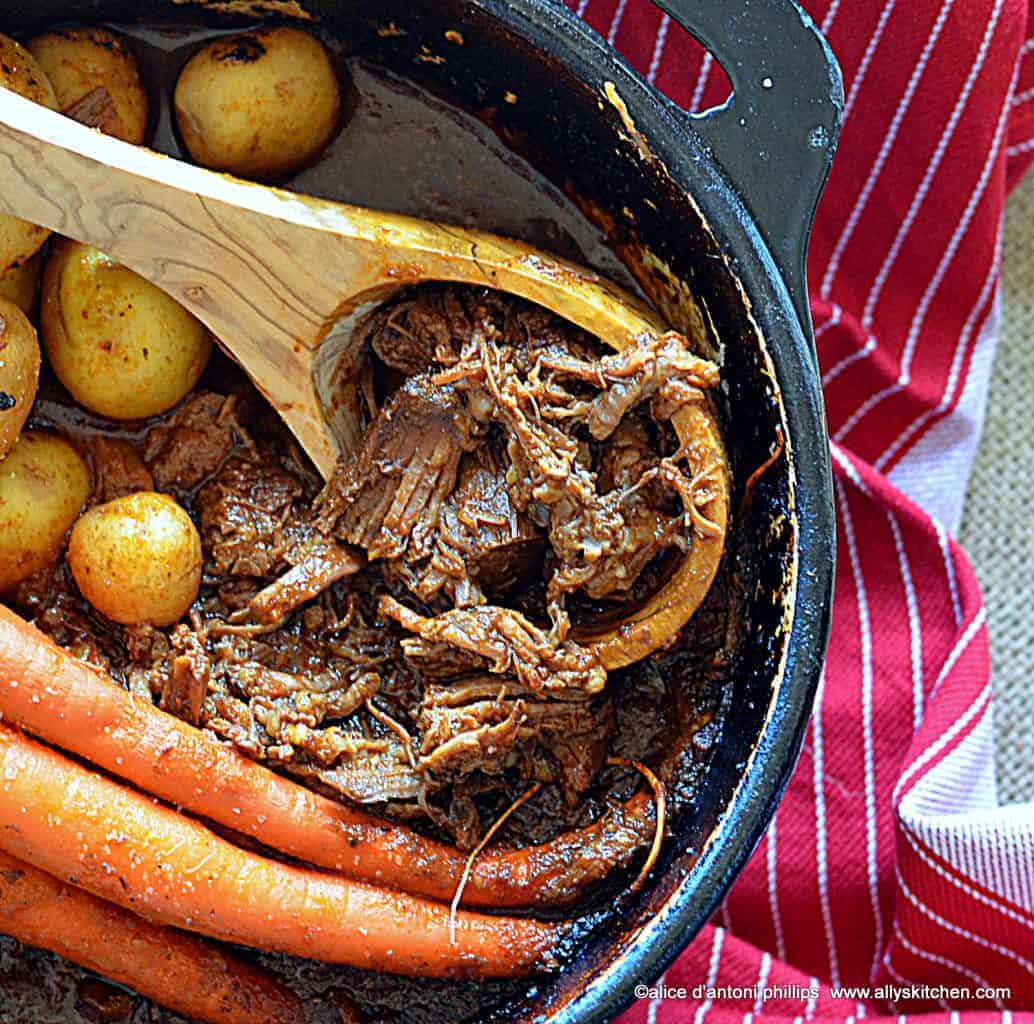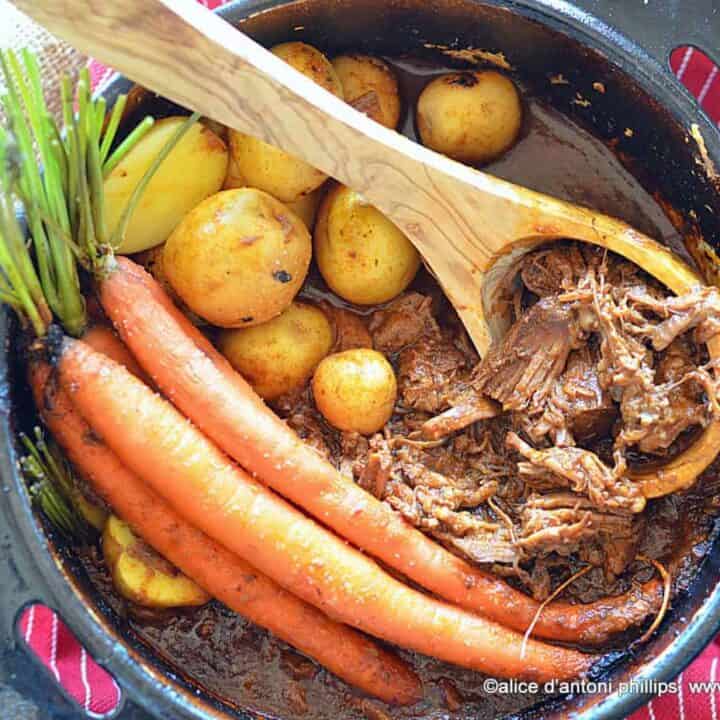 beer drenched cowhand beef
Ingredients
Preheat oven to 325
3 Tbl. olive oil
2 lb beef, chuck roast cut into 4 pieces
2 tsp. garlic, granulated
2 tsp. onion powder
1 ½ tsp. Jamaican Jerk seasoing mixture
1 tsp. sea salt
½ tsp. red pepper flakes
1 (12 oz.) lager beer
2 cups organic tomato basil soup, can substitute marinara sauce
Optional:
Fresh veggies (I did whole carrots and small whole potatoes.)
Instructions
Put the oil in a heavy stew/Dutch pot (with a lid). Add the beef. In a bowl, combine the garlic, onion powder, Jamaican Jerk seasoning, salt and pepper flakes. Mix together. Sprinkle on the meat. Pour the beer into the pot.
Add the soup and blend. Cover the pot with a double folded piece of foil and then put the lid on.
Put in a preheated 325 oven for about 2 ½ to 3 hours. Check every 30-45 minutes to see if you need to add some water. You want the liquid to be about 3 inches deep in the pot all the time.
If you're adding fresh veggies, put in at about the 2 hour marker and cook another 45-60 minutes or until tender.
Notes
This recipe can be done in a slow cooker. Cook on high for about 4 hours adding veggies after about 3 hours. Continue cooking until meat and veggies are fork tender. Add water as needed.