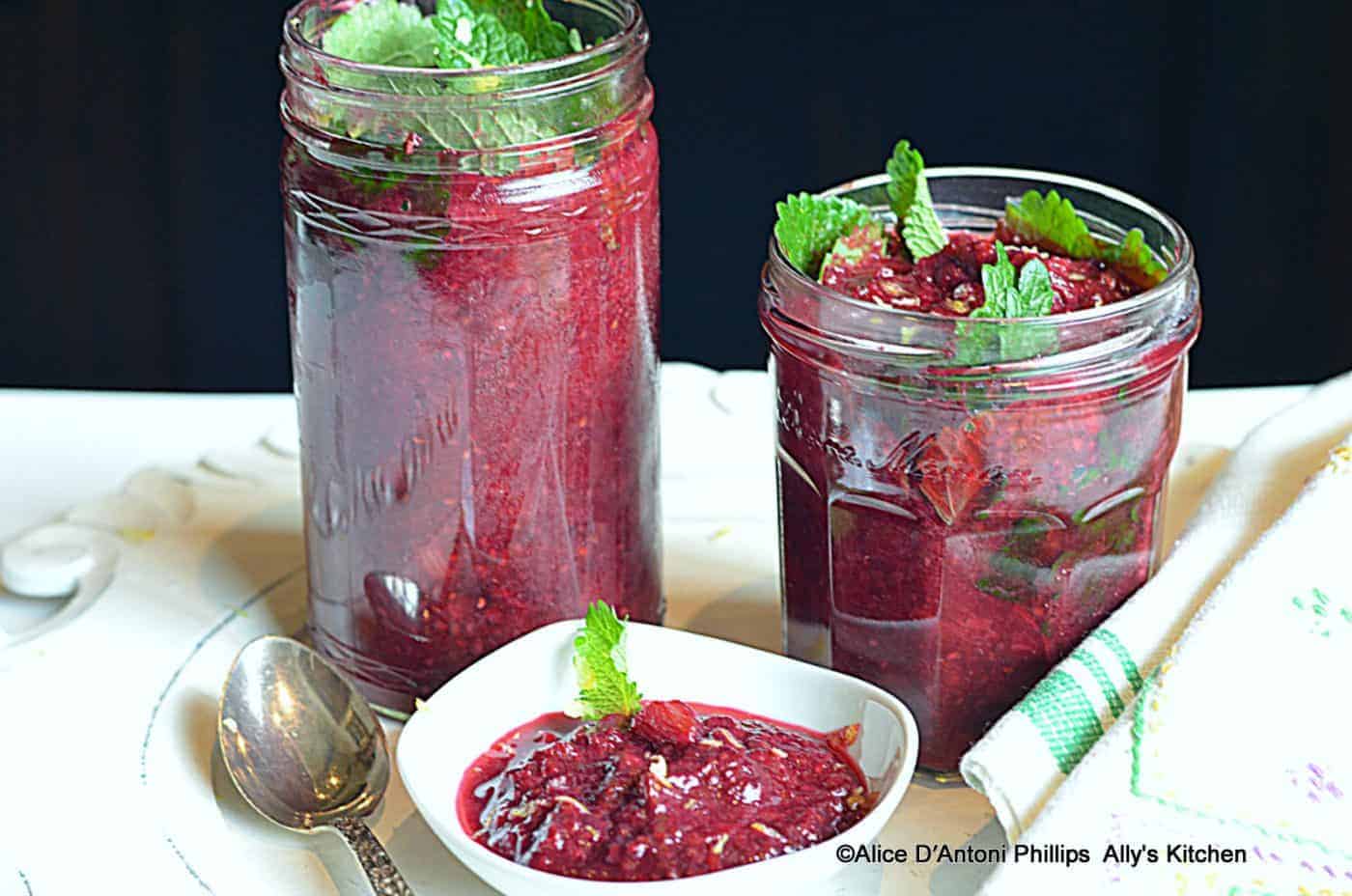 My cool husband is SO SO SO supportive of all of my cooking, competing and culinary shenanigans~~in this world of food, it's important to have the spouse on board!  He loves to try things, always gives his brutally honest opinion, has joined me in a cooking class (in Italy, and he was a star!), and would rather eat in than out~~go figure!  One way to make this fella ecstatically happy is to do something with rhubarb~~he LOVES it!  And, we have a small batch of it growing in our garden, so that makes it even more convenient.  Now our garden is about the size of a postage stamp, and we 'harvest' about a handful of things because the deer and critters seem to find it tasty as well!  Today Ben mozzeed out to the garden, Mr. Green Jeans, to check on the 'maters, which are ready for fried green 'maters, and came back with a nice mess of rhubarb.
Instead of making the usual pie or cobbler, which after a few days is gone or has to be eaten otherwise it ain't that good anymore, I decided to make something longer-lasting and something that we could use in lotsa ways~~so, this is my 'Rhubarb Raspberry Lemon Mint Sauce'…it's got a tart kick, a slightly sweet flavor, a smooth velvety feel on your palate, and can be used on everything from hot biscuits, sandwiches (as spread) to a topping sauce for grilled chicken or pork chops~~come taste the flavor, and you'll know why Ben describes it as organically (or did he say orgasmically?) deeeelicious!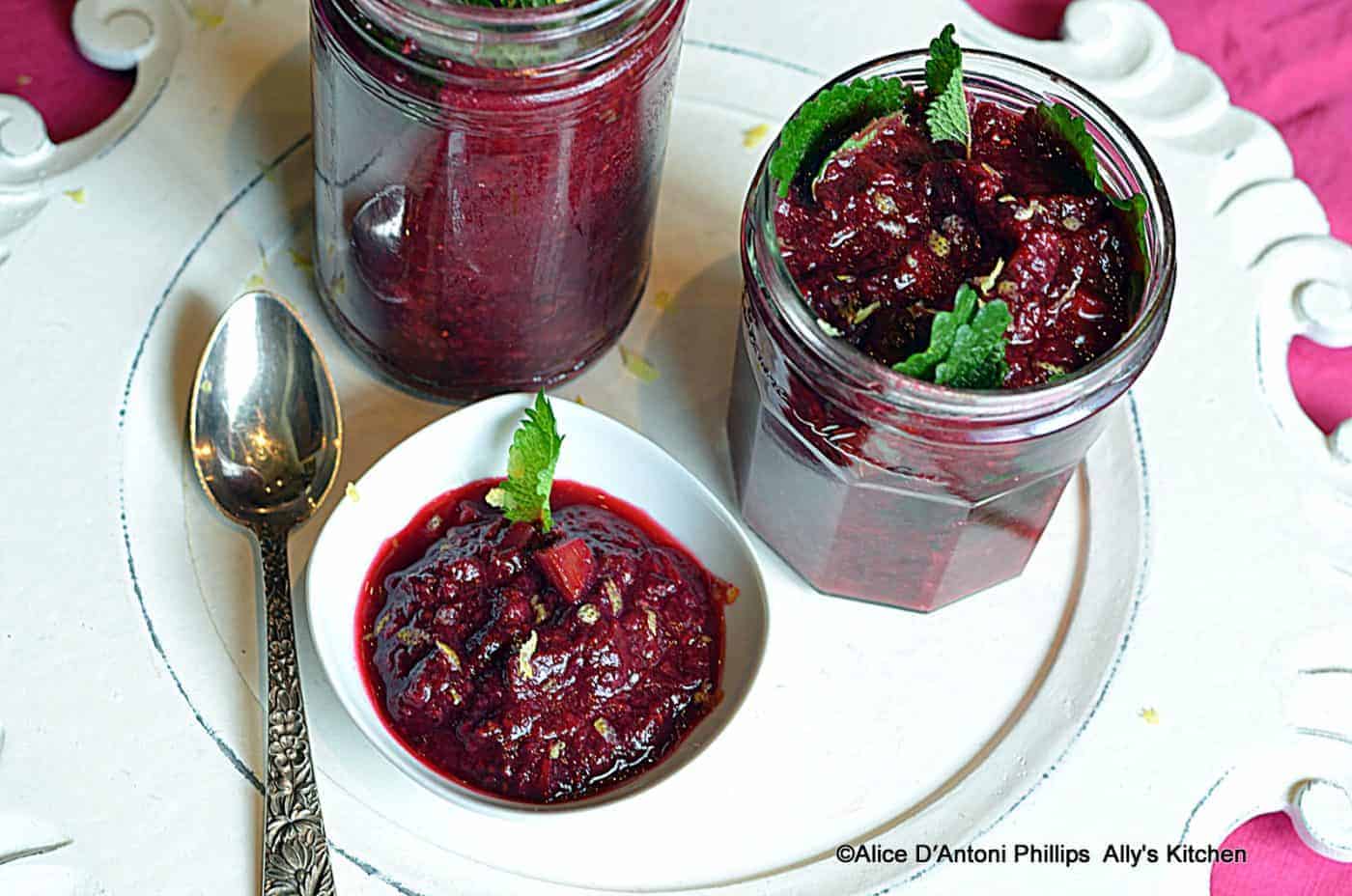 Makes:  About 2 ½+ cups
What you need:
3 tbl salted butter
2 cups finely chopped rhubarb
3 tbl Triplesec
12 ounces frozen raspberries
½ cup sugar
Pinch of sea salt
1 tbl fresh lemon juice
1 tsp lemon zest
Fresh Mint leaves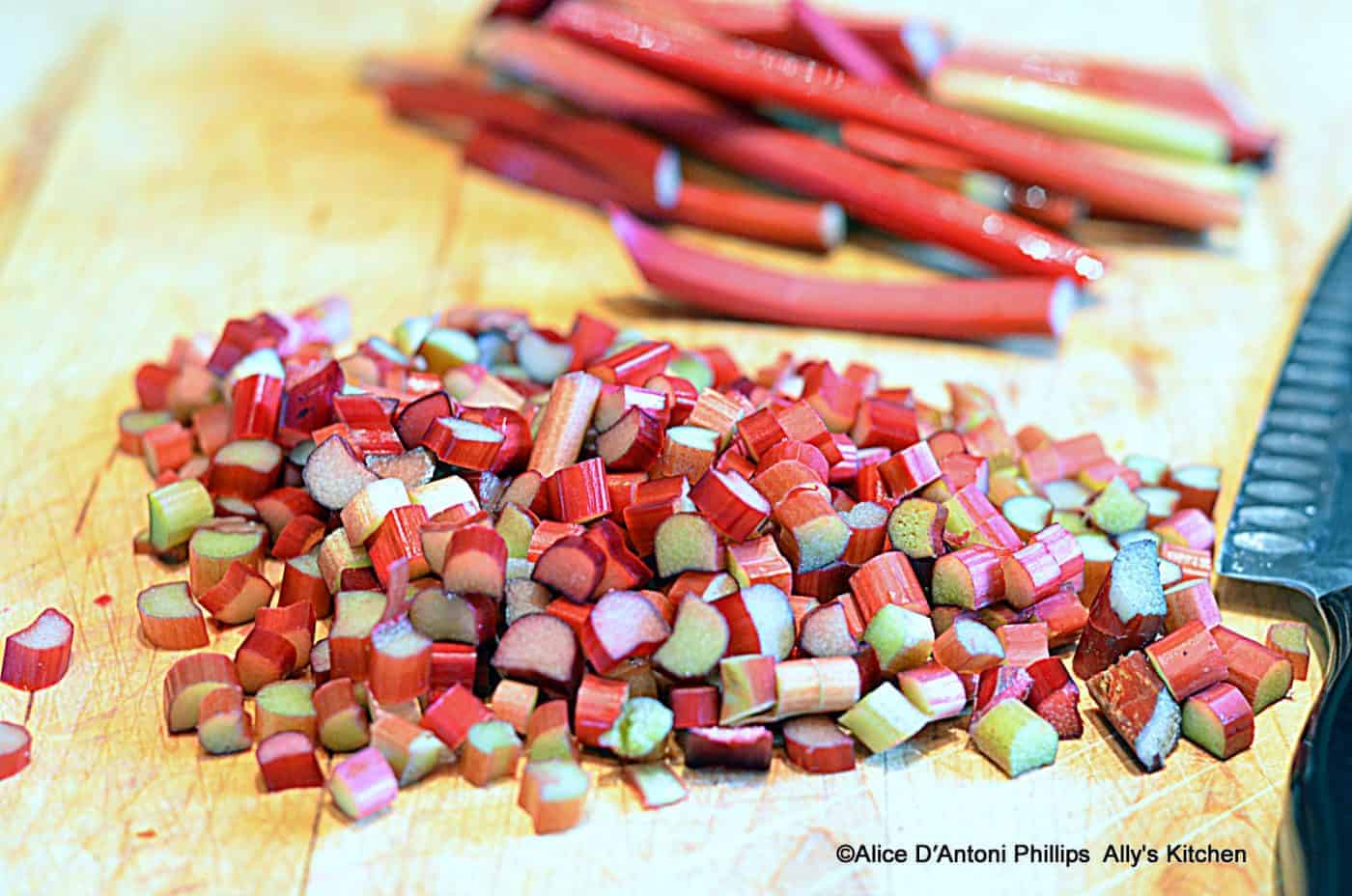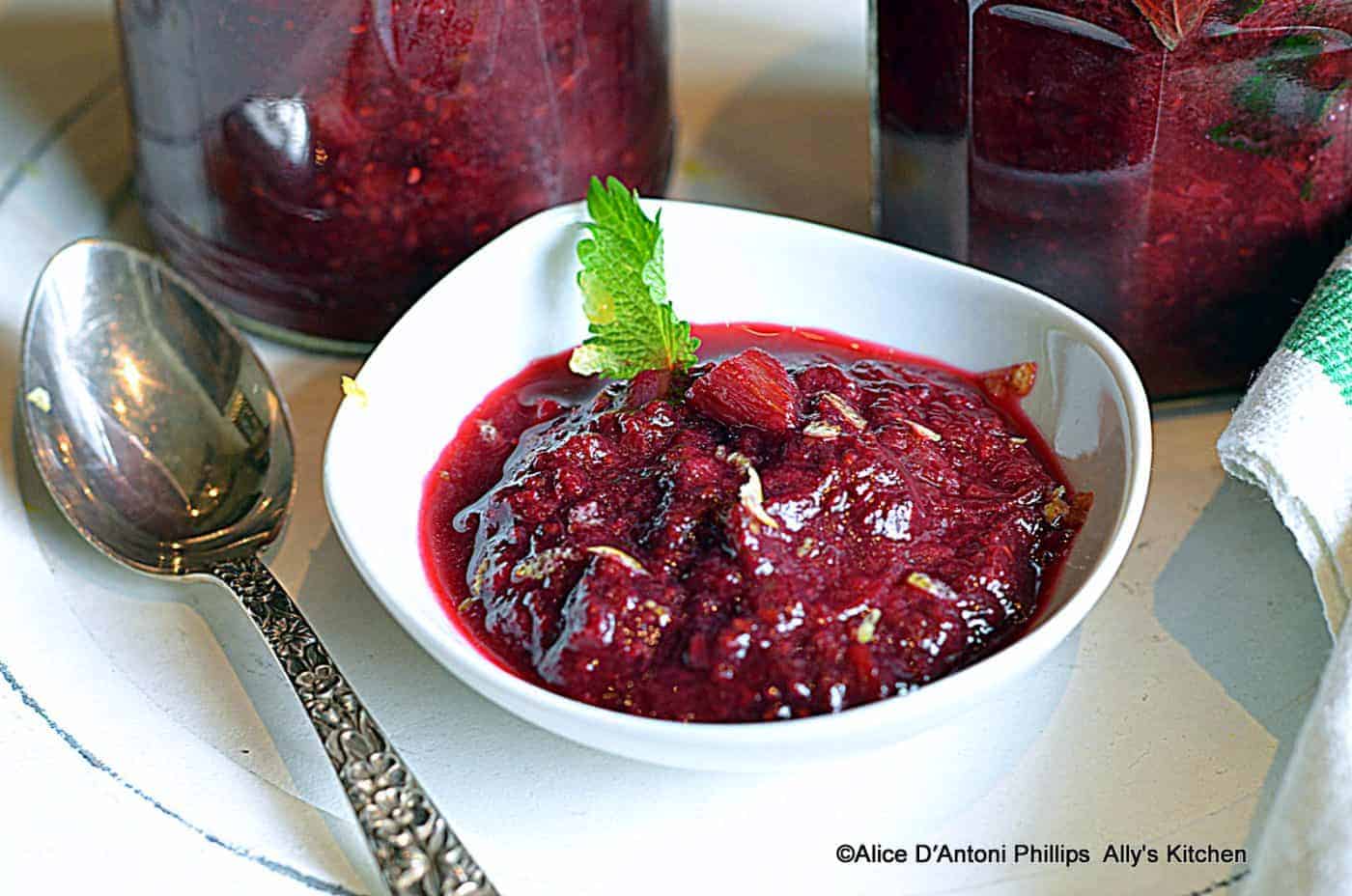 What you do:
In a cast iron skillet over medium heat, melt butter.  Add rhubarb and cook about 7 minutes until it's tender.  Add the triplesec, frozen raspberries, sugar, salt, lemon juice and blend.  Cook about 20 minutes stirring occasionally.  Turn off heat and add lemon zest and blend.
Pour into glass jars.  Before putting on the lids, add some fresh mint leaves and a little more lemon zest.  Refrigerate!
There are so many uses for this fabulous sauce!  Enjoy!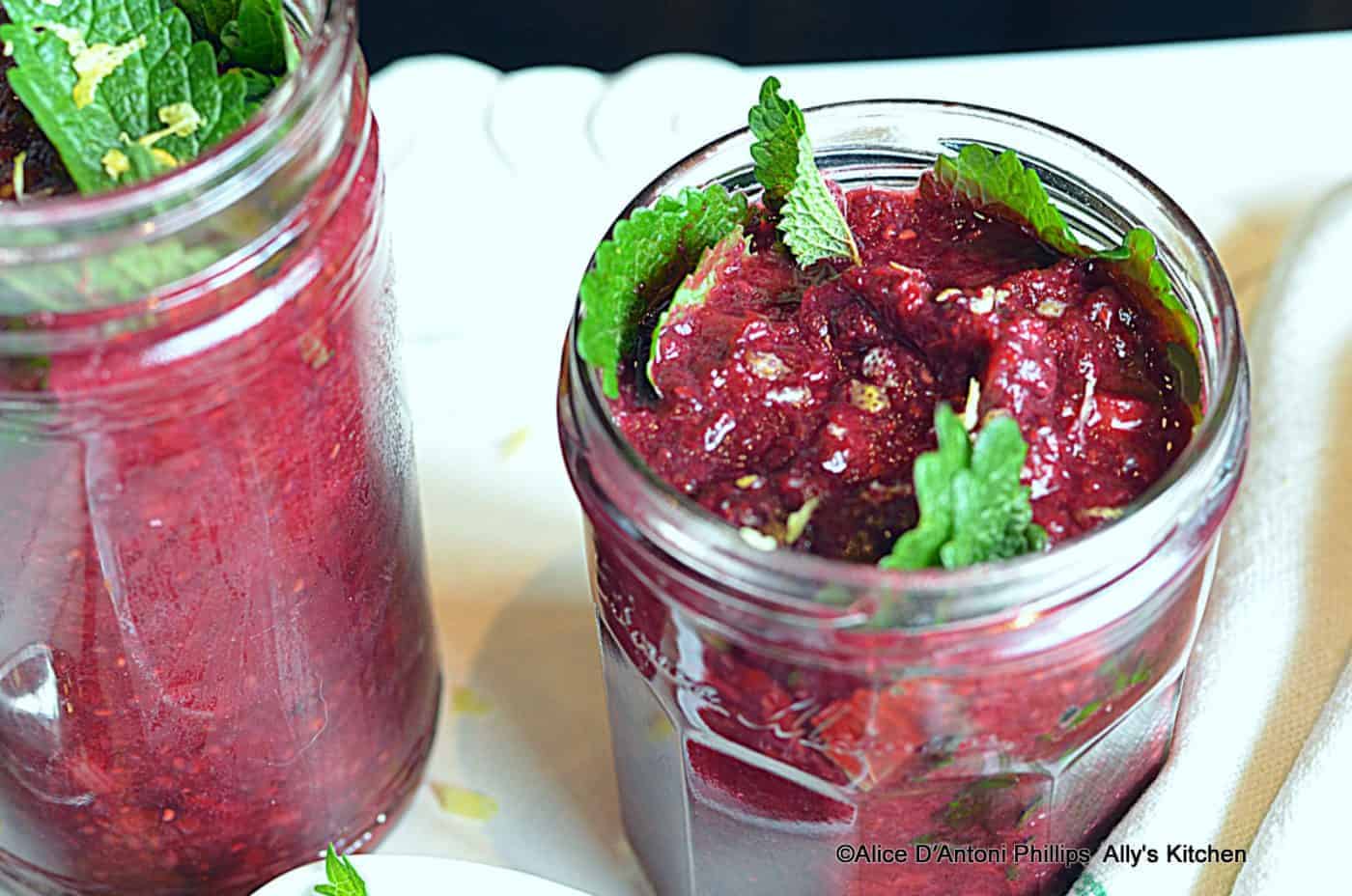 ©Alice D'Antoni Phillips  Ally's Kitchen