Rhubarb Raspberry Lemon Mint Sauce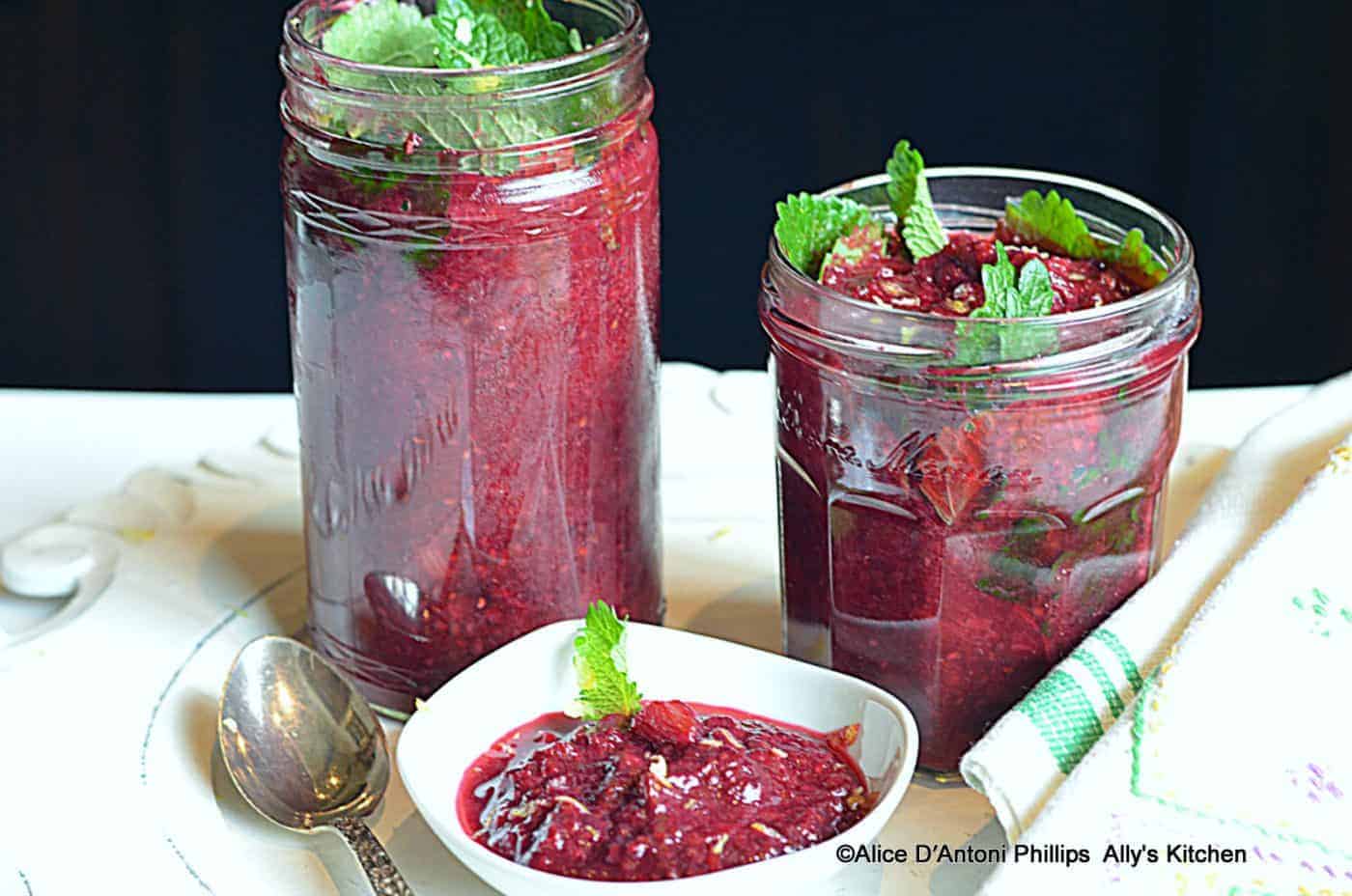 Rhubarb Raspberry Lemon Mint Sauce is a quick & easy sauce! It is perfect over yogurt, ice cream, or fresh fruit such as sliced peaches or strawberries.
How to Make Rhubarb Sauce
Are you looking out to make the best and delicious flavors of sauce with Rhubarb? With just a few ingredients, you can make this Mediterranean sun-dried Rhubarb spread in a food processor. Instead of chickpeas, as in traditional hummus, cannellini beans are combined with lemon, garlic, and vibrant sun-dried tomatoes in this recipe. For a taste of summer all year, serve it with raw vegetables or crusty bread. Enjoy it with Blueberry Rhubarb Crumbles.
Rhubarb and raspberry compote
I'm a happy woman with some Tomato Bruschetta, my friend Cadry's Warmed Castelvetrano Olives and some fresh vegetables for making sriracha steak bites and pasta!
Most of us in the United States were raised with the belief that a meal would include a protein, a starch, and a vegetable.
However, these rules do not apply to Mediterranean cultures.
Combining salads and spreads for a nutritious meal is perfectly acceptable.
Raspberry rhubarb sauce recipe
This white bean dip from Tuscany has a lovely texture. Broccoli slaw tomato garlic & chives egg skillet pie is silky smooth… almost as silky as hummus. It's also quicker to make than hummus, which is a plus. It's nutritious and perfect for a fast snack or entertaining. If you have some fresh basil in your garden, this is the recipe to make with it!
Cannellini beans (also known as white beans) are simply kidney beans. They have a mild flavor and are ideal for making dips or adding to soups.
Rhubarb Sauce
This dip goes great with Lemon Mint Cake Pie (I have three types in the photos), cut-up veggies like carrots and cucumber, pita bread, or baguette slices. It's perfect as an appetizer/party snack or as part of a tapas-style dinner (you can serve it as one of several small dishes). It can be eaten like hummus.
Rhubarb Recipes Easy
This dip can be made in a variety of ways for grilled pineapple ham biscuits. If you want a less tomato-y taste, use half the amount of sun-dried tomatoes suggested, and I've also used a larger can (19-ounce size) of white beans. I've made this dip so many times that I no longer weigh it. I would like to squeeze in a little more lemon juice.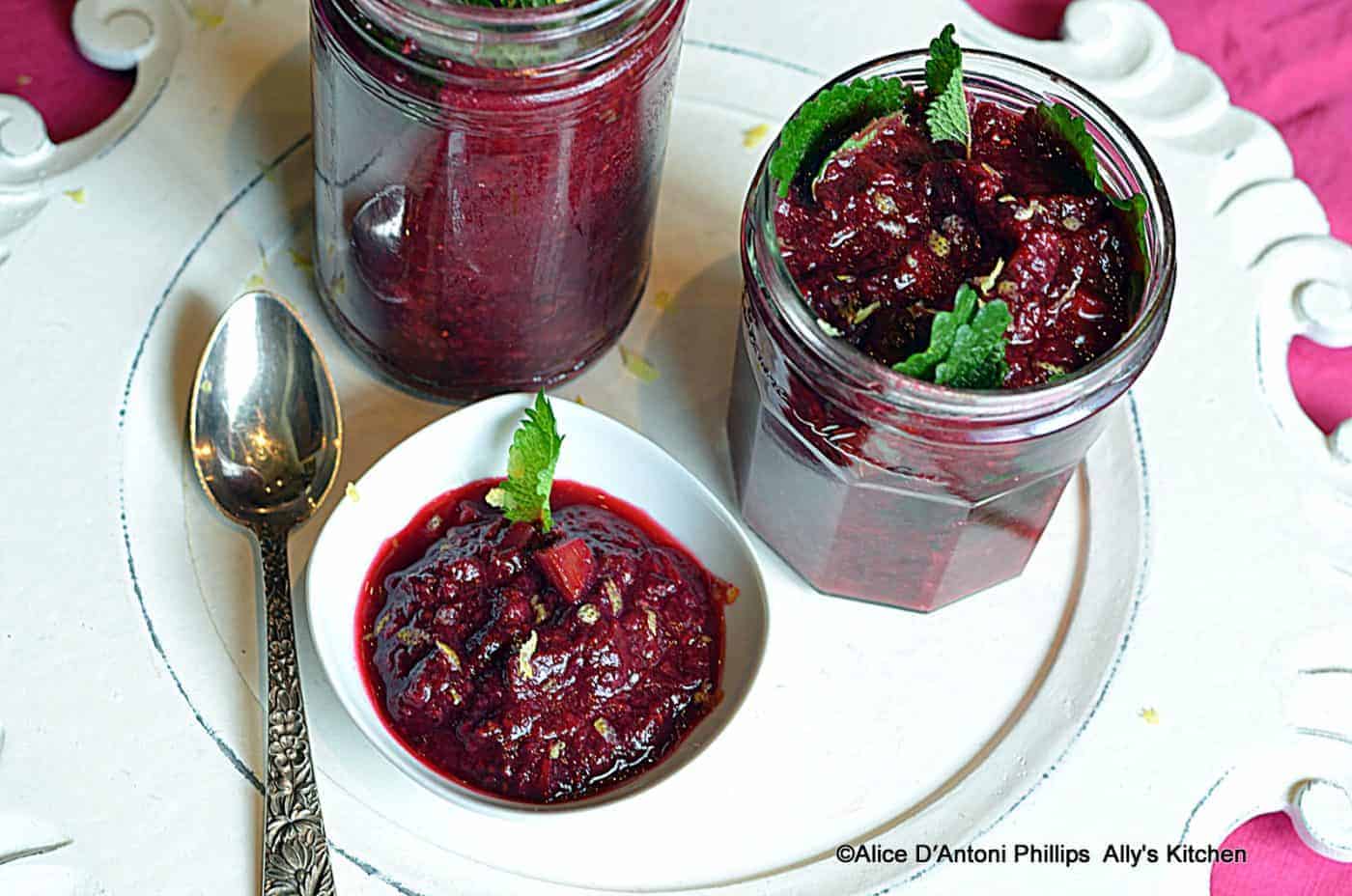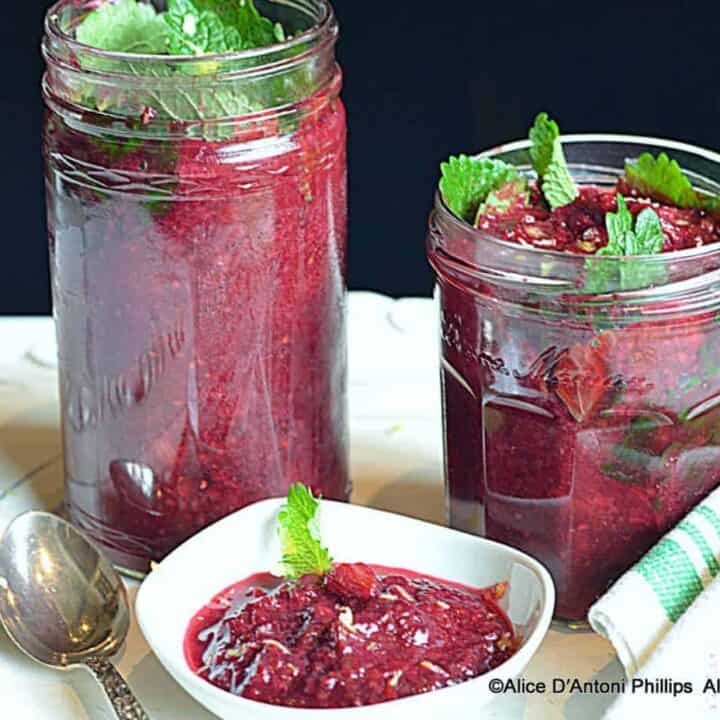 Rhubarb Raspberry Lemon Mint Sauce
Yield: Makes:  About 2 ½+ cups

Rhubarb Raspberry Lemon Mint Sauce is a quick & easy sauce! It is perfect over yogurt, ice cream, or fresh fruit such as sliced peaches or strawberries.
Ingredients
3 tbl salted butter
2 cups finely chopped rhubarb
3 tbl Triplesec
12 ounces frozen raspberries
½ cup sugar
Pinch of sea salt
1 tbl fresh lemon juice
1 tsp lemon zest
Fresh Mint leaves
Instructions
In a cast iron skillet over medium heat, melt butter. Add rhubarb and cook about 7 minutes until it's tender. Add the triplesec, frozen raspberries, sugar, salt, lemon juice and blend. Cook about 20 minutes stirring occasionally. Turn off heat and add lemon zest and blend.

Pour into glass jars. Before putting on the lids, add some fresh mint leaves and a little more lemon zest. Refrigerate!

There are so many uses for this fabulous sauce! Enjoy!