jerusalem fruit tabbouleh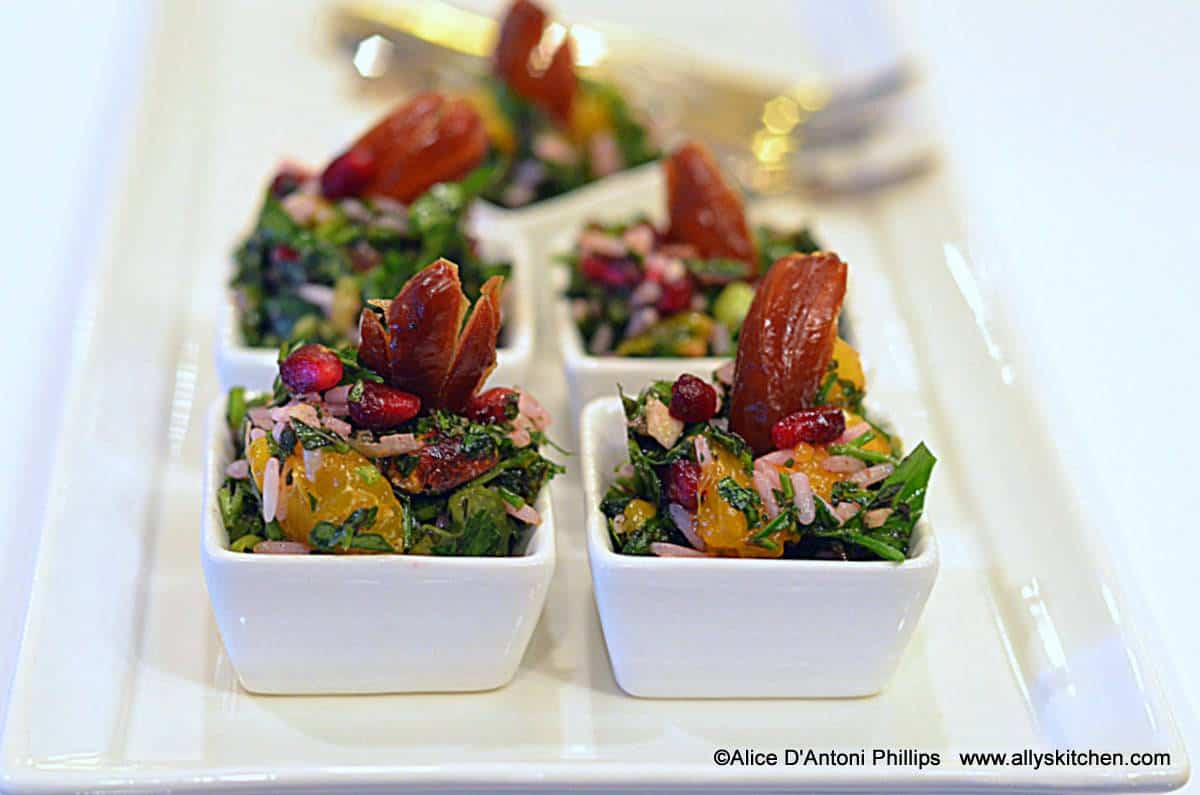 This rabbouleh recipe is brought to you by Dole Sunshine, however, all of the recipe development and creative food artistry, including the photography, is solely the work of Ally in her Kitchen.  For more information CLICK~ 
My trip to Israel as a guest of Stand with Us and Taste of Israel was a virtual week of culinary and cultural exploration~~I learned so many things about Israeli and Middle Eastern foods, which I happen to have embraced and love even before I was invited~~hummm, maybe that's why I was invited!  Besides doing lifetime experience things like floating in the Dead Sea and going to The Church of the Sepulcher in Old Jerusalem, I and my six blogging comrades from around the world and from different blogging 'disciplines' (travel, journalism, etc.) had two cooking school experiences, plus we dined in 5-star restaurants as well as the family-style Druze village eating at Nora's Restaurant in Haifa.  I even learned little things like how to properly pronounce 'humus'~~say, "whooooo mus'~~that's the real way to say it~~no 'hummm' to it!
So this tabbouleh is a creation that I wanted to explore with fruit, and using the great packaged products of Dole Packaged products, I was able to achieve something that just rocked the charts with flavor!  Now this photo was even featured at the Las Vegas airport during the 2013 World Food Championships~~how cool is that to walk up to baggage claim and suddenly see my 'Jerusalem Fruit Tabbouleh'…be sure to listen for the sounds of cooking'~~come take a peek!  
Oh, here's a fabulous another fabulous recipe using Dole Packaged Foods' fruit! And, come see how it netted me 25k! Click Here!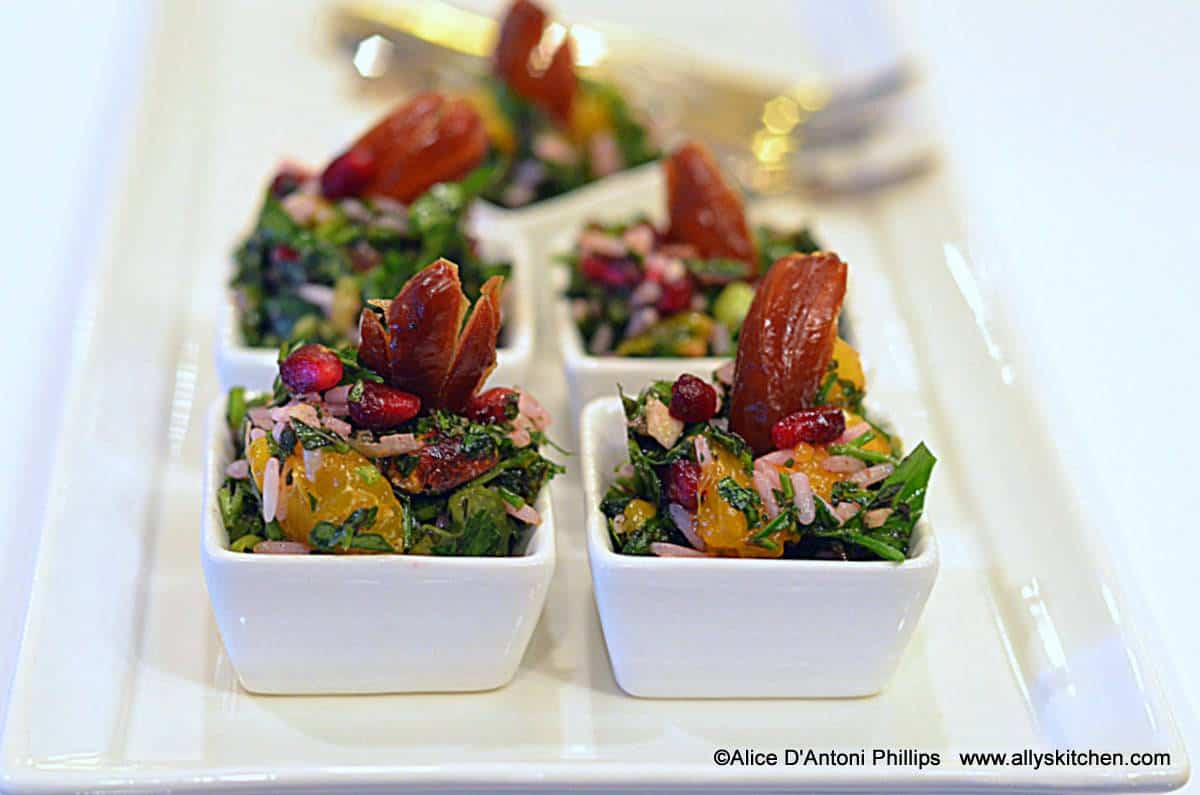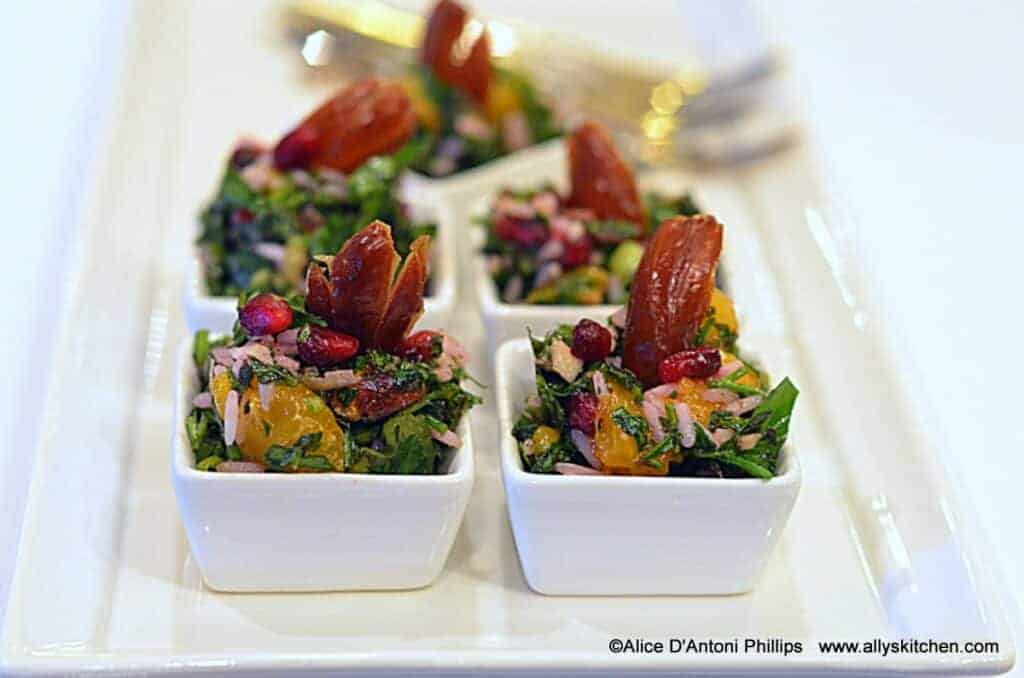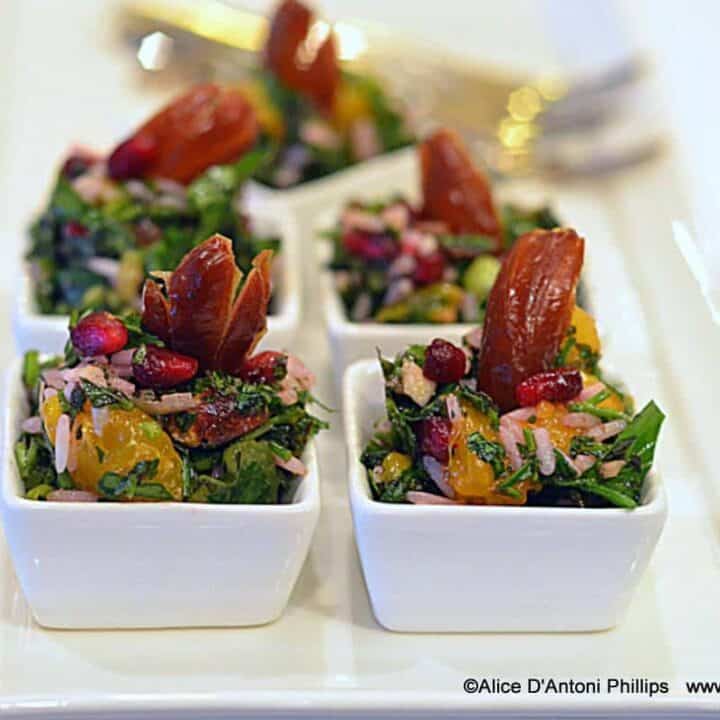 jerusalem fruit tabbouleh
Yield: Makes about 4-5 cups
Ingredients
½ cup jasmine rice, cook in microwave or use prepackaged cooked
1 cup water
1 Tbl. butter
½ tsp. allspice
½ tsp. cardamom
½ cup finely chopped mint
½ cup thin sliced celery
2 cups chopped flat leaf parsley
2 thinly sliced green onions
5 DOLE Sunshine Medjool dates chopped in small pieces (about ¼ cup)(or you can buy Dole Sunshine chopped dates)
1 Tbl. finely minced garlic
½ cup DOLE thawed mangoes cut in halves
½ cup DOLE mandarin oranges cut in halves (drained)
1/2 cup salted pistachios
½ cup fresh pomegranate seeds
½ tsp sea salt
¼ cup extra virgin olive oil
1 medium sized lemon juice only
Instructions
Put the rice water and butter in a glass bowl with a plate on top. Microwave on high for 6 ½ minutes.
Remove and separate grains with a fork, add the allspice and cardamom and blend. Put the plate top back on it and set aside. Rice will continue to 'cook' in the steam.
In a medium size mixing bowl, combine, the mint, celery, parsley, green onions, dates, garlic, mangoes, apricots, pistachios, pomegranate seeds, salt, olive oil and lemon juice and toss and blend.
Toss in the jasmine rice. Refrigerate about an hour or more or serve immediately!