Citrus Marmalade Oatmeal & Almonds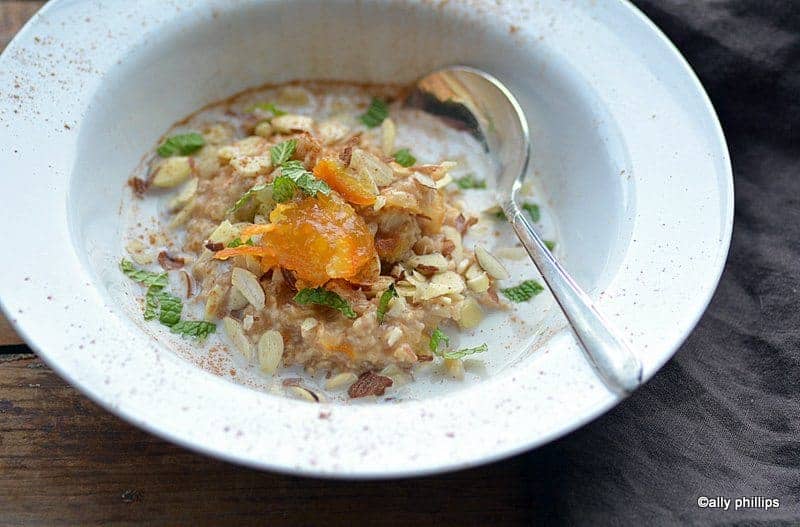 Searching the web for some healthy recipes? We've got you covered, check out our Citrus Marmalade Oatmeal & Almonds recipes. Rich in nutrients and protein.
Oatmeal and Orange for Breakfast
Oranges with oatmeal combo make power-packed dishes. Oats can combine with oranges and many other fruits as well. Apple berries, nuts, anything that adds to the taste and health. What a healthy idea to relish every morning? A combination of chocolate makes my day mesmerizing. My vacations will be marked with these lip-smacking dishes.
I just love my mama's holiday turkey dressing preparation to mark those easter days. For me, they would be brunch instead of lunch. My childhood days passed on, praying, 'o lord, let these holidays never end.' Such temptations were those days.
Citrus Juice Oatmeal
Any citrus juice oatmeal is a healthier option. When it comes to weight loss, breaking that extra calorie that you put on by dwelling into your favorite Love Bird Citrus Garlic Chicken, this Oatmeal in lemon is my choice. I would feel my day blessed, starting with an orange oatmeal custard, topped with those crunchies and berries, both sweet and tangy. My taste buds still trigger that lingering flavor.
Healthy Oatmeal
Oats are one of the healthiest grains available. Oatmeals make delicious dishes for adults and children. Oats contain nutrients, vitamins like vitamin B, E, essential fatty acids, zinc, copper, magnesium, phosphorus, manganese, calcium, and fiber, all needed for a healthy diet. Soluble fibers in Oatmeal make it a friendly diet. It soothes our intestine. Children and school kids love oatmeal recipes. This fiber-rich food is a must-have in the diet.
Additionally, oats are also good for healthy skin. Oatmeal can be for Toddlers as well. In the form of porridge, soup, Right from six months, oatmeals can be given to babies in the form of porridge, later smashed bananas and nuts can be added. As the age advance, the added fruits and nuts can be changed based on requirement and in crushed or mashed form.
Basic Oatmeal Recipe
Oats with your favorite fruits make a rich porridge, baked Oatmeal, dry fruit-loaded soft cookies make excellent for bag packs. Smoothies with oats added, choco-chip oatmeal muffins, healthy oatmeal porridge can be filling and light. Home-made chocolaty Oatmeal nutty bars are healthy oatmeal options that are tastier and rich.
Healthy Oatmeal Breakfast
My day starts with an orange oats pancake. An orange oats pudding is something I cant resist. Oatmeal as breakfast is loved by many. This fiber-rich food is great for easy digestion. People with diabetes feel they are benefitted from oatmeal breakfast every morning. Oatmeal reduces the risk of blood sugar and lowers cholesterol levels. Based on your taste, fruits and nuts of your choice can be added.
Oatmeal for Breakfast Benefits
This heart-healthy food has taken its place in my dad's breakfast and lunch. Yes, he is relishing brown bag lunches these days. He has turned to a nutrient-rich healthy oatmeal brunch along with a thin slice of meat sometimes baked or, at times, he relishes it with salad varieties. But my love is for the blood orange marmalade ginger shrimp salad. What surprises me is the variation oats can bring in their delicacies, be it the healthy oatmeal breakfast or Dad's power-packed lunch. Everything is different and delicious.
Oats help relieve constipation and also useful in reducing asthma complaints.
Did you know my mom's tea mate? It is another healthy oatmeal crunchy. Mama loves her tea with two oatmeal coconut cookies. Trust me. She can't miss it a day. I, too, love this crunchy bite at times.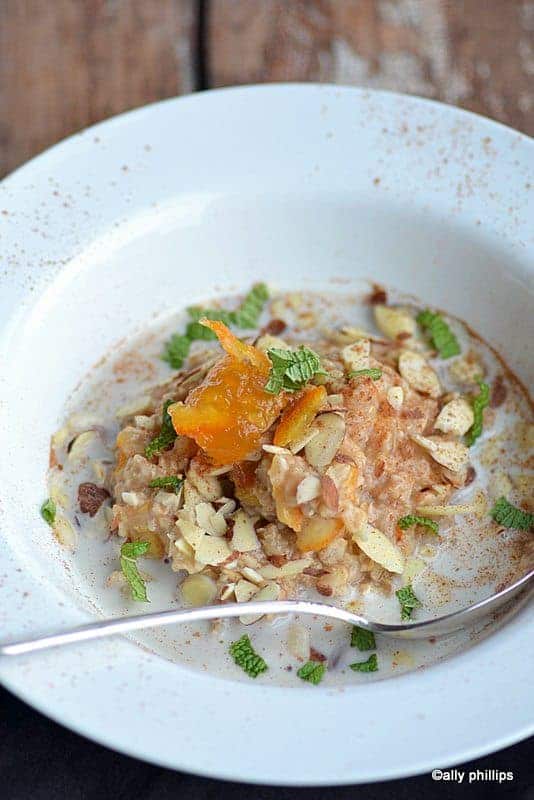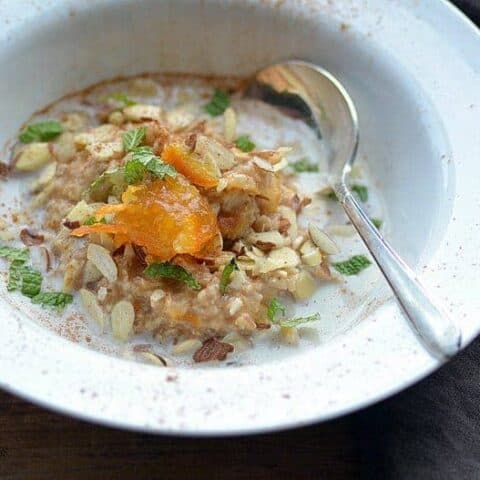 orange marmalade oatmeal & almonds
Searching the web for some healthy recipes? We've got you covered, check out our Citrus Marmalade Oatmeal & Almonds recipes. Rich in nutrients and protein.
Ingredients
1 cup oatmeal, old fashioned
1 (6 oz.) can of Dole Sunshine Pineapple Orange Juice + 2/3 cup of water
½ tsp. ground cinnamon
2 Tbl. + 4 tsp. sugar free orange maramalade (I used Polander brand.)
½ cup almonds, sliced, divided
1 cup almond milk, unsweetened,
2 Tbl. fresh mint, chopped
Instructions
Put the oatmeal, juice, water and cinnamon in a saucepan. Mix and blend. Turn heat on medium high. Cover and bring to boil. Reduce heat to low and cook about 8-10 minutes. Liquid should be absorbed.

Add two tablespoons of orange marmalade and blend into oatmeal.

Put equal amounts of oatmeal in bowls. Put about one-third cup of milk in each bowl around oatmeal. Sprinkle with equal amounts of almonds.

Put a dollop of orange marmalade on top. Garnish with fresh mint.
Notes
You can use regular orange marmalade.

Almonds like mint are optional. If you prefer another type nut, no problem substituting.