game of thrones potato soup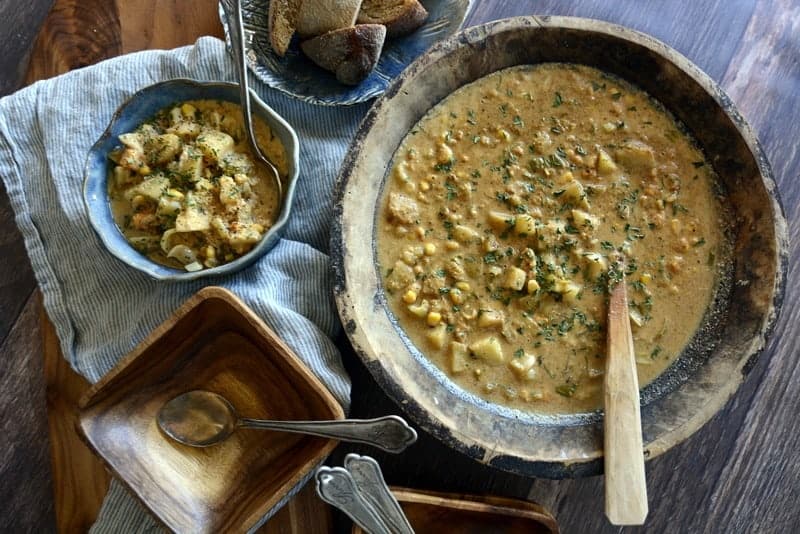 Seems with Netflix and HBO shows, I'm always several years behind getting into some of the hit series. Take 'Game of Thrones', HBO's biggest hit ever series, for example. Yes, when it was in Season 5, Ben and I started watching it, and, as you can imagine, we binged catching up on seasons one through four before diving into Season 5. I'm totally enthralled with this show and always look forward to it. Some of the characters I have much disdain for and others I applaud. This 'game of thrones potato soup' just reminds me of what maybe a hearty stick to the ribs soup might have tasted like back in Winterfell. I mean talk about trying to stay warm! And, I'm thinking that serving it in this big wooden bowl would be much like what might have been served!
While Game of Thrones is mostly shot in Belfast, some of the scenes are shot in Northern Ireland, Croatia, Morocco and Iceland. If you consider the dramatic differences in settings, from the bone-dry dessert to frigid cold tundra, then you can see why these various locations are needed for some of the episodes! King's Landing, the home of the ruler of the seven kingdoms, has been shot in Debrovnik Croatia since season three. That's just so cool because I've been to Debrovnik and recognize its magnificence for filming these stunning scenes on the Mediterranean coast.
Now if you'd like another potato soup option, then check out my Tuscan Potato Soup. I actually made it while in Tuscany after being inspired by so much of the simple delicious foods.
Imagine the burst of tourism in Northern Ireland since Winterfell (ancestral home of House Stark), Castle Black and the Wall have been filmed there! Other industries and businesses have sprung from the popularity of Game of Thrones. Tours, activities, behind-the-scenes, luxury private tours, even overnight glamping! Now, I'm jumping on the food scene with 'Game of Thrones' and imagining what these people, rich, poor, old, young, royalty, commoners, would be eating! I'm thinking this first recipe 'game of thrones potato soup' is perfectly reflective of a meal served to tired and hungry warriors, peasant families or even Khaleesi who might be dining in the Slaver Cities, Yunkai the yellow city, that was actually filmed at the red citadel of Ait-Ben-Haddu in Morocco. Another place that I've been lucky enough to visit recently!
On a side note, Ben and I've just started watching in the past few months 'Breaking Bad', too. Yes, we're addicted and do the same binge watching that we did with Game of Thrones! And, for all my fellow addicted GoT fans, this Emmy-winning series will be back in 2019 for its final season. Check out this quote from Entertainment Weekly: "As for the final season's content, so far the GoT team has managed to keep a lid on spoilers with unprecedented behind-the-scenes security. Yet former Thrones actor Jason Momoa was recently visiting the set and teased to EW: "It's going to be the greatest thing that's ever aired on TV. It's going to be unbelievable. It's going to f— up a lot of people."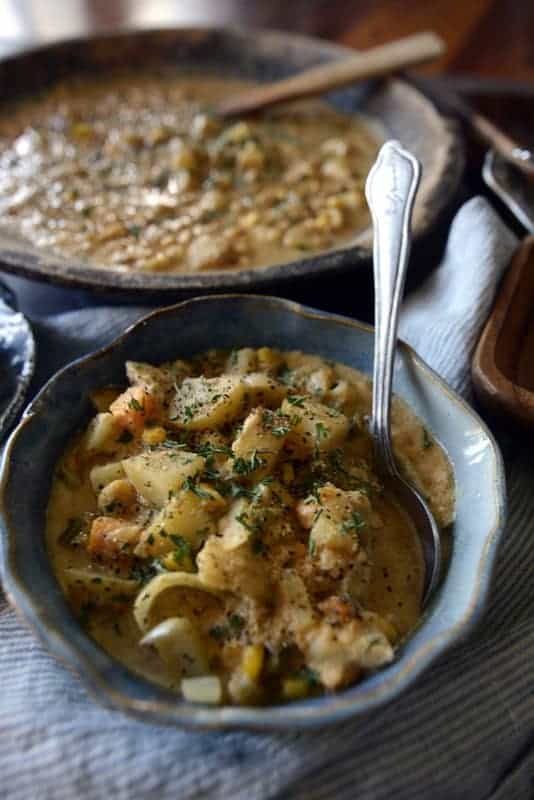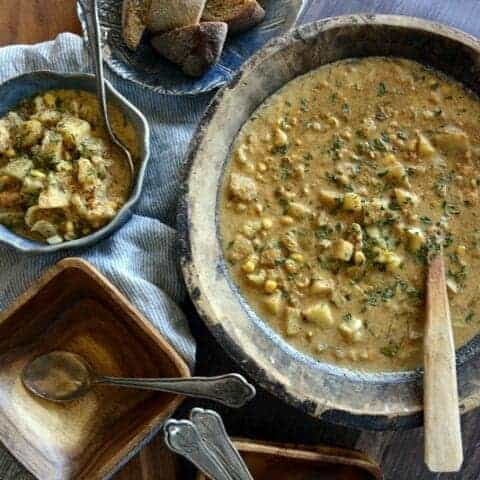 game of thrones potato soup
Ingredients
¼ cup bacon drippings
1 ½ cups sweet onions, diced
4 cups baby Yukon potatoes, large dice
1 cup sweet potatoes, large dice
2 tsp. sea salt
2 tsp. garlic granules
1 tsp. white pepper
¼ tsp. red pepper flakes
1 (32 oz.) chicken stock
1 cup half and half
1 cup sour cream
1 cup shredded parmesan
1 (12 oz.) frozen corn kernels
3 Tbl. flour + ¾ cup water, can use rice flour to keep it GF or regular all-purpose flour
½ cup celery, sliced
1 ½ cups baby bokchoy, sliced with greens
GARNISH:
Crumbled bacon bits
Shredded cheese
Sour Cream
Instructions
Put the bacon drippings in a Dutch oven pot or large heavy pot over medium heat. Add the onions and sauté about 3-5 minutes.
Add the Yukon/sweet potatoes, salt garlic, pepper, and red chili flakes. Sauté and cook about 15 minutes.
Add the chicken stock, half and half, sour cream, parmesan, corn and blend. Cover with a lid and cook for 35-45 minutes over medium heat. (Lower heat if the soup starts boiling.)
In a small bowl or measuring cup, make a slurry with the flour and water whisking into a mixture. Slowly pour into the soup and blend. This will thicken somewhat the soup making it more creamy.
Reduce heat to low. Cover with a lid and let it cook another 20 minutes.
About 15 minutes before serving, add the celery and bokchoy and blend. Cover and let it simmer on low for about 15 minutes.
Notes
You can thicken the soup without a slurry. Just bring it to a simmering boil for about 20 minutes. Stir occasionally so it doesn't burn on the bottom. Ooops, I let that happen, so that's why my soup has a more golden brown hue!

You could make this soup in a slow cooker. Add all ingredients except celery and bokchoy. Cook on high for three to four hours.